MS Dhoni
Indian cricketer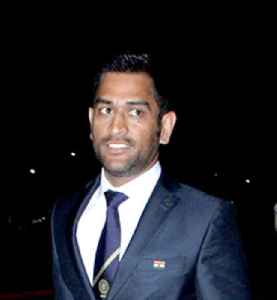 Mahendra Singh Dhoni, is an Indian international cricketer who captained the Indian national team in limited-overs formats from 2007 to 2016 and in Test cricket from 2008 to 2014. He is the only captain in the history of Cricket to win all ICC trophies. Under his captaincy, India won the 2007 ICC World Twenty20, the 2010 and 2016 Asia Cups, the 2011 ICC Cricket World Cup and the 2013 ICC Champions Trophy. A right-handed middle-order batsman and wicket-keeper, Dhoni is one of the highest run scorers in One Day Internationals (ODIs) with more than 10,000 runs scored and is considered an effective "finisher" in limited-overs formats. He is also regarded by some as one of the best wicket-keepers and captains in modern limited-overs international cricket.


You Might Like
'Stay not out, cool & stump': Mumbai Police wish MSD in a unique style, want netizens to social-distance 'Mahi Way'
As wicketkeeper-batsman MS Dhoni celebrates his 39th birthday today, Mumbai Police's through their official Twitter handle wished the former Indian captain in a unique way.
DNA - Published
Bollywood actor Sushant Singh Rajput found dead in his Mumbai home
Bollywood actor Sushant Singh Rajput, who won acclaim for his role in the 2016 biopic of then Indian cricket captain Mahendra Singh Dhoni, was found dead at his home in Mumbai on Sunday, police said.
Reuters India - Published
Winning Dhoni's trust key to getting India captaincy - Kohli
India captain Virat Kohli believes he landed the job largely because his predecessor Mahendra Singh Dhoni was impressed with his reading of situations in matches.
Reuters India - Published
PM Modi bags India's 'Golden Tweet' of 2019
PM Modi's tweet celebrating the BJP's re-election victory in 2019 was the most retweeted and liked tweet of the year, making it the "Golden Tweet" in India, the microblogging platform said on Tuesday...
IndiaTimes - Published
MS Dhoni on patrol duty in Jammu & Kashmir from July 31
Former cricket captain Mahendra Singh Dhoni will undertake patrolling and guard duties in Kashmir from July 31 to August 15 during his stint with the Territorial Army's 106 TA Battalion (Para) as an..
IndiaTimes - Published
Mahendra Singh Dhoni to serve with Army for 15 days
Dhoni, popularly called 'Captain Cool' will be taking up duties of patrolling, guard and post duty
DNA - Published
CAIT demands action against Dhoni for endorsing realtor Amrapali
Traders' body CAIT on Thursday wrote to Union consumer affairs minister Ram Vilas Paswan seeking action against cricketer M S Dhoni for his endorsement and advertisements promoting realtor Amrapali..
IndiaTimes - Published
Amrapali Group entered into 'sham agreements' with firm linked to M S Dhoni: Auditors to SC
Amrapali Group had entered into "sham agreements" with Rhiti Sports Management Pvt Ltd (RSMPL), which promotes brand of Indian cricketer Mahendra Singh Dhoni, to "illegally divert" home buyers money,..
IndiaTimes - Published
PM Narendra Modi emerges as 'World's most admired Indian'
Popularity High: Other notable names on the list include Bachchan, khans, Padukone & Dhoni
DNA - Published
Dhoni a patriot, Pakistan need not advise us on gloves row: Giriraj
IndiaTimes - Published
Nothing to do with controversy over MS Dhoni's gloves: Army
The Indian Army on Saturday distanced itself from the controversy surrounding the dagger insignia on cricketer Mahendra Singh Dhoni's gloves, saying it had nothing to do with it. GOC-in-C..
IndiaTimes - Published