Ayodhya
City of Uttar Pradesh, India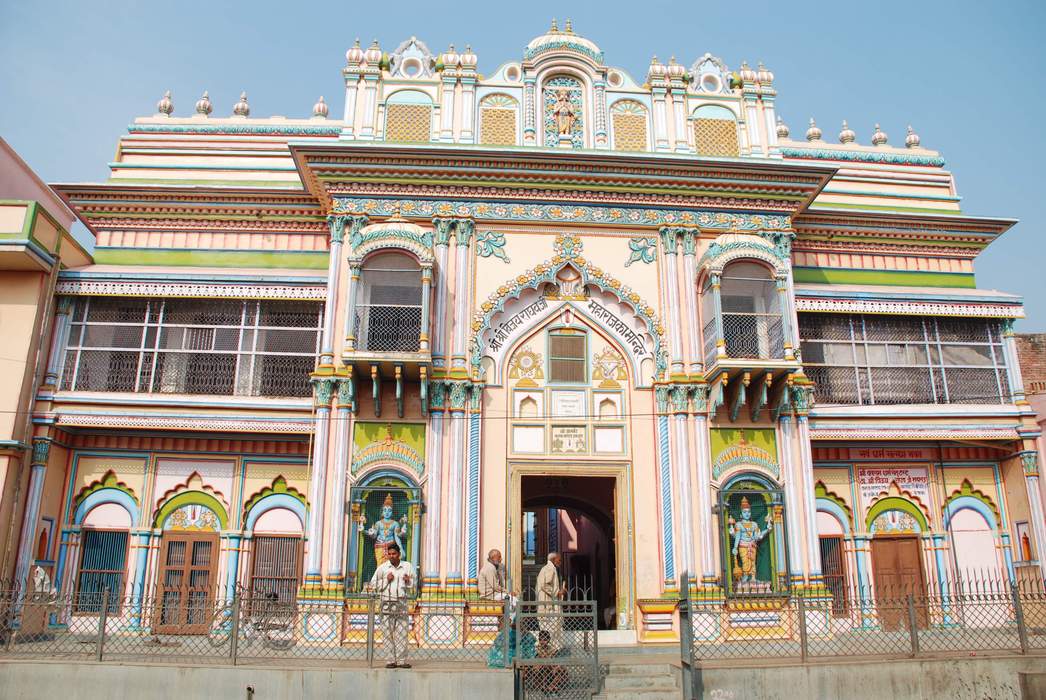 Ayodhya is a city situated on the banks of the Sarayu river in the Indian state of Uttar Pradesh. It is the administrative headquarters of the Ayodhya district as well as the Ayodhya division of Uttar Pradesh, India. Ayodhya city is administered by the Ayodhya Municipal Corporation, the governing civic body of the city.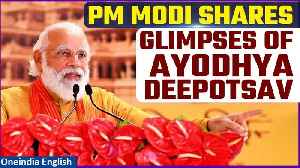 PM Modi Illuminates Twitter Feed with Ayodhya's Deepotsav Visuals | Oneindia News

PM Narendra Modi praised Ayodhya's lighting of 22 lakh diyas as amazing and unforgettable.Sharing on X, he said, Divine and unforgettable! The nation is aglow with millions of lamps during the grand..
Credit: Oneindia Duration: 02:09
Published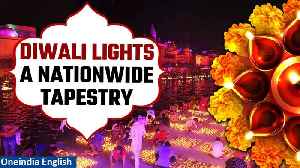 WATCH | Diwali Delights: A Nationwide Journey of Lights & Celebrations Across India | Oneindia News

Join us on an enchanting digital Diwali tour as we traverse the diverse landscapes of India, from the bustling streets of Delhi to the serene banks of the Ganges in Varanasi, and from the vibrant..
Credit: Oneindia Duration: 05:00
Published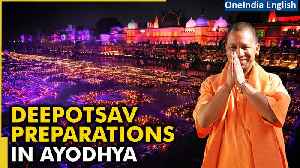 Ayodhya Aims for World Record: 24 lakh diyas at 51 ghaths || DEEPOTSAV | Oneindia News

The city of Ayodhya is poised for an extravagant 'Deepotsav' today, November 11, on the eve of Diwali. Over 24 lakh diyas will adorn 51 ghats, creating a mesmerising illumination across the city. As an..
Credit: Oneindia Duration: 04:00
Published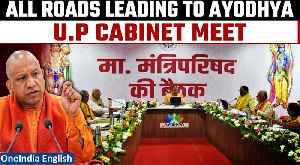 Grand Diwali Celebrations Planned | U.P Cabinet Meeting in Ayodhya| Yogi Adityanath speaks| Oneindia

The Uttar Pradesh cabinet held a historic meeting in Ayodhya, coinciding with the anniversary of the Supreme Court's 2019 verdict in the Ram Janmabhoomi case. Chief Minister Yogi Adityanath and..
Credit: Oneindia Duration: 03:10
Published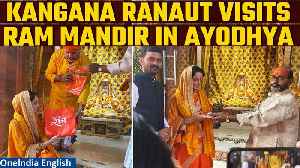 Kangana Ranaut visits Ayodhya's Ram temple ahead of 'Tejas' release | Viral Video | Oneindia News

Kangana Ranaut is busy with the promotion of 'Tejas'. The film is scheduled for release on October 27. Ahead of that, the actress was in Ayodhya's Ram Temple to seek divine blessings. There, she..
Credit: Oneindia Duration: 02:07
Published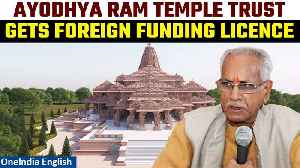 Ayodhya Ram Temple Trust gets FCRA License to receive foreign donations | Oneindia News

The Union home ministry has granted approval to the Shri Ram Janambhoomi Teerth Kshetra to receive contributions from foreign sources for the construction of Ram temple in Ayodhya, its general..
Credit: Oneindia Duration: 02:01
Published
You Might Like



Nepalese businesses eye investment prospects in Ayodhya, expecting large footfall

Nepali businesses are keen on investing in Ayodhya City, as private businesses from Nepal are already investing and more are in the process. The currently available properties in Ayodhya are..




IndiaTimes - Published





BJP to have chief minister from Backward Class community if voted to power: Amit Shah in Telangana

Home Minister Amit Shah targets BRS and Congress in Telangana, promises a Chief Minister from the Backward Class community if BJP wins. BJP will make free arrangements for visiting Ram Temple in..




IndiaTimes - Published





We also built Ram temples but didn't seek votes in his name: Chhattisgarh CM Bhupesh Baghel takes dig at BJP

Chhattisgarh CM accuses BJP of playing politics over Ram Temple construction in Ayodhya; CM Baghel takes a holy dip in Kharun River and offers prayers on Kartik Purnima; BJP accused of politicizing the..




IndiaTimes - Published





PM Modi points to Kashi, Ujjain & Ayodhya, says Mathura & Braj won't be left behind

The Braj region is gaining prominence with the development project collaboration between the BJP governments at the Centre and in UP. PM Narendra Modi visited Vrindavan to participate in Mirabai's..




IndiaTimes - Published





All Sampradayas in Bharat need to be purified to follow discipline: RSS Chief Mohan Bhagwat

RSS Chief Mohan Bhagwat emphasized the purification of all Hindu traditions and Sampradayas in Bharat to follow discipline. The World Hindu Congress, hosted in Bangkok, Thailand, focuses on the theme..




IndiaTimes - Published





In 'Amritkaal' of India's independence, country has come out of mentality of slavery: PM Modi

Prime Minister Narendra Modi addresses Mirabai Janmotsav to celebrate her 525th birth anniversary, stating that India has come out of the mentality of slavery and is proud of its heritage. He visits..




IndiaTimes - Published





3000 apply for priest post in Ayodhya's Ram Temple, 20 to be hired; Know recruitment process here

Around 3,000 applications have been received for the hiring of priests in the Ayodhya Ram mandir. Know details here.




DNA - Published





Engineer killed in turbine blast in Ayodhya

Arshad Afzaal Khan claims that an electrical engineer was killed by a strong blast in the turbine of a sugar mill in Uttar Pradesh's Ayodhya. Vipin Singh, a 38-year old, was identified as the deceased..




IndiaTimes - Published





3,000 apply for priests' posts in Ayodhya's Ram temple

Over 3,000 candidates have applied for the positions of priests at the Ram temple in Ayodhya after vacancies were advertised by the Ram Mandir Teerth Kshetra Trust. Out of these applicants, 200 have..




IndiaTimes - Published





Amit Shah takes swipe at Rahul Gandhi over Ram Mandir inauguration date

Union Home Minister Amit Shah took a jibe at Congress leader Rahul Gandhi during a rally in Jabalpur, Madhya Pradesh. Shah mentioned how Gandhi used to taunt him about the dates for the inauguration of..




IndiaTimes - Published





In last 18 years, BJP has turned MP from Bimaru to a bemisaal state, says Amit Shah

Union home minister Amit Shah addressed election rallies in Madhya Pradesh, urging voters to choose BJP for good governance. He accused Congress of mishandling the pandemic and blocking the Mandal..




IndiaTimes - Published





New BJP government in Madhya Pradesh to arrange Ayodhya visit for residents of state: Amit Shah

Union Home Minister Amit Shah promised that if the BJP retains power in Madhya Pradesh, the government will arrange visits to the Ram temple in Ayodhya for people from the state. He criticized the..




IndiaTimes - Published





Ahead of Ram temple opening, railways races to revamp Ayodhya station

The Indian Railways is working to complete the redevelopment of Ayodhya railway station by January 15, before the installation of Ram Lalla's idol at the Ram temple. The station's architecture is..




IndiaTimes - Published





'Amazing, unforgettable': PM Modi on Ayodhya Deepotsav

PM Narendra Modi on Sunday termed the lighting of more than 22 lakh 'diyas' during the Deepotsav in Ayodhya as 'supernatural' and 'unforgettable'. In a post on X, PM Modi wrote, "The whole country is..




IndiaTimes - Published





'88 ambassadors from 54 countries came to witness Deepotsav in Ayodhya': UP CM Yogi Adityanath

Uttar Pradesh Chief Minister Yogi Adityanath announced that 88 diplomats from 54 countries visited the new Ayodhya and witnessed the grand 'Deepotsav' festival. Speaking to about the grand Deepotsav,..




IndiaTimes - Published





Lord Ram's return to Ayodhya by 'Pushpak Viman' recreated on Diwali eve

Lord Ram, Sita, and Lakshman's return to Ayodhya after a 14-year exile was recreated in a grand event attended by Uttar Pradesh Chief Minister Yogi Adityanath and Governor Anandiben Patel. The chariot,..




IndiaTimes - Published





Ayodhya sets new Guinness World record, lights 22.23 lakh diyas on Diwali eve

Ayodhya in Uttar Pradesh has set a new Guinness World Record by lighting 22.23 lakh earthen lamps across 51 ghats during its Deepotsav celebration. The previous record was 17 lakh diyas. The tradition..




IndiaTimes - Published





'Ayodhya will receive 10 times more tourists after opening of Ram Temple': Uttar Pradesh CM Yogi Adityanath

Uttar Pradesh Chief Minister Yogi Adityanath predicts that Ayodhya will see an increase in tourism after the inauguration of the Ram Temple in January 2024. In his address after paying obeisance to..




IndiaTimes - Published





Deepotsav: Ayodhya lights up with over 22 lakh diyas for Diwali celebrations

Over 24 lakh traditional diyas illuminated the city simultaneously at 51 ghats of the Saryu river, setting a world record.




DNA - Published




Deepotsav: Ayodhya looks to set record with 24 lakh diyas at 51 ghats, know how you can be part of celebrations

The event will feature LED-studded replicas of the new Ram Temple, lighting the "Dharma Path" leading to the under-construction temple.




DNA - Published





Ayodhya decked up ahead of mega Deepawali celebrations, set to break world record

Ayodhya is preparing for Diwali by planning to light 24 lakh lamps at 51 ghats simultaneously, aiming to set a world record. The festivities will include a tableau procession, showcasing the..




IndiaTimes - Published





24 lakh diyas at 51 ghats: Ayodhya aims to set 'World Record'; Tribals from Jharkhand to take part in Deepotsav




IndiaTimes - Published





UP cabinet to meet at Ayodhya amid opposition's 'soft Hindutva' push

The BJP government in Uttar Pradesh, led by Yogi Adityanath, will hold its next cabinet meeting in Ayodhya on November 9. This decision is in line with the government's strategy to highlight certain..




IndiaTimes - Published





Railways races against time to complete redevelopment of station ahead of Ram temple inauguration

The Indian Railways is working to complete the redevelopment of Ayodhya railway station by January 15, before the installation of the idol of Ram Lalla at the Ram temple. The station's design is..




IndiaTimes - Published





Earthquake of magnitude 3.1 jolts Manipur's Churachandpur

On Sunday, a magnitude 3.1 earthquake struck Churachandpur in Manipur, India, at 5:42 pm, with a depth of 30 km. Additionally, earlier in the day, a magnitude 3.6 earthquake occurred at 1 am in..




IndiaTimes - Published





Chhattisgarh polls: 'Congress questioned existence of Lord Ram': Uttar Pradesh CM Yogi Adityanath in Chhattisgarh

Uttar Pradesh Chief Minister Yogi Adityanath accused the Congress party of not wanting the Ram Temple to be built in Ayodhya and questioning the existence of Lord Ram. He also mentioned that Lord Ram's..




IndiaTimes - Published





Ram Mandir rituals begin today with 'akshat puja'

The Shri Ram Janmabhoomi Teerth Kshetra Trust has organized an 'akshat puja' ceremony for the consecration of the Ram Mandir in Ayodhya. During the ceremony, 1,000kg of rice will be mixed with turmeric..




IndiaTimes - Published





Uttar Pradesh: Earthquake of magnitude 3.6 strikes Ayodhya




IndiaTimes - Published





Congress follows 4Cs of corruption, commission, communalism and criminalization, says Amit Shah

Union Home Minister Amit Shah criticized the Congress party, accusing them of corruption, commission, communalism, and criminalization. He also claimed that the Congress disrespected Babasaheb Ambedkar..




IndiaTimes - Published





8 feet-tall gold-plated marble throne for Ram Lalla idol

The Ram temple in Ayodhya will have an eight-foot-tall gold-plated marble throne for Ram Lalla's idol. The throne, being made by artisans in Rajasthan, will reach Ayodhya by December 15. The temple..




IndiaTimes - Published





Congress governments in 3 states battling crises due to 'flawed thinking', lack funds for salaries: Rajnath Singh

Defence Minister Rajnath Singh criticized Congress governments in Rajasthan, Himachal Pradesh, and Karnataka, claiming they were facing crises and unable to pay salaries due to flawed thinking. He also..




IndiaTimes - Published





MP was Bimaru state under Congress rule but BJP ensured development: Amit Shah

Union Home Minister Amit Shah addressed a rally in Ujjain, Madhya Pradesh and stated that the state became a laggard when the Congress was in power, while the BJP ensured development in all sectors. He..




IndiaTimes - Published





'Those of Italy origin won't understand development done by Modi': Amit Shah targets Rahul and Priyanka

In a veiled swipe at Rahul Gandhi and Priyanka Gandhi Vadra, Amit Shah on Saturday said a brother and sister duo whose "origins are in Italy" won't be able to understand the development done by the..




IndiaTimes - Published





Ahead of MP assembly elections, BJP and Congress spar over Ayodhya Ram temple

A dispute has arisen in Madhya Pradesh after the Congress party objected to the BJP's use of hoardings claiming credit for the construction of the Ram temple in Ayodhya. The BJP accused the Congress of..




IndiaTimes - Published





Congress setting up shop of lies in MP: CM Chouhan on Priyanka Gandhi's visit to state

Madhya Pradesh Chief Minister Shivraj Singh Chouhan criticized the Congress party over Priyanka Gandhi's visit to the state, accusing them of spreading lies. Chouhan questioned Gandhi's opposition to..




IndiaTimes - Published





PM Modi hails Madhya Pradesh spiritual guru role in Ram temple cause

Prime Minister Narendra Modi praised spiritual leader Jagadguru Rambhadracharya for his role in the construction of the Ram Mandir in Ayodhya. PM Modi stated that he has received an invitation for the..




IndiaTimes - Published





Ayodhya consecration 'shubh muhurt' from 12.45 pm on January 22

The consecration ceremony for the idol of Lord Ram in Ayodhya will begin on January 16, 2023. The main event will take place from 12:45pm on January 22 until 1am on January 23. Prime Minister Narendra..




IndiaTimes - Published





Muslim leaders want PM Modi to lay foundation of Ayodhya mosque

A section of the Muslim community has made an appeal to Prime Minister Narendra Modi to lay the foundation stone of the mosque in Dhannipur village of Sohawal tehsil, about 25 km away from here, when..




IndiaTimes - Published





PM trying to change country's name through 'backdoor', alleges Nitish's close aide

Bihar Chief Minister Nitish Kumar's close aide and JD(U) Minister Ashok Kumar Choudhary criticized PM Narendra Modi for allegedly trying to change the country's name from 'India' to 'Bharat' through..




IndiaTimes - Published





Chhattisgarh CM Baghel opened market of religious conversion in state to weaken Sanatan Dharma, alleges Assam CM Himanta

Assam Chief Minister Himanta Biswa Sarma criticized his Chhattisgarh counterpart, Bhupesh Baghel, accusing him of promoting religious conversion to weaken Sanatan Dharma. Sarma urged people to vote for..




IndiaTimes - Published





PM Modi to attend inauguration of Ram Temple in Ayodhya on Jan 22, Muslim leaders demand...

"Our Prime Minister is coming to Ayodhya on an auspicious occasion. We request him to start the work on the mosque also. This is our heartfelt wish," said Mohammad Ismail Ansari, President, Indian..




DNA - Published





Ram temple set to be BJP's major 2024 campaign theme

The consecration of Ram Mandir in Ayodhya is expected to be a major campaign theme for BJP in the 2024 elections. Prime Minister Modi and RSS Chief Mohan Bhagwat have already spoken about the..




IndiaTimes - Published





'Feel blessed': PM Modi invited for Ram Temple consecration ceremony in Ayodhya on January 22

Prime Minister Narendra Modi on Wednesday received a formal invitation for the consecration ceremony of the grand Ram temple in Ayodhya."Jai Siya Ram. Today is a day full of emotions. The officials of..




IndiaTimes - Published





On Dussehra, PM Modi says send divisive forces up in flames

Prime Minister Narendra Modi called on the public to resist attempts to divide the country through casteism and regionalism. He urged them to commit to tasks such as water conservation and promoting..




IndiaTimes - Published





'Patriotism over every evil': PM Modi calls for rooting out regionalism, casteism at Dussehra event

Addressing a huge gathering at a Dussehra event, Modi said it is everyone's good fortune that they are witness to a grand Ram temple being built in Ayodhya now after a wait of centuries.




DNA - Published





Who is Paramhans Acharya, seer who announced Rs 10 crore bounty for beheading TN minister Udhayanidhi Stalin?

Paramhans Acharya is the chief priest of the Tapaswi Chawni temple of Ayodhya.




DNA - Published





MHA grants FCRA approval to Ram temple trust

The Shri Ram Janmbhoomi Teerth Kshetra Trust, responsible for constructing the Shri Ram Temple in Ayodhya, has been registered under the Foreign Contribution (Regulation) Act, 2010. This means that the..




IndiaTimes - Published





MHA grants FCRA approval to Ram temple trust, can receive foreign donations: Champat Rai

The Shri Ram Janmbhoomi Teerth Kshetra has been granted approval by India's home ministry to accept contributions from foreign sources for the construction of the Ram temple in Ayodhya. Contributions..




IndiaTimes - Published





Kolkata: Home Minister Amit Shah to inaugurate Ram Mandir-themed Durga Puja pandal today

The theme for this year's celebration is the Ram Temple, inspired by the ongoing construction of the Ram Temple in Ayodhya.




DNA - Published





Ram Janmabhoomi-Babri Masjid verdict: Design of mosque changed, confirms IICF

The design of a mosque to be built on a five-acre land in Ayodhya's Dhannipur village awarded by the Supreme Court in the Ram Janmabhoomi-Babri Masjid verdict has been changed.




DNA - Published