United States National Guard
Reserve force of the United States Army and Air Force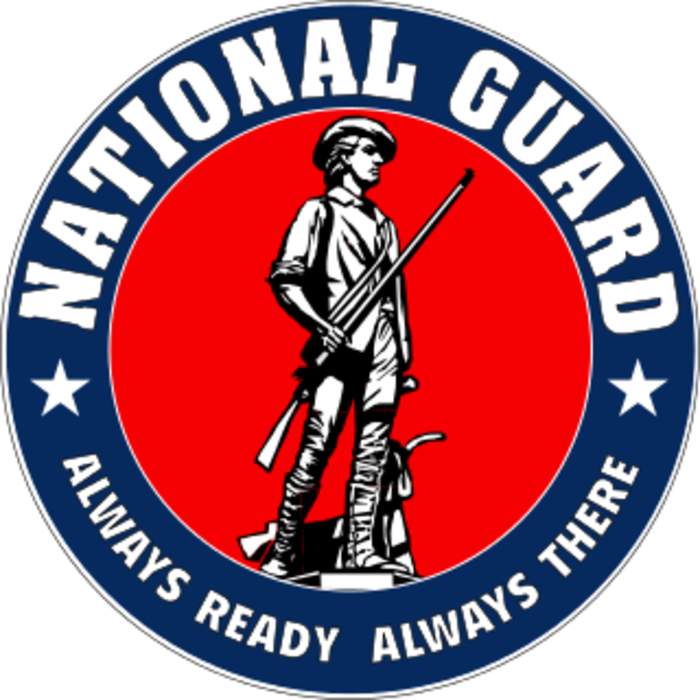 The
National Guard of the United States
is part of the reserve components of the United States Army and the United States Air Force. It is a military reserve force composed of National Guard military members or units of each state and the territories of Guam, the Virgin Islands, and Puerto Rico, and the District of Columbia, for a total of 54 separate organizations. All members of the National Guard of the United States are also members of the Organized Militia of the United States as defined by 10 U.S.C. 
§ 246
. National Guard units are under the dual control of the state governments and the federal government.
Police officer killed in vehicle attack on U.S. Capitol

[NFA] A motorist rammed a vehicle into U.S. Capitol police on Friday and brandished a knife, killing one officer and injuring another and forcing the Capitol complex to lock down in an attack that..
Credit: Reuters - Politics Duration: 02:05
Published
Starr on National Guard response: This is how it's supposed to work

At least one US Capitol Police officer has died and another is injured after a suspect rammed a vehicle into a police barricade outside the Capitol building, the department's acting chief told..
Credit: Bleacher Report AOL Duration: 02:15
Published
Marjorie Taylor Greene called this US territory a foreign country

CNN's Brianna Keilar speaks with Democratic Delegate of Guam Michael San Nicholas about bringing some of Guam's National Guard members to Rep. Marjorie Taylor Greene's (R-GA) office after she..
Credit: Bleacher Report AOL Duration: 03:43
Published
Pentagon slow to help on Jan. 6 -D.C. commander

Pentagon officials took more than three hours to approve a request by the U.S. Capitol Police for National Guard troops to back up police under attack by rioters at the Capitol on Jan. 6, a military..
Credit: Reuters - Politics Duration: 02:01
Published
Police warn of threat to 'blow up' U.S. Capitol

United States Capitol police say that supporters of Donald Trump, who launched the deadly attack on the Capitol last month, have indicated their wish to 'blow up' the building, and possibly during a..
Credit: Reuters - Politics Duration: 00:56
Published
'We had the wrong plan' -Former House security chief

The U.S. House of Representatives' former top security official on Tuesday denied authorities had rejected stationing National Guard forces at the Capitol last month ahead of a rally by Donald Trump's..
Credit: Reuters Studio Duration: 02:40
Published
'Stunned' by lack of urgency for National Guard -Contee

Robert Contee, the Acting Chief of the DC Metropolitan Police, said Tuesday that he was "stunned" by the lack of urgency to send in the National Guard to help in the attack on the U.S. Capitol on..
Credit: Reuters Studio Duration: 02:27
Published
Trump lawyers celebrate acquittal

Donald Trump's legal team react to the former president's acquittal of inciting the Capitol siege.Barely a month since the deadly January 6 riot that stunned the world, the Senate convened for a rare..
Credit: PA - Press Association STUDIO Duration: 01:10
Published
You Might Like



Up to 200 members of National Guard on inauguration duty test positive for COVID

Up to 200 members of the National Guard on duty in Washington DC for inauguration day have tested positive for coronavirus, an official has said.




Sky News - Published





AOC Offers Her Office to National Guard, After Members Were Sent to Cold Parking Garage

Like many of her colleagues, AOC condemned the decision to force hundreds of National Guard soldiers to take their breaks in a frigid parking garage instead of the warm Capitol building, but she went a..




TMZ.com - Published





Facial Recognition, Social Media Scouring Used to Vet National Guard

With 25,000 National Guard members set to protect D.C. for Joe Biden's inauguration, each member has been subject to a heavy vetting, which includes high-tech facial recognition. Federal law..




TMZ.com - Published





US National Guard troops removed from inauguration over 'links to far right', reports

Two US Army National Guard members have been removed from duty during Joe Biden's presidential inauguration because of ties to far-right militias, according to Associated Press.




Sky News - Published




FBI checks 25,000 National Guard over fears of insider attack at inauguration

Fears about a potential insider attack at Joe Biden's inauguration have prompted the FBI to vet all 25,000 National Guard troops who will be on duty.




Sky News - Published





Cargo Van Load of Pizza Delivered to National Guard Troops in D.C.

It's far from a pizza party, but the National Guard troops stationed in the nation's capital to keep the peace ahead of Inauguration Day are being treated to pizza on the reg ... thanks to thoughtful..




TMZ.com - Published





Exhausted, Armed National Guard Members Sleep on Capitol Floor

This is one where the image tells the whole story ... members of the National Guard protecting the Capitol trying to get some much-needed sleep, using a cold, marble floor as a bed. It's the embodiment..




TMZ.com - Published





National Guard Beefing Up Presence in D.C. Ahead of Inauguration

Our nation's capital will be swarming with National Guard forces ahead of President-elect Joe Biden's inauguration ... after being absent for much of the failed coup. The National Guard says it's..




TMZ.com - Published





Sporadic violence flares in latest U.S. protests over Floyd death

Tens of thousands of people defied curfews to take to the streets of U.S. cities on Tuesday for an eighth night of protests over the death of a black man in police custody, as National Guard troops..




Reuters India - Published





Trump vows to end protests; tear gas fired on protesters near White House

U.S. President Donald Trump on Monday vowed to end violent protests in major cities across the nation "now," saying that he would deploy the military if mayors and state governors refused to call out..




Reuters India - Published





Protests over death of George Floyd turn violent again despite curfews, National Guard

Looting broke out on Sunday in Southern California, a tanker truck drove into marchers in Minneapolis and demonstrators clashed with police in Boston and Washington, D.C. as the United States struggled..




Reuters India - Published





As protests rage, Trump will not move to seize control of National Guard troops

President Donald Trump will not take the dramatic step for now of seeking control of the National Guard, his national security adviser said on Sunday as protests flared in U.S. cities after the death..




Reuters India - Published





Trump will not invoke control of National Guard amid protests - adviser

The Trump administration will not invoke federal authority over the National Guard for now, National Security Adviser Robert O'Brien said on Sunday as protests flared in multiple U.S. cities..




Reuters India - Published





Trump will not activate federal troops for now amid protests: NSA Robert O'Brien

The Trump administration will not invoke federal authority over the National Guard for now, National Security Adviser Robert O'Brien said on Sunday as protests continued in multiple U.S. cities after..




Reuters India - Published





Mexico says border clash with migrants was isolated case, violence to be avoided

Mexican President Andres Manuel Lopez Obrador said on Wednesday that clashes between migrants and members of the National Guard on the border with Guatemala this week were an "isolated case" and that..




Reuters - Published




Puerto Rico declares emergency after strongest earthquake in 102 years

Puerto Rico Governor Wanda Vazquez declared a state of emergency and activated the National Guard on Tuesday after a series of earthquakes including one of magnitude 6.4 that was the most powerful to..




Reuters - Published





Puerto Rico declares emergency, activates National Guard after earthquakes

Puerto Rico Governor Wanda Vazquez declared a state of emergency and activated the National Guard on Tuesday following a series of earthquakes including one of magnitude 6.4 that struck the Caribbean..




Reuters - Published





Guatemalan villagers recognize viral photo of mother pleading at U.S. border

Lolinda Amaya cried last week when she saw a viral photograph of a Guatemalan mother imploring Mexico's National Guard to let her enter the United States.




Reuters - Published





Mexican government watchdog concerned about National Guard's detaining migrants

Mexico's newly created National Guard has detained U.S.-bound migrants and the government should make public the rules governing their power to curb immigration, the head of the government's human..




Reuters - Published




Mexico's new National Guard was created to fight crime, but now it's in a face-off with migrants

A convoy of Mexican state and municipal police trucks roared along the U.S.-Mexico border in Ciudad Juarez to confront cartel gunmen, past National Guardsmen patrolling the banks of the Rio Grande..




Reuters - Published





Mexican police protest against joining new national guard

Officers of the Mexican federal police protested on Wednesday against the newly created National Guard, saying their superiors had threatened firings if they did not join the security force, in which..




Reuters - Published





Mexican president says he would like to disband the nation's army

Mexican President Andres Manuel Lopez Obrador said on Monday he would like to disband the army and put national security in the hands of the new National Guard militarized police force, though he..




Reuters - Published





Mexican National Guard expands into capital to address crime surge

Mexico's new militarized National Guard police force will expand to the capital Mexico City in an effort to tackle a deteriorating security situation, President Andres Manuel Lopez Obrador said on..




Reuters - Published





Mexico migrant shelter accuses police of intimidation

A Mexican migrant shelter is raising concern over what it said was an unauthorized attempt by Mexico's National Guard to enter the facility and question migrants.




Reuters - Published





Mexico national guard shows lighter touch with migrants after president's warning

Mexico's National Guard, accused of being heavy-handed in its efforts to curb migrant flows, employed a lighter touch on the U.S. border on Tuesday after President Andres Manuel Lopez Obrador said they..




Reuters - Published





Mexico president says there may have been 'excesses' in migrant detentions

Mexican President Andres Manuel Lopez Obrador said on Tuesday the country's new militarized National Guard police force could have committed "excesses" by detaining migrant women close to the U.S...




Reuters - Published





Mexico president says National Guard not instructed to detain migrants

Mexican President Andres Manuel Lopez Obrador said on Tuesday that the National Guard has the legal right to detain migrants, but that it have been not instructed to do so at the northern border.




Reuters - Published





Mexico says it has deployed 15,000 forces in the north to halt U.S.-bound migration

Mexico has deployed almost 15,000 soldiers and National Guard in the north of the country to stem the flow of illegal immigration across the border into the United States, the head of the Mexican Army..




Reuters - Published





Mexico vows crackdown on human smugglers, aims to finish border guard reinforcement

Mexico will fully deploy National Guard forces on its southern border with Guatemala this week and will crack down on human smugglers after nearly 800 people were found in transport containers headed..




Reuters - Published




Mexico says it will finish National Guard roll-out to stem migration this week

Mexico will complete deployment of National Guard forces on its southern border with Guatemala this week as part of a new immigration control plan agreed with Washington, Foreign Minister Marcelo..




Reuters - Published




Mexico detains 791 undocumented migrants, National Guard starts to patrol southern border

Mexican officials detained nearly 800 undocumented migrants on Saturday, the government said, in one of the biggest swoops against illegal immigration in recent months, as members of the National Guard..




Reuters - Published





Migrants rush to enter Mexico ahead of security crackdown demanded by Trump

Central American migrants eager beat a crackdown by Mexico on its southern border with Guatemala scrambled into the country on Thursday as the government prepared to send thousands of National Guard..




Reuters - Published





Mexico says National Guard deployment to southern border starts on Wednesday

Deployment of National Guard forces to Mexico's southern border was due to start on Wednesday and will advance quickly under a migration control deal signed last week with the United States, Foreign..




Reuters - Published