Human Development Index
Composite statistic of life expectancy, education, and income indices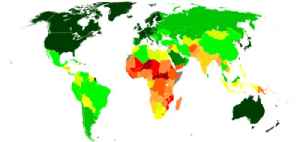 The Human Development Index (HDI) is a statistic composite index of life expectancy, education, and per capita income indicators, which are used to rank countries into four tiers of human development. A country scores a higher HDI when the lifespan is higher, the education level is higher, and the gross national income GNI (PPP) per capita is higher. It was developed by Pakistani economist Mahbub ul Haq and was further used to measure a country's development by the United Nations Development Programme (UNDP)'s Human Development Report Office.


India ranks 129 of 189, up a spot, in human dev index
The overall HDI value places India above the average (0.634) for countries in the medium human development group and also above the average ( 0.642) for other south Asian countries. HDI has been..
IndiaTimes - Published
Search this site and the web:
You Might Like