Hong Kong
Special administrative region of China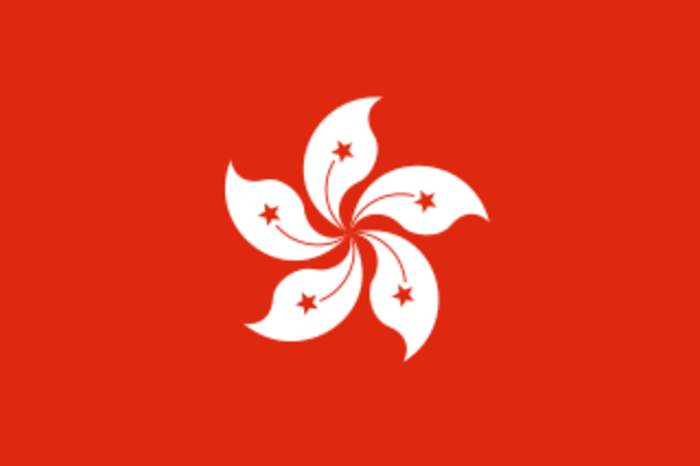 Hong Kong, officially the Hong Kong Special Administrative Region of the People's Republic of China (HKSAR), is a metropolitan area and special administrative region of China on the eastern Pearl River Delta in the South. With over 7.5 million residents of various nationalities in a 1,104-square-kilometre (426 sq mi) territory, Hong Kong is one of the most densely populated places in the world. Hong Kong is also one of the most developed cities in the world, with the most expensive housing.


Read my lips: Transparent COVID face masks to ease the communication barrier in Hong Kong

It's not the first face mask to include a transparent area to help those with hearing impairments communicate. But this 3D-printed one is fully transparent and reuseable.
Credit: euronews (in English) Duration: 02:57
Published
Scaffolding collapses in Hong Kong amid storms

Storms hit Hong Kong hard on Friday, causing damage and flooding across the territory. A giant wall of traditional bamboo scaffolding and netting was blown off the side of an apartment block in the..
Credit: euronews (in English) Duration: 01:00
Published
Stunning images show Hong Kong scaffolding collapse

According to local media, two construction workers are trapped after a large scaffold collapsed next to a high rise in Hong Kong's Happy Valley residential area. The structure fell as heavy rain and..
Credit: Bleacher Report AOL Duration: 00:33
Published
The company betting on a flexible work future

Hong Kong-based co-working space, The Executive Centre, tells Kristie Lu Stout why it believes flexible work solutions will thrive post-pandemic.
Credit: Bleacher Report AOL Duration: 03:10
Published
Hong Kong: Candle in the Wind | 101 East

A year after Hong Kong introduced a draconian security law, 101 East meets the activists who refuse to be silenced.
Credit: Al Jazeera English Duration: 26:00
Published
3D printing is helping these coral reefs to grow

Coral reefs are under threat from climate change and pollution. In Hong Kong, technology to regrow coral can help "reset the clock," according to startup archiREEF.
Credit: Bleacher Report AOL Duration: 04:10
Published
What it's like to sail on a 'cruise to nowhere'

The Dream Cruises voyage without a destination lets people in Hong Kong leave the city without facing quarantine
Credit: Bleacher Report AOL Duration: 01:08
Published
Hong Kong police raid shuttered Tiananmen museum


Credit: FRANCE 24 English Duration: 01:36
Published
Hong Kong police arrest Tiananmen vigil organisers


Credit: FRANCE 24 English Duration: 01:22
Published
Tokyo Paralympics: Krishna Nagar wins India's 5th gold in badminton men's singles | Oneindia News

Today, Krishna Nagar gave India its fifth gold medal at the Tokyo Paralympic Games with a win over Hong Kong's Chu Man Kai in the final of the men's singles SH6 event. #KrishnaNagar #GoldMedal..
Credit: Oneindia Duration: 01:16
Published
Asia's fake-pork titan on plant-based seafood

Hong Kong-based Green Monday group tells Kristie Lu Stout about how, and why, they're bringing plant-based alternatives to the seafood industry
Credit: Bleacher Report AOL Duration: 03:27
Published
You Might Like



Record £19.8m Hong Kong smuggling bust includes shark fins and endangered plants

Shark fins and endangered plants are among a haul of smuggled goods including luxury handbags and cigars that have been seized by customs officials in Hong Kong worth an estimated $26.9m (£19.8m)




Sky News - Published




Tiananmen Square vigil organisers in Hong Kong to disband amid crackdown

A Hong Kong pro-democracy group, which held annual vigils to remember the victims of China's military during the 1989 Tiananmen Square protests, has voted to disband during a crackdown on political..




Sky News - Published




Anger in Hong Kong as Nicole Kidman allowed to skip tough quarantine rules to film new series

Nicole Kidman has been allowed to skip tough quarantine rules in Hong Kong, government officials have seemingly confirmed, sparking anger among locals braced for even tougher restrictions in the coming..




Sky News - Published




HSBC first-half profits more than double as economies rebound from pandemic

HSBC's first-half profits have more than doubled, buoyed by an economic rebound in Hong Kong and Britain - its two biggest markets.




Sky News - Published





Guilty verdict in first trial under Hong Kong's security law condemned over free speech concerns

The first person charged under Hong Kong's national security law has been found guilty of secessionism and terrorism, in a landmark case that has been condemned by human rights groups.




Sky News - Published




Six students and teacher among nine arrested over alleged Hong Kong terror plot

Six secondary school pupils and a teacher are among nine people arrested over an alleged bomb plot in Hong Kong.




Sky News - Published




Hong Kong to ban all British travellers after adding UK to 'extremely high-risk' COVID list- reports

Hong Kong is to ban all British travellers after putting the UK back on its "extremely high-risk' coronavirus list, according to local media reports.




Sky News - Published




Hong Kong pro-democracy paper Apple Daily announces closure

Hong Kong's pro-democracy Apple Daily has announced its closure after police froze £1.65m in assets linked to the newspaper.




Sky News - Published




Hong Kong police arrest five top executives in raid of pro-democracy newspaper's offices

The most senior editor and four other bosses at a pro-democracy newspaper have been arrested under Hong Kong's new national security law.




Sky News - Published




Prominent Hong Kong pro-democracy activist released from prison

Hong Kong pro-democracy activist Agnes Chow has been released from prison after serving more than six months behind bars.




Sky News - Published




A Hong Kong family's journey to the UK to escape China's crackdown on democracy

Tens of thousands of Hong Kongers have applied for a special visa offered by the British government to come and live in the UK after China cracked down on democracy in the city.




Sky News - Published




Hong Kong Tiananmen Square vigil organiser arrested as police crack down on anniversary event

The organiser of an annual Tiananmen Square massacre vigil in Hong Kong has been arrested on its 32nd anniversary as police threatened to jail anyone who breaks into the park it is held in.




Sky News - Published




Liu Kang in 'Mortal Kombat' 'Memba Him?!

Hong Kong based martial artist and actor Robin Shou (real name Shou Wan Por) is best known for his butt-kicking monk character, Liu Kang -- who battles it out with the Outworld to save the Earthrealm..




TMZ.com - Published





Stop price gouging by private suppliers, India tells China

India has protested against rampant price gouging of Covid material by Chinese suppliers with the consul general in Hong Kong, Priyanka Chauhan, in an unusual comment telling the 'South China Morning..




IndiaTimes - Published





Hong Kong pro-democracy activist jailed for further 10 months over Tiananmen vigil

Hong Kong pro-democracy activist Joshua Wong has been sentenced to a further 10 months in prison for taking part in a vigil to remember the Tiananmen Square protests of 1989.




Sky News - Published




Scores test positive for Covid-19 on India flight to Hong Kong

At least 49 passengers on a flight from New Delhi to Hong Kong have tested positive for coronavirus, authorities said, as the financial hub introduced an emergency ban on all flights from India in a..




IndiaTimes - Published





Hong Kong bans flights from India, Pakistan and the Philippines for 2 weeks

Hong Kong will suspend flights from India, Pakistan and the Philippines from April 20 for two weeks after the N501Y mutant Covid-19 strain was detected in the Asian financial hub for the first time,..




IndiaTimes - Published





'Time for us to stand tall': Media tycoon jailed over Hong Kong pro-democracy protests

Billionaire Hong Kong media tycoon Jimmy Lai has been imprisoned over his role in pro-democracy protests.




Sky News - Published




Ng On-yee on bow ties, playing with Marco Fu and promoting snooker in Hong Kong

Ng On-yee is looking forward to making the most of her two-year tour card after being told she can turn professional.




BBC Sport - Published





Hong Kong to vet all political candidates to ensure they are pro-China 'patriots' under new law

Hong Kong will vet all political candidates to ensure they are "patriots" under new laws that seek to remove any opposition and tighten China's control.




Sky News - Published




China approves radical overhaul of Hong Kong's political system




IndiaTimes - Published





Raab condemns China's 'ongoing non-compliance' over Hong Kong

Foreign Secretary Dominic Raab has made his strongest criticism yet of China's campaign to increase its control over Hong Kong.




Sky News - Published




China passes 'patriotic' plan to vet election candidates in Hong Kong

China's legislature has approved a resolution to make sweeping changes to Hong Kong's electoral system.




Sky News - Published





UK 'deeply concerned' about China's electoral reforms for Hong Kong

Britain is "deeply concerned" about China's proposals to change Hong Kong's electoral system, Downing Street has said.




Sky News - Published




Beijing declares only 'patriots' should rule Hong Kong as elections delayed again

Beijing has declared that only "patriots" should rule Hong Kong - and unveiled plans to change the city's electoral system to ensure just that.




Sky News - Published




Activists, Uyghurs protest in Paris to ensure Pakistan is placed on FATF blacklist

"We have gathered here outside the FATF building as it will be meeting next week to discuss and review the case of Pakistan to make it remain under grey list or put it in the black-list. The idea of..




IndiaTimes - Published





India cleared three proposals from Hong Kong in Feb, scrutiny on Chinese investment remains

The Indian government has cleared three proposals from Hong Kong on February 5, much before the first phase of disengagement began at Pangong lake.




DNA - Published





Into The Grey Zone: Hong Kong activist hopes his efforts will 'pave the way' for a return home

A prominent activist who fled Hong Kong after Beijing passed a new security law has said he hopes his efforts to keep fighting for democracy will "pave the way" for a return home.




Sky News - Published




Hong Kong media tycoon and democracy advocate denied bail

Another court has denied bail to Hong Kong media tycoon and democracy campaigner Jimmy Lai ahead of his April trial.




Sky News - Published




Hong Kong to teach six-year-olds about collusion and terrorism - with help from cartoon owl

Children as young as six will be taught about colluding with foreign forces and subversion under controversial new guidelines for schools in Hong Kong.




Sky News - Published




LGBT+ History Month: The history of the Gay Games - the event that grew but stuck to its principles

The 11th Gay Games will take place in Hong Kong next year, four decades after a former US decathlete-turned-physician's dreams of a truly inclusive sporting event became reality.




BBC Sport - Published





New UK visa route to open for up to 3m in Hong Kong

Just under three million people in Hong Kong will be able to apply to live, study and work in the UK when a new visa route opens on Sunday.




Sky News - Published




HSBC says 'we can't cherry pick laws' as bank accused of aiding democracy crackdown

The head of HSBC has told MPs that he "can't cherry pick which laws to follow" as he defended the bank over claims that it is helping China crack down on democracy in Hong Kong.




Sky News - Published