Sundar Pichai
Indian-American engineer and business executive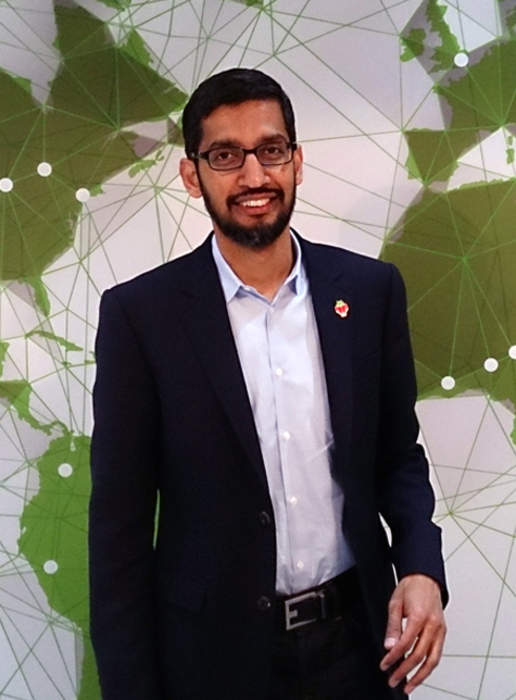 Pichai Sundararajan, better known as Sundar Pichai, is an Indian-American business executive. He is the chief executive officer (CEO) of Alphabet Inc. and its subsidiary Google.


You Might Like
When was the last time Google CEO Sundar Pichai cry? Know what he said
Pichai's said he cried "seeing the morgue trucks parked around the world during COVID. And seeing what's happened in India over the past month."
DNA - Published
Donald Trump to sue Facebook, Google, and Twitter chiefs
Donald Trump, who lost the 2020 presidential election, says he is launching a class action lawsuit against Mark Zuckerberg, Sundar Pichai, and Jack Dorsey, the chief executives of Facebook, Google and..
Sky News - Published
Always respect local laws, says Google CEO Sundar Pichai
IndiaTimes - Published
'Devastated': Google CEO Sundar Pichai, Microsoft chief Satya Nadella support India's fight against COVID-19
Sundar Pichai took to Twitter to announce that his company will provide a Rs 135 crore funding to UNICEF and the non-profit Give India.
DNA - Published
'Modi is my son', says 'Dadi of Shaheen Bagh' named among TIME's 100 most influential people
Along with Bilkis, Prime Minister Narendra Modi, actor Ayushman Khurrana, biologist Ravindra Gupta and Alphabet CEO Sundar Pichai were on the list of '100 Most Influential People of 2020' that was..
DNA - Published
PM Narendra Modi interacts with Google CEO Sundar Pichai
In a series of tweets, PM Modi said that the interaction as 'extremely fruitful' and lauded Google's efforts in different sectors.
DNA - Published
Tech sector in India, US hits out at Trump for suspension of H-1Bs
The tech sector in both India and America has slammed US president Donald Trump's decision to suspend H-1B and L-1 work visas. These visas are used extensively by Indian IT companies, as also US tech..
IndiaTimes - Published