Raheem Sterling
English footballer (born 1994)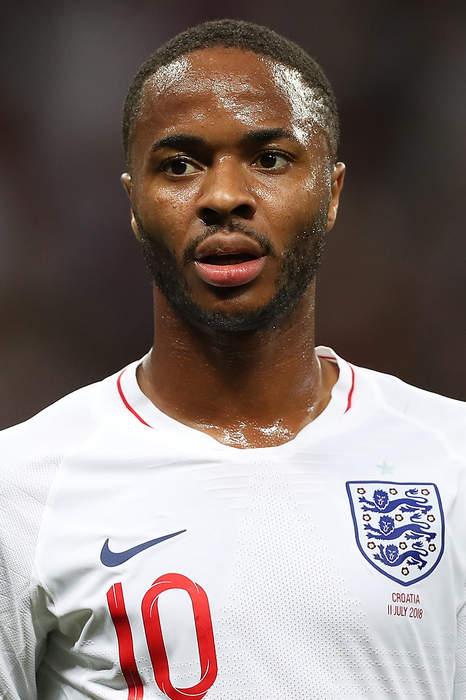 Raheem Shaquille Sterling is a professional footballer who plays as a winger and attacking midfielder for Premier League club Chelsea and the England national team.


Harry Kane says England's belief is 'building'

Harry Kane says the belief that England can win the World Cup is growing amongst the team ahead of their quarter-final against France on Saturday. Manager Gareth Southgate says he is pleased Raheem..
Credit: ODN Duration: 02:25
Published
You Might Like



Saka, Sterling & Rashford on Football Black List

Bukayo Saka, Raheem Sterling and Marcus Rashford are named on a list of the most influential black people in British football.




BBC Sport - Published





Raheem Sterling to return to England's World Cup base in Qatar

Raheem Sterling will return to Qatar to rejoin the England squad ahead of the Three Lions' clash against France on Saturday.




Sky News - Published





Sterling asks FA to look into return to World Cup

Raheem Sterling asks the FA to look into him re-joining the England squad at the World Cup in Qatar, according to a source close to the player.




BBC Sport - Published





Raheem Sterling to decide if he will fly back to Qatar for England's showdown against France

Raheem Sterling is expected to decide if he will return to Qatar for England's quarter-final showdown against France on Saturday.




Sky News - Published





Two arrested by police investigating break-in at Raheem Sterling's home

Two men have been arrested by police who are investigating a break-in at the home of Raheem Sterling.




Sky News - Published





'Violent cowards broke into our home': The footballers targeted by criminal gangs

England forward Raheem Sterling is the latest in a long list of footballers who have been targeted by criminal gangs.




Sky News - Published





Sterling missed England game 'after armed intruders broke into home'

Raheem Sterling was left out of England's squad for tonight's win over Senegal after armed intruders broke into his home, Sky News understands.




Sky News - Published





Sterling leaves England squad for 'family matter'

Raheem Sterling's future at the World Cup is unclear after leaving the squad to deal with a "family matter", says England manager Gareth Southgate.




BBC Sport - Published





Neat Sterling finish makes it 3-0 to England

Raheem Sterling hasn't been in the best of form this season, but this is a great finish, on the volley with the outside of his boot.




BBC Sport - Published





Should Southgate stick with 'lost' Sterling?

Should Gareth Southgate stick with Raheem Sterling in England's first game of the World Cup against Iran despite his poor form for Chelsea?




BBC Sport - Published





Raheem Sterling: Chelsea player 'not even in contention' for England's World Cup squad

Chelsea's Raheem Sterling is "not even a consideration" for England's World Cup squad on current form, according to BBC Radio 5 Live's Pat Nevin.




BBC Sport - Published





Raheem Sterling: Chelsea winger left 'fuming' by Manchester City exit

Chelsea forward Raheem Sterling admits he was left "fuming and raging" by his Manchester City exit.




BBC Sport - Published




Chelsea: Conor Gallagher on Raheem Sterling, Thomas Tuchel and breaking through

Chelsea's Conor Gallagher talks about new signing Raheem Sterling and being part of manager Thomas Tuchel's plans for next season.




BBC Sport - Published





Cristiano Ronaldo: Chelsea end interest in Man Utd forward after signing Raheem Sterling

Chelsea end interest in signing Manchester United's Cristiano Ronaldo after signing Raheem Sterling from Manchester City.




BBC Sport - Published





Raheem Sterling: Chelsea confirm signing of Manchester City forward

Chelsea confirm the signing of England forward Raheem Sterling from Manchester City in a £50m deal.




BBC Sport - Published




Raheem Sterling confirms Manchester City departure before Chelsea move

England forward Raheem Sterling confirms his departure from Manchester City before a £50m move to Chelsea.




BBC Sport - Published





Raheem Sterling: Chelsea agree fee with Manchester City for England winger

Chelsea and Manchester City agree a fee worth up to £50m for Raheem Sterling, who is set to join the Stamford Bridge club on a five-year contract.




BBC Sport - Published




Raheem Sterling: Why are Man City letting him go and why are Chelsea signing him?

What legacy does Raheem Sterling leave at Manchester City and why have Chelsea moved for the England forward?




BBC Sport - Published





Chelsea: Raheem Sterling agrees move from Manchester City

Manchester City forward Raheem Sterling agrees personal terms with Chelsea.




BBC Sport - Published





Raheem Sterling: Man City forward faces career-defining decision amid Chelsea interest

Raheem Sterling has a lot to think about as he considers leaving champions Manchester City during the prime of his career.




BBC Sport - Published





Euro 2020: England 2-0 Germany - Relive Raheem Sterling & Harry Kane's goals at Wembley

Relive the best action and reactions after England's iconic Euro 2020 win over Germany.




BBC Sport - Published





Raheem Sterling: Man City forward attracting interest from Bayern Munich and La Liga

Manchester City forward Raheem Sterling is attracting interest from Bayern Munich and leading clubs in Spain amid uncertainty over his future.




BBC Sport - Published





Raheem Sterling: Why Man City fans don't appreciate him enough - Micah Richards analysis

BBC pundit Micah Richards feels Manchester City fans should focus on what Raheem Sterling brings to their team, rather than just remember his missed chances.




BBC Sport - Published





Burnley 0-2 Man City: Pep Guardiola - Raheem Sterling is 'so important' for the club

Pep Guardiola heaps praise on his Manchester City squad, highlighting Raheem Sterling's importance to the club in their 2-0 win at Burnley to reclaim the Premier League top spot.




BBC Sport - Published





FA Cup: 'It's a gift' - Raheem Sterling scores Man City opener against Southampton

Manchester City take advantage of a lapse in concentration by the Southampton defence as Raheem Sterling gives the visitors the lead in the FA Cup quarter-final tie.




BBC Sport - Published





Norwich City 0-4 Manchester City: Raheem Sterling scores hat-trick in win

Raheem Sterling scores a hat-trick as Manchester City stretch their lead in the Premier League to 12 points with a win over Norwich.




BBC Sport - Published





Raheem Sterling: Manchester City and England forward discusses England & Euro 2020 with Gareth Southgate

Manchester City forward Raheem Sterling speaks to his England head coach Gareth Southgate as part of a guest editor role for the BBC Today programme.




BBC Sport - Published





MOTD Analysis: How terrific Raheem Sterling tormented Leicester in Man City's rampant Boxing Day win

Match of the Day's Alan Shearer highlights the contribution of two-goal Raheem Sterling in Man City's incredibkle 6-3 Boxing Day win over Leicester City.




BBC Sport - Published





Sports Personality 2021: Raheem Sterling - meet the contender

BBC Sport takes a look at Sports Personality of the Year contender Raheem Sterling.




BBC Sport - Published





Sports Personality 2021: Tom Daley, Tyson Fury, Adam Peaty, Emma Raducanu, Raheem Sterling and Sarah Storey up for award

A shortlist of six contenders is announced for the 2021 BBC Sports Personality of the Year award.




BBC Sport - Published





Raheem Sterling: Man City star's best goals & stats as he reaches 100 Premier League goals

As Raheem Sterling reaches 100 Premier League goals, BBC Sport looks back at some of his best goals and the key stats showing how the Manchester City forward reached the landmark.




BBC Sport - Published





Manchester City 1-0 Wolves: Pep Guardiola 'relieved' with City win over 10-man Wolves

Manchester City manager Pep Guardiola praises his side's "patient" performance after Raheem Sterling's match-winning penalty against 10-man Wolves at the Etihad Stadium.




BBC Sport - Published





Man City 1-0 Wolves: Raheem Sterling scores penalty as Raul Jimenez sent off

Raheem Sterling scores a controversial penalty to reach 100 Premier League goals and give Manchester City victory over 10-man Wolves.




BBC Sport - Published





Manchester City 3-0 Everton: Raheem Sterling on target in routine win for champions

Manchester City claim a comfortable victory over Everton to move back up to second in the Premier League and within touching distance of leaders Chelsea.




BBC Sport - Published





Transfer rumours: Pogba, Messi, Sterling, Cavani, Werner, Ramsey

Paul Pogba could stay at Man Utd , Barcelona eye Raheem Sterling, Newcastle want Adrien Rabiot, Liverpool target cover for trio, plus more.




BBC Sport - Published





Raheem Sterling: Pep Guardiola says he 'can't assure' England forward of more game time

Pep Guardiola says he cannot guarantee Raheem Sterling a more prominent role at Manchester City and insists the England forward must fight for his place.




BBC Sport - Published





Raheem Sterling: Man City forward open to move abroad if he does not get more game time

Manchester City forward Raheem Sterling says he would be open to playing abroad if he does not get more game time at Etihad Stadium.




BBC Sport - Published





Marcus Rashford and Raheem Sterling changing perceptions of race, says Ian Wright

Raheem Sterling and Marcus Rashford have changed how black footballers are viewed, says Ian Wright.




BBC Sport - Published





Football agent Aidy Ward broke rules by targeting minors

Aidy Ward also tried to involve his then-client Raheem Sterling in a bid to attract an under-age player.




BBC Sport - Published





Euro 2020: 'He's world class' - Sterling shines for England at Euros

Watch Raheem Sterling's best moments at Euro 2020, where he scored three goals en route to the final with England.




BBC Sport - Published





Irish basketball chief quits over Raheem Sterling dive jibe

The CEO of Basketball Ireland has stepped down from his role over a Facebook comment referencing Raheem Sterling and the Black Lives Matter movement.




Sky News - Published




Euro 2020: Harry Maguire, Kyle Walker and Raheem Sterling in team of tournament

England's Harry Maguire, Kyle Walker and Raheem Sterling, plus five players from champions Italy, are named in the Euro 2020 team of the tournament.




BBC Sport - Published





'You did us proud': Mural of Southgate, Kane and Sterling unveiled in London

A mural of Gareth Southgate, Harry Kane and Raheem Sterling has been unveiled in London to pay tribute to the England team after their Euro 2020 final defeat against Italy.




Sky News - Published





Euro 2020: Raheem Sterling, Harry Kane, Harry Maguire & Jordan Henderson - watch every England Euro 2020 goal so far

Watch every goal scored by England at Euro 2020 so far, including efforts from Raheem Sterling and Harry Kane.




BBC Sport - Published




Euro 2020: England captain Harry Kane on Italy, childhood dreams and Bobby Moore

England captain Harry Kane hopes to fulfil a childhood dream, while John Stones is full of praise for Raheem Sterling.




BBC Sport - Published





Euro 2020: Harry Kane, Raheem Sterling, Kyle Walker & Declan Rice describe incredible night at Wembley

England players Harry Kane, Raheem Sterling, Kyle Walker & Declan Rice discuss the elation of celebrating advancing to the final of Euro 2020, with Kane claiming the 2-1 victory over Denmark as an..




BBC Sport - Published





Euro 2020: Lineker, Shearer & Jenas discuss the Raheem Sterling penalty incident

Match of the Day pundits Gary Lineker, Jermaine Jenas & Alan Shearer discuss the penalty that resulted in Harry Kane converting the winning goal against Denmark, with Shearer calling the penalty..




BBC Sport - Published




Raheem Sterling: 'We had to dig deep' to reach Euro 2020 final

Forward Raheem Sterling praises England's spirit as they reach their first major tournament final in 55 years with victory over Denmark.




BBC Sport - Published





Transfer rumours: Sterling, Bale, Rogers, Tapsoba, White, Williams, Hennessey, Griezmann, Umtiti and more

Raheem Sterling open to offers, Gareth Bale looks to end club career, a potential Premier League destination for Antoine Griezmann, and more.




BBC Sport - Published





Gareth Southgate has a big dilemma ahead of England's semi-final clash against Denmark

Raheem Sterling has been England's standout player, and Harry Kane is back among the goals with the Golden Boot in sight.




Sky News - Published