Maldives
Island country in the Indian Ocean southwest of India and Sri Lanka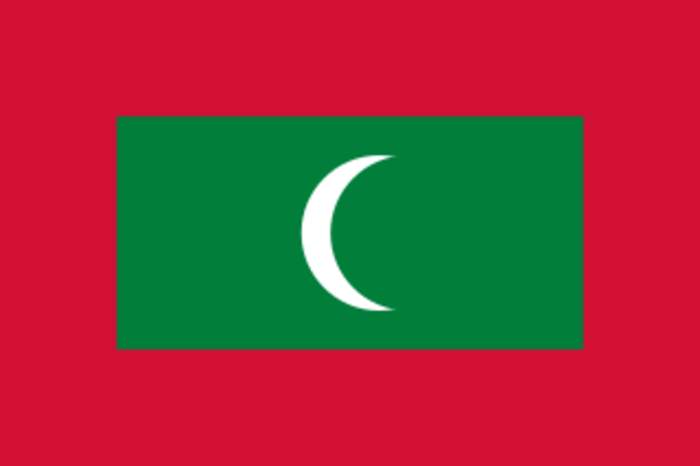 Maldives, officially the Republic of Maldives, is a small archipelagic state in South Asia, situated in the Arabian Sea of the Indian Ocean. It lies southwest of Sri Lanka and India, about 700 kilometres (430 mi) from the Asian continent's mainland. The chain of 26 atolls stretches from Ihavandhippolhu Atoll in the north to Addu Atoll in the south. Comprising a territory spanning roughly 298 square kilometres (115 sq mi), Maldives is one of the world's most geographically dispersed sovereign states as well as the smallest Asian country by land area and, with around 557,426 inhabitants, the 2nd least populous country in Asia. Malé is the capital and the most populated city, traditionally called the "King's Island" where the ancient royal dynasties ruled for its central location.


Divers Notice Whale Shark With Fins Trapped In Sack... Then This Happens!

These incredible scenes show a group of divers save a whale shark from material cutting into its body. The creature, the world's largest fish, swam near the humans on a dive in the Maldives. They saw..
Credit: Cover Video STUDIO Duration: 01:12
Published
Will spend 130 Billion Dollar on military modernization in next 7-8 years: Rajnath Singh

While addressing at the Aero India Show in Bengaluru on February 03, Union Defence Minister Rajnath Singh said, "I have been informed that about 540 exhibitors including 80 foreign companies, Defence..
Credit: ANI Duration: 02:18
Published
Over 55 lakh doses of vaccines gifted to neighbours: MEA

During a press briefing on January 28, MEA spokesperson Anurag Srivastava informed that over 55 lakh doses of vaccines have been gifted neighbours and extended neighbourhood since January 20. MEA..
Credit: ANI Duration: 01:35
Published
Watch: India sends doses of SII's Covishield vaccine to Bahrain, Sri Lanka

India once again established its position as a reliable partner in Covid-19 assistance. It dispatched Covishield to Bahrain and Sri Lanka under the Vaccine Maitri Initiative. Sri Lanka to receive a..
Credit: HT Digital Content Duration: 01:29
Published
Swimming with manta rays could help save them

Around 5,000 manta rays swim in the warm waters of Maldives, where they are protected. Globally, the species faces multiple threats, though. Beth Faulkner of the Maldivian Manta Ray Project says that..
Credit: Bleacher Report AOL Duration: 03:32
Published
'No request received from Pakistan for Indian-made coronavirus vaccines': MEA

India is supplying COVID-19 vaccines being manufactured in the country to neighbouring countries including Bhutan, Maldives, Nepal, Myanmar and Bangladesh but has not received any request from..
Credit: HT Digital Content Duration: 03:02
Published
Watch: India sends SII's Covishield vaccines to Mauritius, Seychelles, Myanmar

India dispatched consignments of SII's Covishield to Myanmar, Seychelles and Mauritius. India is sending Covid-19 vaccines as part of donation program to neighbours and key partners. Bhutan, Maldives,..
Credit: HT Digital Content Duration: 02:46
Published
Watch: India sends Covishield vaccines to Bhutan & Maldives

India on Wednesday sent coronavirus vaccines to Bhutan and Maldives. India is sending doses of the Covishield vaccine. Trucks with Covishield left from Pune's Serum Institute of India for Bhutan. The..
Credit: HT Digital Content Duration: 02:26
Published
India dispatches 1 lakh doses of Covishield to Maldives

The first consignment of Covishield vaccine by Serum Institute of India was dispatched to Male in Maldives from Chhatrapati Shivaji Maharaj International Airport in Mumbai on January 20. The..
Credit: ANI Duration: 01:07
Published
You Might Like



External affairs minister S Jaishankar inaugurates new chancery building of Indian High Commission in Mauritius

Jaishankar arrived here in India's strategically key maritime neighbour in the Indian Ocean region on Sunday night from the Maldives on the last leg of his two-nation tour. Jaishankar inaugurated the..




IndiaTimes - Published





External affairs minister S Jaishankar calls on Mauritius ex-PM Anerood Jugnauth; briefs him on progress in bilateral ties

​​Jaishankar, who arrived here in India's strategically key maritime neighbour in the Indian Ocean region on Sunday night from the Maldives on the last leg of his two-nation tour, met the..




IndiaTimes - Published




Maldives to get $50m defence support




IndiaTimes - Published





India, Maldives sign pact on development of Coast Guard Harbour

The pact was signed during Indian External Affairs Minister S Jaishankar's two-day Maldives visit.




DNA - Published





India, Maldives agree to further strengthen coordination in combatting cross border terrorism




IndiaTimes - Published





India signs $50 million defence LoC agreement to boost maritime capabilities of Maldives

India will always be a reliable security partner for the Maldives, External Affairs Minister S Jaishankar said here on Sunday, as New Delhi signed a $ 50 million defence Line of Credit agreement with..




IndiaTimes - Published





Jaishankar lands in Maldives with another 1L doses of vax




IndiaTimes - Published





EAM in Maldives: India gifts 1 lakh vaccines and USD 40 million Line of Credit for sports infra, 5 pacts signed

EAM reiterated India's 'strong support' for the 'candidature of Foreign Minster Abdulla Shahid for President of the 76th session of UNGA next year.




DNA - Published





India's time-tested relationship with Maldives poised to take quantum jump: Jaishankar




IndiaTimes - Published




India to gift Srilanka 500,000 doses of COVID-19 vaccine tomorrow

Last week, India gifted vaccines to 8 countries-- Bhutan, Maldives, Nepal, Bangladesh, Myanmar, Seychelles, and Mauritius




DNA - Published





WHO chief Ghebreyesus thanks PM Modi for 'continued support' to global Covid-19 response

WHO chief Tedros Adhanom Ghebreyesus on Saturday thanked Prime Minister Narendra Modi for his continued support to the global Covid-19 response, saying acting together, including sharing of knowledge,..




IndiaTimes - Published





COVID-19: India opens up on providing coronavirus vaccine to Pakistan

On the first day, 1.5 lakh doses of vaccines were supplied to Bhutan and one lakh doses to the Maldives as grant assistance.




DNA - Published





India to send SII's COVID-19 vaccine 'Covishield' to Myanmar, Seychelles, Mauritius

The Ministry of External Affairs had announced a vaccine rollout for Bhutan, Maldives, Bangladesh, Nepal, Myanmar and Seychelles from Wednesday.




DNA - Published





India dispatches first consignment of 100,000 Covishield vaccines to Maldives

With this, Maldives (along with Bhutan) has become the first recipient of India's gift of the Covishield vaccines, manufactured by the Serum Institute of India (SII). Earlier on Wednesday, India sent a..




IndiaTimes - Published





India to gift COVID vaccines to six neighbours in first tranche starting tomorrow

The vaccines will reach Bhutan at around 11 am local time with 150,000 doses and the Maldives at around 2 pm with 100,000 doses.




DNA - Published





India to supply Covid vaccines to six nations; Maldives, Bhutan to be first recipients




IndiaTimes - Published





India announces supply of coronavirus vaccines to six countries under grant assistance

India on Tuesday announced that it will supply Covid-19 vaccines under grant assistance to Bhutan, Maldives, Bangladesh, Nepal, Myanmar and Seychelles from Wednesday.




IndiaTimes - Published





New Year's gift: India sends BCG vaccines to Maldives

The vaccines were procured by India's Ministry of Health and Ministry of External Affairs and coordinated with Maldives High Commission in Delhi.




DNA - Published





India, Maldives and Sri Lanka agree to expand intelligence sharing; deputy NSAs to meet biannually

The meet comes, even as Chinese fishing and research vessels increase presence in the Indian ocean.




DNA - Published





NSA Doval holds bilateral talks with Maldivian Defence Minister

Doval's talks with Didi was part of a trilateral maritime dialogue among India, Sri Lanka and the Maldives being held here in the Sri Lankan capital.




IndiaTimes - Published





Ajit Doval to attend key maritime meet in Sri Lanka

NSA Ajit Doval will visit Colombo Friday to participate in the 4th Trilateral Maritime Security Cooperation meeting being hosted by Sri Lanka. This is the first time that the trilateral mechanism at..




IndiaTimes - Published





Another low-pressure area being formed in Bay of Bengal

Another low-pressure area is forming in the Bay of Bengal, likely to turn into a cyclone soon. This cyclone has been named Burwee by the Maldives.




DNA - Published





India backs Maldives to hilt as China's debt leaves negative legacy

The Maldives, under former President of Maldives Abdulla Yameen, saw the increased role of Chinese companies and government, something that has shown its impact.




DNA - Published





India's COVID-19 food aid reaches Djibouti

Under Mission Sagar 1, India had reached out to 5 Indian ocean countries-- Maldives, Mauritius, Madagascar, Comoros, and Seychelles. The outreach is part of India's SAGAR --Security and Growth for All..




DNA - Published





India backs Maldives' Foreign Minister Abdulla Shahid's candidature for UNGA president

India's support to the Maldives shows New Delhi's close ties with Male. Both sides have seen increased engagement, especially with support extended by India during the COVID crisis.




DNA - Published





India stands with Maldives' democratic journey: Foreign Secretary Harsh Vardhan Shringla

During his two-day visit to the Maldives, Shringla extended New Delhi's support for the country's "democratic journey" and signed a number of MoUs on infrastructure projects.




DNA - Published





With focus on development projects, India-Maldives to sign MOUs, discuss COVID-19 crisis

Amidst the COVID pandemic, India had sent relief to the Maldives in terms of food, medicine.




DNA - Published





Maldives grateful to India for being a 'true friend': Abdulla Shahid remembers Operation Cactus




IndiaTimes - Published





India-Maldives partnership has grown in all areas of development: Maldives Foreign Minister

India-Maldives partnership has grown from strength to strength, spanning all areas of development, and across the Maldives, said Abdulla Shahid, Maldives Foreign Minister, on the occasion marking the..




IndiaTimes - Published





Seaplane from Maldives lands successfully at Kochi on way to Gujarat

The seaplane can accommodate 12 passengers and will be managed by the private airline SpiceJet.




DNA - Published





Wheels up for trip to India, Sri Lanka, Maldives, Indonesia: Pompeo

US Secretary of State Michael Pompeo on Sunday boarded the flight for the trip to India for the third edition of the two-plus-two ministerial dialogue, that begins in New Delhi. The visit comes a week..




IndiaTimes - Published





Foreign secretary Harsh Shringla to visit Maldives on November 10

Amid the COVID-19 pandemic, India has reached out to Maldives in a number of ways including by sending medicines, rapid response team and extended US $250 million loans to deal with the economic impact..




DNA - Published





Passengers can now fly to Kenya, Bhutan through 'air bubbles' arrangements, says Civil Aviation Minister

The deal for international 'air bubbles' has been signed with countries like Maldives, US, UK, Germany, Canada, UAE, France.




DNA - Published





India provides Dornier aircraft to Maldives in sync with growing strategic ties




IndiaTimes - Published





Maldives-India cargo ferry service will promote bilateral ties: PM Modi




IndiaTimes - Published





Maldives helps India block bid to hold Saarc summit in Pakistan




IndiaTimes - Published





India to start work on Maldives airport expansion next year; runway will allow A320s, Boeing 737s to land

India to start work on the expansion of Hanimaadhoo International Airport in the northern Maldives from next year. It is billed as the largest infrastructure and connectivity project in that part of..




DNA - Published





Direct cargo ferry service to Maldives starts




IndiaTimes - Published





India, Maldives get connected by ferry service; open vast markets for exporters

The Cargo Ferry Vessel MCP Linz operated by the Shipping Corporation of India (SCI) will connect the Indian and Maldivian ports.




DNA - Published





India, Maldives will support each other in fight against health, economic impact of Covid-19: Modi




IndiaTimes - Published





India grants $250 miilion loan 'without conditions' to Maldives to mitigate COVID-19 economic impact

Maldives has been a beneficiary of India's continuous assistance during the COVID-19 pandemic.




DNA - Published




India to finance Maldives' biggest-ever infrastructure project to connect 4 islands

The project will connect capital Malé with Villingili, Thilafushi and Gulhifalhu via bridges and causeways of the total length of 6.695 kilometres. India will provide funding of US $500 million for..




DNA - Published





India to build 'largest infra project' worth $500m in Maldives

With focus on greater connectivity, India on Thursday announced several developmental projects in the Maldives, including a $ 500 million Greater Malé Connectivity Project (GMCP), billed as the..




IndiaTimes - Published





India's 'special friendship' with Maldives as deep as Indian Ocean waters: PM Modi




IndiaTimes - Published





India announces $500 million for Maldives project to counter China influence

India announced a $500 million package to fund a project in the Maldives on Thursday to help it connect the capital Male to three nearby islands, stepping up New Delhi's diplomatic efforts in a region..




IndiaTimes - Published





India announces financial package of $250 Million to Maldives

India has already extended the assistance of $400 million through extended Currency swap arrangement that will help the Indian ocean Island country tide over liquidity crisis.




DNA - Published




India, Maldives announce air travel bubble; first in the neighbourhood

India already has Transport Air Bubbles with US, France, UK & Germany. Amidst COVID-19 pandemic, International air travel has been hit hard.




DNA - Published





India speeds up connectivity projects in south Asia

Last one week saw projects being announced or completed in three south Asian counties -- Maldives, Bhutan and Bangladesh -- with the main focus being the faster movement of people and goods, and also..




DNA - Published





Maldives to achieve gender parity at its heads of missions globallly

40% of the executive committee of Maldives Foreign Ministry leadership is made up of female.




DNA - Published





INS Jalashwa brings back nearly 700 stranded Indians from Male

With this voyage, INS Jalashwa alone has so far repatriated around 2,700 Indians from the Maldives and Sri Lanka under Operation 'Samudra Setu'. On June 1, the vessel repatriated approximately 700..




IndiaTimes - Published