Vellore
City in Tamil Nadu, India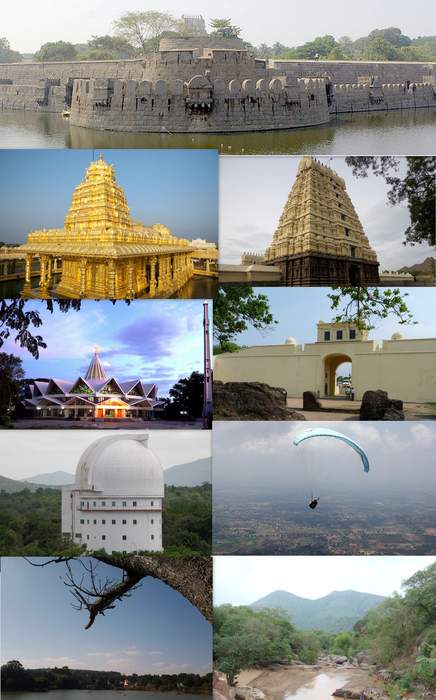 Vellore is a city and the administrative headquarters of Vellore district in the Indian state of Tamil Nadu. It is located on the banks of the Palar River in the northeastern part of Tamil Nadu and is separated into four zones that are further subdivided into 60 wards, covering an area of 87.915 km2 and housing a population of 423,425 as reported by the 2001 census.. It is located about 137.20 kilometres (85 mi) west of Chennai, and about 213.20 kilometres (132 mi) east of Bangalore. Vellore is located on the Mumbai–Chennai arm of the Golden Quadrilateral. Vellore is governed under a mayor and the Vellore Municipal Corporation. It is a part of both the Lok Sabha and state assembly constituencies of Vellore.


You Might Like
Tamil Nadu Rainfall: 9 die as house collapses in Vellore
Chief Minister MK Stalin expressed his condolences towards that family who lost their loved ones and announced a compensation of Rs 5 lakh
DNA - Published
CDSCO expert panel recommends nod to study on mixing doses of Covaxin, Covishield
An expert panel of India's central drug authority on Thursday recommended granting permission to the Christian Medical College (CMC) in Vellore for conducting a clinical trial of mixing of two Covid-19..
IndiaTimes - Published
India clocks 75,000 Covid-19 tests per day, crosses 1-million mark
India crossed 1 million Covid-19 tests, clocking over 75,000 tests per day with 419 laboratories at work across the country. 40 days of lockdown has seen the government push 14 institutions like AIIMS,..
IndiaTimes - Published
PM's constituency Varanasi among 20 best performing Smart Cities to guide 'laggard' ones
The union housing and urban affairs ministry has paired up 20 best performing cities with the 20 bottom cities and they will work as "sister cities". Ahmedabad (1st rank), Nagpur, Tiruppur, Ranchi,..
IndiaTimes - Published
Rajiv Gandhi assassination case: Nalini Sriharan released on parole for her daughter's marriage
Nalini will remain in Vellore town, which is around 140 kilometres from Chennai, where her family has hired a house at Sathuvachari for the wedding
DNA - Published
Ex-IRS officer who led raids in Vellore appointed as spl expenditure observer for poll in LS seat
Former Director General (investigation) of the income tax department, B Murli Kumar, was on Tuesday appointed as the special expenditure observer for the August 5 poll to Vellore Lok Sabha seat in..
DNA - Published
Relief as water arrives from Vellore
Sources said that after the water special arrived, top Union government officials directed Southern Railway to wait for the state government ministers before unloading and the train was sent to..
IndiaTimes - Published
Lok Sabha election to take place in Vellore on August 5: EC
The Election Commission of India announced that polls would be held in Vellore on August 5th 2019.
DNA - Published
How 20,000 women in Vellore got together to save a dying river
With nearly half of India reeling under drought and fresh water a dangerously scarce resource, citizens in many parts of the country have taken it upon themselves to correct the bleak situation.
IndiaTimes - Published