Vellore
City in Tamil Nadu, India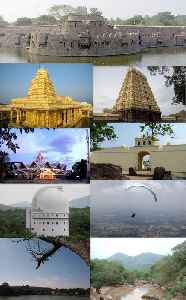 Vellore is a city and the administrative headquarters of Vellore District in the Indian state of Tamil Nadu. Located on the banks of the Palar River in the north-eastern part of Tamil Nadu, the city has been ruled, at different times, by the Pallavas, Medieval Cholas, Later Cholas, Vijayanagar Empire, Rashtrakutas, Carnatic kingdom and the British. The city has four zones covering an area of 87.915 km2 and has a population of 423,425 based on the 2001 census. It is located about 135 kilometres (84 mi) west of Chennai and about 210 kilometres (130 mi) east of Bangalore. Vellore is administered by Vellore Municipal Corporation under a mayor. It is a part of Vellore and Vellore.


How 20,000 women in Vellore got together to save a dying river
With nearly half of India reeling under drought and fresh water a dangerously scarce resource, citizens in many parts of the country have taken it upon themselves to correct the bleak situation.
IndiaTimes - Published
Search this site and the web:
You Might Like