Justin Bieber
Canadian singer and songwriter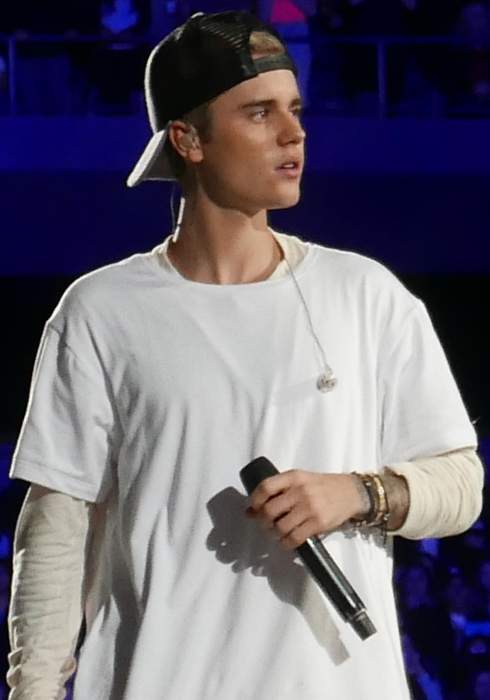 Justin Drew Bieber is a Canadian singer, songwriter and multi-instrumentalist. Discovered at age 13 by talent manager Scooter Braun after he had watched Bieber's YouTube cover song videos, Bieber was signed to RBMG Records in 2008. With Bieber's debut EP My World, released in late 2009, Bieber became the first artist to have seven songs from a debut record chart on the Billboard Hot 100.


You Might Like
Brad Pitt's Tatted Up and Snorkeling for Island Vacay
Brad Pitt is the anti-Justin Bieber early on in 2021 -- instead of covering up his tattoos like the Biebs, Brad's showing off his ink!!! Brad's ringing in the new year down in Turks and Caicos and..
TMZ.com - Published
Justin Bieber Shoots Music Video for 'Anyone' After Getting All Tattoos Covered
Justin Bieber has found a painless, though time-consuming, method of tattoo removal. The Biebs, who is thoroughly inked up, engaged in a massive cover-up for his new music video for "Anyone." Bieber..
TMZ.com - Published
Justin Bieber's NYE Performance on Worldwide, Online Broadcast
Justin Bieber's first time taking the stage for a live show in 3 years will be seen online all over the world, but will have an odd feel to it ... which perfectly sums up the year for big musical acts...
TMZ.com - Published
Justin Bieber Slams Selena Gomez Fan Calling for Hailey Bullying
Justin Bieber is slamming a Selena Gomez fan as a "sad excuse of a human" after she shamelessly called on other SG fans to bully his wife, Hailey. The Biebs actually put the woman on blast, reposting a..
TMZ.com - Published
Justin Bieber's Ex-Pastor Carl Lentz Says He Got Fired for Cheating on His Wife
Carl Lentz -- best known as Justin Bieber's former pastor and mentor -- says his church booted him because he cheated on his wife. A day after the Hillsong East Coast church announced they'd fired..
TMZ.com - Published
Justin Bieber Emerges From Video Shoot in Just Calvin Klein Boxer Briefs
Justin Bieber was burning the midnight oil for a new music video -- and it looks like the guy scorched off his pants in the process ... plus the rest of his clothes, sans underwear. The Biebs was..
TMZ.com - Published
Justin Bieber & Chance the Rapper's Cash Giveaway Winners
Justin Bieber and Chance the Rapper certainly put their money where their mouths are ... and the loot's going a long way to help hundreds of people from all walks of life who are in desperate straits...
TMZ.com - Published
Justin Bieber and Chance the Rapper Giving Away $250k to People Struggling
Justin Bieber and Chance the Rapper are feeling the love for their new collab ... so they're paying it back in the form of cold hard cash. The Biebs and the Rapper just announced they're giving away a..
TMZ.com - Published
Justin Bieber Surprises Youth Gospel Group Dancing to New Song 'Holy'
Justin Bieber had the surprise of a lifetime for a bunch of beliebers dancing to his new hit song ... sneaking up on them before making the big reveal. Justin made jaws drop Friday afternoon outside a..
TMZ.com - Published
Justin Bieber Joy Riding Yellow Vespa in Los Angeles
Justin Bieber is no Hells Angel, but he's tooling around the City of Angels on a hot new ride ... a bright yellow Vespa and Kanye West's latest kicks!!! The singer took to the streets Thursday on his..
TMZ.com - Published
Justin & Hailey Bieber Pose with Alaia Baldwin's Newborn Baby Girl
Justin and Hailey Bieber seem to be test driving their sister's newborn to see if it might be a good fit for them ... 'cause they sure do look like a couple of parenting naturals. The Biebers visited..
TMZ.com - Published