Sydney
Most populous city in Australia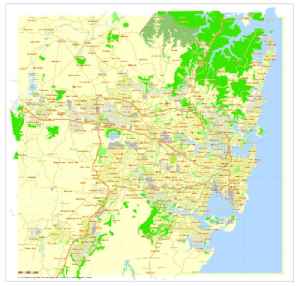 Sydney is the state capital of New South Wales and the most populous city in Australia and Oceania. Located on Australia's east coast, the metropolis surrounds Port Jackson and extends about 70 km (43.5 mi) on its periphery towards the Blue Mountains to the west, Hawkesbury to the north, the Royal National Park to the south and Macarthur to the south-west. Sydney is made up of 658 suburbs, 40 local government areas and 15 contiguous regions. Residents of the city are known as "Sydneysiders". As of June 2019, Sydney's estimated metropolitan population was 5,312,163, meaning the city is home to approximately 65% of the state's population.


Australia evacuates journalists from China

Two Australian foreign correspondents were rushed out of China for their safety with the help of Australian consular officials after being questioned by China's Ministry of State Security, their..
Credit: Reuters - Politics Duration: 02:16
Published
Australian journalists flee China

The last two journalists working for Australian media in China have left thecountry after police demanded interviews with them, the AustralianBroadcasting Corporation (ABC) has reported. ABC's Bill..
Credit: PA - Press Association STUDIO Duration: 01:10
Published
A 12-Year-Old Girl Caught Gambling In Australian Casino

(CNN) A 12-year-old girl was among three minors caught gambling at a casino in Sydney, Australia, regulators said Saturday. According to Liquor & Gaming New South Wales (NSW), the state regulator, The..
Credit: Wochit News Duration: 00:32
Published
You Might Like



'Repatriated 4,500 Indians from Sydney under Vande Bharat': India's Consul General in Sydney Manish Gupta

India repatriated 4500 Indians from Sydney itself while overall from Australia, 11,000 Indian nationals were brought back. Speaking to our Diplomatic Correspondent Sidhant Sibal from Sydney, India's..




DNA - Published





Australian police arrest two after Captain Cook statue defaced

Australian police said they arrested two women after a statute of British explorer James Cook, captain of the first Western ship to reach the east coast of Australia, was defaced early on Sunday in..




Reuters - Published





Citing COVID-19, Australia seeks to bar George Floyd protests

Australian authorities moved on Friday to scupper protests inspired by the death of black American man George Floyd, saying large gatherings risk new coronavirus infections and banning the biggest..




Reuters - Published

Also reported by •Reuters India


Australian officials move to block Black Lives Matter protest in Sydney

Australian authorities are taking legal action to try stop a Black Lives Matter protest scheduled to take place in Sydney on Saturday, citing the risk of an outbreak of COVID-19 given the large numbers..




Reuters India - Published

Also reported by •Reuters


Australia's most populous state files suit to stop Black Lives Matter protest

Australia's most populous state has lodged a legal application to stop a Black Lives Matter protest occurring in Sydney, state Premier Gladys Berejiklian said on Friday.




Reuters - Published





Australian police under scrutiny as people march in Sydney over Floyd's death

Thousands of people protested in Sydney on Tuesday over black American George Floyd's death in U.S. police custody, as Australian police faced questions about use of force during the arrest of a..




Reuters - Published





Singapore's APL England loses cargo in heavy Australian seas

A Singapore-flagged cargo ship lost at least 40 containers in deep waters off the coast of Sydney when they fell overboard in heavy seas, maritime officials said on Monday.




Reuters - Published





Car crashes into Sydney hijab store, police say no immediate terrorism link

A sports car crashed into a shop selling traditional Islamic wear in western Sydney on Thursday, injuring 11 people as well as the driver, but there was no indication the crash was terrorism related, a..




Reuters - Published





Night at the museum: Australian police arrest German student over break-in

Australian police on Monday charged a German student with breaking into a Sydney museum as security footage showed him allegedly taking selfies next to dinosaur exhibits.




Reuters - Published





Australians urged to avoid rush hour virus crush in return to work

Australian officials planned to open pop-up parking lots and extra bicycle lanes in Sydney and other cities as the country's most populous state began its first full week on Monday of loosened lockdown..




Reuters - Published





Australia plans pop-up carparks to prevent rush hour virus crush

Australian officials planned to open pop-up parking lots and extra bicycle lanes in Sydney and other cities as the country's most populous state began its first full week on Monday of loosened lockdown..




Reuters - Published





Australia's biggest state to ease coronavirus lockdown from May 15

Australia's biggest state, home to Sydney, will allow cafes and restaurants, playgrounds and outdoor pools to reopen on Friday as extensive testing has shown the spread of the coronavirus has slowed..




Reuters - Published





Australian student, meat plant workers among new virus cases as curbs ease

A school in the Australian city of Sydney was closed on Monday after a student tested positive for the coronavirus, while a testing blitz in neighbouring Victoria state returned 22 new cases, the..




Reuters - Published





Pandemic sees Sydneysiders turning to urban farm to buy fresh produce

An Australian urban farm in the heart of downtown Sydney has seen an upsurge in demand for its produce during the coronavirus pandemic.




Reuters - Published





Australian nude drawing classes move online amid coronavirus

Australian life model Leigh Pitchford casually poses with a towel partly draped over his naked body, ready to be sketched by a group of art students in Sydney.




Reuters - Published





Australian police take 'black box' off cruise ship in coronavirus homicide probe

Australian police have spoken to the captain of a cruise ship which disembarked hundreds of passengers infected with the coronavirus in Sydney, as part of a homicide investigation into the country's..




Reuters - Published





Virus-hit Carnival cruise ship docks in Australia as country's death toll hits 40

Carnival Corp's troubled Ruby Princess cruise liner, the biggest single source of coronavirus infections in Australia, docked south of Sydney on Monday to get help for sick crew members requiring..




Reuters - Published




Isolated and alone, Australians turn to pets during coronavirus shutdown

For Chris Moysa, a Sydney schoolteacher, the spread of coronavirus means long days at home without company. But like scores of other Australians, Moysa now has a new housemate after he adopted a cat..




Reuters - Published





Australia opens pop-up coronavirus test clinic at Bondi Beach

Australian authorities opened a pop-up coronavirus testing clinic at Sydney's Bondi Beach on Wednesday, as the country's central bank warned the economic fallout from the pandemic could last for more..




Reuters - Published





Australian authorities take cluster approach to contain coronavirus

Australian authorities will open a pop-up coronavirus testing clinic next to Sydney's Bondi Beach on Wednesday as health workers try to contain clusters of infections across the country.




Reuters - Published





Cruise ships told to leave Australian waters to avoid coronavirus 'fiasco' repeat

Two cruise ships off the coast of Western Australia have been told to "immediately" leave Australian waters, after the country's worst outbreak of the coronavirus was traced to a cruise liner that..




Reuters - Published





No passenger allowed off ships in Sydney until new protocols signed: NSW premier

No passenger will be allowed off cruise ships in Sydney until new protocols, which are still being negotiated with the federal government, are signed, Australia's New South Wales state premier Gladys..




Reuters - Published





Australian cruise becomes nation's worst coronavirus cluster

Greg Butler was rushed to hospital with COVID-19 within days of getting home to self-isolate after being allowed off the Ruby Princess cruise liner in Sydney, one of more than 130 passengers who tested..




Reuters - Published





Cruise ship responsible for jump in Australia coronavirus cases

Australia reported a jump in coronavirus cases on Tuesday that was almost entirely due to passengers who disembarked a cruise ship in Sydney several days ago, prompting widespread criticism of the..




Reuters - Published





Australia calls last drinks as coronavirus hits hospitality business

As a noon deadline struck on Monday for Australian pubs, restaurants and other gathering-places to close, the last three guests in Badde Manors café, in the Sydney dining hub of Glebe, hurriedly..




Reuters - Published





Australia's Bondi Beach closed after crowds defy coronavirus rules

Australian officials closed Sydney's iconic Bondi Beach on Saturday after thousands of people flocked there in recent days, defying social distancing orders to prevent the spread of the coronavirus,..




Reuters - Published





Man suspected of coronavirus jumps off Safdarjung Hospital building, dies

The man, a resident of Punjab's Shaheed Bhagat Singh Nagar district, had returned from Sydney only on Wednesday and was admitted to the facility by airport authorities.




DNA - Published





Eight weeks' worth of food - but let's not go crazy, says Sydney resident

Sydney resident Dianne Regan has stockpiled enough food to last her household for eight weeks should the authorities impose a lockdown to stop the spread of the coronavirus.




Reuters - Published





Two Australian schools close as coronavirus cases jump

Two schools in the Australian city of Sydney closed on Monday after three students tested positive for the coronavirus, taking Australia's tally of cases to more than 80 as the government prepares a..




Reuters - Published




Australia ramps up epidemic preparation as third man dies of coronavirus

A man in his 80s died in a Sydney hospital after testing positive to COVID-19, becoming the third coronavirus-related casualty in Australia, state health authorities said on Sunday.




Reuters - Published





Australian police charge two Sydney women over toilet paper feud

Australian state police on Sunday charged two Sydney women involved in a violent brawl over toilet rolls as major grocers in the country restrict supplies to one pack per person amid panic buying by..




Reuters - Published





Third coronavirus-related death in Australia after Sydney man dies

A man in his 80s died in a Sydney hospital after testing positive to COVID-19, becoming the third coronavirus-related casualty in Australia, state health authorities said on Sunday.




Reuters - Published





Australia's bushfire-stricken state pays tribute to 25 victims

Families, firefighters and politicians gathered in a solemn public ceremony in Sydney on Sunday to honor the 25 people killed in recent bushfires that tore through the country's most populous state.




Reuters - Published





Two killed in Sydney-Melbourne train derailment

Two people were killed and a number of others were injured when an Australian interstate train derailed outside Melbourne on Thursday evening, police said.




Reuters - Published





Cruise ship passenger causes coronavirus scare in Sydney

Australian health officials tested a passenger onboard a cruise ship docked in Sydney harbor for a "respiratory illness" on Friday, causing passengers to fret about the potential of another shipboard..




Reuters - Published





Australia confirms fifth coronavirus case from last flight out of Wuhan

Australia confirmed on Monday its fifth case of a new coronavirus, with health officials saying the case involved a 21-year-old woman who was on the last flight out of the Chinese city of Wuhan to..




Reuters - Published





Strong winds and scorching heat reignite Australia's bushfire danger

Soaring temperatures and strong winds stoked bushfires in Australia's southeast on Thursday, with Sydney forecast to hit 41 degrees Celsius (105.8 Fahrenheit) following a few days of cooler weather.




Reuters - Published





World welcomes 2020, but wildfires, protests, cast a pall over some celebrations

The world celebrated the New Year on Wednesday with fireworks displays from Sydney to London, although celebrations were clouded by deadly wildfires in Australia, protests in Hong Kong and India and..




Reuters - Published





World welcomes 2020, but celebrations shadowed by wildfires, protests, Korea tensions

The world celebrated the New Year on Wednesday with fireworks displays from Sydney to London, although celebrations were clouded by deadly wildfires in Australia, protests in Hong Kong and India and..




Reuters - Published





World welcomes new year amid wildfires and protests

The world rang in the new year on Wednesday with spectacular firework displays from Sydney to Tokyo, though celebrations in Australia were overshadowed by deadly wildfires and the festive mood in Hong..




Reuters - Published





Sydney gears up for New Year's spectacle despite Australian fires

Large crowds thronged Sydney harbor on Tuesday to watch Australia's famous New Year's Eve fireworks, even as smoke from deadly wildfires turned skies in nearby coastal towns blood-red.




Reuters - Published





Head trusts officials on bushfire smoke in Sydney test

Australia's Travis Head says he is confident match officials would not put the health of players at risk if hazardous bushfire smoke impacted the third test against New Zealand in Sydney this week.




Reuters - Published





Australian wildfires threaten Sydney water supplies

Australian authorities said on Friday they are focused on protecting water plants, pumping stations, pipes and other infrastructure from intense bushfires surrounding Sydney, the country's largest..




Reuters - Published




Five in hospital after balloon drop sparks stampede at Australian shopping center

Five people were hospitalized after Christmas shoppers were crushed in a midnight balloon drop of gift vouchers at a Sydney suburban shopping center.




Reuters - Published





Fight or flight: Australians grapple with difficult decision as bushfires approach

It was oppressively hot, above 40 Celsius (104 Fahrenheit), and the wind was picking up. Bushfires were devastating nearby towns and now threatened Yanderra, a small village with just over 600 people..




Reuters - Published





Australia's bushfires circle Sydney as temperatures soar

Catastrophic conditions fueled massive bushfires across Australia's New South Wales state on Saturday, with two blazes around Sydney burning at emergency level, while in South Australia one person was..




Reuters - Published





Bushfires hit emergency level on Sydney's outskirts; one dead in South Australia

Catastrophic conditions fueled massive bushfires across Australia's New South Wales state on Saturday, with three blazes around Sydney burning at emergency level, while in South Australia one person..




Reuters - Published





Massive bushfires send Australia's clean and green reputation up in smoke

Breathing masks are selling out in Sydney with the city enveloped in the smoke from bushfires sweeping across a large swath of Australia's east coast, damaging the country's clean and green reputation.




Reuters - Published





Two Australian firefighters die as flames circle Sydney; prime minister cuts short holiday

Two volunteer Australian firefighters died while battling blazes around Sydney, authorities said on Friday, forcing Prime Minister Scott Morrison to cut short a vacation in Hawaii as temperatures were..




Reuters - Published