Kulgam
Town in Jammu and Kashmir, India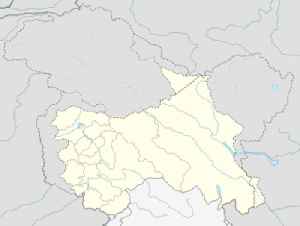 Kulgam is a town, administrative division, and capital of the Kulgam district in the Indian union territory of Jammu and Kashmir. It is located at a distance of 67 kilometres from the summer state capital of Srinagar. The city is divided into 16 electoral wards that has population of 23,584, of which 12,605 are males while 10,979 are females.


Security forces neutralise terrorist in JandK's Kulgam

A terrorist has been gunned down in an encounter at Arrah area of Kulgam on July 04. Security forces and Jammu and Kashmir Police are on the job and encounter is still underway. Further details shall..
Credit: ANI Duration: 01:10
Published
Security forces neutralize terrorist in Kulgam

One unidentified terrorist has been killed in encounter in Kulgam district on June 20. Encounter is underway at Likhdi Pora area. Police and security forces are on spot. Further details are awaited.
Credit: ANI Duration: 01:04
Published
4 JeM terrorists killed in Kulgam, Tral encounters: J-K DGP

Jammu and Kashmir's Director General of Police (DGP) Dilbag Singh, confirmed that two Jaish-e-Mohammed (JeM) terrorists were killed in an operation in Tral area on morning of June 02."Two JeM..
Credit: ANI Duration: 02:14
Published
You Might Like



Encounter breaks out between security forces and terrorists in J&K's Kulgam

Security forces launched a cordon and search operation in Arrah area of Kulgam district in south Kashmir following specific information about the presence of terrorists in the area, a police official..




IndiaTimes - Published

Also reported by •DNA


Terrorist killed in encounter with security forces in Jammu and Kashmir's Kulgam

A terrorist was killed in an encounter with security forces in Jammu and Kashmir's Kulgam district on Saturday, police said. Security forces launched a cordon and search operation in the Arrah area of..




IndiaTimes - Published




Encounter underway in J&K's Kulgam, one terrorist eliminated

A terrorist was gunned down by security forces after an encounter broke out in the Arrah area of Kulgam district in South Kashmir.




DNA - Published




Three Hizb ultras killed in Srinagar, terrorist duo escape from Kulgam




IndiaTimes - Published





Terrorist killed, two aides trapped in Kulgam

​Security forces killed a terrorist, allegedly of Hizbul Mujahideen, in south Kashmir's Kulgam district on Saturday afternoon. Two of his aides were still believed to be trapped in a hideout in the..




IndiaTimes - Published





Hizb duo killed in Kulgam encounter




IndiaTimes - Published




Four terrorists gunned down by security forces in Kulgam, Anantnag

It's the fourth encounter in south Kashmir this week.




DNA - Published

Also reported by •IndiaTimes


Terrorists open fire at police in J&K's Kulgam, civilian injured




IndiaTimes - Published





Jaish terrorist's hideout busted in Kulgam forest




IndiaTimes - Published





Security forces bust militant hideout in J&K's Kulgam

Security forces busted a militant hideout in Jammu and Kashmir's Kulgam district and recovered a number of items including ammunition, police said here. On receiving information regarding presence of..




IndiaTimes - Published





Encounter breaks out in J&K's Kulgam




IndiaTimes - Published





J&K: Encounter underway between terrorists, joint security forces in Kulgam

Sources told Zee Media that two-three terrorists are believed to be trapped.




DNA - Published

Also reported by •IndiaTimes


J&K Police pay tributes to head constable Mohammad Amin, who was martyred in Kulgam attack

Attached are photos where the J&K police personnel could be seen paying their last tributes with an honorary salute marking the brave police constable who was martyred in the service of his country.




DNA - Published





J&K: Cop killed in Kulgam, 5 LeT workers held in Budgam




IndiaTimes - Published





Cop killed in Kulgam terror attack, 5 Lashkar OGWs arrested in Budgam




IndiaTimes - Published





Cop martyred as terrorists open fire at police naka party in J&K's Kulgam

The cop sustained grievous gunshots and later succumbed to his injuries.




DNA - Published





5 civilians hurt as shell explodes at encounter site in J&K's Kulgam

At least five civilians were injured in a blast on Monday at the encounter site in Jammu and Kashmir's Kulgam district, where three militants were killed in the morning, officials said.




IndiaTimes - Published





J&K: At least three terrorists killed in encounter in Kulgam

In the last 12 hours, this is the second encounter in J&K.




DNA - Published





Jammu and Kashmir: Two terrorists killed in encounter after abducting police constable in Kulgam

Constable Sartaj Ahmad Itoo, a resident of Shirpora village in Kulgam, was abducted in the evening form his home during prayer.




DNA - Published





Former soldier shot at in Kulgam, injured




IndiaTimes - Published





Jammu and Kashmir: 9 terrorists killed in 2 separate encounters in 24 hours, 3 jawans martyred

While four terrorists were killed in an encounter in Kulgam on Saturday, five terrorists were eliminated in another operation in Kupwara on Sunday.




DNA - Published




Four Hizbul terrorists killed, soldier injured in Kulgam encounter




IndiaTimes - Published




Terrorists shoot dead youth in Kulgam




IndiaTimes - Published





From sub-inspector to deputy superintendent of police: Davinder Singh's meteoric rise in Jammu and Kashmir police

Davinder Singh joined the J&K Police as sub-inspector in 1992, rose to become a DSP and was with anti-hijacking at Srinagar Airport when he was arrested with two terrorists in Kulgam.




DNA - Published





From sub-inspector to DSP: Davinder Singh's meteoric rise in J&K police, and sudden fall from grace

Davinder Singh joined the J&K Police as sub-inspector in 1992, rose to become a DSP and was with anti-hijacking at Srinagar Airport when he was arrested with two terrorists in Kulgam.




DNA - Published





Got Rs 12 lakh to help J&K terrorists reach Delhi, admits arrested DSP

Deputy superintendent of police Davinder Singh, who was arrested on Saturday along with two Hizb terrorists and a Hizb overground worker in Kulgam, has told his interrogators that he had received Rs 12..




IndiaTimes - Published





DGP Dilbag Singh reviews law and order situation in J-K's Kulgam, Awantipora

J&K DGP Dilbag Singh on Thursday chaired review meetings with all jurisdictional police officers at the districts' headquarters to review the law and order and security situation. The meetings were..




IndiaTimes - Published





Kulgam attack: TMC holds candlelight march to protest against killing of five labourers from Bengal

Senior party leaders like Sashi Panja, besides the leadership of TMC Yuva Morcha, were present in the candlelight march.




DNA - Published





Jammu & Kashmir: Terrorists set ablaze two vehicles in Kulgam




IndiaTimes - Published





Hizb suspected to be behind killing of five labourers in J&K

Hizbul Mujahideen has emerged as the prime suspect in Tuesday's killing of five non-Kashmiri labourers in Kulgam, according to sources in J&K police. The police identified Aijaz Ahmad Malik, a Hizb..




IndiaTimes - Published





'Shocked and saddened at brutal killings': Mamata Banerjee promises all help to workers killed by terrorists in Kashmir

Five workers from West Bengal's Murshidabad district were brutally killed by terrorists in Jammu and Kashmir's Kulgam on Tuesday.




DNA - Published





Terrorists line up Bengal workers in Kulgam, execute 5




IndiaTimes - Published





J&K: Five non-Kashmiri labourers shot dead by terrorists in Kulgam

Further details are awaited in this matter.




DNA - Published





18,000 offer namaz in Srinagar on first Friday after reorganisation: Govt

According to the J&K administration, more than 18,000 people in Srinagar, 7,500 in Budgam and 11,000 in Anantnag came out for namaz. Baramulla, Kulgam and Shopian reported gatherings of less than 4,000..




IndiaTimes - Published





Security tightened in J&K ahead of Burhan Wani's death anniversary

Reacting to the separatists' plans, authorities on Sunday suspended mobile Internet facility in Anantnag, Pulwama, Kulgam and Shopian districts




DNA - Published





20 Amarnath pilgrims from Rajasthan injured in Kulgam road accident




IndiaTimes - Published





One killed, two injured in blast in Jammu and Kashmir's Kulgam




IndiaTimes - Published





Assam police arrests man from Kashmir for obscene remark on Facebook on slain CRPF man's wife

Assam Police has arrested a person from Kulgam in Jammu and Kashmir for allegedly posting an obscene comment on Facebook on the widow of a CRPF commando who was killed in a blast triggered by Maoists..




DNA - Published