Jeremy Corbyn
British independent politician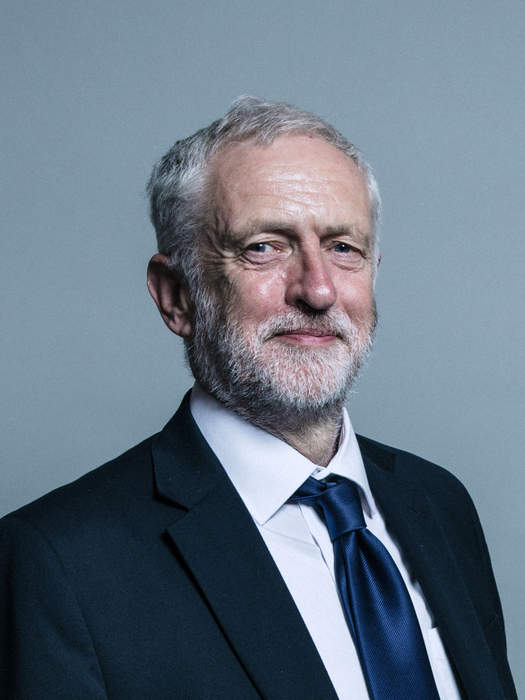 Jeremy Bernard Corbyn is a British politician who served as Leader of the Labour Party and Leader of the Opposition from 2015 to 2020. He has been Member of Parliament (MP) for Islington North since 1983. On the political left of the Labour Party, he ideologically identifies as a socialist and democratic socialist.


Starmer plays down Labour's polling woes

Sir Keir Starmer has defended his leadership of the Labour Party as polls suggest he is struggling to overhaul support for the Conservatives during the coronavirus pandemic.He acknowledged the party..
Credit: PA - Press Association STUDIO Duration: 00:53
Published
You Might Like



Ex-Labour leader Corbyn 'alarmed and distressed' after being spat at during COVID crisis

Former Labour leader Jeremy Corbyn was left "alarmed and distressed" after being spat at during last year's first wave of coronavirus infections, a court has heard.




Sky News - Published





Hoping to defuse rows, Britain's Labour elects new leader

Britain's Labour Party will elect a new leader on Saturday, with Brexit policy chief Keir Starmer the frontrunner to take over a deeply divided party that, under veteran socialist Jeremy Corbyn,..




Reuters - Published





Who is still in the race to replace UK's defeated Labour leader Jeremy Corbyn?

Britain's opposition Labour Party will elect a new leader after veteran socialist Jeremy Corbyn said he would step down following his party's general election defeat by Prime Minister Boris Johnson's..




Reuters - Published




Punjabi MP appointed Corbyn's key aide




IndiaTimes - Published





Starmer launches bid for leadership of UK's Labour Party

Keir Starmer, a former senior public prosecutor, launched his bid to replace Jeremy Corbyn as the leader of Britain's opposition Labour Party on Saturday with a defense of his efforts to stand up for..




Reuters - Published





UK Labour Party Brexit spokesman Starmer ahead in leadership race-poll

Keir Starmer, Brexit spokesman for Britain's opposition Labour Party, has emerged as the early front runner in the race to succeed Jeremy Corbyn as leader, according to a poll of members.




Reuters - Published





Ex-PM Blair tells Britain's Labour: change or you will disappear

Former British prime minister Tony Blair, Labour's most successful leader, on Wednesday urged the party to rebuild from electoral humiliation by rejecting the "protest movement with cult trimmings"..




Reuters - Published





Blair tells UK Labour: Overturn Corbyn's 'quasi-revolutionary socialism'

Former British Prime Minister Tony Blair on Wednesday urged moderates in the opposition Labour Party to grab back control from outgoing leader Jeremy Corbyn whom he said personified a brand of..




Reuters - Published





Keir Starmer 'seriously considering' running for UK Labour leadership: Guardian

British Labour Party's Keir Starmer is "seriously considering" running to succeed Jeremy Corbyn as the party's leader, the Guardian reported http://bit.ly/2M8B1cS on Tuesday.




Reuters - Published





UK Labour's Corbyn says prepared to stay as leader until next year

Labour leader Jeremy Corbyn said on Friday he did not want to go quickly after Labour suffered its worst election result since 1935 and that he was prepared to remain leader until the party chooses a..




Reuters - Published





UK Labour Leader Corbyn to step down as crushing defeat looms

Labour leader Jeremy Corbyn said on Friday he would stand down as his party faced its worst electoral defeat in 84 years, but he did not set a date for his departure and added he would remain in charge..




Reuters - Published




UK Labour Party candidate says leader Corbyn must quit

Labour leader Jeremy Corbyn must quit, party candidate Gareth Snell said on Friday, conceding that he expected to lose his parliamentary seat in Stoke-on-Trent - a city once regarded as a Labour..




Reuters - Published





UK's Labour leadership will decide on future once results in: McDonnell

Labour Party finance minister John McDonnell said his and leader Jeremy Corbyn's future would be decided once the British election results were in, after the exit poll forecast a big victory for Prime..




Reuters - Published





Israel 'very troubled' by Corbyn run in British election

Israel voiced worry about Britain's election on Thursday, describing the possible rise of the Labour Party under Jeremy Corbyn as a threat to bilateral ties and alarming for British Jews.




Reuters - Published





Johnson, Corbyn wage Brexit battle in final debate before UK election

Prime Minister Boris Johnson and opposition Labour leader Jeremy Corbyn went head to head over Brexit on Friday in the last televised debate before next week's election that will determine the path for..




Reuters - Published





Snap poll shows UK PM Johnson narrowly won pre-election TV debate

A snap poll published after a pre-election BBC television debate between Prime Minister Boris Johnson and opposition Labour leader Jeremy Corbyn showed Johnson was narrowly considered to be the winner,..




Reuters - Published





Socialism has worked in UK and it will work again: Labour's Corbyn

The leader of Britain's opposition Labour Party leader Jeremy Corbyn said democratic socialism had improved the living standards of the country's poorest in the past and the party would turn to it..




Reuters - Published





UK's Labour leader says leaked report exposes PM Johnson's Brexit claims

Britain's opposition Labour leader Jeremy Corbyn has unveiled a leaked government document which shows the damaging impact of Prime Minister Boris Johnson's Brexit deal on Northern Ireland's economy,..




Reuters - Published




Labour leader makes Brexit offensive ahead of UK election showdown

British opposition Labour leader Jeremy Corbyn went on the Brexit offensive on Friday, seeking to hit back at Prime Minister Boris Johnson's main campaign message as they both prepared for a final TV..




Reuters - Published





Israel's foreign minister says he hopes Corbyn loses British election

Israel's foreign minister said on Thursday that he hopes Jeremy Corbyn loses next week's British election, citing allegations of anti-Semitism buffeting the Labour Party leader.




Reuters - Published





'New conspiracy theory', UK's Corbyn describes challenge to health service dossier

British Labour leader Jeremy Corbyn said on Tuesday there was a "new conspiracy theory" after questions were raised over leaked documents he said showed Prime Minister Boris Johnson had raised the..




Reuters - Published





A UK Labour government would protect public services in U.S. trade talks: Corbyn

British opposition Labour leader Jeremy Corbyn said on Tuesday if his party won an election in just over a week his government would not put any public services on the table in trade talks with the..




Reuters - Published





UK's Corbyn asks Trump to ensure health service not for sale in trade talks

British opposition Labour leader Jeremy Corbyn wrote to U.S. President Donald Trump on Monday to ask him to revise U.S. negotiating objectives for a post-Brexit trade deal to ensure Britain's public..




Reuters - Published





UK PM Johnson attends vigil for London Bridge attack victims

British Prime Minister Boris Johnson and the head of the opposition Labour Party, Jeremy Corbyn, attended a vigil on Monday for the two people who were killed by a man who went on a stabbing rampage..




Reuters - Published





UK Labour leader Corbyn would stop arms sales to Saudi Arabia for use in Yemen

Britain's Labour Party leader Jeremy Corbyn said on Sunday he would stop arms sales to Saudi Arabia for use in Yemen if he wins an election this month.




Reuters - Published





UK Labour's Corbyn: Convicted terrorists should 'not necessarily' serve full sentences

Convicted terrorists should "not necessarily" serve their full prison terms, the leader of Britain's main opposition Labour party said on Sunday, after a man freed early from a terrorism sentence..




Reuters - Published




UK's Corbyn says his thoughts are with those at London Bridge

Britain's opposition Labour leader Jeremy Corbyn said his thoughts were with those caught up in the "shocking" incident at London Bridge on Friday, and thanked the emergency services for their..




Reuters - Published





Labour's Corbyn accuses Conservatives of offering up UK health service in U.S. talks

Opposition Labour leader Jeremy Corbyn offered on Wednesday what he described as evidence that access to Britain's state-run health service was being discussed in trade talks with the United States,..




Reuters - Published




UK Labour leader Corbyn says his party has apologized over anti-Semitism

Opposition Labour leader Jeremy Corbyn said on Wednesday his party had already apologized over anti-Semitism, after Britain's chief rabbi accused him of being unfit to be prime minister for failing to..




Reuters - Published





UK's Johnson in talks to give US access to health service in trade talks - Corbyn

Opposition Labour leader Jeremy Corbyn on Wednesday produced what he said were documents showing that Prime Minister Boris Johnson has discussed offering the United States access to the British health..




Reuters - Published





Britain's chief rabbi warns 'poison' of anti-Semitism in Labour

Britain's chief rabbi said opposition Labour leader Jeremy Corbyn was unfit to be prime minister because he had failed to stem anti-Semitism "sanctioned from the top" and now gripping his party.




Reuters - Published




UK's Corbyn: Labour government would not tolerate anti-Semitism

Anti-Semitism is vile and wrong and will not be tolerated in any form under a Labour government, party leader Jeremy Corbyn said on Tuesday after Britain's chief rabbi accused him of failing to stem..




Reuters - Published





UK's Johnson: Chief Rabbi's attack on Corbyn 'a serious business'

British Prime Minister Boris Johnson said on Tuesday it was a "serious business" when the chief rabbi criticized the opposition leader Jeremy Corbyn for failing to root out anti-Semitism from the..




Reuters - Published





Former PM Blair on Labour's Corbyn: Revolutions always end badly

Former British Prime Minister Tony Blair said on Monday that "revolutions" like the one promised in current Labour Party leader Jeremy Corbyn's election manifesto always end badly.




Reuters - Published





Both UK parties are peddling fantasies, says former PM Blair

Prime Minister Boris Johnson and Labour leader Jeremy Corbyn are peddling fantasies before a Dec. 12 election, former British leader Tony Blair will say on Monday, offering his support to "mainstream"..




Reuters - Published





UK Labour leader Corbyn: I would stay neutral in a second Brexit referendum

The leader of Britain's opposition Labour Party, Jeremy Corbyn, said on Friday he would remain neutral in any second Brexit referendum, so he could credibly carry out the result of the vote and unite..




Reuters - Published




Labour unveils 'radical' plan to remake Britain

Labour leader Jeremy Corbyn unveiled his party's election manifesto on Thursday, setting out radical plans to transform Britain with public sector pay rises, higher taxes on companies and a sweeping..




Reuters - Published




UK's Corbyn says Labour will consider student debt relief

Opposition Labour Party leader Jeremy Corbyn said on Thursday he would look at ways to help those who have already incurred large debts from university tuition fees, and would not sell off student..




Reuters - Published





On Prince Andrew, UK Labour's Corbyn says nobody is above the law

Britain's Labour Party leader Jeremy Corbyn said on Thursday that nobody was above the law and anyone who had done something wrong should be open to investigation, when asked about whether Prince..




Reuters - Published





Labour's Corbyn has no credibility without a Brexit plan: UK Conservatives

Britain's opposition Labour party leader Jeremy Corbyn lacks credibility because he will not say how he would vote in the new Brexit referendum he proposes, the Conservative party said after its main..




Reuters - Published





'Radical and ambitious': UK's Labour unveils socialist plan for Britain

Labour leader Jeremy Corbyn unveiled his opposition party's election manifesto on Thursday, setting out his "radical" plans to transform Britain with public sector pay rises, higher taxes on companies..




Reuters - Published