Puducherry
Southern Union Territory of India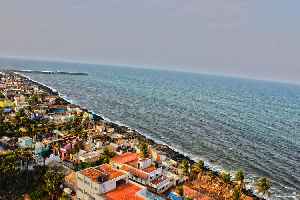 Puducherry, formerly known as Pondicherry, is one of the 8 union territories of India. It was formed out of four territories of former French India, namely Pondichéry, Karikal (Karaikal), Mahé and Yanaon (Yanam), excluding Chandernagore. It is named after the largest district, Puducherry. Historically known as Pondicherry, the territory changed its official name to Puducherry on 20 September 2006.


You Might Like
Puducherry reports its first confirmed COVID-19 case
A 68-year old woman has tested positive for coronavirus in Mahe region of Puducherry, becoming the first confirmed case in the union territory, a senior official said on Tuesday. The condition of the..
IndiaTimes - Published
Narayanasamy's remark unparliamentary, uncivilised: Kiran Bedi
Lieutenant Governor of Puducherry Kiran Bedi on Friday said Chief Minister V Narayanasamy's remark on her was 'unparliamentary, uncalled for, uncivilised and uncouth, and unacceptable.'
IndiaTimes - Published
Madhya Maharashtra, Andhra Pradesh to receive heavy rainfall today: IMD
The India Meteorological Department (IMD) on Thursday said that isolated places over Madhya Maharashtra, Coastal Andhra Pradesh, Yanam, Interior Karnataka, Tamil Nadu, Puducherry and Karaikal are..
IndiaTimes - Published
By-elections for 1 LS, 64 Assembly to be held on Oct 21
Bye-elections to Samastipur Lok Sabha constituency in Bihar and 64 Assembly constituencies across 17 states and Puducherry Union Territory, including the seats held by disqualified MLAs in Karnataka..
DNA - Published
SC refuses to intervene Madras HC order against Kiran Bedi
The Supreme Court on Friday declined to intervene in the appeals filed by Centre and Puducherry lieutenant governor Kiran Bedi challenging the Madras high court order, which had curbed the latter's..
IndiaTimes - Published
It is bottom-up inclusive budget: Kiran Bedi
Puducherry Lieutenant Governor Kiran Bedi Friday hailed the union budget for the fiscal 2019-2020 presented in Parliament by Union finance minister Nirmala Sitharaman and said 'it is a bottom-up..
IndiaTimes - Published