Jammu and Kashmir Police
State police force of Jammu and Kashmir, India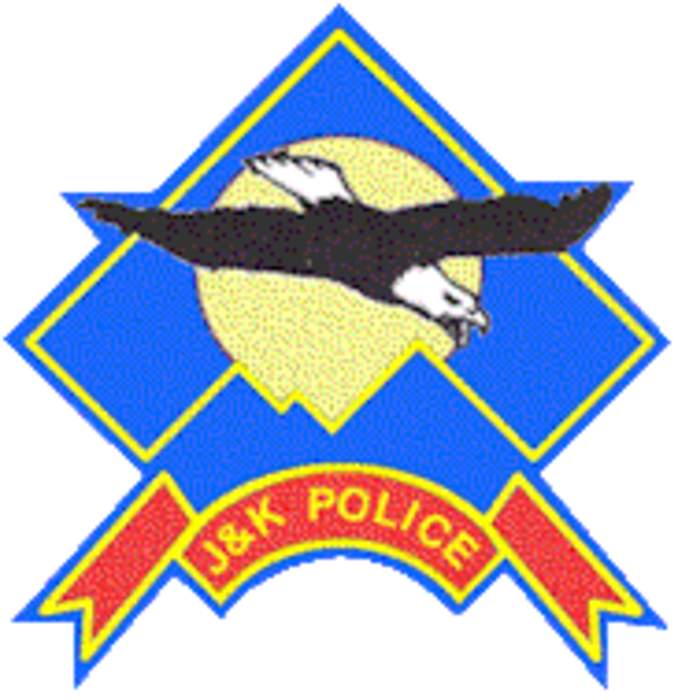 The Jammu and Kashmir Police or JKP, was established in 1873 and is the law enforcement agency, having primary responsibilities in law enforcement and investigation within Jammu and Kashmir in India.


IED neutralized in J and K's Pulwama

The Bomb Disposal Squad has neutralized Improvised Explosive Device (IED) detected at Circle Road in J and K's Pulwama. Jammu and Kashmir Police reported the incident. More details awaited.
Credit: ANI Duration: 01:05
Published
You Might Like



J-K Police speak over Palestine situation, says 'won't allow elements to disturb peace in Valley'

The police said that expressing an opinion is freedom but engineering and inciting violence on the streets is unlawful.




DNA - Published





Jammu and Kashmir: Two Lashkar-e-Taiba terror associates arrested, arms and ammunition recovered

The Jammu and Kashmir Police on Monday (April 12) arrested two Lashker-e-Taiba Over Ground Workers (OGW) in North Kashmir's Baramulla district.




DNA - Published





Media advisory is for safety of reporters: Kashmir Police

Two days after issuing a media advisory, urging reporters to desist from going near encounter sites and covering the proceedings live, Kashmir Police on Friday reiterated that the advisory was meant..




IndiaTimes - Published





Jammu and Kashmir Police save four youth from joining terrorist ranks

Cops have requested parents to come forward and report any such activity of their wards so that they are mainstreamed through concerted counselling.




DNA - Published





Jammu and Kashmir: Low-intensity IED explodes in Anantnag's Bijbehara, no injuries reported

According to the Jammu and Kashmir Police, terrorists had planted a small IED in a tipper vehicle in the Pazalpora locality in Bijbehara.




DNA - Published





PDP youth wing president Waheed Para arrested again

PDP youth wing president Waheed Para, who was granted bail by an NIA court on Saturday, was arrested again on Monday by the Jammu and Kashmir Police over a case related to an alleged nexus involving..




IndiaTimes - Published





Decline in infiltration, terror incidents; 225 terrorists killed in J&K in 2020: Police chief

The DGP said that among the slain terrorists, 47 were top commanders belonging to various outfits. "Today, all top commanders of various outfits have been eliminated," he added. The DGP said 16 Jammu..




IndiaTimes - Published





Jammu and Kashmir: SPO-turned-terrorist along with three JeM associates arrested in Budgam

The Jammu and Kashmir Police also recovered arms, ammunition and other incriminating material from the arrested persons.




DNA - Published





JK Police seeks to take NRI businessman Mubeen Shah into custody, after revoking his PSA detention

Eleven months after revoking his detention under the stringent Public Safety Act, Jammu and Kashmir Police has initiated the process of taking NRI businessman Mubeen Shah into custody and attachment of..




IndiaTimes - Published





Alert security forces detect, defuse IED in J&K's Kupwara district

Joint forces of Jammu and Kashmir Police and the Indian Army detected the IED in Jammu and Kashmir's Kupwara district.




DNA - Published





Suspended J&K DSP Davinder Singh was tasked by Pak to establish contact in MEA: NIA chargesheet

Suspended Deputy Superintendent of Jammu and Kashmir Police Davinder Singh was given a task by his Pakistani handler to establish a contact in the Ministry of External Affairs (MEA) to carry out..




DNA - Published





Three LeT militants, ASI killed in J&K encounter

Three Lashkar-e-Taiba (LeT) militants and an assistant sub-inspector of Jammu and Kashmir Police were killed in a gunfight in the outskirts of the city here on Sunday, police said. Militants fired on a..




IndiaTimes - Published





Terrorists hurl grenade, open fire at security forces in J&K's Shopian

The terrorists lobbed a grenade and then opened fire on joint forces of CRPF and Jammu and Kashmir Police.




DNA - Published





J-K Police busts Lashkar-e-Taiba hideout in Shopian, recovers massive amount of ammunition

The incriminating material has been taken into police custody for investigation purposes.




DNA - Published





Two terrorists killed by security forces in J&K's Anantnag

Two terrorists were killed in an encounter with security forces in Waghama area of Anantnag, Jammu and Kashmir Police said on Tuesday.




IndiaTimes - Published




J&K Police does not target terrorists' families without evidence: IGP

Vijay Kumar, Kashmir Inspector-General of Police (IGP) on Sunday said that Jammu and Kashmir Police does not target the families of the terrorists without evidence. Police said that it has taken..




IndiaTimes - Published





J&K Police arrests mother of slain terrorist who posed with gun, recruited youths for terror

The Jammu and Kashmir Police has arrested the mother of slain terrorist Tauseef Ahmad Shah, who was killed during an encounter in May last year.




DNA - Published





Security forces apprehend 4 LeT terrorist associates in J&K's Sopore

"Sopore Police along with 52 Rashtriya Rifles and Central Reserve Police Force (CRPF) launched cordon and search operations (CASOs) simultaneously in Pothka Muqam and Chanpora Athoora and apprehended 4..




IndiaTimes - Published





3 terrorists killed in Pulwama encounter

Three terrorists have been neutralised in the encounter that broke out between security forces and terrorists in Kangan area of Pulwama on Wednesday morning, said the Jammu and Kashmir Police.




IndiaTimes - Published




Nawakadal encounter: 2 Hizbul militants killed in Srinagar

The second terrorist has also been killed in the ongoing encounter with security forces at Nawakadal area of Srinagar on Tuesday. The Jammu and Kashmir Police had earlier today informed of one..




IndiaTimes - Published





CRPF jawan, policeman injured in encounter with terrorists in Srinagar

A police official said the encounter began after security forces launched a cordon and search operation in the area following inputs about the presence of terrorists there. A CRPP jawan and a Jammu and..




IndiaTimes - Published





Encounter underway in J&K's Doda district

"On a specific police input, an operation launched late last night in Doda District. An encounter has started just now," tweeted Jammu and Kashmir Police.




IndiaTimes - Published





J&K police bust LeT module in Budgam, 5 arrested

Security forces arrested five terror associates of Lashkar e Taiba and also busted a terrorist hideout in Budgam, according to the Jammu and Kashmir Police on Saturday. Police said, "acting on..




IndiaTimes - Published





Pak pushing coronavirus infected militants into Kashmir: J&K DGP

Pakistan is pushing militants infected with COVID-19 into Kashmir to spread the disease among the people of the valley, Director General of Jammu and Kashmir Police Dilbag Singh said on Wednesday.




IndiaTimes - Published





3 CRPF jawans martyred in terrorist attack in north Kashmir's Sopore

The terrorists fired at a Naka point that was jointly being manned by troops of CRPF's 179th battalion and the Jammu and Kashmir Police, officials said.




DNA - Published

Also reported by •IndiaTimes


J&K: Anti-terror operation near LoC in Keran sector enters third day; 5 terrorists slain, 3 jawans martyred

Jammu and Kashmir Police said the slain terrorists belonged to the Hizbul Mujahideen




DNA - Published





Four terrorists killed in encounter with security forces in Jammu and Kashmir's Kulgam

A joint team of Army, CRPF and Jammu and Kashmir Police launched a cordon and search operation in Manzgam area of Kulgram district after getting specific inputs about the presence of terrorists.




DNA - Published

Also reported by •IndiaTimes


NIA to quiz former J&K MLA for links with Hizbul Mujahideen commander

The National Investigation Agency (NIA) will question former J&K MLA Sheikh Abdul Rashid for his links with self-styled Hizbul Mujahideen commander Naveed 'Babu', arrested along with suspended Jammu..




IndiaTimes - Published





Suspended DSP Davinder Singh, 4 others produced in court; granted 15-day NIA custody

Suspended Deputy Superintendent of Jammu and Kashmir Police Davinder Singh, who was arrested for helping terrorists, was produced in a special court here on Thursday and was sent to 15-day NIA custody..




IndiaTimes - Published





DGP Dilbag Singh compliments Srinagar police for busting JeM terror module

On January 16, Jammu and Kashmir Police had busted the Jaish-e-Mohammed terror module and arrested a total of five terrorists. With this, the Police claimed to have averted a major terror attack..




IndiaTimes - Published





J&K DGP supports establishment of deradicalisation centres

Director General of Jammu and Kashmir Police on Monday supported the idea of setting up deradicalisation centres for youth, who have gone astray, in the trouble torn union territory. "In recent times,..




IndiaTimes - Published





MHA asks NIA to initiate process of probing case of arrested J&K DSP

The Union home ministry has asked the NIA to initiate the process of probing the case of suspended Jammu and Kashmir Police deputy superintendent Davinder Singh, who was caught in south Kashmir while..




IndiaTimes - Published





J&K DGP chairs high-level security review meeting in Kashmir

The meeting was attended by ADGP, CID Dr B Srinivas, IGP Kashmir, SP Pani, DIG and other high ranking officers of JK Police.




DNA - Published





Terror incidents in J&K have come down to almost nil after abrogation of 370: Rajnath

He also said the Army, paramilitary forces and the Jammu and Kashmir Police have been coordinating to fight terrorism in the state. "Terror incidents have been taking place in Jammu and Kashmir for the..




IndiaTimes - Published





Don't venture inside encounter zones: Police asks people in Kashmir

The Jammu and Kashmir Police has issued an advisory asking people in the valley not to venture inside encounter zones due to the danger posed by stray explosive materials. This advisory was issued a..




IndiaTimes - Published





J&K: Encounter underway between security forces and terrorists in Anantnag

"Encounter is in progress at the outskirts of Anantnag. Further details shall follow," the tweet by Kashmir Police's official handle read.




DNA - Published





Jammu and Kashmir: Two Hizbul Mujahideen terrorists arrested in ongoing operation

Notably, this was the fifth operation to nab terrorists by Jammu and Kashmir Police in the last 15 days.




DNA - Published





Pakistan fidayeen use new moon, 2-5am bands to infiltrate: Report

The report, prepared by National Investigation Agency (NIA) and shared with Jammu and Kashmir Police, has studied some three dozen terror attacks or encounters with security forces. It has used call..




IndiaTimes - Published





8500 posts vacant in J&K Police, army to organise recruitment rallies on Oct 3, 4

Jammu and Kashmir Police said that 'recruitment Boards' has been constituted to undertake the process of recruitment of these officers into the J&K Police.




DNA - Published





Terror groups sealing shops, pasting threatening posters a regular feature in Kashmir

There have also been instances of armed militants walking into shops to warn owners to keep shutters down and barging into Jammu and Kashmir Bank branches in south Kashmir to ask employees to stay away..




IndiaTimes - Published





Amarnath yatra to begin from Monday amid tight security

The 40-day yatra to the Amarnath cave shrine at an altitude of 3,880 metre in the south Kashmir Himalayas will commence from the twin routes of Baltal and Pahalgam from Monday. The Army, CRPF and the..




IndiaTimes - Published





Terror attack in J&K's Anantnag; 2 CRPF soldier martyred, 5 injured

Terrorists on Wednesday carried out an attack on a busy road in Anantnag district of south Kashmir in which at least two CRPF personnel were martyred. Five other personnel including an inspector of..




IndiaTimes - Published