Downing Street
Street in London, England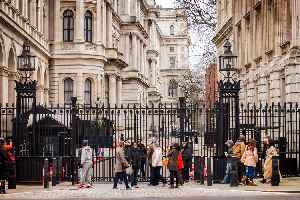 Downing Street is a street in central London that houses the official residences and offices of the Prime Minister of the United Kingdom and the Chancellor of the Exchequer. Situated off Whitehall, a few minutes' walk from the Houses of Parliament, Downing Street was built in the 1680s by Sir George Downing.


Sunak outlines help for workers and businesses at presser

Rishi Sunak has outlined new financial support for workers and businesses at a Downing Street press conference. The chancellor also warned "for at least the next six months the virus and restrictions..
Credit: ODN Duration: 01:33
Published
Sunak: I can't promise that everyone can go back to the job that they used to have

Chancellor Rishi Sunak said he could not promise that "everyone can go back tothe job that they used to have". At a Downing Street press conference he said:"We obviously can't sustain the same..
Credit: PA - Press Association STUDIO Duration: 00:46
Published
Boris Johnson visits police as chancellor delivers statement

Boris Johnson chose to visit a police training centre in Northamptonshire today instead of attending his chancellor's major announcement in the House of Commons. Downing Street denied speculation about..
Credit: ODN Duration: 01:53
Published
Key information from September 3 coronavirus briefing

The Government's chief medical and scientific advisers have held a coronavirusbriefing at Downing Street to explain how the virus is spreading in the UK andwhat could happen as winter approaches...
Credit: PA - Press Association STUDIO Duration: 03:07
Published
Vallance and Whitty arrive ahead of Downing Street briefing

The government's Chief Scientific Advisor Sir Patrick Vallance and Chief Medical Officer (CMO) for England Professor Chris Whitty have arrived at 10 Downing Street ahead of their televised briefing...
Credit: ODN Duration: 01:14
Published
Ministers arrive for cabinet ahead of Brexit talks

Ministers have arrived to Downing Street to attend the weekly cabinet meeting as the latest round of Brexit negotiations get underway and the government prepare a new bill which could see amendments..
Credit: ODN Duration: 01:48
Published
Julian Assange petition taken to Downing Street

Stella Moris has arrived at Downing Street to deliver a petition against the extradition of her fiancé Julian Assange. Ms Moris was accompanied by Rebecca Vincent from Reporters Without Borders. Both..
Credit: ODN Duration: 01:06
Published
UK will get first access to Oxford vaccine, No 10 says

The UK would be first in line for a coronavirus vaccine developed by OxfordUniversity if it was proven to be effective, Downing Street has said. It comesafter reports Donald Trump is considering..
Credit: PA - Press Association STUDIO Duration: 02:20
Published
Students protest outside the Department for Education

*Pressure is mounting on the Government over its handling of the exams system after thousands of pupils in England had their results downgraded. It comes as protesters gathered outside Downing Street..
Credit: PA - Press Association STUDIO Duration: 01:01
Published
International Cat Day: Larry poses for photo shoot in Downing Street

A photographer has been snapping one of London's most famous felines ahead of International Cat Day on Saturday (August 8).View on euronews
Credit: euronews (in English) Duration: 00:50
Published
Boris Johnson on Covid lockdown measures in northern England

The Prime Minister Boris Johnson has set out the reasons behind the latest lockdown restrictions to be introduced across large parts of northern England – during a press conference in Downing Street..
Credit: ODN Duration: 00:47
Published
You Might Like



Scuffles break out during anti-racism protest in London

Brief scuffles broke out between police and protesters close to British Prime Minister Boris Johnson's Downing Street office on Wednesday during a march against racism prompted by the death of George..




Reuters - Published





Two centrally run committees to shape UK's COVID-19 approach in shake-up: Telegraph

British Prime Minister Boris Johnson is aiming to take "direct control" of the government's handling of the coronavirus outbreak in a Downing Street shake-up, The Telegraph newspaper reported late on..




Reuters - Published





Adviser Cummings enters UK PM's Downing Street residence: Sky News reporter

Boris Johnson's senior adviser Dominic Cummings, facing mounting calls to resign over a journey he made during the coronavirus lockdown, was seen entering the prime minister's Downing Street residence..




Reuters - Published





UK police spoke to father of PM's adviser Cummings: Mirror

British police said an officer had spoken to the father of Prime Minister Boris Johnson's senior adviser Dominic Cummings about his trip during lockdown, contradicting an earlier statement issued by..




Reuters - Published





UK PM Johnson back at work after birth of son: spokesman

British Prime Minister Boris Johnson is back at work at his Downing Street office after being present while his fiancee Carrie Symonds gave birth to their son, his political spokesman said on..




Reuters - Published





It's a boy: British PM Johnson's fiancee gives birth

British Prime Minister Boris Johnson's fiancee, Carrie Symonds, has given birth to a baby boy, Downing Street said on Wednesday.




Reuters - Published





UK's Johnson could ease lockdown before May 7 deadline: The Telegraph

British Prime Minister Boris Johnson is expected to announce plans for easing a month-old coronavirus lockdown as early as this week after he returned to Downing Street on Sunday night, the Telegraph..




Reuters - Published





Back from COVID-19, Johnson urged to reveal UK lockdown exit strategy

Prime Minister Boris Johnson returned to his Downing Street residence on Sunday after recovering from COVID-19, ready to take the helm again with pressure growing for the government to explain how it..




Reuters - Published





British PM Johnson back at Downing Street after COVID-19 recovery: Sky News

British Prime Minister Boris Johnson returned to 10 Downing Street on Sunday, Sky News reported, after spending a week in hospital with COVID-19 and two weeks recovering at his country residence.




Reuters - Published





British PM Johnson will be back at work on Monday, office says

British Prime Minister Boris Johnson will be back at work on Monday, a Downing Street spokeswoman confirmed on Saturday, after having recovered from a case of coronavirus that sent him to intensive..




Reuters - Published




Boris Johnson, feeling better, agrees with Trump on need to reopen economies: statements

U.S. President Donald Trump and British Prime Minister Boris Johnson agreed on the need for a coordinated international response to the coronavirus pandemic, Downing Street and the White House said in..




Reuters - Published





Trump and Johnson agree on importance of coordinated response to coronavirus

U.S President Donald Trump and British Prime Minister Boris Johnson agreed on the need for a coordinated international response to the coronavirus pandemic, including through the G7, Downing Street..




Reuters - Published





British PM discharged from hospital, fiancee speaks of "very dark" times

British Prime Minister Boris Johnson has been discharged from hospital after spending three nights in an intensive care unit being treated for COVID-19 and will continue his recovery at his country..




Reuters - Published





British PM Johnson discharged from hospital after coronavirus treatment

British Prime Minister Boris Johnson has been discharged from hospital and will continue his recovery from COVID-19 at Chequers, his official country residence, his Downing Street office said in a..




Reuters - Published





UK PM Johnson is stable, still in intensive care: Downing Street

British Prime Minister Boris Johnsons condition is stable and he remains in intensive care for close monitoring, a spokesman for his office said on Tuesday.




Reuters - Published





Factbox: Reaction as UK PM Johnson moved to intensive care

British Prime Minister Boris Johnson was moved to intensive care on Monday after his coronavirus symptoms worsened and he has asked Foreign Secretary Dominic Raab to deputise, Downing Street said.




Reuters - Published




UK PM Johnson moved to intensive care as COVID-19 symptoms worsen

British Prime Minister Boris Johnson was moved to intensive care on Monday after his coronavirus symptoms worsened and he has asked Foreign Secretary Dominic Raab to deputise, Downing Street said.




Reuters - Published





British PM Johnson still in hospital with persistent coronavirus symptoms

British Prime Minister Boris Johnson was still in hospital on Monday after suffering persistent coronavirus symptoms 10 days after testing positive for the virus, though Downing Street said he remained..




Reuters - Published




Timeline: Johnson's activities before his hospitalisation with coronavirus

British Prime Minister Boris Johnson was admitted to hospital for tests on Sunday in what Downing Street said was a "precautionary step" because he was showing persistent symptoms of the coronavirus 10..




Reuters - Published





UK's Johnson warns on coronavirus: Things to get worse before they get better

Prime Minister Boris Johnson is warning Britons in a letter to 30 million households that things will get worse before they get better, as he himself self-isolates in Downing Street to recover from the..




Reuters - Published





Trump wishes UK PM Johnson a speed recovery from coronavirus

U.S President Donald Trump wished British Prime Minister Boris Johnson a speedy recovery from coronavirus during a phone call on Friday, Downing Street said.




Reuters - Published





British PM Johnson has coronavirus, self-isolates in Downing Street

British Prime Minister Boris Johnson has tested positive for coronavirus and is self-isolating at his Downing Street residence but said he would still lead the government's response to the accelerating..




Reuters - Published




After PM Johnson tests positive, top adviser sprints from Downing Street

British Prime Minister Boris Johnson's senior adviser sprinted out of Downing Street on Friday shortly after his boss revealed that he had tested positive for coronavirus.




Reuters - Published





Reaction to news UK's Johnson has tested positive for coronavirus

British Prime Minister Boris Johnson said on Friday he had tested positive for coronavirus and was in self-isolation at his Downing Street office.




Reuters - Published




PM Johnson's message to UK after testing positive for coronavirus

British Prime Minister said on Friday he had tested positive for coronavirus and was self-isolating at his Downing Street home.




Reuters - Published




UK's Johnson says extension to Brexit transition period not being discussed

British Prime Minister said on Wednesday Brexit was not being regularly discussed in Downing Street at the moment because of coronavirus but he ruled out any extension to the transition period with the..




Reuters - Published





Betting odds give 25% probability of Britain's Cummings exiting by April

Betting odds indicate a 25% implied probability of British Prime Minister Boris Johnson's senior adviser Dominic Cummings leaving Downing Street by the end of March.




Reuters - Published





British PM Johnson's adviser Cummings says: Ignore the ignorant pundits

British Prime Minister Boris Johnson's senior adviser, Dominic Cummings, said on Tuesday that people should read more about 'superforecasting' rather than paying attention to ignorant pundits after a..




Reuters - Published





Brexit supporter burns EU flag near Downing Street in London

A Brexit supporter burned a European Union flag beside Downing Street in central London on Friday as others jeered at pro-EU demonstrators in the final hours before the United Kingdom is due to leave..




Reuters - Published





UK's Johnson, France's Macron reiterate commitment to Iran nuclear deal

British Prime Minister Boris Johnson and French President Emmanuel Macron reiterated their commitment on Sunday to the Iran nuclear deal and agreed a long-term framework was needed, Downing Street said..




Reuters - Published





No Big Ben bongs: UK government plans light show to mark moment of Brexit

Prime Minister Boris Johnson's Downing Street residence will be lit up with a countdown to Britain's exit from the European Union on Jan. 31, as part of a light display to mark the moment of Brexit,..




Reuters - Published





UK PM Johnson bans ministers from attending Davos: source

British Prime Minister Boris Johnson has banned ministers from attending the World Economic Forum for the global elite in Davos next month, according to a Downing Street source.




Reuters - Published





UK's Johnson heads to Buckingham Palace to ask to form government

British Prime Minister Boris Johnson has left his Downing Street residence to ask Queen Elizabeth for formal permission to create a new government, after his Conservative Party won an unexpectedly..




Reuters - Published





British parliament to reconvene on December 17: Downing Street statement

Britain's parliament will be reconvened on Dec. 17 following the general election, and if Prime Minister Boris Johnson remains leader, his government plans to set out its legislative agenda on Dec. 19,..




Reuters - Published





Man detained by police outside UK's Downing Street: Reuters photographer

A man with a St George's English flag was pinned to the ground by police outside the Downing Street residence of Prime Minister Boris Johnson on Thursday, a Reuters photographer at the scene said.




Reuters - Published




UK government will look at other options if early vote bid fails: source

Britain's government will look at all options to get Brexit done, including those suggested by other parties, if the main opposition Labour Party rejects Prime Minister Boris Johnson's bid on Monday..




Reuters - Published





EU mulls delay as Britain says Johnson's deal is the Brexit endgame

The United Kingdom will ultimately leave the European Union on the terms of Prime Minister Boris Johnson's deal, a senior Downing Street source said on Thursday, as EU leaders mulled offering London a..




Reuters - Published





Brexit end game: UK leaves the EU with Johnson's deal - Downing Street source

The United Kingdom will ultimately leave the European Union on the terms of Prime Minister Boris Johnson's Brexit deal even though parliament has complicated the timing of the divorce, a senior Downing..




Reuters - Published





UK PM Johnson will seek election if parliament rejects Brexit timetable: source

Britain's government will drop its attempt to get approval for its Brexit legislation and will instead press for a new election before Christmas if lawmakers vote against its timetable on Tuesday, a..




Reuters - Published





UK PM Johnson to hold cabinet meeting at 1500 GMT

British Prime Minister Boris Johnson will hold a cabinet meeting at 1500 GMT on Friday in Downing Street ahead of a crucial Brexit vote in parliament on Saturday, his spokeswoman said.




Reuters - Published





UK remains a long way from Brexit deal: Downing Street source

Britain remains a long way from agreeing a final Brexit deal and the next few days will be critical if it is to agree departure terms with the European Union, a Downing Street source said on Saturday.




Reuters - Published





UK PM Johnson urges Trump to reconsider U.S. crash case stance

British Prime Minister Boris Johnson urged U.S. President Donald Trump to reconsider a decision to let a U.S. diplomat's wife use diplomatic immunity after her involvement in a fatal car crash, Downing..




Reuters - Published





UK PM Johnson told EU Parliament's Sassoli UK wants a Brexit deal: Downing Street

British prime minister Boris Johnson told the European Parliament's president, David Sassoli, he wanted to leave the European Union with a deal, a Downing Street spokesperson said after they held talks..




Reuters - Published




EU tells British PM Johnson to stop playing 'stupid' Brexit blame game

The European Union accused Britain of playing a "stupid blame game" over Brexit on Tuesday after a Downing Street source said a deal was essentially impossible because German Chancellor Angela Merkel..




Reuters - Published