Farooq Abdullah
Indian politician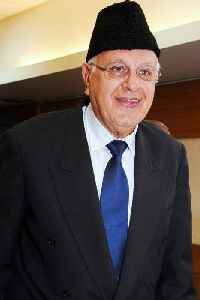 Farooq Abdullah is an Indian politician and chairman of Jammu & Kashmir National Conference. He has served as the Chief Minister of Jammu and Kashmir on several occasions since 1982, and as the union minister for New and Renewable Energy between 2009 and 2014. He is the father of former Chief Minister of Jammu and Kashmir Omar Abdullah.


Cong, National Conference finalise alliance in Jammu and Kashmir for Lok Sabha poll
Congress leader Ghulam Nabi Azad and NC patron Farooq Abdullah jointly told the media while the Congress will contest the Jammu and Udhampur Lok Sabha seats, National Conference will fight from..
IndiaTimes - Published
National Conference to field Farooq Abdullah from Srinagar in 2019 Lok Sabha elections
The party patriarch had lost the constituency in the 2014 Lok Sabha elections, but won it in a bye-election in 2017.
DNA - Published
Omar will be chief ministerial candidate in J&K: Farooq Abdullah
IndiaTimes - Published
Farooq Abdullah calls on people of J&K to unite against 'divisive agenda' of RSS-BJP
"It is high time for the people of all the regions across the state to put up a strong front against the divisive agenda of the RSS-BJP in the state. I am sure that the people of the state will give a..
IndiaTimes - Published
Elect those who will ensure your voice is heard in Parliament: Farooq Abdullah to Kashmiris
IndiaTimes - Published
Air strike was done keeping Lok Sabha polls in mind: NC chief Farooq Abdullah
Terming IAF strike on Jaish-e-Mohammed terror camp in Pakistan's Balakot as an election stunt, National Conference president Farooq Abdullah on Monday accused the ruling BJP of creating an "environment..
DNA - Published
You Might Like