Honolulu
Capital and the largest city of Hawaii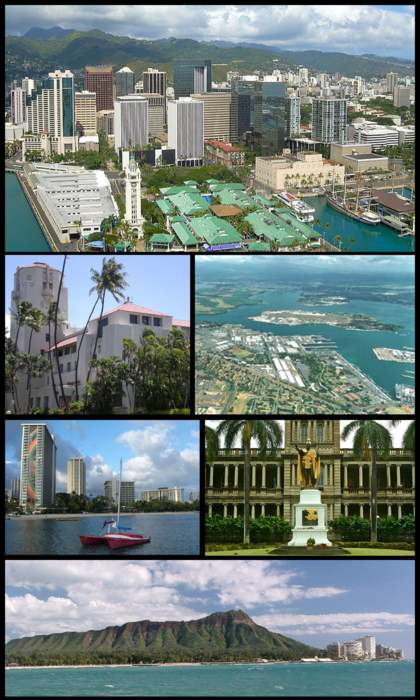 Honolulu is the capital and most populous city of the U.S. state of Hawaii, which is in the Pacific Ocean. It is an unincorporated county seat of the consolidated City and County of Honolulu, situated along the southeast coast of the island of Oʻahu, and is the westernmost and southernmost major U.S. city. Honolulu is Hawaii's main gateway to the world. It is also a major hub for business, finance, hospitality, and military defense in both the state and Oceania. The city is characterized by a mix of various Asian, Western, and Pacific cultures, reflected in its diverse demography, cuisine, and traditions.


You Might Like
Dog The Bounty Hunter's Daughter, Cecily, Arrested For Domestic Violence
Dog the Bounty Hunter's stepdaughter got into an argument with her lover and punched him in the face ... at least that's what he told cops, who busted her for domestic violence. According to the police..
TMZ.com - Published
Emotional Support Dog Dies On Hawaiian Airlines Flight
A 2-year-old emotional support dog is dead ... and the owner wants some answers from Hawaiian Airlines. The dog, a pit bull named Louis, was apparently supposed to travel in the cargo hold from Kona to..
TMZ.com - Published
Guess Who This Cool Kid Turned Into!
Before this cool kid was one of the most successful artists of all time, he was just another smirking sweetie dreaming of becoming a billionaire in Honolulu, Hawaii. This little lad's hard work and..
TMZ.com - Published
Search this site and the web: