WWE
American professional wrestling and entertainment company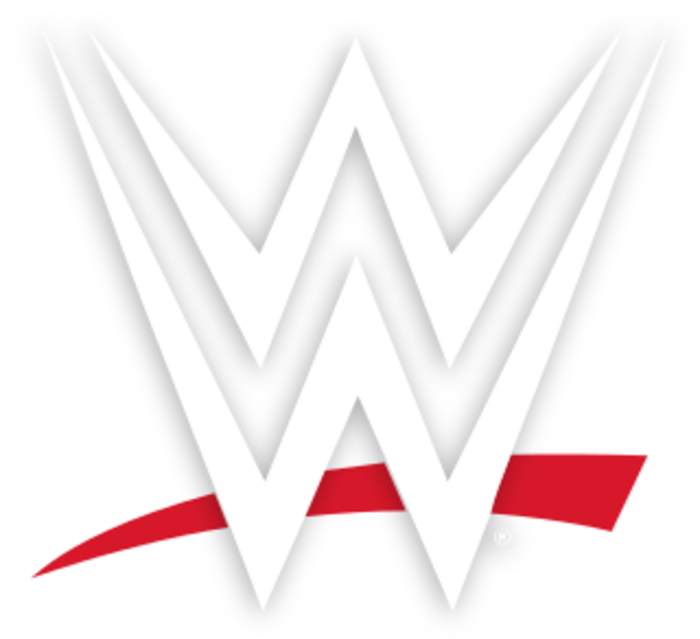 World Wrestling Entertainment, Inc., doing business as WWE, is an American professional wrestling promotion. A global integrated media and entertainment company, WWE has also branched out into other fields, including film, American football, and various other business ventures. The company is additionally involved in licensing its intellectual property to companies to produce video games and action figures.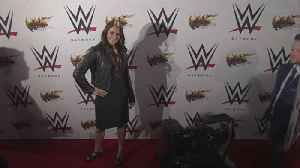 Stephanie McMahon Resigns From WWE

Stephanie McMahon , Resigns From WWE. CNN reports that four days after Vince McMahon was elected as WWE board executive chairman, . his daughter, Stephanie McMahon, resigned as WWE chairwoman and..
Credit: Wibbitz Top Stories Duration: 01:31
Published
You Might Like



Logan Paul Hits Insane Stunt In Royal Rumble Debut, Cody Rhodes Wins

Logan Paul returned to the WWE for the first time since he tore his meniscus and MCL against Universal Champion Roman Reigns at Crown Jewel -- and the Youtuber-turned-boxer-turned-pro wrestler stole..




TMZ.com - Published





Cops Check On Kevin Nash, Say WWE Legend Has No Plans To Harm Himself

Local law enforcement made contact with Kevin Nash after he hinted at having suicidal thoughts earlier this week ... and thankfully, the WWE legend stated he has no plans to harm himself. The Volusia..




TMZ.com - Published





Kevin Nash Sparks Concern After Disturbing Comments About Son's Death

Kevin Nash made dark and emotional comments regarding the three-month anniversary of his son's death ... sparking concern from fans after the WWE legend hinted at having suicidal thoughts. Nash..




TMZ.com - Published





WWE's Alexa Bliss Happy Logan Paul's Former Pet Pig Rescued

WWE Superstar Alexa Bliss is overjoyed that Logan Paul's former pig, Pearl, has found a new home ... telling TMZ Sports all that matters now is that the animal is getting proper care. As we previously..




TMZ.com - Published





WWE Sources Say Company Not Sold To Saudi Arabia

WWE has not been sold to Saudi Arabia's Public Investment Fund ... this according to sources familiar with the situation. TMZ Sports is told ... a deal has not been made between the two sides, despite..




TMZ.com - Published





Stephanie McMahon Resigns As Co-CEO Of WWE Days After Vince's Return

Stephanie McMahon is resigning from her role as Co-CEO of the WWE ... just days after her father, Vince, made his return to the company's board of directors. The 46-year-old made the shocking..




TMZ.com - Published





Vince McMahon Returns To WWE's Board Of Directors

Vince McMahon's time away from WWE lasted less than 6 months -- the former boss has returned to his organization's Board of Directors, according to a new SEC filing. The move comes on the heels of..




TMZ.com - Published





WWE Legend 'Hacksaw' Jim Duggan Detains Home Intruder At Gunpoint

"Hacksaw" Jim Duggan has had his fair share of battles inside and outside the ring ... but perhaps none scarier than when the WWE legend recently had to ward off an intruder at his South Carolina home...




TMZ.com - Published





Wrestling Star Mandy Rose Says She Made $500K On FanTime Since WWE Firing

Wrestling star Mandy Rose is no longer getting a WWE check, but she sure as hell is still raking in the dough ... 'cause TMZ Sports is told the former NXT champ has made $500k off her sexy content in..




TMZ.com - Published





WWE Hall Of Famer Barry Windham In ICU After Suffering Heart Attack

WWE Hall of Famer Barry Windham, the maternal uncle of WWE star Bray Wyatt and former WWE wrestler Bo Dallas, suffered a heart attack over the weekend and is now in the ICU. According to a GoFund Me..




TMZ.com - Published





Former UofA Football Star, Ex-NFL LB Scooby Wright Tries Out For WWE

Scooby Wright -- the ex-NFL linebacker and former University of Arizona football star -- is now trying his hand at a different contact sport ... auditioning to become the WWE's next big superstar!! The..




TMZ.com - Published





The Miz Says Jake Paul Could Be WWE Superstar, Just Like Logan!

The Miz says the WWE is big enough for TWO Paul bros ... telling TMZ Sports if Jake ever wanted to follow Logan's lead and have a career in the squared circle, he can be just as great as the Maverick!!..




TMZ.com - Published





Ric Flair Gets Fans Stoned With Weed Blower, Wooo!

Ric Flair came up with a convenient way to get everyone high on his signature weed ... by using his own ganja blower to get smoke in fans' faces!! The WWE legend threw on one of his famous robes and..




TMZ.com - Published





Nina Agdal Nurses Logan Paul After WWE Injuries

Logan Paul was left with a torn meniscus and MCL after going up against Roman Reigns at Crown Jewel ... but don't feel too bad for the guy, 'cause he had his model girlfriend, Nina Agdal, to take care..




TMZ.com - Published





Nikki Bella Raves About Logan Paul, Says He Can Be Massive WWE Superstar

Nikki Bella is convinced Logan Paul can be the next huge thing in the WWE ... telling TMZ Sports she believes the former YouTuber is "the total package" in the ring. We spoke with Nikki, who was with..




TMZ.com - Published





Jimmy Uso Blown Away By The Rock's Daughter's WWE Debut, She's A Star!

Jimmy Uso clearly believes another Johnson is going to be dominating in WWE rings for a long, long time ... telling TMZ Sports after seeing The Rock's daughter make her debut this week, he's convinced..




TMZ.com - Published





WWE Legend Kevin Nash Says Son, Tristen, Died After Seizure

WWE legend Kevin Nash is opening up about his son's tragic death ... saying 26-year-old Tristen suffered a seizure in his bedroom and went into cardiac arrest before passing away. Nash detailed..




TMZ.com - Published





WWE star Sara Lee dies suddenly aged 30

The professional wrestler and reality TV star known as Sara Lee has died suddenly at the age of 30.




Sky News - Published





WWE 'Tough Enough' Winner Sara Lee Dead At 30

Sara Lee -- a past winner of WWE's famous 'Tough Enough' show -- has sadly died at 30 years old, her mother announced Thursday. No cause of death was revealed. "It is with heavy hearts we wanted to..




TMZ.com - Published





Dwayne Johnson Makes Grown Man Cry After Autographing The Fan's WWE Belt

We may have just found the world's biggest Dwayne Johnson fan ... a man in Mexico absolutely lost it, breaking down in tears as "The Rock" signed his WWE belt, and it was super sweet. It all went down..




TMZ.com - Published





Dwight Howard Says He's Dead Serious About Joining WWE In Future, 'No Doubt'

Dwight Howard tells TMZ Sports he's dead serious about his interest in joining the WWE -- explaining he'd trade the basketball court for the wrestling ring this year if the offer was right. Howard..




TMZ.com - Published





Who is Michelle Donelan? How she went from WWE to culture secretary

With the privatisation of Channel 4 and discussions around the BBC licence fee, plus the energy crisis and recovery from a particularly difficult period for the entertainment industry during the..




Sky News - Published





Former WWE Superstar Velveteen Dream Arrested Twice In One Week In Florida

Brutal couple days for former WWE superstar Velveteen Dream last week -- TMZ Sports has confirmed he was arrested TWICE in Florida. According to court records, VD -- real name Patrick Clark -- was..




TMZ.com - Published





WWE Hall of Famer Nikki Bella Marries Artem Chigvintsev In Paris

Nikki Bella is officially a married woman -- 'cause after 3 years of dating the ex-WWE star tied the knot with her "Dancing with the Stars" dancer fiancé, Artem Chigvintsev, in an intimate ceremony in..




TMZ.com - Published





Kangaroo Brawl Ends With One Getting Tossed Through Metal Fence

A brawl between 2 kangaroos ended quicker than expected when one went straight WWE on the other -- shoving the opponent straight through a metal fence!!! The 'roo rivalry went down at Canberra Nature..




TMZ.com - Published





Vince McMahon Hits NYC Hot Spot W/ John Cena, 1st Public Sighting Since WWE Retirement

Vince McMahon celebrated his 77th birthday with his good friend, John Cena, yesterday ... in his first public sighting since retiring as the CEO and Chairman of WWE last month. The 77-year-old..




TMZ.com - Published





Ric Flair On Vince McMahon's WWE Retirement, 'I Hate It'

WWE legend Ric Flair isn't mincing his words when it comes to his feelings on the retirement of Vince McMahon ... outright saying he hates it! 76-year-old McMahon retired last week after decades as..




TMZ.com - Published





Dwight Howard Crashes WWE Tryout, Cuts Epic Promo

Some retired players go into coaching, others broadcasting ... but when Dwight Howard finally hangs up the J's, the NBA star has a future as a WWE Superstar, if he wants it, 'cause the 7 footer just..




TMZ.com - Published





WWE Superstar Big E 'At Peace' If He Never Wrestles Again After Broken Neck

Big E doesn't know if he'll ever wrestle again after breaking his neck in March ... and that's perfectly okay with the WWE Superstar, who tells us he's "at peace" with the way his 13-year career played..




TMZ.com - Published





WWE's Vince McMahon Reportedly Agreed To Pay $12M In Hush Money To 4 Women

Vince McMahon -- longtime chairman and chief executive of WWE -- agreed to pay $12 million in "hush money" to 4 different women over a 16-year time period, according to a report from the Wall Street..




TMZ.com - Published





Logan Paul Signs With WWE

Logan Paul is officially becoming a WWE Superstar -- the Maverick just signed a contract with the wrestling giant. The 27-year-old shared the news on Thursday ... posting pics of his contract signing..




TMZ.com - Published





Veer Mahaan: Indian WWE superstar talks about his career

Wrestling's latest superstar Veer Mahaan talks about his journey from reality TV to joining the WWE.




BBC Sport - Published





Vince McMahon Makes Appearance On 'Raw' Days After Stepping Aside As CEO

Vince McMahon made another unexpected appearance on TV -- this time he surprised the 'Raw' crowd in Nebraska -- just days after WWE announced the boss would be temporarily stepping aside as CEO and..




TMZ.com - Published





Race Fans Get In Wild Melee At Track In New Jersey

An event at a New Jersey speedway this past weekend looked more like a WWE match ... because, at one point during the race, fans in the stands got into a WILD brawl. The chaotic scene went down..




TMZ.com - Published





Vince McMahon Stepping Away From WWE Amid Probe, Stephanie Named Interim CEO

Vince McMahon is voluntarily stepping away from his duties as CEO and Chairman of WWE amid an investigation into alleged misconduct by the billionaire ... and his daughter, Stephanie, has been..




TMZ.com - Published





Vince McMahon Investigated By WWE Board After Alleged $3M Payment To Ex-Employee

WWE's board is investigating an alleged multi-million "hush pact" payment made by Vince McMahon to a former employee after the pair allegedly had an affair, according to a new report by The Wall Street..




TMZ.com - Published





Mike Tyson Roasting The Nature Boy In July, 'The Roast of Ric Flair'

Before Ric Flair doles out one last ass whoopin', the WWE legend's gonna take a few (verbal) jabs from Mike Tyson -- 'cause TMZ Sports has learned Iron Mike will be one of the celebs roasting Nature..




TMZ.com - Published





John Cena Fulfills Disabled Teen's Fantasy After Fleeing Ukraine to Meet

John Cena made one kid's fantasy into a real-life storybook ending -- showing up to meet a boy who was told his family was fleeing Ukraine ... just to meet the wrestling superstar. WWE released this..




TMZ.com - Published





WWE Superstar Cody Rhodes Undergoes Successful Surgery On Torn Pec

Great news for WWE Superstar Cody Rhodes -- the wrestler went under the knife to fix his torn pectoral ... and he's officially on the road to recovery. Cody's wife, Brandi, shared the news on Twitter..




TMZ.com - Published





The Miz Says He Still Supports Browns, But Won't Wear Deshaun Watson's Jersey

WWE superstar The Miz -- a HUGE Cleveland sports fan -- says he ain't droppin' his Browns support due to the Deshaun Watson trade ... but he did tell TMZ Sports he will never wear the QB's jersey. We..




TMZ.com - Published





Stephanie McMahon Taking Leave of Absence From WWE to Focus on Family

Shocking news coming from Stephanie McMahon -- the chief brand officer of WWE is temporarily stepping down from her role on Friday to be with her family. "As of tomorrow, I am taking a leave of absence..




TMZ.com - Published





'Hacksaw' Jim Duggan Says Cancer Has Returned, 'It's A Very Terrifying Time'

Awful news ... WWE legend "Hacksaw" Jim Duggan says his cancer has returned -- and both he and his family are "terrified." The wrestler did add, though, his doctors are "very optimistic that they..




TMZ.com - Published





Tammy Sytch's Bond Revoked, WWE Legend Put Back In Jail

WWE legend Tammy Sytch has been thrown back behind bars ... a judge just revoked her bond at a hearing on Friday morning. Sytch initially posted the bond on May 7 ... one day after she was arrested for..




TMZ.com - Published





WWE Legend Tammy Sytch Arrested Over Fatal DUI Crash

Tammy Sytch -- also known as "Sunny," in the ring -- is behind bars over a fatal car crash from last month that cops say was caused by her being under the influence. The former WWE star was arrested..




TMZ.com - Published





WWE's Alexa Bliss Sings On Stage With 'NSYNC At Ryan Cabrera Wedding Reception

'NSYNC is BACK -- well, partially -- the boy band hit the stage after Alexa Bliss and Ryan Cabrera's wedding over the weekend ... and the WWE Superstar joined them on stage!! TMZ Sports has obtained..




TMZ.com - Published





WWE Legend Tammy Sytch Involved In Fatal Car Crash, Cops Suspect DUI

WWE legend Tammy Sytch allegedly caused a car crash last month in which a 75-year-old man died ... and police suspect she was under the influence of booze at the time of the wreck. The Ormond Beach..




TMZ.com - Published





Johnny Knoxville Beats Sami Zayn At WrestleMania W/ Help From Wee Man

Johnny Knoxville just pulled off the unthinkable -- the "Jackass" star defeated WWE star Sami Zayn in their "anything goes" match at WrestleMania 38 ... with shocking help from his friend Wee Man. The..




TMZ.com - Published





Brock Lesnar -- Good Genes or Good Docs?!

WWE wrestler Brock Lesnar's grappling looks have been front and center since 2002, and they are Brock solid! Here's a 30-year-old version of the then 265-pound pro fighter back in 2008, posing at a UFC..




TMZ.com - Published





WrestleMania 38 Shredded Bods -- Guess Who!

Even though these WWE wrestlers have been workin' on their fitness ... it's imperative to prepare for the ultimate showdown at WrestleMania 2022. From gym-mirror selfies to post-match pics, the stars..




TMZ.com - Published





WWE's Triple H Says He'll Never Wrestle Again, Details Near-Death Medical Scare

WWE legend Triple H is opening up about his future in the ring, insisting he'll never wrestle again because of a heart condition that nearly killed him, and now requires him to have a defibrillator in..




TMZ.com - Published