S-400 missile system
Russian developed surface-to-air missile system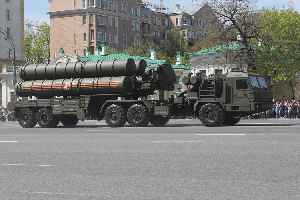 The S-400 Triumf, previously known as the S-300 PMU-3, is an anti-aircraft weapon system developed in the 1990s by Russia's Almaz Central Design Bureau as an upgrade of the S-300 family. It has been in service with the Russian Armed Forces since 2007. The S-400 uses four missiles to fill its performance envelope: the very-long-range 40N6 (400 km), the long-range 48N6 (250 km), the medium-range 9M96E2 (120 km) and the short-range 9M96E (40 km). The S-400 was described by The Economist in 2017 as "one of the best air-defence systems currently made".


Turkey expects Trump to protect Turkey from any S-400-related sanctions
Turkey expects President Donald Trump to use a waiver to protect it from any sanctions imposed by U.S. Congress over Ankara's planned purchase of a Russian missile defense system, a Turkish..
Reuters - Published
Turkey's Albayrak meets Trump, discusses Russian missile defense issue: NTV
Turkish Finance Minister Berat Albayrak said on Tuesday he met U.S. President Donald Trump and broadcaster NTV reported him as saying Trump took a reasonable point of view regarding Turkey's purchase..
Reuters - Published
Syria joint patrols: Russia and Turkey announce Idlib deal
Erdogan travelled to Moscow to secure the purchase of Russia's S400 missile defense system.
Credit: Al Jazeera STUDIO Duration: 02:09Published
U.S. stalls F-35 shipments to Turkey over dispute
The United States has halted delivery of equipment related to the stealthy F-35 fighter aircraft to Turkey, marking the first concrete U.S. step to block delivery of the jet to the NATO ally in light..
Credit: Reuters Studio Duration: 01:24Published
Pentagon Halts F-35 Deliveries To Turkey
According to Reuters, the Pentagon suspended deliveries of F-35 equipment to Turkey. A spokesman from the Pentagon added that they suspended all activities linked to Turkey's operational capability..
Credit: Wochit News Duration: 00:41Published
US Stops Delivery For F-35 Equipment Headed To Turkey
According to Reuters, the United States stopped delivering equipment for the F-35 to Turkey. The decision is related to Turkey's purchase of the Russian S-400 missile defense system. The US argued that..
Credit: Wochit News Duration: 00:41Published
Senators Introduce Bill To Stop Transfer Of F-35s To Turkey
​The bill seeks to withhold funding towards the transfer of F-35s to Turkey unless it abandons its deal to buy a Russian missile defense system.
Credit: Newsy Studio Duration: 01:10Published
US-Turkey F-35 delivery on rocks amid missile row
The United States could soon freeze preparations for delivering F-35 fighter jets to Turkey, officials told Reuters, in what would be the strongest signal yet by Washington that Ankara cannot have both..
Credit: Reuters Studio Duration: 01:24Published
US Warns Turkey Not to Buy Russian Missile System
​​Some of those consequences would include withholding deliveries of the F-35 jet and the Patriot missile defense system to Turkey.
Credit: Newsy Studio Duration: 00:57Published
India hopes to avoid US sanctions over Russian missile deal
New Delhi has been "heard and understood" by the US administration over its accord to buy the S-400 missile defence system for $5.2 billion, the minister said in an interview this week.
IndiaTimes - Published
Turkey's Erdogan says Russian S-400s delivery may be brought forward: Sabah
President Tayyip Erdogan said the delivery of Russian S-400 missile defence systems to Turkey may be brought forward from July, the pro-government Sabah newspaper reported on Wednesday.
Reuters - Published
Search this site and the web:
You Might Like