Chhindwara
City in Madhya Pradesh, India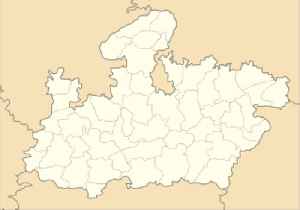 Chhindwara is city in India and a Municipal Corporation in Chhindwara district in the Indian state of Madhya Pradesh. It is known as the "Corn City" of India. is the administrative headquarters of Chhindwara District. Chhindwara is reachable by rail or road from adjacent cities Nagpur and Jabalpur. The nearest airport is in Nagpur (130 km); a small airport (air-strip) is available at Chhindwara for landing charter aeroplanes/helicopters. The population of the district is 2,090,306; most of them are tribals with a growth rate of 13%, a sex ratio of .966 male/female. The literacy rate is 81.46%. The town itself has population of 260,575, with 89% literacy rate.


Hawala racket: I-T dept to summon MP government officials, Kamal Nath's relatives
Officials said the Income Tax (I-T) department will also issue notices for appearance to some of Nath's close aides based in state capital Bhopal and his constituency, Chhindwara, as part of its action..
DNA - Published
Madhya Pradesh: Congress carries assembly poll momentum into Lok Sabha election, BJP expecting 'wave' similar to 2014
Going by numbers and vote share in the November 2018 assembly polls, Congress appears to have an edge over its rivals on the six seats - Sidhi, Mandla, Balaghat, Chhindwara, Shahdol and Jabalpur. Of..
IndiaTimes - Published
Chhindwara: Father-son take 'historic' poll plunge to keep Kamal Nath turf intact
IndiaTimes - Published
Cong didn't field any local candidate in Chhindwara to promote 'Chhote Nath': Shivraj Singh Chouhan
Former Madhya Pradesh Chief Minister and BJP leader Shivraj Singh Chouhan on Saturday accused the Congress party of promoting dynasty politics by fielding Madhya Pradesh Chief Minister Kamal Nath's son..
DNA - Published
MP: Campaign for 6 LS seats, Chhindwara Assembly bypoll ends
Chindwara to go for polls on Monday along with other 5 constituencies. Kamal Nath's son to contest elections from Chindwara against BJP.
DNA - Published
Digvijaya should contest from a tough seat, says Kamal Nath
On Saturday, chief minister Kamal Nath dropped a bomb on his party colleague saying, "Digvijaya Singh will choose which seat he wants to contest from. I have requested him that he should contest from..
IndiaTimes - Published
CM Kamal Nath's wife Alka to lead campaign for son in MP's Chhindwara
IndiaTimes - Published
You Might Like