Democratic Unionist Party
Political unionist party of Northern Ireland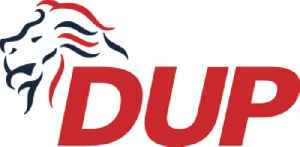 The Democratic Unionist Party (DUP) is a unionist political party in Northern Ireland favouring British identity. It was founded in 1971 during the Troubles by Ian Paisley, who led the party for the next 37 years. Now led by Arlene Foster, it has, by a narrow margin of one, the most seats in the Northern Ireland Assembly, and it is the fifth-largest party in the House of Commons of the United Kingdom.


Traditional Ulster bonfires called off due to coronavirus

Wood gathered for the traditional bonfires lit every July 11 across Northern Ireland is being removed from sites in Belfast by council workers after Loyalist communities agreed to call off this year's..
Credit: PA - Press Association STUDIO Duration: 01:23
Published
You Might Like



Difficult to see how there will not be new checks between Britain and Northern Ireland: DUP's Foster

It is difficult to see how there will not be any new checks between Britain and Northern Ireland if London pursues a trade agreement which is not aligned with the European Union, Arlene Foster, leader..




Reuters - Published





Northern Ireland's DUP backs deal to restore devolved government

Northern Ireland's largest pro-British party, the Democratic Unionist Party, said it believed the draft deal published by the British and Irish governments on Thursday provided a basis upon which the..




Reuters - Published




UK vote gives Irish nationalists hope for historic gains

Democratic Unionist Party deputy leader Nigel Dodds lost his seat in the British parliament on Friday, increasing the chances of Northern Ireland electing more Irish nationalists than pro-British..




Reuters - Published





DUP concede deputy leader Dodds has lost in UK parliament

The Democratic Unionist Party conceded that its deputy leader, Nigel Dodds, had lost his seat in the British parliament on Friday as counting in his Belfast constituency came to a close.




Reuters - Published





Brexit prompts Northern Ireland electoral pacts that could shake DUP grip

Division among Northern Ireland's pro-British and pro-Irish parties over Brexit has prompted tactical electoral moves that put at risk some of the seats that had given the province's Democratic..




Reuters - Published





Northern Ireland's DUP will not vote for early election

Northern Ireland's Democratic Unionist Party, which is allied to Prime Minister Boris Johnson's Conservatives, will not back the government's call on Monday for an early election, the party's Brexit..




Reuters - Published




Northern Ireland's DUP to oppose UK PM Johnson's call for an election: FT

Arlene Foster, leader of Northern Ireland's Democratic Unionist Party (DUP), told the Financial Times that her party opposed British Prime Minister Boris Johnson's call for an early election.




Reuters - Published




Northern Irish DUP lawmaker: we shall not support EU customs union proposal

A lawmaker from the Northern Irish Democratic Unionist Party said on Monday that it would not support a possible amendment to Prime Minister Boris Johnson's Brexit deal that would put the United..




Reuters - Published





Northern Ireland's DUP say they will use every strategy to seek changes to Brexit deal

Northern Ireland's Democratic Unionist Party will use every strategy available to try and get changes to Prime Minister Boris Johnson's Brexit deal, its Brexit spokesman Sammy Wilson said on Saturday.




Reuters - Published





DUP will consider backing amendment to UK PM Johnson's Brexit deal

Boris Johnson's Northern Irish allies will consider backing an amendment which would delay any immediate decision on the British prime minister's Brexit deal when it comes before parliament on..




Reuters - Published





DUP will lobby lawmakers to vote against PM Johnson's deal: Wilson

Voting down Prime Minister Boris Johnson's Brexit deal will open up better opportunities for the government and the Northern Irish party which supports him in government will be lobbying other..




Reuters - Published





DUP will encourage Conservative lawmakers to oppose Brexit deal

Northern Ireland's Democratic Unionist Party (DUP) will encourage like-minded members of British Prime Minister Boris Johnson's government to oppose his Brexit deal, one of its 10 members of parliament..




Reuters - Published





Northern Ireland's DUP says it can't support Johnson's Brexit deal

Northern Ireland's Democratic Unionist Party (DUP) said on Thursday it could not support Prime Minister Boris Johnson's Brexit agreement with the European Union, complicating his task of getting it..




Reuters - Published




Former Conservative leader Duncan Smith reserves judgment on Brexit deal

Pro-Brexit former Conservative leader Iain Duncan Smith said he was reserving judgment on the last-minute deal struck by Britain and the European Union on Thursday until he understood why Northern..




Reuters - Published





UK's Rees-Mogg says DUP should find comfort in new Brexit deal

Britain has secured a good deal with the European Union which ensures the whole United Kingdom is one customs union and should provide comfort to the Northern Irish Democratic Unionist Party (DUP),..




Reuters - Published





UK PM Johnson hails 'great' new Brexit deal but DUP says 'no'

Prime Minister Boris Johnson said on Thursday that Britain and the European Union had agreed a "great" new Brexit deal but still faced resistance from the Northern Irish Democratic Unionist Party (DUP)..




Reuters - Published





Brexit deal still possible: UK minister Jenrick

A Brexit deal can still be done despite Northern Ireland's Democratic Unionist Party saying it cannot support current proposals from Prime Minister Boris Johnson and the European Union, housing..




Reuters - Published





Northern Ireland's DUP dismisses report on backing Brexit consent proposals

The leader of the DUP, a small Northern Irish party backing Britain's minority government, dismissed a report on Wednesday that it had accepted the latest proposals on the role the region would play in..




Reuters - Published





Brexit talks ongoing as PM Johnson seeks to reach a deal: spokesman

British Prime Minister Boris Johnson and his team are pressing on with Brexit talks with both the European Union and lawmakers from the governing Conservatives and Northern Ireland's DUP to try to..




Reuters - Published





Brexit talks hit standstill over future trade deal, DUP: EU sources

Talks between the EU and Britain to seal a Brexit divorce deal this week have hit a "standstill", according to sources in the bloc.




Reuters - Published





Not guaranteed ERG Conservatives and DUP would vote same way on Brexit deal: lawmaker

It is not guaranteed that pro-Brexit ERG Conservatives and lawmakers from Northern Ireland's DUP would vote the same way on any Brexit deal, a senior eurosceptic lawmaker said on Wednesday as talks..




Reuters - Published





DUP says more work needed on PM Johnson's Brexit plan, gaps remain

The small Northern Irish party supporting Britain's minority government said further work was required on Prime Minister Boris Johnson's Brexit deal because gaps remain over what they can sign up to.




Reuters - Published





DUP leader says 'no' to mooted Brexit compromise on tariffs

The small Northern Irish party supporting Britain's minority government insisted on Tuesday that the region must remain within the United Kingdom customs union as part of any Brexit deal and not have..




Reuters - Published





DUP will not back Brexit deal if UK PM Johnson accepts more concessions: HuffPost

Northern Ireland's Democratic Unionist Party will not support Prime Minister Boris Johnson's Brexit deal if he has to make more concessions to the European Union to get it done, the HuffPost reported..




Reuters - Published





DUP's Dodds says Northern Ireland must stay in full UK customs union: Repubblica

A mooted eleventh-hour solution to the Brexit deadlock cannot work because Northern Ireland must remain in a full United Kingdom customs union, the deputy leader of the province's key political party..




Reuters - Published





DUP's Dodds says proposed Brexit solution cannot work: Repubblica

Prime Minister Boris Johnson's proposed solution to break the Brexit deadlock cannot work because Northern Ireland must remain in a full United Kingdom customs union, the deputy leader of the..




Reuters - Published





Constitutional integrity of UK must be respected in Brexit deal: DUP

The small Northern Irish party supporting the British government insisted on Friday that no barriers to trade be erected between it and mainland Britain in any Brexit deal and that the United Kingdom..




Reuters - Published





DUP would oppose reported EU Brexit offer over Northern Ireland veto

The small Northern Irish party supporting the British government would emphatically oppose any scheme to give the devolved assembly in Belfast a way out of a Brexit backstop after a number of years, a..




Reuters - Published





DUP leader accuses EU and Dublin of trying to trap Northern Ireland

The leader of the small Northern Irish party that supports Prime Minister Boris Johnson's government accused the European Union and Ireland on Tuesday of trying to trap the British territory in a..




Reuters - Published





Northern Irish DUP says a Brexit deal looks difficult

The Northern Irish Democratic Unionist Party, allies of British Prime Minister Boris Johnson, said that a Brexit deal was unlikely to be achieved by an informal deadline of Friday.




Reuters - Published





DUP leader Foster says latest UK Brexit proposal will not be amended

The leader of Northern Ireland's Democratic Unionist Party (DUP) said on Thursday British Prime Minister Boris Johnson's Brexit proposal would not be amended and that the Irish government's negative..




Reuters - Published





DUP deputy leader says Ireland reaction shows backstop a trap

The deputy leader of the Northern Irish party that supports Prime Minister Boris Johnson's Conservative government on Thursday said the reaction of the Irish government to Britain's Brexit proposals..




Reuters - Published





Brexit proposals give Northern Ireland unionists a veto: DUP

British Prime Minister Boris Johnson's Northern Ireland allies on Wednesday said they support his new Brexit proposals because they give pro-British unionists an effective veto over any regulatory..




Reuters - Published





DUP says if EU rejects UK Brexit offer, we 'enter realm of no deal'

The leader of the Northern Irish party that supports British Prime Minister Boris Johnson's Conservative government on Tuesday said that, if the European Union rejects Britain's latest Brexit..




Reuters - Published





Northern Ireland's DUP leader Foster backs PM Johnson's Brexit push

The leader of Northern Ireland's Democratic Unionist Party (DUP) Arlene Foster said on Sunday that she supported British Prime Minister Boris Johnson, but could not accept leaving the EU on different..




Reuters - Published





UK's Rees-Mogg: DUP backing will bring in support for Brexit deal

Conservative and opposition lawmakers will likely vote through any Brexit deal that Prime Minister Johnson secures if the Northern Irish DUP party support it, Britain's House of Commons leader Jacob..




Reuters - Published





DUP lawmaker thinks its still possible to get a Brexit deal

A senior lawmaker in the Northern Ireland party whose 10 members of parliament support Prime Minister Boris Johnson's government on Tuesday said it was still possible to get a Brexit deal approved by..




Reuters - Published





DUP leader Foster says Supreme Court decision "has to be respected"

The leader of the Northern Ireland party whose 10 members of parliament support Prime Minister Boris Johnson's government on Tuesday said the judgment of the Supreme Court has to be respected.




Reuters - Published





Northern Ireland's DUP sees Brexit deal if both sides 'flexible'

The Northern Ireland party whose support is crucial to Prime Minister Boris Johnson's government said on Wednesday it believed a deal could be secured for an orderly British exit from the European..




Reuters - Published





DUP says it wants Brexit deal, but Northern Ireland must be 'master' of rules

The Northern Ireland party whose 10 members of parliament back Prime Minister Boris Johnson's government said on Wednesday it wants to help secure an orderly Brexit but that the region must remain..




Reuters - Published





Northern Ireland's DUP rules out Brexit backstop 'by another name'

Northern Ireland's largest political party on Friday said it would not allow the British region to be forced to accept EU regulations after Brexit, shooting down reports that such a move might unlock..




Reuters - Published





Brexit: DUP would insist Northern Ireland chooses what EU laws to implement

Northern Ireland's largest political party on Friday said it would reject the imposition of EU regulations on the region under any British EU exit deal unless the local parliament was given the power..




Reuters - Published





DUP leader: Won't support Brexit deal dividing internal UK market

The leader of the Democratic Unionist Party (DUP), the Northern Irish party which backs British Prime Minister Boris Johnson's government, said the party will not support a Brexit deal that "divides..




Reuters - Published