Portland, Oregon
Largest and most populous city in Oregon, US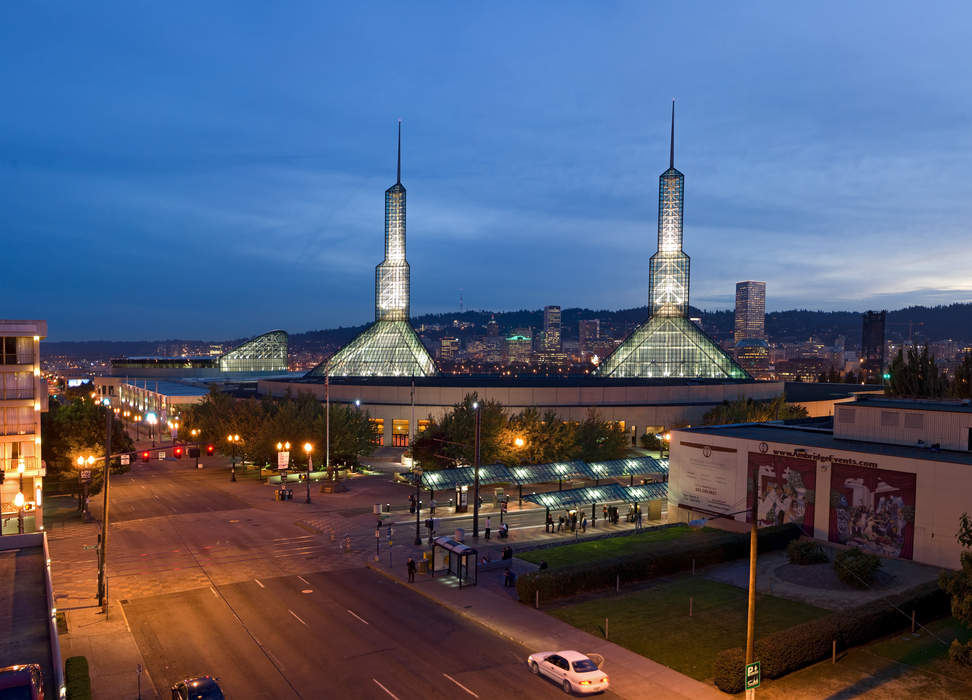 Portland is the largest and most populous city in the U.S. state of Oregon and the seat of Multnomah County. It is a major port in the Willamette Valley region of the Pacific Northwest, at the confluence of the Willamette and Columbia rivers in Northwestern Oregon. As of 2019, Portland had an estimated population of 654,741, making it the 26th most populated city in the United States, the sixth-most populous on the West Coast, and the second-most populous in the Pacific Northwest after Seattle. Approximately 2.4 million people live in the Portland metropolitan statistical area (MSA), making it the 25th most populous in the United States. Its combined statistical area (CSA) ranks 19th-largest with a population of around 3.2 million. Approximately 47% of Oregon's population resides within the Portland metropolitan area.


You Might Like
Oregon Man Records .77 BAC During DUI Arrest, Reportedly Highest Ever
A man in Oregon might now hold a dubious distinction -- the highest recorded blood alcohol content because cops say he was .77 during a DUI arrest. The incident went down earlier this month a couple..
TMZ.com - Published
'Election' Star Jessica Campbell Dead at 38
Jessica Campbell -- the former actress best known for her role as Tammy Metzler in "Election" -- died suddenly and unexpectedly last month ... according to her family. Jessica passed away on December..
TMZ.com - Published
Woman Arrested for Spitting in Cop's Face Amid NYC Unrest, Riot in Portland
NYPD hauled off 50 protesters in handcuffs during election unrest in the city, and the most egregious, disgusting offense -- seen on camera, anyway -- was a woman who spit in an officer's face...
TMZ.com - Published
Women Tear Down Students' BLM Artwork in Portland, Community Puts Up More
A small group of angry adults destroyed "Black Lives Matter" artwork made by kids outside a Portland school, but the children are undeterred. The 3 women tore down the BLM art hanging in front of The..
TMZ.com - Published
Portland Protesters Topple Lincoln, Teddy Roosevelt Statutes as Racist
Portland protesters marked the eve of Columbus Day by toppling 2 statues of American presidents, claiming they represent America's racist history. The statues were on the route of a march titled,..
TMZ.com - Published
Uber Delivery Driver Thrown Off Bike, Hogtied By Portland Cops
An Uber delivery man was riding his bike in Portland Saturday night when he was swarmed by cops and taken to the ground. The man was riding along and passed a patrol van when 2 cops got off the vehicle..
TMZ.com - Published
Trump Supporters in Oregon Chase Down, Beat BLM Protesters
At least 2 President Trump supporters -- and members of the far-right group Proud Boys -- were busted after chasing down and beating BLM protesters in Oregon. The incidents went down Monday in the..
TMZ.com - Published
Wild Fist Fight in Portland Between BLM Protesters and Counter-Protesters
Portland was the scene of violence Saturday which left one person dead ... and this fistfight early in the protest/counter-protest between a Trump supporter and a BLM protester was a sign of the..
TMZ.com - Published
MAGA Caravan Descends on Portland, Violence Erupts and One Dead
A man was shot and killed Saturday night in Portland as hundreds of Trump supporters caravaned into the city and clashed with Black Lives Matter protesters. The MAGA procession drew around 600 people..
TMZ.com - Published