Dal Lake
Lake in Srinagar, Jammu and Kashmir, India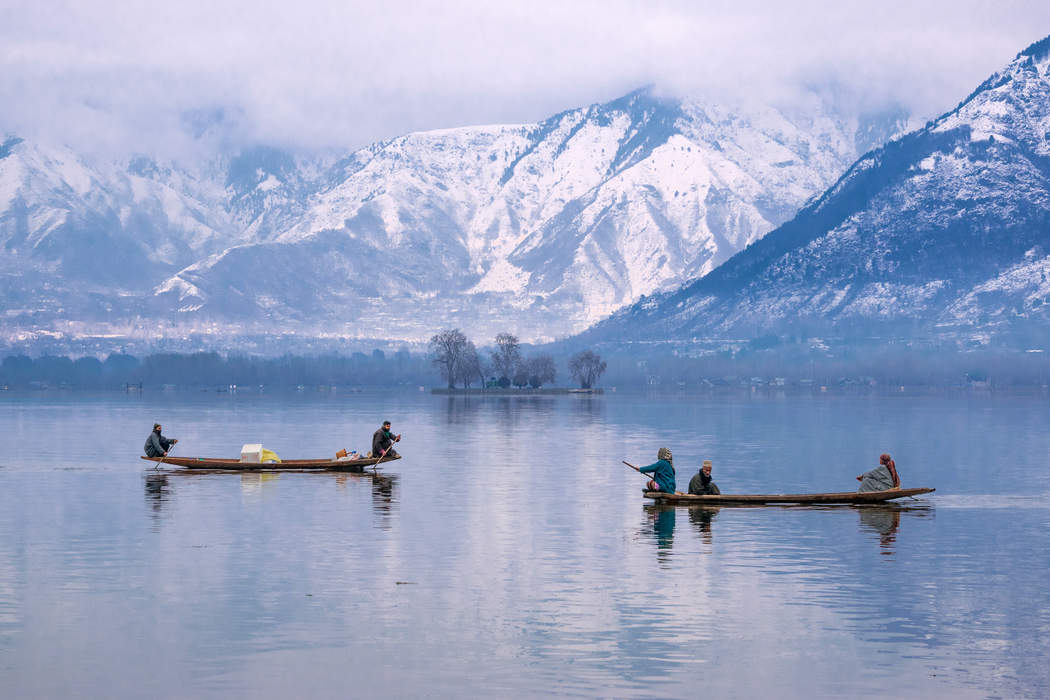 Dal is a lake in Srinagar, the summer capital of Jammu and Kashmir, India. It is an urban lake, which is the second largest in the union territory of Jammu and Kashmir. It is integral to tourism and recreation in Kashmir and is named the "Lake of Flowers", "Jewel in the crown of Kashmir" or "Srinagar's Jewel". The lake is also an important source for commercial operations in fishing and water plant harvesting.


You Might Like
Cold wave sweeps Kashmir; several places record sub-zero temps
Several water bodies, including the surface of the famous Dal Lake here, have frozen, while a thick layer of ice has formed on several roads in Srinagar and other parts of the Kashmir Valley, affecting..
IndiaTimes - Published
Dal Lake partially freezes, Srinagar records coldest night in 30 years
Srinagar recorded a low of minus 8.4 degrees Celsius, which was the coldest temperature recorded in the city in 30 years, an official of the MET department said. The official said while Srinagar had..
IndiaTimes - Published
'Chillai-Kalan': Srinagar records minus 7.8 degrees Celsius, lowest in 8 years
Kashmir is currently under the grip of 'Chillai-Kalan' -- the 40-day harshest winter period when a cold wave grips the region and the temperature drops considerably. The sudden plunge in the minimum..
IndiaTimes - Published
Good news: First Boat Ambulance Service to start at Dal Lake in Srinagar soon
The plan to make an emergency services boat was made to treat people who are in desperate need of help in times of an emergency.
DNA - Published
Five-star hotels, houseboats among paid Covid-19 quarantine facilities for those flying into Srinagar
The Srinagar administration has roped in five-star hotels The Lalit and Taj Vivanta overlooking the picturesque Dal Lake and other luxury lodges as paid quarantine facilities to ensure a relaxed and..
IndiaTimes - Published
J&K grapples with severe cold as sub-zero temperatures dip further
Srinagar city recorded the low of minus 6.5 degrees Celsius last night down from minus 6.2 degrees Celsius the previous night, an official of the Meteorological Department said.It was the coldest night..
IndiaTimes - Published
Srinagar shivers at -7.6°C, Dal Lake freezes partially
IndiaTimes - Published
North India continues experiencing winter chills, Dal lake in Srinagar freezes partially
The cold wave conditions continued unabated in large parts of north India on Sunday, with Drass in Ladakh reeling at minus 26 degrees Celsius, and Srinagar witnessing its coldest night of the season at..
IndiaTimes - Published
Detained former CM Mehbooba Mufti moved from guest house after cold weather hits Srinagar
All the important mainstream leaders who are under detention since August 5, will be relocated to MLAs hostel at M.A. Road in Srinagar, keeping in view the weather conditions. They have been detained..
DNA - Published
J&K govt sets up panel to declare Dal Lake as eco-sensitive zone
The Jammu and Kashmir government has set up a ten-member committee to declare Srinagar's famous Dal Lake and its surrounding areas as an eco-sensitive zone (ESZ), following concerns over its shrinking..
IndiaTimes - Published
EU delegation in Kashmir: Parliamentarians visit Dal Lake after being briefed by officials in Srinagar, full schedule
This is the first-ever international delegation to visit the valley after the abrogation of Article 370.
DNA - Published