Minnesota
State in the northern central United States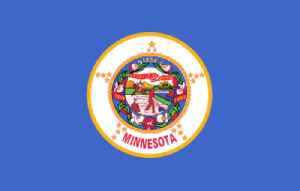 Minnesota is a state in the Upper Midwest, Great Lakes, and northern regions of the United States. Minnesota was admitted as the 32nd U.S. state on May 11, 1858, created from the eastern half of the Minnesota Territory. The state has many lakes, and is known as the "Land of 10,000 Lakes". Its official motto is L'Étoile du Nord.


'Squad' sweep: Omar holds off primary challenger

U.S. Representative Ilhan Omar held off a well-funded challenger Tuesday and won the Democratic primary in her congressional district, putting her on track for re-election in November along with other..
Credit: Reuters - Politics Duration: 01:54
Published
Ilhan Omar Predicted To Lose Primary

Minnesota Rep. Ilhan Omar represents Minneapolis, Minnesota in congress. She is facing a stiff primary challenge from lawyer Antone Melton-Meaux. Melton-Meaux raised an absurd $3.2 million in the..
Credit: Wochit News Duration: 00:38
Published
Peek-A-Boo! Cops Use Drones To Spy On Minnesota Nudists

Police near Minneapolis, Minnesota used drones last week to check on an enormous threat to the local social order. Namely, CNN reports the drones were activated to check if sunbathers at a lakeside..
Credit: Wochit News Duration: 00:34
Published
Family of George Floyd Files Civil Suit

Attorneys for the family of George Floyd filed a federal civil lawsuit on Wednesday. The suit is against the city of Minneapolis and the police officers involved in the death of George Floyd. Floyd..
Credit: Wochit News Duration: 00:32
Published
Omar Failing In Money Race

Congresswoman Ilhan Omar is in a tough fight for re-election in her Minnesota district. Antone Melton-Meaux is challenging Omar in an August primary race. Melton-Meaux has raised seven times more than..
Credit: Wochit News Duration: 00:43
Published
Minnesota Town Honors Prince With Life-Sized Statue

Prince fans may not have heard of Henderson Minnesota, but they're sure to recognize it. The Minnesota town is where one of the most famous scenes from Prince's movie "Purple Rain" was filmed...
Credit: Wochit News Duration: 00:31
Published
Klobuchar pulls back from Biden's VP search

U.S. Senator Amy Klobuchar effectively pulled herself from Joe Biden's search for a running mate on Thursday, saying the position should go to a woman of color instead. Gloria Tso reports.
Credit: Reuters - Politics Duration: 01:21
Published
You Might Like