Delhi Police
Law enforcement agency for the National Capital Territory of Delhi, India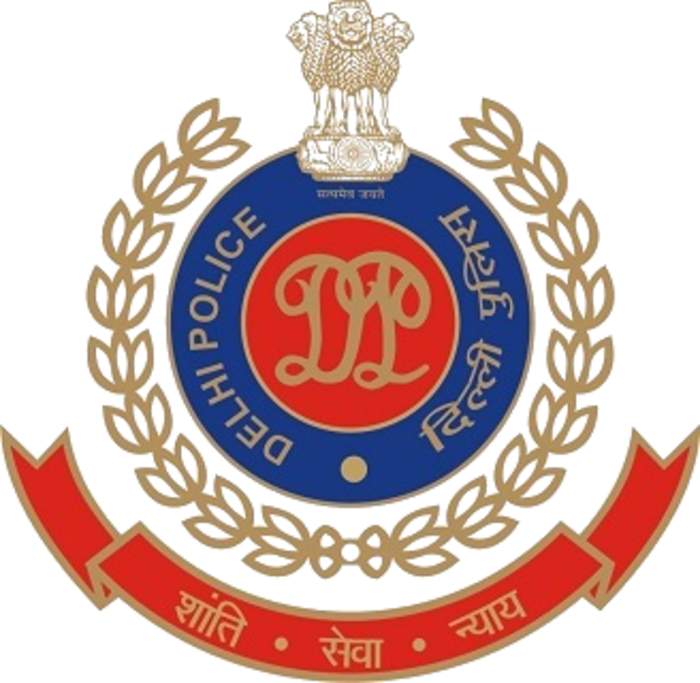 The Delhi Police (DP) is the law enforcement agency for the National Capital Territory of Delhi (NCT). Delhi Police comes under the jurisdiction of the Ministry of Home Affairs (MHA), Government of India. In 2015, sanctioned strength of Delhi Police was 84,536 making it one of the largest metropolitan police forces in the world. About 25% of Delhi Police strength is earmarked for VIP security.


Delhi Govt demands reversal of Rakesh Asthana's appointment as top cop | Oneindia News

The assembly of Aam Aadmi Party-ruled Delhi has passed a resolution against the appointment of former CBI officer Rakesh Asthana as the Delhi Police Commissioner. The resolution has sought a reversal..
Credit: Oneindia Duration: 01:50
Published
Rakesh Asthana named Delhi Police chief: What led to his appointment? | Oneindia News

Rakesh Asthana, a former officer of the Central Bureau of Investigation, was appointed Delhi Police Commissioner on Tuesday. This development came just 3 days before his retirement. #RakeshAsthana..
Credit: Oneindia Duration: 02:02
Published
Farmers protest at Jantar Mantar in Delhi today, security tightened| Mosoon Sessiosn | Oneindia News

Amid the ongoing Monsoon Session of Parliament, farmers will hold a protest at Jantar Mantar today, demanding the scrapping of new agricultural laws. Delhi Police on Wednesday permitted farmers to hold..
Credit: Oneindia Duration: 02:01
Published
Delhi Police to meet farmers to suggest alternative venue for their protest | Oneindia News

Today, Olympics organisers said that a person has tested positive for Covid-19 at the Tokyo Olympics athletes' village; Delhi Police said it would meet the farmer leaders to suggest alternative venues..
Credit: Oneindia Duration: 02:28
Published
Delhi Police fined ₹25k by a court for 'mishandling' Northeast Delhi riots cases | Oneindia News

The Delhi Police has been fined ₹25,000 by a court in Delhi for failing in their duty to investigate cases related to the February 2020 riots in northeast Delhi. #DelhiPolice #DelhiCourt..
Credit: Oneindia Duration: 01:25
Published
Delhi cops click selfies with murder suspect & Olympic medallist Sushil Kumar | Oneindia News

Yesterday, a selfie session of police personnel with Sushil Kumar went viral. An inquiry has been initiated by Delhi Police after the photographs were circulated all over the internet. #DelhiPolice..
Credit: Oneindia Duration: 01:21
Published
Complaint filed against Swara Bhaskar & Twitter MD over 'inciting tweets' | Know all | Oneindia News

A lawyer lodged a complaint in Delhi against actor Swara Bhaskar, Twitter MD Manish Maheshwari and two others. The complaint was filed over "inflammatory tweets" on the assault on a Muslim man in Uttar..
Credit: Oneindia Duration: 01:07
Published
Delhi court orders release of jailed activists, police accused of delay | Oneindia News

The CBSE presented the proposed marking scheme for evaluation of Class 12 students after the board exams were cancelled on June 1; A Delhi court has ordered the release of student-activists Natasha..
Credit: Oneindia Duration: 03:25
Published
AAP MP Sanjay Singh's house allegedly vandalised, says he's not scared; 2 arrested | Oneindia News

Today, an alleged attempt was made to destroy the nameplate of AAP Rajya Sabha MP Sanjay Singh at his North Avenue residence. It should be noted that the incident occurred metres away from the..
Credit: Oneindia Duration: 02:09
Published
Delhi HC says 'difference between right to protest and terror activity'| Oneindia News

While granting bail to student activists Natasha Narwal, Devangana Kalita and Asif Iqbal Tanha, the Delhi High Court on Tuesday made some sharp observations on the Unlawful Activities (Prevention) Act,..
Credit: Oneindia Duration: 02:12
Published
You Might Like



Rakesh Asthana's appointment as Delhi Police commissioner in 'direct contravention' of SC verdict: Congress




IndiaTimes - Published





Rahul Gandhi arrives at Parliament House on tractor without license plate, police preparing for FIR

The Delhi Police has seized the vehicle and it is now parked at the Mandir Marg police station in Delhi.




DNA - Published





After Sushil Kumar, wrestler Surjeet Grewal arrested by Delhi Police in Sagar Dhankar murder case

He has been on the run after Sagar Dhankar died in the hospital in May.




DNA - Published





Farmers start 'Kisan Sansad' parallel to Parliament's Monsoon Session at Delhi's Jantar Mantar

Chanting slogans, the farmers reached the protest site in buses that were escorted by the Delhi Police.




DNA - Published





Delhi Police beefs up security as farmers begin to protest at Jantar Mantar

The farmers will be escorted from Singhu border to Jantar Mantar in buses and will have to maintain COVID-19 appropriate behaviour




DNA - Published





Farmers get Delhi Police's permission to hold protests at Jantar Mantar




IndiaTimes - Published





Delhi Police prohibits drone, paraglider activity as part of anti-terror measures ahead of Independence Day

The month-long prohibition order on sub-conventional aerial activity will stay in place till August 16 with reports that terrorists may pose a threat.




DNA - Published





Faceoff: Netizens outraged as Delhi Police detains 'Free Tibet' protesters

Tibetan Youth Congress members were detained by Delhi Police on Thursday, while they were staging a protest in front of the Chinese Embassy in New Delhi against the centenary celebrations of the..




IndiaTimes - Published





SC rejects police plea against HC order for testimony's copy to Delhi CM, others in CS assault case

A bench headed by Justice D Y Chyandrachud rejected Delhi Police's plea, saying that as per the basic principle of natural justice, there must be a "robust common sense" that the accused must have..




IndiaTimes - Published





Twitter replies to Delhi Police on case filed against it under the POCSO Act

Delhi Police PRO said the Cyber Crime Cell is acting on the complaint and a case has been registered under sections of the POCSO Act, IT Act, and IPC.




DNA - Published





Delhi Police trying to 'subvert' HC order granting bail to student activists: Brinda Karat




IndiaTimes - Published





Bail to student activists in riots case: Delhi Police challenges HC order in Supreme Court

Delhi Police on Wednesday challenged the high court's order granting bail to three student activists in the 2020 Delhi riots case. The special leave petition was filed by the police against the Delhi..




IndiaTimes - Published





Chinese scam that cheated 5 lakh Indians of Rs 150 crore busted

In one of the biggest financial crackdowns by Delhi Police, an elaborate money laundering scam run by China-based entities has been busted. Two CAs, a Tibetan woman and eight others have been arrested...




IndiaTimes - Published





Sagar Dhankar Murder Case: Wrestler Sushil Kumar suspended from Railways job

Delhi Police special team arrested Sushil Kumar and his right-hand man Ajay Kumar on Sunday morning.




DNA - Published





Toolkit issue: Rahul Gandhi says 'truth remains unafraid'

After two police teams descended on Twitter's offices in Delhi and Gurgaon, the Congress on Monday had alleged that the "cowardly raid" on the microblogging site's offices by the Delhi Police "exposes..




IndiaTimes - Published





Twitter's global HQs goes live on India situation as Delhi Police swoops in




IndiaTimes - Published





Toolkit case: Delhi police reaches Twitter's Delhi, Gurugram offices

The raid came hours after the Delhi Police sent a notice to Twitter over a "manipulated media" tag.




DNA - Published

Also reported by •IndiaTimes


PM poster row: Rahul says 'arrest me', cops point at AAP role

Even as Delhi Police said that the probe into posters running down Prime Minister Narendra Modi over vaccine supplies had shown the involvement of several AAP members in violation of lockdown rules,..




IndiaTimes - Published





AAP leaders behind posters critical of PM Modi and vaccination drive: Delhi Police




IndiaTimes - Published





Gautam Gambhir slams opposition for needless politicisation of Delhi Police questioning about COVID-19 relief

Delhi Police had also sought a reply from Gambhir over the distribution of Fabiflu drug from his party office.




DNA - Published





IYC president Srinivas BV questioned by police

dian Youth Congress (IYC) president Srinivas BV on Friday said the Delhi Police's Crime Branch questioned him about the assistance being provided by him to people during the Covid-19 pandemic. "Police..




IndiaTimes - Published





'COVI Van': Delhi Police launch unique helpline for senior citizens, check contact number and other details

Taking a step ahead of its mandated area to maintain law and order in the city, Delhi Police has come up with a unique initiative to start the CoviVan helpline to help senior citizens in the..




DNA - Published





Who is Navneet Kalra? The Page-3 personality who allegedly black marketed oxygen

The Delhi Police had on Friday recovered 96 oxygen concentrators from Khan Market's popular restaurant Khan Chacha owned by Navneet Kalra.




DNA - Published





Deep Sidhu gets bail in Red Fort violence case, arrested again

Delhi Police on Saturday arrested actor-activist Deep Sidhu for his alleged role in damaging public property at Red Fort on January 26. He was earlier arrested on February 9 in connection with the..




IndiaTimes - Published





Toolkit case: HC grants last opportunity to Centre, police to file reply to Disha Ravi's plea

The Delhi High Court Wednesday granted last opportunity to the Centre and Delhi Police to file their response on a plea by climate activist Disha Ravi for restraining the police from leaking to the..




IndiaTimes - Published





Batla House encounter: Court awards death penalty to Ariz Khan for killing Delhi Police inspector

Delhi Court has called it the 'rarest of the rare' case.




DNA - Published





Toolkit case: Disha Ravi finally breaks silence, says her autonomy violated, recalls days in Tihar Jail

Disha remained behind bars for 10 days after being arrested by Delhi Police on February 13 in connection with the Toolkit case.




DNA - Published





Delhi Police crime branch seizes heroin worth Rs 60 lakh, two held

Accused Dinesh indulged in a bad company and started committing crimes and got involved in two cases of robbery and theft.




DNA - Published





R-Day violence: Notices sent to 3 people based on Punjab admin info, says Delhi Police

The Delhi Police on Friday said they have sent notices to three people regarding the violence that erupted during the farmers' protest in the national capital on Republic Day based on details provided..




IndiaTimes - Published





Toolkit case: Court grants one week to Delhi Police to file reply to Nikita Jacob




IndiaTimes - Published





Toolkit case: Delhi court to hear Nikita Jacob's anticipatory bail plea on March 9, gives police a week to file reply

The Patiala House Court also directed the Delhi Police to hand over a copy of its reply to Nikita Jacob's bail plea, to her counsel.




DNA - Published





Delhi woman carrying two-year-old child stabbed to death by chain snatcher, video caught on CCTV

An FIR has been registered in the case but no arrest has been made till now. The Delhi Police has identified two persons in connection to the case.




DNA - Published





Wanted gangster's Facebook page disabled

The Facebook page of gangster-turned-activist Lakhbir Singh alias Lakha Sidhana, who is wanted by Delhi Police in connection with the Republic Day rioting case, has been disabled. While the page is not..




IndiaTimes - Published





R-Day violence: Youth Akali Dal to 'gherao' Delhi Police personnel for singling out Punjabi youth for arrests




IndiaTimes - Published





Muluk gets interim shield from arrest in toolkit case

A Delhi court on Thursday granted climate activist Shantanu Muluk interim protection from arrest in the farm agitation toolkit case till March 9. Additional sessions judge Dharmender Rana, who heard..




IndiaTimes - Published





Disha Ravi part of global conspiracy to defame India: Delhi Police to court




IndiaTimes - Published





'Disha Ravi deleted WhatsApp chats, this shows there was sinister design behind toolkit,' Delhi Police tells court

The court is hearing Disha Ravi's bail plea who was sent to three-day judicial custody in connection with the Greta Thunberg "toolkit" case.




DNA - Published





Delhi Police release photos of 200 people in connection with R-Day violence at Red Fort




IndiaTimes - Published





How the ISI was working to manufacture dissent in India through Pieter Friedrich

The Delhi Police did a press conference on Monday on the toolkit and uncovered the role of ISI sponsored propagandist Pieter Friedrich in the case.




DNA - Published





R-Day violence: Delhi Police chief denies intel failure




IndiaTimes - Published





Toolkit case: Delhi court sends Disha Ravi to 3-day judicial custody

A Delhi court on Friday sent climate activist Disha Ravi, arrested for allegedly being involved in sharing a "toolkit" on social media related to the farmers' protest, to three-day judicial..




IndiaTimes - Published





Shah on Disha: Age, gender not relevant in assessing culpability

Union home minister Amit Shah on Thursday strongly defended Delhi Police's action in the Disha Ravi case, saying the arrest of the climate activist in the "toolkit" investigation had been..




IndiaTimes - Published





Opposition leaders laud Delhi Police's restraint in handling of January 26 violence




IndiaTimes - Published





Toolkit case: Delhi Police seek info from Zoom on January 11 meet; funding, WhatsApp group under probe

Intensifying its probe in the toolkit case, the Delhi Police on Tuesday sought details from video conferencing platform Zoom on the participants of the January 11 meeting by a pro-Khalistan group,..




IndiaTimes - Published





While India was making PPE kits for world, some were busy making 'toolkit' against Indians: Union minister

Union Minister Gajendra Singh Shekhawat on Monday said while India was making PPE kits for the world, some people were busy "making tool kit against Indians". His remarks came after Delhi Police..




IndiaTimes - Published





Toolkit row: Delhi Police teams in Maharashtra to arrest lawyer, activist; both move HC for bail




IndiaTimes - Published





Disha Ravi panicked when Greta Thunberg leaked toolkit, say police

Delhi Police on Monday claimed that arrested climate activist Disha Ravi had panicked when Greta Thunberg accidentally leaked the toolkit on the farm protests and asked her to refrain from saying..




IndiaTimes - Published





Toolkit case: Greta Thunberg was coaxed by Disha Ravi to act on toolkit, says Delhi Police

The main aim of the toolkit was to create misinformation, disaffection against the lawfully enacted government, Delhi police said.




DNA - Published





Disha asked Thunberg to delete tweet on 'toolkit' fearing action under UAPA: Delhi Police




IndiaTimes - Published





Greta Thunberg 'toolkit' case: After Disha Ravi's arrest, non-bailable warrant issued against Nikita Jacob, Shantanu

"Non-bailable warrants issued against Nikita Jacob and Shantanu. The two are involved in the toolkit matter," the Delhi Police said on Monday.




DNA - Published