United States Department of Homeland Security
United States federal department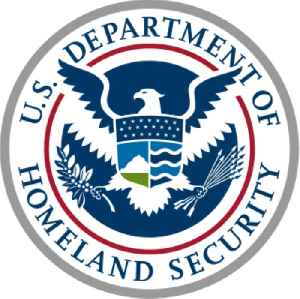 The United States Department of Homeland Security (DHS) is the U.S. federal executive department responsible for public security, roughly comparable to the interior or home ministries of other countries. Its stated missions involve anti-terrorism, border security, immigration and customs, cyber security, and disaster prevention and management. It was created in November 2002 in response to 9/11 and began operations the following year. It is the youngest U.S. cabinet department.


U.S., Oregon agree to withdraw agents in Portland

Oregon's governor on Wednesday said federal tactical police had agreed to withdraw from Portland, though U.S. officials said agents would stay until conditions improved after weeks of clashes with..
Credit: Reuters - Politics Duration: 02:03
Published
Portland protesters, officers clash on 60th day

[NFA] Tensions remained high in Portland, Oregon for the 60th straight day of anti-racism protests, after six U.S. mayors on Monday urged Congress to halt President Donald Trump's deployment of federal..
Credit: Reuters - Politics Duration: 01:33
Published
Portland mayor stung by tear gas at protest

[NFA] Video showed a cloud of smoke wafting over Portland Mayor Ted Wheeler as he stood with anti-police demonstrators on Wednesday night. This report produced by Zachary Goelman.
Credit: Reuters - Politics Duration: 02:11
Published
Huge crowd confronts federal cops in Portland

[NFA] Federal law enforcement in military fatigues fired tear gas to disperse protesters in the streets of Portland, Oregon, which local news described as the largest demonstration in over 50 nights of..
Credit: Reuters - Politics Duration: 01:43
Published
When Hurricane Maria Rolled Over Puerto Rico, Trump's Reaction Was To Sell It

US President Donald J. Trump has had a fraught relationship with Puerto Rico ever since Hurricane Maria devastated the island. Nearly 3,000 people died as a result of the storm and aftereffects,..
Credit: Wochit News Duration: 00:39
Published
Trump Administration Wants Social Media To Take Action Against 'Violent Protestors'

The Trump administration in the past spoke against politically biased censorship online but now has a different opinion. They are calling on tech and social media to crack down on how users post about..
Credit: Wochit News Duration: 00:32
Published
Former FDA head says 'exponential' rise in COVID-19 possible

Former Food and Drug Administration Commissioner Scott Gottlieb on Sunday warned that some U.S. states, including Texas, Florida and Arizona, could start to see an 'exponential' rise in COVID-19 cases..
Credit: Reuters - Politics Duration: 01:40
Published
Here's Looking At You? DHS Used Aircraft, Drones To Surveil BLM Protests

Gizmodo reports the Department of Homeland Security deployed aircraft in Dayton, Ohio, New York City, Buffalo, and Philadelphia, among other cities. The drones and aircraft were taking footage of..
Credit: Wochit News Duration: 00:35
Published
Trump will try again after Supreme Court DACA decision

President Donald Trump on Friday said his administration will make a filing on "Dreamer" immigrants in the United States, without providing details, to address the Supreme Court's ruling that said he..
Credit: Reuters Studio Duration: 01:39
Published
You Might Like



U.S. extends limits on non-essential travel restrictions with Canada, Mexico

The U.S. Department of Homeland Security said on Tuesday it would extend existing limits on non-essential travel at land ports of entry with Canada and Mexico due to continued risks from the novel..




Reuters - Published




U.S. 'likely' to extend travel restrictions on Canada, Mexico: Homeland Security's Wolf

Acting U.S. Department of Homeland Security chief Chad Wolf said Tuesday the Trump administration is "likely" to extend non-essential travel restrictions at U.S. land borders with Mexico and Canada..




Reuters - Published





COVID-19: India requests US to extend H-1B visas for stranded Indians, plea conveyed to Department of Homeland Security

With fears of the US economy heading for a big slump, the H-1B holders stand the risk of not only losing their jobs but also to not be entitled to any unemployment benefits.




DNA - Published





U.S. Homeland Security Department temporarily closes office in Washington State amid coronavirus concerns

The U.S. Department of Homeland Security (DHS) temporarily closed an office in Washington state on Tuesday amid concerns over the possible spread of the coronavirus, acting DHS Secretary Chad Wolf said..




Reuters - Published





U.S. flight rules on China visits will pose new airline challenges

The U.S. Department of Homeland Security (DHS) issued rules on Sunday to implement new restrictions on Americans who have recently visited China to address the threat of the coronavirus.




Reuters - Published





U.S. weighs sending Brazilian migrants to Mexico amid spike in arrests

The U.S. Department of Homeland Security (DHS) has considered sending Brazilian migrants crossing the border from Mexico back there to await their U.S. court hearings, according to a U.S. official and..




Reuters - Published





No current, credible threats against U.S. homeland: DHS

There are no current threats against the United States' homeland, the U.S. Department of Homeland Security said in a statement on Friday after a U.S. air strike killed a top Iranian commander in..




Reuters - Published





U.S. expands scope of program to return migrants to Mexico

The United States will expand the scope of a program that returns non-Mexican migrants crossing Mexico's border to that country to await their U.S. court hearings, the Department of Homeland Security..




Reuters - Published





Green card or US citizenship applicants may have to provide social media identity

The US Department of Homeland Security (DHS) has taken the process of obtaining social media identification (user name or handle) a step forward. It proposes to expand its coverage to various forms to..




IndiaTimes - Published





Visiting El Salvador, U.S. Homeland Security chief applauds drop in migration

Acting U.S. Homeland Security Secretary Kevin McAleenan signed a pact on Wednesday to collaborate more closely with El Salvador on migration and security, applauding a drop in migration since new..




Reuters - Published





Homeland Security report says migrant arrests at US-Mexico border fell 28% in a month due to 'tightened controls'

The number of migrants detained after entering the US across the southern border fell 28 percent in June from May as both the United States and Mexico tightened controls, the Department of Homeland..




Firstpost - Published





US Department of Homeland Security requests 1,000 additional soldiers to help manage migrant crisis in Texas

US Department of Homeland Security requested 1,000 additional soldiers to help manage the migrant crisis in Texas, the Pentagon said on Monday. The Department of Homeland Security (DHS) has been..




Firstpost - Published





U.S. border patrol under fire as criticism of detention centers rises

The acting head of the U.S. Department of Homeland Security has ordered an investigation into reports that Border Patrol agents have been posting offensive anti-immigrant comments and threats against..




Reuters - Published




U.S. border patrol faces probe; White House bashes asylum ruling

The acting head of the U.S. Department of Homeland Security has ordered an investigation into reports that border patrol agents have been posting offensive anti-immigrant comments and threats against..




Reuters - Published





U.S. to probe border agents' online anti-immigrant chatter: official

The head of the U.S. Department of Homeland Security has ordered an investigation into a secret Facebook group where border agents joked about immigrants dying, he said on Wednesday.




Reuters - Published





U.S. DHS boss orders probe into border agents' 'disturbing' Facebook posts

The U.S. Department of Homeland Security's acting secretary, Kevin McAleenan, has ordered an investigation into reports that border patrol agents have been posting offensive anti-immigrant comments and..




Reuters - Published





Homeland Security report warns of 'dangerous overcrowding' in Texas migrant detention centres, calls situation a 'ticking timebomb'

The inspector general for the US Department of Homeland Security warned on Tuesday about "dangerous overcrowding" in migrant detention facilities in Texas.




Firstpost - Published





White House defends migrant detention policy as criticism mounts

President Donald Trump's administration on Tuesday pushed back against mounting criticism of its migrant detention centers on the U.S.-Mexico border, even as the Department of Homeland Security's..




Reuters - Published





Government inspectors detail overcrowding at U.S. border station: NBC

U.S. government inspectors reviewing a border station in El Paso, Texas, reported poor conditions for migrants, including overcrowding and a lack of sanitary conditions, NBC News reported on Monday,..




Reuters - Published





U.S. to deploy up to 89 DHS agents to Guatemala: document

The U.S. Department of Homeland Security will deploy up to 89 agents to Guatemala by the end of August under a joint agreement to reduce irregular migration and strengthen border security, according to..




Reuters - Published