Madhya Pradesh
State in central India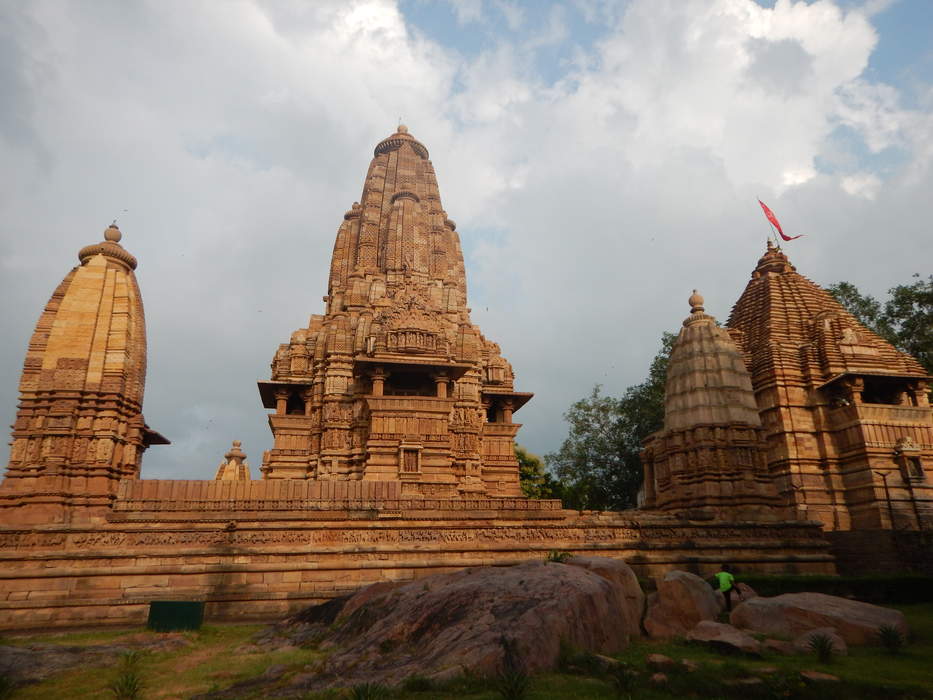 Madhya Pradesh is a state in central India. Its capital is Bhopal, and the largest city is Indore, with Jabalpur, Ujjain, Gwalior, Satna, and Guna being the other major cities. Madhya Pradesh is the second largest Indian state by area and the fifth largest state by population with over 72 million residents. It borders the states of Uttar Pradesh to the northeast, Chhattisgarh to the southeast, Maharashtra to the south, Gujarat to the west, and Rajasthan to the northwest.


Jabalpur hospital fire: 8 dead, 2 injured after massive fire in ICU ward | Oneindia news *Breaking

A massive fire broke out in New Life Medicity hospital in Jabalpur district of Madhya Pradesh, killing atleast 8. According to the reports, 2 have been critically injured in the private hospital fire...
Credit: Oneindia Duration: 03:08
Published
Madhya Pradesh: BJP MP Faggan Singh Kulaste bargains with corn seller, Watch | Oneindia News *News

Video of Union minister Faggan Singh Kulaste has gone viral on social media in which he is seen bargaining with a corn selling at the roadside, saying that he was selling it too..
Credit: Oneindia Duration: 04:16
Published
MP: Indore to Pune bus falls into Narmada river in Dhar district, 12 dead | Oneindia News *news

A bus full of passengers falls into the Narmada river in MP's Dhar district on Monday. A team of SDRF has reached the spot. Watch the video to know more. #MP #BusFellintoNarmada #DharDistrict MP,..
Credit: Oneindia Duration: 02:00
Published
Agnipath Scheme: Protests spread to multiple cities, public property damaged | Oneindia news *News

Protests against the new Agnipath recruitment scheme for the Armed forces have now spread to Gwalior in Madhya Pradesh, Haryana and Rajasthan after creating much havoc in Bihar. On Thursay, the..
Credit: Oneindia Duration: 02:26
Published
You Might Like



Making all efforts to ensure winter session is held in new Parliament building, say officials

Handwoven cushioned carpets of Mirzapur and stones from Madhya Pradesh and Rajasthan are being used in the new Parliament building. Teakwood furniture from Maharashtra has arrived while the work on the..




IndiaTimes - Published





Male kin taking oath of panchayat office in MP: Chidambaram slams it as 'mockery of Constitution'

Senior Congress leader P Chidambaram on Monday termed as "mockery of the Constitution" the incident of male relatives of some newly-elected women panchayat office-bearers and members being administered..




IndiaTimes - Published





Madhya Pradesh: Four dead, three injured in major fire at Jabalpur hospital, CM announces compensation

Expressing grief on the incident, Chief Minister Shivraj Shingh Chouhan announced an ex-gratia of Rs 5 lakh each to the next of the kin of deceased.




DNA - Published





NIA conducts raids at 13 premises in six states over ISIS links

The NIA on Sunday conducted searches in Madhya Pradesh, Gujarat, Bihar, Karnataka, Maharashtra and Uttar Pradesh. The raids in the six states were conducted on 13 premises of "suspects" in "connection..




IndiaTimes - Published





MP: Students hold umbrellas inside classroom as roof leaks

The Madhya Pradesh government claims that tribal welfare is its priority, but instances such as this are all too common in the state




DNA - Published





'Do you know what I do?' PM's funny interaction with MP's 8-year-old daughter

Anil Firozia, a BJP member from Ujjain in Madhya Pradesh, visited the PM Modi in Parliament on Wednesday with his family.




DNA - Published





India lost over 1,000 tigers since 2012; Madhya Pradesh saw maximum deaths: Govt data




IndiaTimes - Published





4,484 deaths reported in police custody, 233 killed in encounters in last 2 years: Government tells Lok Sabha

A total of 4,484 deaths were reported in police custody while 233 people were killed in encounters in the last two years, the government told the Lok Sabha on Tuesday. Uttar Pradesh, West Bengal and..




IndiaTimes - Published





Madhya Pradesh: After 'sar tan se juda' message, engineering student found dead on railway tracks

Nishank was missing from his hostel room and later his dead was recovered from the railway tracks in Raisen district of Madhya Pradesh.




DNA - Published





IMD weather update: Heavy rainfall alert in Madhya Pradesh, Rajasthan, know list of states

The IMD has alerted for heavy rainfall in several states for the next two days, including Rajasthan, Gujarat, and Madhya Pradesh.




DNA - Published





Madhya Pradesh: Congress candidate dies of heart attack after losing municipal council polls

Harinarayan Gupta had contested the election for the post of councillor in a civic body in Rewa district of Madhya Pradesh.




DNA - Published





AAP makes entry in Madhya Pradesh, Rani Agrawal wins Singrauli mayor seat

AAP candidate received a total 34,038 votes, BJP 24,879 and Congress nominee Arvind Chandel got 24,60 votes.




DNA - Published





Madhya Pradesh Local Body Election Results 2022 Latest Updates: BJP takes lead in Indore, Gwalior, Mandsaur

MP Local Body Election Results: Under the first-phase, polling was held in 11 municipal corporations, 36 nagar palikas, 86 nagar parishads on July 6.




DNA - Published





Madhya Pradesh man gives supari to bahu to kill his wife




IndiaTimes - Published





Madhya Pradesh: Cold tea, substandard food served to CM Shivraj Singh Chouhan, officer lands in trouble

A notice from the Sub-Divisional Magistrate said that food inspector Rajesh Kanhua had served the breakfast and tea to VIPs in the airport lounge.




DNA - Published





MP cops book Medha Patkar, 11 others for 'misappropriation of NGO's Rs 14 crore'

Police in Madhya Pradesh's Barwani have registered a case against Narmada Bachao Andolan leader Medha Patkar and 11 others for alleged misappropriation of funds collected by an NGO for the education..




IndiaTimes - Published





FIR registered against Medha Patkar, 11 others for misusing funds

A complainant named Pritam Raj Badole has registered the First Information Report (FIR) with the Barwani police alleging that she misled people by impersonating herself as a social worker who works to..




IndiaTimes - Published





TMC's Mahua Moitra booked for Kali remarks

A day after Trinamool Congress (TMC) MP Mahua Moitra made controversial comments on Goddess Kali, Madhya Pradesh police on Wednesday booked her for hurting religious sentiments. Several police..




IndiaTimes - Published





Madhya Pradesh urban body elections: Polling for first phase begins today

As many as 13,148 booths have been set up for polling in 133 urban bodies, including 11 municipal corporations.




DNA - Published





Why Maharashtra did not fall to BJP in the same way as Karnataka, MP did

The breakaway faction of the Shiv Sena led by Eknath Shinde withdrew support to the two-and-a-half-year-old Maha Vikas Aghadi government in Maharashtra, causing its downfall on Wednesday. It was the..




IndiaTimes - Published





Maharashtra political crisis: 'Money meant for schools, hospitals being used to buy MLAs,' says AAP's Atishi Marlena

AAP leader claimed that BJP has formed government in Goa, Madhya Pradesh, Karnataka and Manipur by selling and purchasing of legislators.




DNA - Published





Rs 2 lakh reward for Madhya Pradesh villages adopting prohibition: CM Shivraj Singh Chouhan

Villagers should create an environment by initiating dialogues and organizing inspiring activities to adopt total prohibition, Chouhan said.




DNA - Published





Ujjain: 21-year-old Lakshika Dagar won panchayat election, became youngest sarpanch of Madhya Pradesh

For the post of Sarpanch in Chintaman Jawasia gram panchayat, eight women candidates from the village had entered the fray.




DNA - Published





Former BJP MP moves SC against certain sections of Places of Worship (Special Provisions) Act

Malviya, a resident of Ujjain in Madhya Pradesh, submitted that the Act is void and unconstitutional for many reasons.




DNA - Published





Will 'go back' to being Hindu: MP's Christian BJP candidate

A BJP candidate for a councilor post in Makronia municipality of Sagar, Madhya Pradesh, on Saturday announced he was changing his religion from Christianity to Sanatan Dharma.




IndiaTimes - Published





12 women, mostly foreigners, in court against Gundechas

A dozen women have filed an intervening application before the Jabalpur bench of the Madhya Pradesh high court in support of the internal complaints committee (ICC) report that had passed adverse..




IndiaTimes - Published





Don't exploit Draupadi Murmu's cultural status for political gains: Uma Bharti tells Madhya Pradesh BJP

Bharti's statement came a day after the BJP's MP unit hosted an event in Bhopal to commemorate former Jharkhand Governor Draupadi Murmu's candidacy.




DNA - Published





Will only 'friends' be heard in 'New India' and not the heroes of the country? Rahul Gandhi criticising Agnipath

Last week, violent protests against the Agnipath scheme rocked several states, including Bihar, Uttar Pradesh, Madhya Pradesh and several other parts.




DNA - Published





BJP trying to destabilise Maharashtra government with eye on presidential polls, claims Mallikarjun Kharge

The leader of opposition in the Rajya Sabha said the BJP has been making similar attempts in the past to topple non-Congress governments across the country and one has seen this happen in Karnataka,..




IndiaTimes - Published





'Should Kashmir be given to Pakistan?': Question in MP Civil Service exam sparks controversy

A question about Jammu and Kashmir in MPPSC public service examination has sparked a row, with authorities slamming the Madhya Pradesh commission.




DNA - Published





Madhya Pradesh: Government employee caught taking bribe of Rs 35,000

The accused, Paimendra Harinkhede, who is posted as a reader in the tehsildar office of Lalbarra area, was apprehended on Sunday evening.




DNA - Published





Maharashtra minister Dhananjay Munde had brain stroke due to extortion stress: Chargesheet

On April 20, the crime branch had arrested Renu from Indore in Madhya Pradesh for allegedly demanding Rs 5 crore from Munde. Police said Renu had no source of income, but her bank accounts reflected..




IndiaTimes - Published





Madhya Pradesh: Woman running for Sarpanch election drowns in Narmada River

Pinki Rewat drowned on Saturday evening while bath in the river stretch near Toksar village under Sanawad police station limits.




DNA - Published





Madhya Pradesh: Khargone admin builds a wall between colonies, says it's for peace

Khargone is still limping back to normalcy after riots broke out on April 10 on Ram Navami. There is a stillness about the town after a month of curfew and other restrictions, but no one here can deny..




IndiaTimes - Published





Sadhguru: Time for actual work to boost soil health

For this, five big states — Gujarat, Rajasthan, Uttar Pradesh, Madhya Pradesh and Maharashtra — have already signed MoUs (memorandums of understanding) with the Isha Foundation, while others..




IndiaTimes - Published





Bhopal: Over 50 nurses accuse medical superintendent of sexual harassment

Taking note of the allegations levelled by the nurses of the biggest state-run hospital in Madhya Pradesh, the government has ordered an inquiry.




DNA - Published





Heavy rains in Madhya Pradesh, Chhattisgarh and Vidarbha from June 15-17, check weather in your city

Isolated heavy rains are predicted over Vidarbha on Wednesday, east Madhya Pradesh on Wednesday, Thursday and Chhattisgarh from Wednesday to Friday.




DNA - Published





Madhya Pradesh: 'Dummy candidate' becomes unopposed Sarpanch of all-women Panchayat after men back out

This is the first time in the Dhamkheda village that all the Panch and Sarpanch are females and have won elections without any opposition.




DNA - Published





Rajya Sabha polls underway for 16 seats in four states, parties keep watchful eye

Elections to 57 Rajya Sabha seats were announced recently. All 41 candidates in Uttar Pradesh, Tamil Nadu, Bihar, Andhra Pradesh, Madhya Pradesh, Odisha, Chhattisgarh, Punjab, Telangana, Jharkhand and..




IndiaTimes - Published





Ex-dacoit Malkhan Singh's wife elected sarpanch unopposed

Lalita Rajput, wife of former dreaded dacoit of the Chambal ravines Malkhan Singh, has been elected sarpanch unopposed by villagers in Guna district of Madhya Pradesh. Lalita, who is in her mid-30s,..




IndiaTimes - Published





Heatwave likely in Punjab, Uttarakhand, Haryana and Delhi till Thursday, check your city's weather

IMD predicted heatwave conditions in Odisha, UP, Madhya Pradesh, Jammu division, Himachal Pradesh, Vidarbha and north Jharkhand for the next two days.




DNA - Published





Madhya Pradesh shocker: Minor rape survivor arrested for strangling 2 month old baby in Indore

A minor girl from Indore, who is a rape survivor, strangled the 2-month-old baby "out of frustration", said the authorities.




DNA - Published





Madhya Pradesh: Amid rise in Covid-19 cases in Indore, officials advise citizens to wear masks

Nearly 6 per cent of the total number of COVID samples being tested daily are found to be positive.




DNA - Published





Madhya Pradesh, Panna: Bear kills couple on their way back from temple, eats bodies for 5 hours

Divisional Forest Officer Gaurav Sharma said when the staff reached the spot, the bear was eating the corpses part by part.




DNA - Published





Madhya Pradesh engineer arrested for threatening to blow up school bus in United States

Chief Superintendent of police Poonamchand Yadav said the youth had sent a threatening message to an international group.




DNA - Published





RTI activist shot dead in Madhya Pradesh's Vidisha

The activist, who has reportedly filed several Right to Information (RTI) applications, was shot in public on a busy road in the town.




DNA - Published





'Indore to become IT hub of India soon': Madhya Pradesh CM Shivraj Singh Chouhan

MP CM Shivraj Singh Chouhan said while addressing an event in Indore that we will take the startup ecosystem here to the international level.




DNA - Published





Madhya Pradesh: OBCs given only 9 to 13 percent reservation in panchayat polls, claims Congress' Kamal Nath

The allegation was made by the state Congress chief who highlighted district-wise OBC seats allocated for three-tier panchayat polls in MP.




DNA - Published





Government employees skipping election duty will be forced to retire: Rewa District Collector in Madhya Pradesh

The process of nomination will start from May 30 and the last date for withdrawal of nominations will be June 10 till 3 p.m.




DNA - Published





Madhya Pradesh: Congress MLA's son rams car in viral video, drink-driving alleged

The son of Congress MLA Hukum Singh Karada rammed his car into another vehicle repeatedly and was booked for driving drunk.




DNA - Published