Madhya Pradesh
State in central India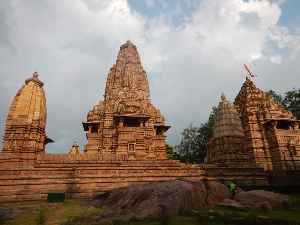 Madhya Pradesh is a state in central India. Its capital is Bhopal, and the largest city is Indore, with Jabalpur, Gwalior, Rewa, Ujjain being the other major cities. Madhya Pradesh is the second largest Indian state by area and the fifth largest state by population with over 75 million residents. It borders the states of Uttar Pradesh to the northeast, Chhattisgarh to the southeast, Maharashtra to the south, Gujarat to the west, and Rajasthan to the northwest. Before 2000, when Chhattisgarh was a part of Madhya Pradesh, Madhya Pradesh was the largest state in India and the distance between the two furthest points inside the state, Singoli and Konta, was 1500 km.


Centre launched anti-labour policies since 2014: Digvijaya Singh

Congress leader and former chief minister of Madhya Pradesh, Digvijaya Singh joined 'Satyagrah' of 'Kendriya Shram Sangathan' on August 09. "Since 2014, all steps taken by them (Centre) are..
Credit: ANI Duration: 02:10
Published
Covid update: 100 virus-free days of New Zealand; Amit Shah's next test

From the testing of Union Home minister Amit Shah, to New Zealand completing 100 days without domestic transmission of the virus - here are the top news updates on the Covid-19 pandemic. Shah is likely..
Credit: HT Digital Content Duration: 02:21
Published
'Tampered PM Modi photo' charge at Congress leader, FIR over BJP complaint

An Indian National Congress party leader was booked by Madhya Pradesh police over a complaint by a Bharatiya Janata Party leader. Jitu Patwari was booked for allegedly posting a 'tampered' photograph..
Credit: HT Digital Content Duration: 01:32
Published
FIR against Congress's Jitu Patwari for 'tampering' PM Modi's bhoomi pujan photo

BJP members lodged an FIR against Congress MLA and former Madhya Pradesh sports minister Jitu Patwari for tampering a photograph of Prime Minister Narendra Modi during bhoomi pujan of Ram temple in..
Credit: ANI Duration: 01:18
Published
Watch: Two Madhya Pradesh cops drag Sikh by hair, suspended

Two police personnel were suspended on dragging a sikh by hair in Madhya Pradesh. The suspended cops included an assistant sub-inspector and a head constable. Video of the incident has gone viral on..
Credit: HT Digital Content Duration: 03:01
Published
Debt-ridden farmer allegedly died by suicide in Madhya Pradesh

A farmer died allegedly by suicide in Madhya Pradesh's Barwani district area. District Magistrate Shivraj Singh Verma said, "He has written in his suicide note about borrowing from a money lender. The..
Credit: ANI Duration: 01:23
Published
Today is historic day, taking credit for Ram temple is wrong: Kamal Nath

Former Chief Minister of Madhya Pradesh, and senior Congress leader Kamal Nath on August 05 organised a 'Ram Darbar' at his residence in Bhopal on the occasion of 'Bhoomi Poojan' of Ram temple in..
Credit: ANI Duration: 01:53
Published
'Bhoomi Pujan': 'Mahayagya' which began 500 years ago, is culminating today, says CM Shivraj

Madhya Pradesh Chief Minister Shivraj Singh Chouhan has been discharged from hospital after recovering from COVID-19. He was discharged from Bhopal's Chirayu Hospital on August 05. Speaking to ANI on..
Credit: ANI Duration: 01:54
Published
We're sending 11 silver bricks to Ayodhya from people of Madhya Pradesh: Kamal Nath

Hanuman Chalisa recital was organised at former Madhya Pradesh chief minister and Congress leader Kamal Nath's residence in Bhopal on August 04. It was organised ahead of Ram Temple foundation stone..
Credit: ANI Duration: 01:32
Published
Former Bajrang Dal prez hands over 'jal kalash', holy soil at Ayodhya Temple ahead of 'bhoomi pujan'

Former president of Bajrang Dal and former education minister of Madhya Pradesh, Jaybhan Singh Pawaiya reached at Chhoti Chhawni Mani Das Ram Temple in UP's Ayodhya on August 04. He carried a 'jal..
Credit: ANI Duration: 02:03
Published
Ram Mandir was BJP's agenda since beginning, and now has fulfilled: Narottam Mishra

Madhya Pradesh Home Minister Narottam Mishra reacted to Congress leader Digvijaya Singh's tweet where he gave the credit of Ram Mandir to Rajiv Gandhi. Narottam Mishra said, "Do they assume that Ram..
Credit: ANI Duration: 02:25
Published
COVID-19: Markets re-open in Bhopal after 10-day complete lockdown

Markets have been re-opened in Madhya Pradesh's capital city Bhopal on August 04 amid coronavirus pandemic. The market got re-opened in Shivaji Nagar area after 10-day complete lockdown to curb the..
Credit: ANI Duration: 01:11
Published
COVID update: India to start late stage trials of Oxford vaccine, Shivraj tests positive again

The Drugs Controller General of India (DCGI) has given approval to Serum Institute of India (SII), Pune, to conduct Phase II and III clinical trials of Oxford University. According to the World Health..
Credit: ANI Duration: 01:38
Published
Muslim man from Raipur on 800 km journey to Ayodhya

As the entire nation is eagerly waiting for 5th August to witness the ground-breaking ceremony of the construction of Lord Ram's temple at his birthplace Ayodhya, one man from Raipur has decided to..
Credit: ANI Duration: 03:30
Published
'Ram Rajya' will come to India under PM Modi's leadership: CM Chouhan

While speaking to media in Bhopal on August 03, the Chief Minister of Madhya Pradesh, Shivraj Singh Chouhan spoke on construction of Ram Temple. He said, "I have a belief that with the construction of..
Credit: ANI Duration: 02:18
Published
82-year-old woman is fasting for past 28 years in MP's Jabalpur for Ram Mandir construction

82-year-old woman in Madhya Pradesh's Jabalpur is fasting from past 28 years for the construction of Sri Ram Temple. The fast includes 'no consumption of grains; Urmila Chaturvedi consumed milk, curd..
Credit: ANI Duration: 02:38
Published
'Sawan': Priests perform 'Bhasma aarti' at Ujjain's Mahakaleshwar Temple on last Monday

Priests performed prayers at Ujjain's Mahakaleshwar Temple on last Monday of 'Sawan' month in Madhya Pradesh on August 03. They also performed 'Aarti' on the occasion of Raksha Bandhan. 'Bhasma aarti'..
Credit: ANI Duration: 01:34
Published
You Might Like



Madhya Pradesh CM Shivraj Singh Chouhan to donate convalescent plasma for treatment of COVID-19 patients

Madhya Pradesh Chief Minister Shivraj Singh Chouhan on Sunday said he would donate his blood plasma for treatment of COVID-19 patients.




DNA - Published





MP CM Shivraj Singh Chouhan discharged from hospital

Madhya Pradesh chief minister Shivraj Singh Chouhan was discharged from a private hospital here on Wednesday after recovering from coronavirus infection, an official said.




IndiaTimes - Published





Ayodhya: PM Modi is the leader of five centuries, says Madhya Pradesh CM

Madhya Pradesh Chief Minister Shivraj Singh Chouhan on Wednesday described Prime Minister Narendra Modi as the "leader of five centuries" who resolved the equally old dispute with his efficient..




IndiaTimes - Published





Covid-19: Shivraj Singh Chouhan appeals to Ministers, MLAs to donate 30 percent salary to CM Relief Fund

Madhya Pradesh Chief Minister Shivraj Singh Chouhan on Friday appealed to the Ministers and MLAs in the state to contribute 30 per cent of their salaries to the Chief Minister's Relief Fund in the..




IndiaTimes - Published





Corbett tops in tiger count, Madhya Pradesh pips Karnataka

Corbett's tiger count has been rising — from 137 in 2006 to 174 in 2010 and 215 in 2014. "We had expected the numbers to be over 250," said director of the reserve, Rahul. It is followed by..




IndiaTimes - Published





MP CM Shivraj Singh Chouhan leads by example, washes clothes himself in hospital

Madhya Pradesh Chief Minister Shivraj Singh Chouhan, who is under treatment after he was found corona-positive, is leading by example by washing his own clothes.




IndiaTimes - Published





If detected early, Covid-19 not incurable: Shivraj Singh Chouhan

Madhya Pradesh Chief Minister Shivraj Singh Chouhan, who tested positive for coronavirus, on Tuesday chaired the first virtual cabinet meeting from hospital and said if the infection is detected early,..




IndiaTimes - Published





Madhya Pradesh: Shivraj Singh Chouhan reviews COVID-19 measures from hospital

The Chief Minister tested positive for COVID-19 on Saturday.




DNA - Published

Also reported by •IndiaTimes


Apprehension prevails in Congress after Sachin Pilot rebellion, all eyes on 'Rahul brigade'

After rebellions by Jyotiraditya Scindia in Madhya Pradesh and Sachin Pilot in Rajasthan, the focus is now on Rahul Gandhi's "youth brigade" and those whom he had given key responsibilities when he was..




IndiaTimes - Published





Don't panic, says Madhya Pradesh CM Shivraj as he listens to Mann Ki Baat




IndiaTimes - Published





Video: MP CM Shivraj Singh Chouhan listens to PM Modi's 'Mann Ki Baat' at COVID-19 hospital

Madhya Pradesh CM Shivraj Singh Chouhan listened to PM Modi's Mann Ki Baat on Sunday from the COVID-19 hospital.




DNA - Published





MP: Two girls stuck while taking selfies in middle of river, rescued

The incident happened on the Pench river in Chhindwara district in Madhya Pradesh.




DNA - Published





MP CM Shivraj Singh Chouhan tests coronavirus positive

Madhya Pradesh chief minister Shivraj Singh Chouhan on Saturday tested positive for coronavirus."My dear residents of the state, I was showing symptoms of Covid-19. After the test, my results have come..




IndiaTimes - Published

Also reported by •DNA


Narcotics Control Bureau seizes opium worth Rs 42 crore in Rajasthan

Deputy director (operations) KPS Malhotra said that the team in Jodhpur had recieved an information that 233.4kg of opium was being transported to the Shadi village. Following the seizure, the NCB drug..




IndiaTimes - Published





Madhya Pradesh: New MLA rest house to come up at old rest house premises, says pro tem Speaker




IndiaTimes - Published





Congress has become a 'Twitter Party', says Shivraj Singh Chouhan

Terming the Congress as a Twitter Party, Madhya Pradesh chief minister Shivraj Singh Chouhan on Thursday said its leaders are busy posting messages on the popular micro-blogging platform.




IndiaTimes - Published





Madhya Pradesh minister tests positive for COVID-19, lockdown in Bhopal from tomorrow

Arvind Singh Bhadoria was admitted to the Chirayu Medical College and Hospital in Bhopal on Wednesday night after he tested positive for COVID-19. Bhadoria released a video from the hospital where he..




DNA - Published





Madhya Pradesh: 10-day complete lockdown in Bhopal from 8 pm on July 24

Madhya Pradesh Chief Minister Shivraj Singh Chouhan announced a 10-day complete lockdown in Bhopal to check the spread of COVID-19 infection. The state capital has recorded 4,669 COVID-19 cases so far,..




DNA - Published





Madhya Pradesh: Miner stumbles upon 10.69 carat diamond worth Rs 50 lakh

Here's what happened




DNA - Published





Madhya Pradesh governor Lalji Tandon, Atal's man Friday, dies at 85




IndiaTimes - Published




Lalji Tandon: A BJP veteran who dominated Uttar Pradesh political landscape

A seasoned politician, Madhya Pradesh Governor Lalji Tandon had a dominating presence in Uttar Pradesh where he served as cabinet minister and was elected to the assembly and council multiple times.




IndiaTimes - Published





After prolonged illness, Madhya Pradesh Governor Lalji Tandon passes away at 85

Tandon was admitted to the hospital after complaining of breathing problems, difficulty in urination, and fever.




DNA - Published





Pilot shouldn't go Scindia way, has future in Cong: Digvijaya

Blaming the BJP for the political drama in Rajasthan, senior Congress leader Digvijaya Singh on Sunday asked Sachin Pilot not to leave the grand old party. In an interview to PTI, the former Madhya..




IndiaTimes - Published





MP: Congress MLA Kasdekar resigns from assembly, joins BJP

Sumitra Devi Kasdekar, Congress MLA from Nepanagar in Madhya Pradesh's Burhanpur district, resigned from the assembly on Friday and joined the ruling BJP.




IndiaTimes - Published





MP, Bihar, T'gana economy to be hit most by Covid: Lancet

The study, 'A vulnerability index for the management of and response to the Covid-19 epidemic in India: An ecological study', shows Sikkim at score '0' in the rankings, making it the least..




IndiaTimes - Published





Rahul Gandhi flays assault on Dalits in MP's Guna

Congress leader Rahul Gandhi on Thursday condemned the attack on Dalits by policemen in Madhya Pradesh's Guna district, saying "our fight is against this injustice". ​​​​A purported video of..




IndiaTimes - Published





Rahul Gandhi has lost his arms in Scindia and Pilot: Gujarat deputy CM

Scindia's exit from the Congress in March this year along with 22 MLAs had led to the collapse of then Kamal Nath government in Madhya Pradesh. Pilot, who fell out with Rajasthan chief minister Ashok..




IndiaTimes - Published





Former Union minister Kamal Nath will be leader of Opposition in Madhya Pradesh assembly




IndiaTimes - Published





People disenchanted as Congress ran MP govt like business: Scindia

Congressman-turned-BJP Rajya Sabha MP Jyotiraditya Scindia on Tuesday said people of Madhya Pradesh are disenchanted with his former party as it ran its 15 months long government like a..




IndiaTimes - Published





Rajasthan govt crisis: Rahul's envy causing Cong's destruction, says Uma Bharti

Amid the crisis in the Congress government in neighbouring Rajasthan, senior BJP leader and former Madhya Pradesh chief minister Uma Bharti on Monday accused Rahul Gandhi of not allowing young leaders..




IndiaTimes - Published





CM Shivraj Singh Chouhan allocates portfolios in Madhya Pradesh, Scindia loyalists get key ministries

Madhya Pradesh Chief Minister Shivraj Singh Chouhan on Monday allocated portfolios to new ministers.




DNA - Published

Also reported by •IndiaTimes


Numbers in way of a lotus bloom in Rajasthan

Even as the current political situation in Rajasthan is being compared with Madhya Pradesh and Karnataka where Congress governments made way for BJP, the saffron party faces heavier odds in the desert..




IndiaTimes - Published





When will we wake up? Kapil Sibal voices angst over Congress crisis

As the Rajasthan Congress drama stoked the barely-forgotten memories of government collapse in Madhya Pradesh and Karnataka, worry lines deepened in party ranks over concerns that the organisation was..




IndiaTimes - Published





Madhya Pradesh: MLA Pradyuman Singh Lodhi leaves Congress, joins BJP in presence of Shivraj Singh Chouhan

Now, the strength of the Congress in the state Assembly has reduced to 91.




DNA - Published





'Sad to see Sachin Pilot being sidelined by Congress': BJP's Jyotiraditya Scindia backs 'erstwhile colleague'

Notably, the situation in Rajasthan has eerie callbacks to the crisis in Madhya Pradesh Congress months ago.




DNA - Published





Breaking: UP gangster Vikas Dubey nabbed from Madhya Pradesh's Ujjain

After days of intensified manhunt, the Uttar Pradesh Police has managed to nab gangster Vikas Dubey.




DNA - Published




BJP MLA Rameshwar Sharma appointed as protem speaker of Madhya Pradesh

Earlier on Thursday, twenty-eight Ministers, who joined the Chouhan government in Madhya Pradesh, were administered the oath of office and secrecy by Governor at Raj Bhawan in Bhopal.




DNA - Published





MP minister demands CBI probe against Sonia, Rahul Gandhi, Kamal Nath on their Chinese links

Madhya Pradesh Minister Kamal Patel wrote a letter to Union Home Minister Amit Shah demanding a CBI probe against Congress president Sonia Gandhi, party leader Rahul Gandhi and former Madhya Pradesh..




IndiaTimes - Published





Madhya Pradesh cabinet expanded: List of new ministers




IndiaTimes - Published




Uma Bharti evades replies on MP govt's cabinet expansion

Senior BJP leader Uma Bharti on Thursday refused to comment on the Cabinet expansion by Madhya Pradesh's chief minister Shivraj Singh Chouhan earlier during the day.




IndiaTimes - Published





'Tiger abhi zinda hai': Jyotiraditya Scindia's message for Digvijaya Singh and Kamal Nath

"Tiger abhi zinda hai," said BJP leader Jyotiraditya Scindia on Thursday as he launched an attack on Congress leaders Digvijaya Singh and Kamal Nath and accused them of going back on promises to people..




IndiaTimes - Published





1 in 5 deaths in MP is a child under 5, just 2% in Kerala

Deaths in the 0-4 year age group account for a shocking 20% of total deaths or one in every five in Madhya Pradesh. In contrast, deaths in this age group account for just 2% or one in fifty of total..




IndiaTimes - Published





Shivraj Singh Chouhan to meet PM Narendra Modi today

In today's meeting, the two senior leaders are likely to discuss the current political situation in Madhya Pradesh and the possible expansion of the state cabinet. Besides this, the Chief Minister is..




IndiaTimes - Published





UP Governor Anandiben Patel given additional charge of Madhya Pradesh; appointed by President Ram Nath Kovind

The appointment was made by President Ram Nath Kovind on Sunday in view of the poor health conditions of the erstwhile Madhya Pradesh Governor, Lal Ji Tandon, said a statement issued by the Rashtrapati..




DNA - Published

Also reported by •IndiaTimes


Railways to generate 8 lakh man days of employment for returning migrants, to spend 1,800 crore by October

Rs 1800 crore would be spent in 116 identified districts of six states - Uttar Pradesh, Bihar, Rajasthan, Madhya Pradesh, Orissa and Jharkhand - as part of the Garib Kalyan Rojgar Abhiyaan.




DNA - Published





64% of parents favour online classes: Survey

According to a survey conducted across 204 districts, 64% of parents are in favour of online classes in schools as against 31% wanting a ban on them.So far three states — Karnataka, Maharashtra and..




IndiaTimes - Published





Police to probe conversion bid claims in Madhya Pradesh




IndiaTimes - Published





Rajya Sabha election results: BJP wins 2 seats from MP, Congress gets 1

The BJP won two Rajya Sabha seats in Madhya Pradesh while the Congress won one seat on Friday. In Rajasthan, the Congress won two seats in Rajya Sabha elections, while the BJP has won one seat.




IndiaTimes - Published