Balakot
Place in Khyber Pakhtunkhwa, Pakistan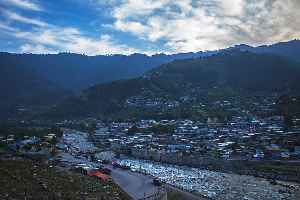 Balakot is a town in Mansehra District in the Khyber Pakhtunkhwa province of Pakistan. The town was destroyed during the 2005 Kashmir earthquake, but was later rebuilt with the assistance of the Government of Pakistan and Saudi Public Assistance for Pakistan Earthquake Victims (SPAPEV), a Saudi relief organisation.


Army was ready for ground escalation by Pak after Balakot airstrikes: Army Chief Bipin Rawat
"Army was ready for any ground escalation by Pakistan after the Balakot operations," he said during an interaction with retiring officers here.
DNA - Published
'Imran Khan acknowledges what India did in Balakot': Rajnath nails Pak PM over his candid admission
"Few days ago, prime minister of Pakistan said that India is planning to take an action bigger than Balakot. It means that Pakistan PM acknowledges what India did in Balakot," said Rajnath Singh in..
DNA - Published
Will give befitting reply if any action taken by terrorists on Article 370: Ravi Shankar Prasad
He was replying to media's question about Pakistan's Prime Minister Imran Khan's statement that Pakistan has 'full knowledge' that India is planning a bigger operation than Balakot in PoK.
DNA - Published
Vir Chakra for Abhinandan Varthaman, Vayu Sena medals for Balakot bombers
Wing Commander Varthaman, who downed a Pakistan jet during an aerial combat in February and was held captive for three days, has been conferred the Vir Chakra, India's third-highest war time gallantry..
DNA - Published
Wing Commander Abhinandan Varthaman to be conferred Vir Chakra
Wing Commander Abhinandan Varthaman will be awarded Vir Chakra on Independence Day for shooting down Pakistan F-16 during the February 27 air-skirmish between Indian Air Force and Pakistan Air Force a..
IndiaTimes - Published
Search this site and the web:
You Might Like