Beijing
Capital of China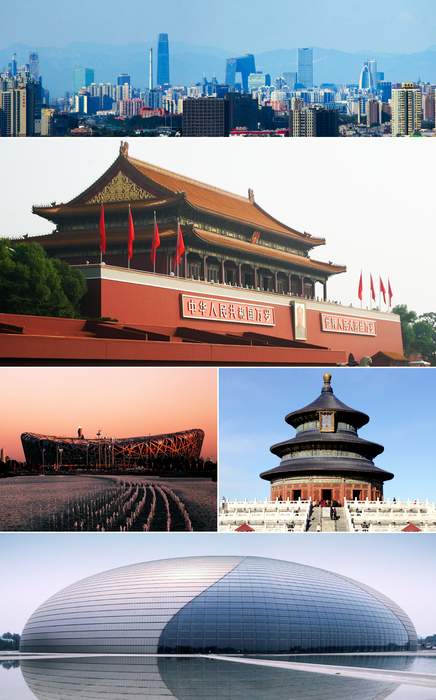 Beijing, alternatively romanized as Peking, is the capital of the People's Republic of China. It is the world's most populous national capital city, with over 21 million residents within an administrative area of 16,410.5 km2. It is located in Northern China, and is governed as a municipality under the direct administration of the State Council with 16 urban, suburban, and rural districts. Beijing is mostly surrounded by Hebei Province with the exception of neighboring Tianjin to the southeast; together, the three divisions form the Jingjinji megalopolis and the national capital region of China.


Biden aims to punish China over Hong Kong: sources

The United States is preparing to impose sanctions on Friday on a number of Chinese officials over Beijing's crackdown on democracy in Hong Kong, as well as a warning to international businesses..
Credit: Reuters - Politics Duration: 01:27
Published
US bans all imports from China's Xinjiang over treatment of Uyghur Muslims | Oneindia News

THE US senate has banned import of all products from China's Xinjiang region in a law meant to punish Beijing for its alleged treatment of Uyghur muslims. #Uyghur #Xinjiang #China
Credit: Oneindia Duration: 01:52
Published
EU governments approve plans to launch global investment strategy to counter Beijing's influence

China's Belt and Road initiative was launched in 2013 to expand the country's influence worldwide.
Credit: Euronews English Duration: 02:10
Published
CNN traces Taiwan's military past as Beijing warns island to 'prepare for war'

As Beijing steps up its military propaganda and warns Taiwan to "prepare for war," experts say the bigger threat to the island and western democracies is the large-scale cyberattacks that could..
Credit: Bleacher Report AOL Duration: 04:18
Published
China Communist Party anniversary: Hong Kong silenced as Beijing celebrates centenary


Credit: FRANCE 24 English Duration: 03:04
Published
See China's ruling Communist party celebrate centennial in Tiananmen Square

The Chinese Communist Party marks its 100th anniversary with celebrations across the country. CNN's Steven Jiang reports from the Tiananmen Square in Beijing.
Credit: Bleacher Report AOL Duration: 02:23
Published
Amnesty says HK law crushes human rights

Hong Kong authorities have used the new national security law as a "pretext to curb dissent" and justify censorship, harassment, arrests and prosecutions that crush human rights, Amnesty International..
Credit: Reuters - Politics Duration: 01:49
Published
Inside Hong Kong's biggest newspaper after news broke of its closing

Hong Kong's biggest pro-democracy newspaper, Apple Daily, will close its print and digital production as Beijing tightens its grip.
Credit: Bleacher Report AOL Duration: 02:33
Published
Dozens of Uighurs, Tibetans protest the Beijing 2022 Winter Olympics

Dozens of Uighur and Tibetan activists gather outside the Olympic Museum in Lausanne to protest against the 2022 Winter Olympics in Beijing and to call for a boycott.
Credit: euronews (in English) Duration: 01:00
Published
China seeks probe into Canada's indigenous schools

China and its allies called on Tuesday for an investigation into the discovery of the remains of indigenous children in Canada at the site of a former boarding school, prompting an angry response from..
Credit: Reuters - Politics Duration: 02:01
Published
The rise and fall of Hong Kong's Apple Daily

Hong Kong tabloid Apple Daily has increasingly been under the scrutiny of the authorities since the arrest last August of owner Jimmy Lai. Megan Revell reports.
Credit: Reuters - Politics Duration: 02:31
Published
Hong Kong press freedom 'hanging by a thread' as arrests mount

Hong Kong's largest pro-democracy newspaper has warned the city's press freedom is 'hanging by a thread', after five of its executives were arrested under Beijing's national security law.
Credit: Al Jazeera STUDIO Duration: 06:14
Published
Beijing accuses NATO of exaggerating 'China threat theory'


Credit: FRANCE 24 English Duration: 03:56
Published
NATO says China presents 'systemic' challenges

Beijing's 'assertive behaviour' is challenging the 'rules-based international order', transatlantic security alliance says.
Credit: Al Jazeera STUDIO Duration: 07:44
Published
NATO recognises China as a 'security challenge' for the first time

The alliance's secretary-general said on Monday that NATO is concerned by Beijing's rapidly expanding nuclear arsenal.
Credit: Euronews English Duration: 01:25
Published
China expands Tibet's political education drive

In a rare and tightly chaperoned government tour of the region last week, a Reuters journalist was invited to Tibet as China broadens its political education campaign. Olivia Chan reports.
Credit: Reuters - Politics Duration: 02:37
Published
UK report says Hong Kong law curtails freedoms

Beijing has broken its legal obligations by undermining Hong Kong's high degree of autonomy and used a national security law to "drastically curtail freedoms" in the global financial hub, according to..
Credit: Reuters - Politics Duration: 01:08
Published
Bitcoin: Cryptocurrency accounts blocked on Chinese social network Weibo

Several influential Bitcoin accounts on Weibo have been blocked in recent days as Beijing escalates its crackdown on cryptocurrency trading.
Credit: Euronews English Duration: 02:30
Published
U.S. Senate passes bill to address China tech threat

The U.S. Senate voted 68-32 on Tuesday to approve a sweeping package of legislation intended to boost the country's ability to compete with Chinese technology. Flora Bradley-Watson reports.
Credit: Reuters - Politics Duration: 02:03
Published
You Might Like



China 'ban' on entry of Indian sailors, says seafarers' body

A seafarer workers' union has claimed that Indian sailors are losing jobs on China-bound commercial vessels as Beijing has imposed an unofficial ban and is not allowing ships with Indian crew members..




IndiaTimes - Published





Tokyo Olympics: Tom Daley on triumph, trauma and his likely last shot at gold

The 'baby' of Beijing has become a father, a husband, an LGBTQ+ spokesperson. Tom Daley has perhaps one final shot at Olympic gold.




BBC Sport - Published





Border row must not be allowed to affect India ties, says China

India has repeatedly said that LAC disengagement, and de-escalation, is essential for improvement in ties, Beijing insists that the border dispute should not be allowed to come in the way of overall..




IndiaTimes - Published





PM Modi wishes Dalai Lama, sends another message to China

In a move that has both spiritual and foreign policy implications, Prime Minister Narendra Modi spoke to the Dalai Lama on his birthday on Tuesday. This is the first time Modi openly acknowledged..




IndiaTimes - Published





Pakistan PM Imran Khan refuses to acknowledge China's repression of Uighurs

Pakistan PM Imran Khan has defended his silence on reports about "genocide" of Uighur Muslims in China by claiming that Islamabad discussed such matters with Beijing "behind closed doors". He..




IndiaTimes - Published





India 'priest' of world peace, but capable of replying to aggression: Rajnath

In a statement seen as an implicit message to Beijing, defence minister Rajnath Singh on Thursday said that though India is a peace loving country, it has the capability to reply to aggression.




IndiaTimes - Published





Indians stuck, allow two-way travel, Delhi tells Beijing on curbs




IndiaTimes - Published





Over 300 stranded Indians take Chinese vaccines abroad; urge Beijing to permit their return




IndiaTimes - Published





Covid-19: China stands with India, will provide full support to combat second wave, says FM Wang Yi

Asserting that Beijing stands with New Delhi amid the Covid-19 crisis, Chinese foreign minister Wang Yi on Tuesday said all BRICS member countries including China will provide support and assistance to..




IndiaTimes - Published





China accuses US of being 'disrespectful to science' over coronavirus origins probe

Beijing has accused the US of playing politics and shirking its responsibility in calling for a new investigation into the origins of the coronavirus pandemic that was first detected in China in late..




Sky News - Published




'Running out of time': Tibetan president-elect warns of cultural genocide

Penpa Tsering, who was this month elected president of the Central Tibetan Administration (CTA), said that they are committed to a peaceful resolution with China, but Beijing's current policies..




IndiaTimes - Published





Covid-19: China stokes US-India tensions over Biden's slow coronavirus aid

In a barrage of editorials, political cartoons and social-media posts in recent days, the Communist Party-backed Global Times newspaper blasted the US for failing to provide aid while calling on India..




IndiaTimes - Published





Mikaela Shiffrin on father's death, changing perspective and Beijing 2022 Winter Olympics

Alpine skier Mikaela Shiffrin's beloved father died in 2020, and it's given her a change in perspective before Beijing 2022.




BBC Sport - Published





New Delhi urges Beijing to join hands, expedite LAC pullback

With the LAC disengagement still incomplete in eastern Ladakh, the government on Friday reiterated that prolongation of the situation was in neither side's interest and expressed hope that the..




IndiaTimes - Published





Beijing strikes back after UK sanctions - and adds senior British politicians to its own list

China has sanctioned individuals and organisations in the UK who it said "maliciously spread lies and disinformation" - days after the British government imposed sanctions on Chinese officials for..




Sky News - Published




PM warns against 'new Cold War on China' as he comes under pressure from Tory MPs

Boris Johnson has warned against a "new Cold War on China" as he came under pressure from senior Conservative MPs over continuing "naivety" in the UK's relationship with Beijing.




Sky News - Published





'Worst sandstorm in a decade' leaves Chinese capital covered in thick brown dust

China's biggest sandstorm in a decade has covered Beijing in a thick blanket of brown dust and grounded more than 400 flights.




Sky News - Published




Breakthrough eludes 7th round of China talks

India and China held their seventh round of diplomatic talks for disengagement along the LAC in eastern Ladakh with the government pushing Beijing, after the process was completed in the Pangong Tso..




IndiaTimes - Published





Tokyo 2020: China offers Covid vaccine doses for Olympic and Paralympic athletes

The Chinese Olympic Committee offers Covid vaccine doses for athletes competing at this summer's Tokyo Games and at Beijing 2022.




BBC Sport - Published





Amid LAC 'thaw', China blames India for tension

As India seeks early troop disengagement in remaining areas in Ladakh after Pangong Tso, Chinese foreign minister Wang Yi on Sunday reiterated Beijing's position that the border issue was not the..




IndiaTimes - Published





Beijing declares only 'patriots' should rule Hong Kong as elections delayed again

Beijing has declared that only "patriots" should rule Hong Kong - and unveiled plans to change the city's electoral system to ensure just that.




Sky News - Published




Into The Grey Zone: Hong Kong activist hopes his efforts will 'pave the way' for a return home

A prominent activist who fled Hong Kong after Beijing passed a new security law has said he hopes his efforts to keep fighting for democracy will "pave the way" for a return home.




Sky News - Published




Foreign secretary: No normal India-China ties till border tense

Foreign secretary Harsh Shringla said the two countries could not have a normal relationship if the border areas continued to witness transgressions. The remark follows comments by Beijing last month..




IndiaTimes - Published





Indian army chief express concerns over China's BRI, lauds ties with Nepal, Bangladesh

BRI or the OBOR is Beijing's global infrastructure project, one whose key crucial component passes via PoK as CPEC - China Pakistan Economic Corridor.




DNA - Published





China bans BBC World Service in 'unacceptable curtailing of media freedom'

Beijing has banned BBC World News just days after Ofcom stripped state TV channel China Global Television Network of its UK broadcasting licence.




Sky News - Published





VK Singh's LAC remark 'unwitting confession': China

Union minister Gen (retd) V K's Singh remark that India has crossed LAC more often than China turned into a convenient stick for Beijing to attack India with on Monday as it described India's..




IndiaTimes - Published





China claims vindication after VK Singh's LAC remarks

Minister VK's Singh remark that India has crossed LAC more often than China turned into a convenient stick for Beijing to attack India with Monday as it described India's alleged transgressions as the..




IndiaTimes - Published





Rafale has caused worries in China's camp, says IAF Chief

Asserting that India has made adequate deployments at the China border to deal with the ongoing conflict with Beijing, IAF Chief RKS Bhadauria on Thursday said that the induction of Rafale aircraft has..




IndiaTimes - Published





US concerned by China's ongoing attempts to 'intimidate' neighbours: White House

In its first response to the China-India border standoff, the Biden administration has voiced concern over Beijing's ongoing attempts to "intimidate" its neighbours and said it was closely monitoring..




IndiaTimes - Published





Air Force Chief Marshal RKS Bhadauria warns China against aggression, makes this BIG statement

IAF Air Chief Marshal RKS Bhadauria on Saturday issued a stern warning to Beijing asserting that India can also urn aggressive if China will do so.




DNA - Published





India in touch with China to effect crew change: MEA on stranded sailors

"As regards MV Anastasia, which has 16 Indian crew members and is at anchorage at the Caofeidian port in China, our embassy in Beijing has been in touch with the Chinese side, both at the central..




IndiaTimes - Published





Millions ordered to get COVID test in Beijing after city reports three cases

Millions of people in Beijing are being tested for COVID-19 after the Chinese capital recorded three new cases on Friday.




Sky News - Published




Chinese billionaire tech tycoon Jack Ma seen in public three months after mystery disappearance

Chinese tycoon Jack Ma has appeared in public for the first time in nearly three months - after speculation about his whereabouts following a clampdown by Beijing on his business empire.




Sky News - Published




Big blow to China as US sees India as a security provider, calls out Beijing's 'debt-trap diplomacy'

The declassified document sees India as a net provider of security with the object to solidify an enduring strategic partnership with India.




DNA - Published





Hong Kong: Dozens of arrests look more like a purge than law enforcement

Critics of the National Security Law (NSL) imposed by Beijing on Hong Kong have described its powers as sweeping - and today authorities swept wide. 




Sky News - Published




China's troubled tech tycoon 'laying low' after clash with Beijing

Jack Ma, founder of Alibaba Group and China's best-known billionaire, has disappeared from the public eye after Beijing regulators halted the company's stock market listing.




Sky News - Published





New Delhi demands early resolution from China on Indian sailors stranded off Chinese coast

The Indian mission in Beijing has taken up the matter with the Chinese foreign ministry and local authorities of Hebei province and Tianjin port.




DNA - Published





China cautions India against use of 'Tibet card' to interfere in its internal affairs, says can damage bilateral ties

The Chinese embassy in New Delhi outlined Beijing's position on the Tibetan Policy and Support Act of 2020, signed into law by US President Trump.




DNA - Published





Pakistan a pawn in Chinese policy, serious conflict with India not good for Beijing: IAF chief




IndiaTimes - Published





Indian seafarers stranded, Delhi questions 'Covid logic' of Beijing




IndiaTimes - Published





Indian, Japanese defence ministers discuss aggressive Chinese actions

While China wasn't mentioned, it is clear that Beijing's actions this year with its neighbors and beyond have changed the perception of the country.




DNA - Published





LAC standoff: 'Expect China to match words with actions,' India says on Beijing's claims of respecting border agreements




IndiaTimes - Published





China gave 5 differing reasons for border buildup: Jaishankar

External affairs minister S Jaishankar on Wednesday said China had given India as many as 5 "differing explanations" for heavy deployment at the LAC and that the Sino-Indian relationship was..




IndiaTimes - Published





Will have good communication with India, says China on its plan to build big dam over Brahmaputra river

China on Thursday played down its plan to build a major dam in the lower reaches of the Brahmaputra river in Tibet, saying there is no need to have "any anxiety" over the project and Beijing will..




IndiaTimes - Published





Beijing takes its South China Sea strategy to the Himalayas




IndiaTimes - Published





China slams apps ban; Xi asks PLA to be battle-ready

Reacting to India's ban on 43 more Chinese Apps, Beijing on Wednesday said it firmly opposed New Delhi using national security as an excuse even as President Xi Jinping told the armed forces to..




IndiaTimes - Published





India has to be a key partner in engaging China from position of strength: Blinken

India and the US face a common challenge in the form of an "increasingly assertive" China and New Delhi has to be a key partner in engaging with Beijing from a position of strength, believes long-time..




IndiaTimes - Published