Beijing
Capital of the People's Republic of China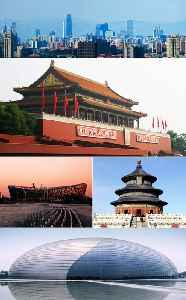 Beijing, alternatively romanized as Peking, is the capital of the People's Republic of China. It is the world's most populous capital city, with over 21 million residents within an administrative area of 16,410.5 km2. The city, located in North China, is governed as a municipality under the direct administration of the central government with 16 urban, suburban, and rural districts. Beijing is mostly surrounded by Hebei Province with the exception of neighboring Tianjin to the southeast; together, the three divisions form the Jingjinji megalopolis and the national capital region of China. Beijing is an important world capital and global power city, and one of the world's leading centers for culture, diplomacy and politics, business and economy, education, language, and science and technology. A megacity, Beijing is the second-largest Chinese city by urban population after Shanghai and is the nation's cultural, educational, and political center. It is home to the headquarters of most of China's largest state-owned companies and houses the largest number of Fortune Global 500 companies in the world, as well as the world's four biggest financial institutions. It is also a major hub for the national highway, expressway, railway, and high-speed rail networks. The Beijing Capital International Airport has been the second busiest in the world by passenger traffic since 2010, and, as of 2016, the city's subway network is the busiest and longest in the world.


Unexpectedly high voter turnout at Hong Kong primary elections

It is the first ballot since Beijing imposed its new national security law - many feared this would keep people away.
Credit: Al Jazeera STUDIO Duration: 02:36
Published
Beijing security office opens in Hong Kong

Beijing's national security office was inaugurated in Hong Kong on Wednesday, just over a week after China's central government imposed a tough new law on the city.
Credit: PA - Press Association STUDIO Duration: 00:53
Published
Hong Kong security law is not "doom and gloom"

Hong Kong's national security law imposed by Beijing last week was not "doom and gloom" for the city, its leader Carrie Lam said on Tuesday (July 7), adding it was untrue to say she was not privy to..
Credit: Reuters Studio Duration: 01:08
Published
India, China made progress for frontline troops to disengage border situation: Chinese Foreign Ministry

While addressing a press conference in Beijing on July 06, the Spokesperson of Chinese Foreign Ministry, Zhao Lijian said, "China and India have made progress coming up with effective measures for..
Credit: ANI Duration: 01:00
Published
Beijing art exhibition reflects on life during the pandemic

Artists and art galleries in China have emerged from lockdown to explore the impact of the coronavirus pandemic on everyday lives.
Credit: Al Jazeera STUDIO Duration: 02:25
Published
Beijing market outbreak sparks fears of second COVID-19 wave

Coronavirus cluster at the city's biggest wholesale market triggers strict lockdown.
Credit: Al Jazeera STUDIO Duration: 02:18
Published
Beijing district in 'wartime mode' amid fresh coronavirus cases

Beijing closes city's largest wholesale food market after detecting seven locally transmitted cases over two days.
Credit: Al Jazeera STUDIO Duration: 02:01
Published
US President Donald Trump calls COVID-19 'plague from China'

The President of Unites States of America, Donald Trump has called coronavirus "plague from China" and accused Beijing of allowing it to happen. While addressing, the US President said, "Plague from..
Credit: ANI Duration: 01:51
Published
India expects China to restore peace on border: MEA

held a press conference in the national capital. While briefing the mediapersons on India-China border issue in Ladakh, Ministry of External Affairs Spokesperson Anurag Srivastava on July 2 said that..
Credit: ANI Duration: 01:52
Published
China adamant about enforcing Hong Kong security law

As international criticism grows over new measures threatening Hong Kong's autonomy, Beijing warns others to stay out of its affairs.
Credit: Al Jazeera STUDIO Duration: 02:37
Published
Hundreds Arrested in Hong Kong as China Imposes New National Security Law

The new law, which gives Beijing the power to crack down on separatism, collusion and various other political crimes, was passed on Tuesday.
Credit: Cover Video STUDIO Duration: 00:59
Published
China Returns Serve In Media Ping-Pong Game With US Government

In the latest tit-for-tat exchange, China has hit back at what it calls Washington's 'suppression of Chinese media.' CNN reports China is demanding that four US news organizations declare details of..
Credit: Wochit News Duration: 00:37
Published
PMQs: Boris Johnson announces new route for Hong Kong citizens to enter the UK

Boris Johnson told MPs that he would introduce a new route for Hong Kongers with British National (Overseas) status to enter the UK following the introduction of Beijing's new security law.
Credit: PA - Press Association STUDIO Duration: 00:52
Published
HK police make first arrest under new security law

Hong Kong police said on Wednesday (July 1) they arrested a man holding a flag advocating for independence, the first arrest under a sweeping national security law Beijing introduced overnight.
Credit: Reuters Studio Duration: 00:21
Published
China forces birth control on Uighurs to suppress population: AP

Beijing accused of forced sterilisation, abortions, and pregnancy checks on hundreds of thousands of minority women.
Credit: Al Jazeera STUDIO Duration: 04:22
Published
U.S. plans more nuclear arms talks with Russia

Russia and the United States hope to meet for a second round of nuclear arms control talks in Vienna as soon as practicable, possibly in late July or early August, the U.S. envoy to those talks said on..
Credit: Reuters Studio Duration: 01:36
Published
Beijing raises COVID-19 alert level after new outbreak

Hundreds of flights have been cancelled and schools and universities shut after 137 people test positive in a new outbreak of the novel coronavirus.
Credit: Al Jazeera STUDIO Duration: 02:12
Published
Beijing says new coronavirus cases now under control

Travel restrictions and social distancing measures have been reinstated.
Credit: Al Jazeera STUDIO Duration: 02:29
Published
China puts final satellite for Beidou into orbit

China on Tuesday successfully put into orbit the final satellite of its Beidou navigation network, rival to the U.S.-owned GPS. Ryan Brooks reports.
Credit: Reuters Studio Duration: 01:07
Published
You Might Like



China 'bigger threat to India' than Pakistan: Sharad Pawar

China's military might is "ten times greater" than India, the former defence minister, Sharad Pawar said, adding that Beijing has "weaned away" India's neighbours to its side. The Centre should try to..




IndiaTimes - Published





US commends India for responding to China's 'incredibly aggressive actions', sanctions Beijing on Tibet travel restrictions




IndiaTimes - Published





As China asserts its dominance over post-pandemic world, countries unite against Beijing's 'bully tactics'

Chinese President Xi Jinping has apparently decided that this is the right time to assert dominance and territorial expansionism when the global economies are reeling with the side-effects of a deadly..




IndiaTimes - Published





India-China tensions: Russia maintaining close touch with New Delhi, Beijing

Russia has, however, clearly said it will not mediate between China and India.




DNA - Published





China weaponises data for spying, India has to stop Beijing's mobile apps, 5G invasion: Experts

The webinar was hosted on Friday evening by New Delhi-headquartered think-tank Law and Society Alliance and the Defence and Strategic Affairs news magazine Defence Capital.




DNA - Published





Abide by agreements, New Delhi tells Beijing




IndiaTimes - Published





China does not desire balanced, forward-looking relationship with India: Gautam Bambawale

With its military moves, China has clearly indicated that it does not desire a balanced and forward-looking relationship with India, which should recalibrate its policy towards Beijing, former Indian..




IndiaTimes - Published





China's border row with India part of its global aggression, says Trump

China's aggressive stance along the India-China border fits with the larger pattern of Chinese aggression in other parts of the world, US President Donald Trump has said, wading into the boundary row..




IndiaTimes - Published





Aggressive stance against India, other countries confirms true nature of Chinese Communist Party: White House

White House press secretary Kayleigh McEnany said that according to President Donald Trump the aggressive stance of Beijing against India and other countries in the region confirms the "true nature" of..




IndiaTimes - Published





Beijing says app ban will hurt Chinese companies, India may suffer more economic losses than during Doklam crisis




IndiaTimes - Published





Ladakh face-off: US senators express solidarity with India

Expressing solidarity with the people of India on the Ladakh face-off with China, a top US senator has said India had made it clear that it would not be bullied by Beijing. Republican Senator Marco..




IndiaTimes - Published





Gloves off: Analyse cause of pandemic, says India

India had, so far, refrained from pressing China on Covid-19's origin and reports that information on its spread was suppressed, unlike the US and Australia. As a result, Beijing even threatened..




IndiaTimes - Published





China will have to pay a heavy price for military misadventure in eastern Ladakh: Experts

China will have to pay a "heavy price" for decades for resorting to aggressive military behaviour towards India in eastern Ladakh as it will isolate the country globally, strategic affairs experts said..




IndiaTimes - Published





PLA damaged 'considerable trust': Indian envoy in Beijing




IndiaTimes - Published





India warns China that attempts to alter status quo will have 'ripples, repercussions'

India on Friday warned China that trying to alter the status quo on the ground by resorting to force will not just damage the peace that existed on the border areas but can also have "ripples and..




IndiaTimes - Published





Seems Congress leaders are spokespersons for China, they don't dare to question Beijing: Pralhad Joshi

Hitting out at the Congress for criticising Prime Minister Narendra Modi over the standoff between India and China in Ladakh, senior BJP leader and Union minister Pralhad Joshi said it seems the..




IndiaTimes - Published





Indian-Americans protest in Chicago against Chinese aggression in eastern Ladakh

A group of Indian-Americans has organised a peaceful demonstration in front of the Chinese Consulate in Chicago, protesting against Beijing's incursions in eastern Ladakh. The protest was limited to a..




IndiaTimes - Published





China amassing large contingent of troops, armaments along LAC since early May: India

China has been amassing a large contingent of troops and armaments along the Line of Actual Control since early May and conduct of the Chinese forces has been in complete disregard of all mutually..




IndiaTimes - Published





Rajnath Singh to not meet Chinese counterpart Wei Fenghe in Moscow

The Chinese media has reported that Singh will meet his Chinese counterpart amid the border tensions between New Delhi and Beijing.




DNA - Published





China's actions show 'complete failure' of India's foreign policy under Modi govt: Rahul Gandhi

Stepping up his attack on Prime Minister Narendra Modi on the border standoff with China, Congress leader Rahul Gandhi on Tuesday accused him of "destroying" India's position and "betraying our Army"..




IndiaTimes - Published





Thin crowd at India's Beijing embassy for Yoga Day

International Yoga Day is usually a grand affair in Beijing. The Indian embassy invites about 500 people each year, across nationalities, to India House. This time, they asked yoga instructor Ashish..




IndiaTimes - Published





India: China's Galwan claim unacceptable

China's claim on the Galwan Valley is unacceptable and not in accordance with its own position in the past, the government said in a strong rebuttal of Beijing's late night statement on Friday in..




IndiaTimes - Published





Australia hints at Chinese cyberattack; Japan, Vietnam too riled by Beijing

India isn't the only country in China's crosshairs right now. On Friday, Australian PM Scott Morrison said his government and some private sector entities in the country had been under a sustained..




IndiaTimes - Published





Nepal on its side, China now woos Bangladesh

Just when India-China ties suffered a new low following the recent clashes at Galwan Valley in Ladakh, Beijing seems to be aggressively wooing Bangladesh, a strong ally of India in the neighbourhood,..




IndiaTimes - Published





India moves jets, copters to China-facing forward bases

India has moved its fighter jets to forward airbases facing China, even as additional warships have now been deployed in the extended Bay of Bengal region, in a clear signal to Beijing that New Delhi..




IndiaTimes - Published





Chinese acts on India border meant to take advantage of Covid distractions: US

China opening multiple fronts like the one on India border may be because of Beijing's assessment that the world is distracted due to Covid-19 pandemic and it may advantage of it, a top American..




IndiaTimes - Published





China finds heavy coronavirus traces in seafood, meat sections of Beijing food market

China has found the trading sections for meat and seafood in Beijing's wholesale food market to be severely contaminated with the new coronavirus and suspects the area's low temperature and high..




Reuters - Published





Taiwan to set up office to help people fleeing Hong Kong

Taiwan said on Thursday it will set up a dedicated office to help those thinking of fleeing Chinese-ruled Hong Kong as Beijing tightens its grip on the former British colony.




Reuters - Published





Sensex, Nifty end over 2% higher after Beijing contains virus outbreak

Indian shares closed higher on Thursday, rising sharply in afternoon trade after Beijing said a fresh coronavirus outbreak was under control.




Reuters India - Published





Beijing's coronavirus outbreak under control, Chinese expert says

Beijing has brought its latest coronavirus outbreak under control, a Chinese medical expert said on Thursday, although the capital can still expect sporadic new cases.




Reuters - Published





Latest on the worldwide spread of the coronavirus

Scores of domestic flights in and out of Beijing were cancelled on Wednesday as officials ramped up attempts to contain a coronavirus outbreak in the Chinese capital over the past week that has sparked..




Reuters India - Published





Beijing residents rush coronavirus test clinics as emergency rules expand

China's capital has mandated coronavirus tests for hundreds of thousands of people as it widens measures against a new outbreak of the disease that has sent anxious residents flooding to clinics for..




Reuters - Published





Hong Kong security law draft to be put before China's top parliament body

The top decision-making body of China's parliament will review a draft of national security legislation for Hong Kong during a session in Beijing that began on Thursday, the official Xinhua news agency..




Reuters - Published





UK says China and Russia trying to exploit coronavirus crisis

The United Kingdom said on Thursday that China, Russia and Iran were looking to exploit weaknesses shown by the coronavirus outbreak, amid suggestions Beijing had used the crisis to push through new..




Reuters - Published





China's goal in South Asia is to limit 'defiance' from India and 'hinder' India-US ties: Report

The report titled 'A Global Survey of US-China Competition in the Coronavirus Era' by the Hudson Institute also noted that China's deep partnership with Pakistan and close relationship with Sri Lanka..




IndiaTimes - Published





Top China parliament body to review Hong Kong security legislation

The top decisionmaking body of the Chinese parliament will review a draft Hong Kong national security legislation during its session in Beijing that began on Thursday, the official Xinhua news agency..




Reuters - Published





Top U.S, China diplomats hold 'constructive' meeting amid strains

U.S. Secretary of State Mike Pompeo met China's top diplomat, Yang Jiechi, in Hawaii on Wednesday in what Beijing described as a "constructive dialogue," amid a deep deterioration of ties between..




Reuters - Published





China tells U.S. to stop interfering in its affairs, work to repair relations

China's top diplomat told his U.S. counterpart that Washington needed to respect Beijing's positions on key issues, halt its interference in issues such as Hong Kong, Taiwan and Xinjiang and work to..




Reuters - Published





China says it must improve hygiene in markets after Beijing outbreak

Low standards of hygiene in China's wholesale food markets and vulnerabilities in its food supply chain need to be urgently addressed after a new coronavirus outbreak in Beijing, a leading body of the..




Reuters - Published





China reports 28 new coronavirus cases in mainland

China reported 28 new coronavirus cases in the mainland as of end-June 17, 21 of which were in the capital of Beijing, the country's health commission said on Thursday.




Reuters - Published





Beijing reports 21 new COVID-19 cases in city as of June 17

Beijing confirmed 21 new COVID-19 cases as of June 17, China's health authority said on Thursday, down from 31 a day earlier.




Reuters - Published





Norway says its salmon did not cause virus at Beijing market

Chinese and Norwegian authorities have concluded salmon from Norway was not the source of the coronavirus found on cutting boards at a Beijing wholesale food market, Norway's fisheries and seafood..




Reuters - Published





Beijing says COVID-19 cases could stay at current levels for some time

Beijing cannot rule out the possibility that the number of COVID-19 cases in the city will stay at current levels for some time, a city official said on Wednesday.




Reuters India - Published

Also reported by •Reuters


Norwegian salmon was not source of virus at Beijing food market, Norway says

Chinese and Norwegian authorities have concluded that Norwegian salmon was likely not the source of the novel coronavirus that was found at cutting boards in a Beijing food market, the Norwegian..




Reuters - Published




Beijing extends movement curbs to contain resurgent coronavirus

Scores of flights to and from Beijing were cancelled, schools shut and some neighbourhoods blocked off as officials ramped up efforts to contain a coronavirus outbreak that has fanned fears of wider..




Reuters - Published

Also reported by •Reuters India


China-backed AIIB approves $750 million loan for India's COVID-19 response

Beijing-backed Asian Infrastructure Investment Bank (AIIB) has approved a loan of $750 million to help India battle the impact of the coronavirus pandemic on vulnerable households, the bank said on..




Reuters India - Published





Beijing cuts flights to curb potential spread of mounting coronavirus cases

Scores of domestic flights in and out of Beijing were cancelled on Wednesday as officials ramped up attempts to contain a coronavirus outbreak in the Chinese capital over the past week that has sparked..




Reuters - Published

Also reported by •Reuters India


Nepal seems to be following China's road map on Lipulekh

The LAC violence has come at a time India faces some serious challenges in its neighbourhood, most notably in Nepal where a belligerent and pro-China government seems to believe it can rid the..




IndiaTimes - Published





Macau to require 14-day quarantine for people with recent Beijing travel history

Macau's government said on Wednesday it will require all people who have been to Beijing within two weeks prior to entering the city to be put under 14 days of medical observation at a designated..




Reuters - Published





Beijing on heightened alert as coronavirus cases mount

Beijing officials reported several new COVID-19 cases for the sixth consecutive day on Wednesday, extending an outbreak that has forced the Chinese capital's authorities to reinstate strict defences..




Reuters India - Published