Beijing
Capital of the People's Republic of China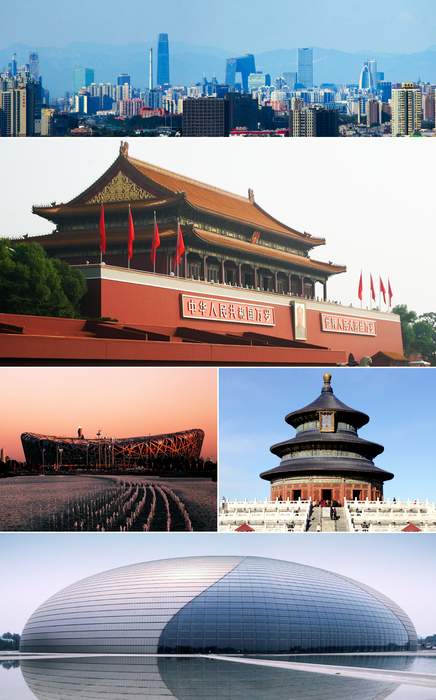 Beijing, alternatively romanized as Peking, is the capital of the People's Republic of China. It is the world's most populous capital city, with over 21 million residents within an administrative area of 16,410.5 km2. The city, located in Northern China, is governed as a municipality under the direct administration of the State Council with 16 urban, suburban, and rural districts. Beijing is mostly surrounded by Hebei Province with the exception of neighboring Tianjin to the southeast; together, the three divisions form the Jingjinji megalopolis and the national capital region of China.


Hong Kong activist Wong given 13 months prison

Joshua Wong, 24, one of Hong Kong's most prominent democracy activists, was jailed on Wednesday for more than 13 months over an unlawful anti-government rally in 2019, the toughest and most..
Credit: Reuters - Politics Duration: 01:21
Published
China probe lands on moon in bid to return lunar rocks to Earth

A Chinese robot probe sent to return lunar rocks to Earth for the first timesince the 1970s landed on the moon, the government announced, adding to astring of increasingly bold space missions by..
Credit: PA - Press Association STUDIO Duration: 00:27
Published
China prepares moon probe to bring back lunar rocks

Beijing is pouring billions into its military-run space programme, with hopes of having a crewed space station by 2022.
Credit: Al Jazeera STUDIO Duration: 02:30
Published
China hopeful as Biden to name secretary of state

China's foreign ministry said on Monday that Beijing hoped to have a "healthy and stable relationship development" with U.S., after a source said President-elect Joe Biden will nominate Antony Blinken..
Credit: Reuters Studio Duration: 00:35
Published
Three ex-lawmakers arrested in Hong Kong

Police in Hong Kong said they had arrested three former lawmakers on Wednesday morning over May and June incidents in which foul-smelling liquid was thrown in the city's legislature, an act police said..
Credit: Reuters - Politics Duration: 02:10
Published
Asia forms world's biggest trade bloc, without US

A China-backed free trade bloc, spanning 30% of the world's economy, was formed at a virtual summit on Sunday in a move that likely gives Beijing greater influence and leaves Washington on the outside...
Credit: Reuters Studio Duration: 01:41
Published
Majority of Hong Kong's opposition politicians resign

They quit en masse after Beijing passed a resolution disqualifying four of their fellow legislators.
Credit: Al Jazeera STUDIO Duration: 02:38
Published
Hong Kong legislators resign en masse as Beijing tightens grip


Credit: FRANCE 24 English Duration: 03:54
Published
Hong Kong: More than a dozen legislators resign in protest

Resignations were over the disqualification of four opposition politicians after China's legislature passed a patriotism resolution - allowing the removal of legislators who challenge Beijing's rule.
Credit: Al Jazeera STUDIO Duration: 04:20
Published
Hong Kong's opposition lawmakers resign en masse

Hong Kong's pro-democracy opposition lawmakers will resign in protest against the dismissal of four of their colleagues from the city assembly, after Beijing gave local authorities new powers to..
Credit: Reuters - Politics Duration: 01:18
Published
China's state media sounds off on Biden victory

Beijing has yet to congratulate Joe Biden on his presidential victory. But China's state-backed media has weighed in, saying it could be good news for bilateral relations going forward, especially when..
Credit: Reuters - Politics Duration: 01:38
Published
Biden & China-Pak: How will new US President deal with terror, expansionism?

One of the highlights of Donald Trump's Presidency was the confrontation with China on various accounts - from trade to territory. Beijing will continue to be one of the biggest challenges facing US..
Credit: HT Digital Content Duration: 12:23
Published
Malabar Exercise 2020: Watch Navies of India, US, Japan & Australia in action

The first phase of the Malabar Exercise 2020 is underway with navies of India, US, Japan and Australia participating. This exercise comes at a time when China has been provoking India at the LAC in..
Credit: HT Digital Content Duration: 01:43
Published
The China factor behind Pak's Gilgit-Baltistan province move

Pakistan Prime Minister Imran Khan's announcement to make Gilgit-Baltistan the nation's newest province has been met with fierce indignation in India. Gilgit-Baltistan is a part of Indian territory and..
Credit: HT Digital Content Duration: 32:20
Published
China preaches the material over spiritual in Tibet

Tibet is one of China's most politically sensitive and deeply religious areas. Now it's become the focus of Beijing's poverty relief efforts, in a move tied to social control and a push away from..
Credit: Reuters - Politics Duration: 03:49
Published
Xi touts China's sovereignty on war anniversary

Amid growing contention over the democratically-ruled island of Taiwan,Chinese President Xi Jinping said Friday China will never allow its sovereignty, security and development interests to be..
Credit: Reuters - Politics Duration: 01:27
Published
Trump vs Biden, who's better for India? The China, economy, climate factors

The second and final debate between US Presidential election candidates Donald Trump and Joe Biden saw better articulation of their views and policy visions, but one area which didn't see much..
Credit: HT Digital Content Duration: 09:57
Published
You Might Like



Beijing takes its South China Sea strategy to the Himalayas




IndiaTimes - Published





China slams apps ban; Xi asks PLA to be battle-ready

Reacting to India's ban on 43 more Chinese Apps, Beijing on Wednesday said it firmly opposed New Delhi using national security as an excuse even as President Xi Jinping told the armed forces to..




IndiaTimes - Published





India has to be a key partner in engaging China from position of strength: Blinken

India and the US face a common challenge in the form of an "increasingly assertive" China and New Delhi has to be a key partner in engaging with Beijing from a position of strength, believes long-time..




IndiaTimes - Published





Guess Who This Blonde Beauty Turned Into!

Before this smiley sweetie was feeling the weight of multiple Olympic medals around her neck, she was just another blondie with bangs growing up in Des Moines, Iowa. Making her Summer Olympic Games..




TMZ.com - Published





Fact Check: Did China use microwave weapons against India in Ladakh? Know the truth

Jin Canrong, a professor of international relations at the Beijing-based Renmin University, claimed during a lecture that Chinese troops turned two strategic hilltops "into a microwave oven", forcing..




DNA - Published





Beijing-based diplomats take part in Diwali celebration in China




IndiaTimes - Published





Diversification of supply chains top agenda at India-Italy virtual summit

Currently, global supply chains are China dominated and amidst the COVID-19 pandemic, an aggressive Beijing necessitated alternate supply chains by like-minded countries like--India, the US, Japan,..




DNA - Published





'Beijing won't be able to exploit NE insurgency'




IndiaTimes - Published





In touch with China to facilitate 'essential travel', says New Delhi as Beijing bars travel from India

Indian government sources explained that the "measure is not India specific" and "similar measures have been announced in respect of several other countries".




DNA - Published





Any Indian hesitation on LAC will hit bid to check China: US

India's confrontation with China is being watched closely across the world and any hesitation on part of India will demoralise and hurt efforts to check Beijing's expansionist agenda, the US told the..




IndiaTimes - Published





Stop sowing discord between China, regional countries: Beijing on Pompeo's visit to India




IndiaTimes - Published





US, India must focus on threat posed by China: Secretary of state Mike Pompeo

US secretary of state Mike Pompeo on Tuesday stressed on the need for Washington and New Delhi to work together to counter the threat posed by Beijing to "security and freedom". Defence secretary Mark..




IndiaTimes - Published





Amid talk of India-Taiwan trade pact, Beijing says respect 'one-China' stand




IndiaTimes - Published





Our border infra not your business, China told

India on Thursday pushed back against China's criticism of its development of border infrastructure, as well as reminding Beijing that Ladakh and Arunachal Pradesh were integral parts of India...




IndiaTimes - Published





In a first, China ministry official to attend military talks today

There are no expectations of a breakthrough in actual troop de-escalation in eastern Ladakh during the seventh round of top-level military talks with China on Monday, which is also likely to see..




IndiaTimes - Published





Mike Pompeo slams CCP's military aggression, says Beijing deployed 60,000 troops on India border




IndiaTimes - Published





China has deployed 60K soldiers on India's northern border: Pompeo

China has amassed more than 60,000 troops on India's northern border, US Secretary of State Mike Pompeo has said as he hit out at Beijing for its "bad behaviour" and the threats it poses to the Quad..




IndiaTimes - Published





China rakes up fresh controversy, says it does not recognise "illegal" UT Ladakh

Chinese Foreign Ministry Spokesperson Wang Wenbin while speaking to the Global Times, a mouthpiece of the administration in Beijing, stated that China doesn't recognise the Union Territory of Ladakh..




DNA - Published





Covid hits China's Belt & Road Initiative

China may be one of the first countries to emerge from Covid-19, but the pandemic promises to fundamentally change Beijing's biggest geopolitical and geo-economic project— the Belt & Road..




IndiaTimes - Published





'China's built 13 military positions since Doklam'

It's well-established that the multiple incursions into eastern Ladakh in May came after months of planning and approval by the top political hierarchy in Beijing. Now, a report says China began..




IndiaTimes - Published





India, China have agreed to continue talks on border situation: Beijing




IndiaTimes - Published





India-China border row: Indian Army gains strategic advantage in Ladakh, takes control of six major peaks

In what comes as a piece of positive news amid the ongoing India-China border disputes, the Indian Army has reportedly taken control of six strategically important mountain peaks along the Line of..




DNA - Published





Border peace essential for development of ties, Jaishankar told Wang

While Beijing has said that India's China policy had not changed and that New Delhi doesn't consider development of India-China relations as dependent on the settlement of the boundary question, the..




IndiaTimes - Published





Alarm grows at China's military trajectory

The India-China border has joined the South and East China Seas as the hottest points of tension for the Chinese military. These areas of dispute have caused a growing chorus of worldwide alarm at..




IndiaTimes - Published





Can France be a worthy ally to India amid border row with China? Here's why Dassault Rafale induction is a key strategy

If it's not just the military standoffs and the skirmishes and conflict, Beijing is set to face another diplomatic hit from India on Thursday when it witnesses the formidable Dassault Rafale fighter..




DNA - Published





Russia chips in on India-China border row; says New Delhi, Beijing should engage in meaningful dialogue

Russia has made it clear that it will not interfere in the ongoing India-China dispute on its own unless asked specifically to mediate by either of the two countries. However, Russia continues to..




DNA - Published





Entry of foreign students still not allowed in China, remain in touch with universities: Indian Embassy

Indian students studying in Chinese universities and colleges have been advised to remain in touch with their respective educational institutions as Beijing has still not allowed the return of foreign..




DNA - Published





'Never transgressed across LAC, exercised great restraint,' clarifies Indian Army after China alleges cross-border fire

Amid the escalating border tensions between India and China, the Indian Army has released a statement on the India-China border dispute, clarifying that the Indian Army did not transgress across the..




DNA - Published





China says Indian Army crossed LAC in Shenpao mountain near Pangong Lake, fired 'warning shots'

Amid the escalating border tensions between India and China, Beijing has now said that Indian Army soldiers have crossed the Line of Actual Control (LAC) in Shenpao mountains near the Pangong Tso Lake..




DNA - Published





Beijing accuses Delhi of 'playing Tibet card'




IndiaTimes - Published





India's tactical responses to Chinese transgression attempts in Ladakh left China stuck in quicksand: EFSAS

India's spirited and tactically sound responses to the Chinese attempts to unilaterally change status quo along the LAC "has left China stuck in a quicksand of its own making that it can neither..




IndiaTimes - Published





LAC stand-off: Talks only option to restore peace, Delhi tells Beijing

While holding China responsible for the deteriorating border situation, the MEA said Thursday the way forward was to hold negotiations "sincerely" and that India remained committed to resolving the..




IndiaTimes - Published





Chinese counterpart wants to meet, Rajnath non-committal

Amid anger in Beijing over Indian Army occupying strategic heights in the Ladakh region, defence minister Rajnath Singh on Thursday refrained from committing himself to a meeting sought by his Chinese..




IndiaTimes - Published





Naravane and Shringla put off Myanmar trip amid LAC crisis

India said on Tuesday that it has taken up the recent provocative and aggressive actions by Chinese soldiers and urged Beijing to "discipline and control" frontline troops even as the latest..




IndiaTimes - Published




India, China should take concrete measures to safeguard peace at LAC: Beijing




IndiaTimes - Published





Pranab Mukherjee made positive contribution to India-China ties: Beijing




IndiaTimes - Published





China builds 5G infra along LAC, fresh construction at Pangong Tso

As India and China continues to be in a border dispute deadlock, Beijing has started laying fibre optics cables and installing other equipment for fifth-generation wireless technology- commonly known..




IndiaTimes - Published





Indian envoy to China meets PLA brass, seeks restoration of status quo on LAC

As the India-China military stand-off in Ladakh entered its 100th day this week, and with the disengagement process having stalled, India's envoy to China Vikram Misri met senior People's..




IndiaTimes - Published





LAC stand-off: We expect China to sincerely work with us to achieve complete disengagement, MEA says

The India-China standoff in Ladakh entered its 100th day this week, and, with the disengagement having stalled, India's envoy to China, Vikram Misri, met senior PLA officers in Beijing to explain..




IndiaTimes - Published





Indian envoy meets Chinese Communist Party official; discusses Eastern Ladakh

"Ambassador Vikram Misri met Liu Jianchao, deputy director of the office of CPC central committee foreign affairs commission and briefed him on India's stance vis-a-vis the situation on the borders in..




IndiaTimes - Published





As China factor looms, India hopes to work with Lanka's Rajapaksas for development

While China may be in pole position in Sri Lanka, with the Rajapaksas firmly in saddle again, India seems confident its own outreach to PM Mahinda Rajapaksa when he was in opposition will ensure the..




IndiaTimes - Published





China, India jointly safeguarding peace at borders, Beijing's future diplomatic priority: Official




IndiaTimes - Published





Barring Beijing, no takers at UN for Pak stance




IndiaTimes - Published





On 370 anniversary, China calls move 'illegal', draws flak from India

India on Wednesday asked China not to comment on internal affairs of other nations after Beijing said India's reorganisation of Jammu & Kashmir was illegal.




IndiaTimes - Published





'Don't comment on internal affairs': India warns China after Beijing's remarks on Jammu and Kashmir

MEA was responding to a media query on the Chinese Ministry of Foreign Affairs spokesperson's comment on Jammu and Kashmir.




DNA - Published





India hits out at China over comments on Jammu and Kashmir

India on Wednesday hit out at China for calling reorganisation of Jammu and Kashmir as "illegal and invalid" and asserted that Beijing does not have any locus standi on the matter. External affairs..




IndiaTimes - Published





Chinese envoy responds to India's move to take steps against Beijing's aggression in Ladakh

"Forced decoupling will only lead to 'lose-lose' outcomes" warned Sun Weidong, Chinese ambassador, responding to India's move to take economic steps against China in retaliation to Chinese..




IndiaTimes - Published





Indian Navy's clear message to Beijing following escalation of border tension 'registered' by China: Sources

The Indian Navy's clear message to Beijing through its aggressive deployment of almost all frontline warships and submarines in the Indian Ocean Region following escalation in the border row in eastern..




IndiaTimes - Published





Beijing claims troops disengaged on most of India-China border

Indian and Chinese troops have "completed disengagement" on most parts of the disputed border between their two countries, China's foreign ministry said Tuesday, after violent clashes broke out earlier..




IndiaTimes - Published





India and China should firmly resist US 'hegemonism': Beijing




IndiaTimes - Published