Bill Clinton
42nd president of the United States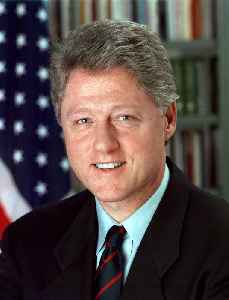 William Jefferson Clinton is an American politician who served as the 42nd president of the United States from 1993 to 2001. Prior to the presidency, he was the governor of Arkansas from 1979 to 1981, and again from 1983 to 1992, and the attorney general of Arkansas from 1977 to 1979. A member of the Democratic Party, Clinton was ideologically a New Democrat, and many of his policies reflected a centrist "Third Way" political philosophy. Clinton was impeached by the House of Representatives, accused of perjury and obstruction of justice to conceal an affair with Monica Lewinsky, a 22-year old White House intern. He was acquitted by the Senate and completed his term in office. He is one of only two U.S. presidents—following Andrew Johnson 131 years earlier—to be impeached.


Ahead of Modi's US visit, EAM Jaishankar says there's political comfort in New Delhi-Washington ties
He pointed out that India-US ties have been on an upward trajectory in the last 20 years under various administrations from Clinton to George Bush to Obama to Trump.
DNA - Published
Kosovo Albanians welcome Clinton, Albright 20 years after NATO intervention
Thousands of Kosovo Albanians turned out on Wednesday to welcome back former U.S. president Bill Clinton and his ex-top diplomat Madeleine Albright 20 years after they helped engineer the NATO air war..
Reuters - Published
World leaders gather for funeral of France's Jacques Chirac
About 30 foreign leaders, including Russian President Vladimir Putin, gathered on Monday in the French capital for the funeral of former president Jacques Chirac, who died last week aged 86. (Rpugh..
Credit: Reuters Studio Duration: 01:06Published
The secret to a good marriage is to be "a little deaf:" Ginsburg
Supreme Court Justice Ruth Bader Ginsburg revealed her advice to Jennifer Lopez and other couples on how to have a good marriage during a talk at the National Book Festival Saturday. Priscilla Huff..
Credit: Reuters Studio Duration: 02:05Published
Alleged Epstein victim says still seeking justice
Chauntae Davies, one of the alleged victims of Jeffery Epstein, says she does not know what justice looks like after the death of the millionaire in prison. Priscilla Huff has more.
Credit: Reuters Studio Duration: 01:50Published
'It was so powerful' Epstein accusers testify
Women who say Jeffrey Epstein sexually abused them voiced anger and defiance in a packed New York courtroom on Tuesday during a dramatic hearing less than three weeks after the financier killed himself..
Credit: Reuters Studio Duration: 01:54Published
It was 'so powerful' to speak out in court: Alleged Epstein victim
Jennifer Araoz, one of the women who accused financier Jeffrey Epstein of sexual abuse, told reporters on Tuesday, it was 'powerful' to speak out and also hear other alleged victims express their..
Credit: Reuters Studio Duration: 02:05Published
Search this site and the web:
You Might Like