George Floyd
African-American man murdered by police in 2020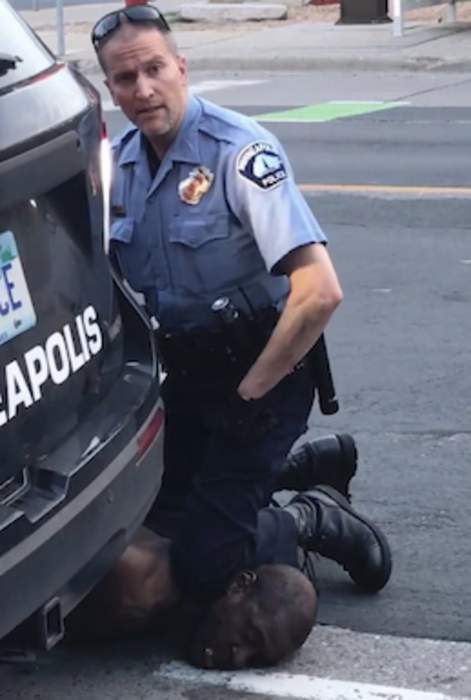 George Perry Floyd Jr. was an African-American man who was murdered by a police officer in Minneapolis, Minnesota, during an arrest after a store clerk suspected Floyd may have used a counterfeit $20 bill. Derek Chauvin, one of four police officers who arrived on the scene, knelt on Floyd's neck and back for 9 minutes and 29 seconds. After his death, protests against police brutality, especially towards black people, quickly spread across the United States and globally. As he was dying, he said, "I can't breathe." which was used as a rallying cry during subsequent protests.


George Floyd's cousin: 'We've been let down by Mr. Biden'

After months of negotiating, the bipartisan talks around overhauling policing laws have broken down without a deal. CNN's Alisyn Camerota spoke with George Floyd's cousin, Tera Brown, about the..
Credit: Bleacher Report AOL Duration: 02:09
Published
Retired general: I was horrified watching Trump's photo op

General John Allen, former commander of US forces in Afghanistan, criticizes President Trump and his actions following the death of George Floyd.
Credit: Bleacher Report AOL Duration: 02:49
Published
What does woke mean?

When the word 'woke' was named word of the year in 2019, it reflected the ongoing culture wars around issues on race, gender and climate change.Since then, 'wokeism' continues to be used as a..
Credit: Yahoo News Duration: 01:07
Published
Missouri pardons couple who aimed guns at protesters

Missouri Governor Mike Parson said on Tuesday he has granted pardons to Mark and Patricia McCloskey, the St. Louis couple who drew international attention for brandishing guns at racial justice..
Credit: Reuters - Politics Duration: 01:20
Published
You Might Like



Former police officer who murdered George Floyd appeals against his conviction

The former Minneapolis police officer jailed for the murder of George Floyd has appealed against his conviction.




Sky News - Published





Jake Paul Won't Face Federal Charges for Arizona Mall Incident

Jake Paul is off the hook with the feds for roaming an Arizona mall as it was being looted by George Floyd protestors -- we're told he will NOT be prosecuted. The U.S. Attorney's Office for the..




TMZ.com - Published





Police officer told to 'reflect' after he was filmed kneeling on neck of black man

A Metropolitan Police officer filmed kneeling on the neck of a black man just weeks after the murder of George Floyd in the US should "reflect" on his actions, according to a watchdog.




Sky News - Published





First Look at Derek Chauvin Behind Bars Since 22.5 Year Sentence

Here's the first look at Derek Chauvin behind bars since he was sentenced for murdering George Floyd, and he looks ... well, sleepy with a measure of defiance. TMZ's obtained Chauvin's first mug shot..




TMZ.com - Published





MLS Sued by Exec Claiming Retaliation for Speaking Up After George Floyd's Death

A former media executive for Major League Soccer claims she lost her job for speaking up about racial issues within the organization following the killing of George Floyd ... so she's suing. Karine..




TMZ.com - Published





Darnella Frazier's Uncle ID'd as Bystander Killed by Minneapolis Police

Darnella Frazier, the teenager whose video of George Floyd being killed went viral, has been left shaken by a death at the hands of police once more -- but this time, it's personal. The teen's uncle --..




TMZ.com - Published





Police launch investigation after mural of Breonna Taylor and George Floyd vandalised

A mural in Kentucky of Breonna Taylor and George Floyd has been defaced, officials have said.




Sky News - Published





Stephen Jackson Breaks Down While Talking George Floyd, 'The Tears Will Never Go Away'

Stephen Jackson says "the tears will never go away" when it comes to George Floyd ... with the ex-NBAer breaking down as he opened up about his close friend's death. Of course, Jackson and Floyd grew..




TMZ.com - Published





George Floyd Murderer Derek Chauvin's Sentencing, Live Stream

Floyd's 7-year-old daughter, Gianna, just had her victim impact statement played in court ... she's on video saying she misses her dad and she wishes she could play with him. Gianna says she always..




TMZ.com - Published





Derek Chauvin gets 22 and a half years in jail for murdering George Floyd

Former US police officer Derek Chauvin has been jailed for 22 and a half years for murdering George Floyd in Minneapolis last year.




Sky News - Published

Also reported by •TMZ.com


Derek Chauvin to be sentenced for the murder of George Floyd: Here's what to expect

A judge will today sentence the former Minneapolis police officer Derek Chauvin for the murder of George Floyd.




Sky News - Published




Teen Who Recorded George Floyd's Murder Earns Pulitzer Prize Special Citation

Darnella Frazier -- the teenager who recorded George Floyd's death under Derek Chauvin's knee -- has just earned a special citation in this year's Pulitzer Prize. Pulitzer Prize co-chair Mindy Marqués..




TMZ.com - Published





Prosecutors seek 30-year sentence for Derek Chauvin

Prosecutors have asked a judge to sentence Derek Chauvin, the former Minneapolis police officer found guilty of murdering George Floyd, to 30 years in prison.




Sky News - Published





Prosecutors Request Derek Chauvin Get 30-Year Sentence

Derek Chauvin could serve more than a quarter of a century in prison, if the prosecutors on his case get their way. Prosecutors for the State of Minnesota have filed docs asking the judge to throw the..




TMZ.com - Published





In the city where he died, cautious hope that George Floyd's murder can bring real change

As evening drew in over George Floyd Square in Minneapolis, the carnival atmosphere was in full swing.




Sky News - Published





Teen Who Recorded George Floyd's Murder Reflects On Her Year

The teenager who recorded George Floyd's death under Derek Chauvin's knee is reflecting on her year since witnessing the murder ... and says she still bears the weight of that traumatic moment...




TMZ.com - Published





George Floyd's Family Visits President Biden at White House 1 Year After Death

One year after George Floyd's murder sparked nationwide protests against police brutality, his family's meeting with President Biden as Congress struggles to pass the police reform bill bearing..




TMZ.com - Published





George Floyd's daughter visits White House and leads 'say his name' chant

George Floyd's daughter led a chant of "say his name" outside the White House, a year after the 46-year-old man was murdered by a police officer.




Sky News - Published





More calls for racial justice to mark the first anniversary of George Floyd's murder

Hundreds of people are expected to join members of George Floyd's family in Minneapolis today to commemorate one year since he was murdered by a white police officer in an act that shocked the world..




Sky News - Published





Watch: George Floyd one year on - how sport took a stand against racism

One year on from the murder of George Floyd, BBC Sport looks back at how the sporting world has taken a stand against racism in the past 12 months.




BBC Sport - Published





Texans protest new voting legislation which has been compared to 'Jim Crow' laws

In the Third Ward of Houston in Texas, the name and face of George Floyd adorn dozens of walls.




Sky News - Published





Man Attempts to Destroy George Floyd Square Memorial with Ax

A man full of hate tried his best to destroy the George Floyd memorial in Minneapolis, but he got scared away ... and left his ax behind. The video tells the story ... the man drive up to the memorial..




TMZ.com - Published





Tamika Mallory Says Activists Can't Ease Up After Chauvin Conviction

Tamika Mallory is urging activists and allies in the fight for social justice to keep their eyes on the prize in the wake of Derek Chauvin's conviction for murdering George Floyd. The Until Freedom..




TMZ.com - Published





Filmmaker Sues LAPD Uncle Who Ordered Him Shot During Floyd Protest

A 23-year-old filmmaker is suing his own uncle who ordered him shot, and the uncle is an LAPD cop. Jamal Shakir Jr. joined a George Floyd protest a year ago this month in downtown L.A. and urged some..




TMZ.com - Published





Ex-Cops Involved in George Floyd's Death Charged with Civil Rights Violations

A federal grand jury has charged Derek Chauvin and the 3 other former Minneapolis PD officers involved in George Floyd's arrest with violating his civil rights. J. Alexander Kueng, Thomas Lane and Tou..




TMZ.com - Published





Derek Chauvin Wants a New Trial in George Floyd Murder Case

Derek Chauvin's attorney says he deserves a new trial after the former Minneapolis police officer got convicted for murdering George Floyd. Chauvin's attorney, Eric Nelson, filed legal docs Tuesday..




TMZ.com - Published





Derek Chauvin moves for a new trial, two weeks after being convicted of George Floyd's murder

Former police officer Derek Chauvin has asked for a new trial, two weeks after he was found guilty of killing George Floyd.




Sky News - Published





George Floyd Legal Team Says Chauvin Appeal Won't Hold Up Thanks to Juror

Ben Crump, attorney for George Floyd's family, says Derek Chauvin has no chance to successfully appeal his guilty verdict ... and it's all because of what at least one juror is saying about the murder..




TMZ.com - Published





Chauvin Deserves Stiff Sentence for 'Particular Cruelty,' AG Says

Derek Chauvin deserves to be locked up for much longer than what the state of Minnesota's guidelines suggest ... that's according to the state's Attorney General, who's citing the ex-cop's "particular..




TMZ.com - Published





Finding Derek Chauvin guilty of murdering George Floyd was a 'no-brainer', juror says

Finding Derek Chauvin guilty of murdering George Floyd was a "no-brainer", one of the jurors in the trial has said.




Sky News - Published

Also reported by •TMZ.com


Minnesota AG Keith Ellison Says He 'Felt a Little Bad' for Chauvin After Verdict

Keith Ellison -- the Attorney General of Minnesota responsible for leading the way to Derek Chauvin's guilty verdict -- says he felt many emotions after the ex-Minneapolis cop was convicted of George..




TMZ.com - Published





Derek Chauvin Under Investigation for Allegedly Brutalizing Black Teen

Derek Chauvin faces 40 years behind bars for murdering George Floyd, but that may be just the beginning, because there's another incident that is eerily similar to the killing of Floyd. Authorities..




TMZ.com - Published





Cops Required to Stop Other Cops from Using Excessive Force

The 3 officers who watched Derek Chauvin choke the life out of George Floyd will soon go on trial for doing nothing to stop the murder. We surveyed a number of police departments around the country to..




TMZ.com - Published





Daunte Wright's funeral held days after Derek Chauvin convicted of George Floyd's murder

Two days after Minneapolis saw justice for George Floyd, this community buried another young black life.




Sky News - Published





Cops Stop Fellow Officer From Punching Handcuffed Woman

The 3 cops criminally charged for not stopping Derek Chauvin from murdering George Floyd may have gotten the attention of a couple of California cops, because they stepped in and stopped a fellow..




TMZ.com - Published





Derek Chauvin being held in isolation 23-hours-a-day 'for his safety'

Derek Chauvin, the former police officer who was convicted of murdering George Floyd, is being held in isolation for 23 hours a day in a maximum security prison, authorities have revealed.




Sky News - Published





Even the way Chauvin was handcuffed and led away proved the inequality

When George Floyd bought cigarettes with a counterfeit $20 note, it triggered the wretched sequence of events that led to the end of his life.




Sky News - Published





Jacob Blake's Happy for George Floyd's Family, Calls for More Justice

Jacob Blake's reaction to Derek Chauvin being found guilty of George Floyd's murder is joy for Floyd's family, admiration for the people who fought for the verdict ... and hope that it's the first big..




TMZ.com - Published





Philonise Floyd Says George Would Be 'Just Another Dead Man' Without the Video

The world would know nothing of George Floyd's death without the civilian video showing his murder at the hands of then-Minneapolis cop Derek Chauvin ... so say George's brother and family attorney...




TMZ.com - Published





George Floyd: Lewis Hamilton, LeBron James and sporting world reacts to Derek Chauvin conviction

Lewis Hamilton was just one sporting name to react to a murder conviction handed down to the killer of George Floyd.




BBC Sport - Published





George Floyd's Brother 'Not Offended' By Raiders 'I Can Breathe' Post

George Floyd's brother, Philonise, has a message for the Las Vegas Raiders -- he's not offended by the team's "I Can Breathe" post and is not demanding they take it down. We spoke with Philonise..




TMZ.com - Published





Daunte Wright's Family Hopeful After Chauvin Guilty Verdict

George Floyd's family getting justice -- with Derek Chauvin being found guilty of murder -- is providing a morale boost for Daunte Wright's family, even as they prepare for a very difficult day...




TMZ.com - Published





US Justice Department to investigate Minneapolis policing after conviction over George Floyd murder

The US Justice Department is opening an investigation into policing practices in Minneapolis after the murder conviction of former officer Derek Chauvin, it has been announced.




Sky News - Published





Justice for George Floyd? The US act which aims to tackle police brutality

Those calling for justice for George Floyd were handed some satisfaction with the triple guilty verdict in the Derek Chauvin trial.




Sky News - Published





'Tears of joy': Beyonce, Oprah and Viola Davis among stars hailing Derek Chauvin murder verdict

Beyonce, Oprah Winfrey and Viola Davis are among the stars hailing the guilty verdict in the case of Derek Chauvin, the former police officer convicted of murdering black man George Floyd in the US.




Sky News - Published





Draymond Green Says Chauvin Verdict Isn't the End of Bad Cops, More Work to Be Done

Draymond Green says it's "great" that Derek Chauvin was convicted in the murder of George Floyd -- but warns the fight against bad cops is far from over. TMZ Sports spoke with the Golden State Warriors..




TMZ.com - Published





'Moment of significant change': Biden hails Chauvin guilty verdict in George Floyd murder

US President Joe Biden has welcomed the conviction of Derek Chauvin and said it can be a "moment of significant change" after the white former police officer was found guilty of murdering 46-year-old..




Sky News - Published





Black girl shot dead by police minutes before Derek Chauvin verdict

Police have shot and killed a young black girl just before Derek Chauvin was convicted of murdering George Floyd.




Sky News - Published





Las Vegas Raiders Getting Dragged Over 'I Can Breathe' Post After Chauvin Verdict

The Las Vegas Raiders tried to enter the chat after the Derek Chauvin verdict on Tuesday -- but they're getting torn apart on social media for what some are saying is an insensitive post. After Chauvin..




TMZ.com - Published





George Floyd's Family Reacts to Derek Chauvin Being Found Guilty of Murder

George Floyd's family is feeling joy, relief and gratitude in the wake of Derek Chauvin being found guilty of murder, but they also understand the impact of this moment is greater than them ... and say..




TMZ.com - Published