George Floyd
Man killed during Minneapolis police arrest in 2020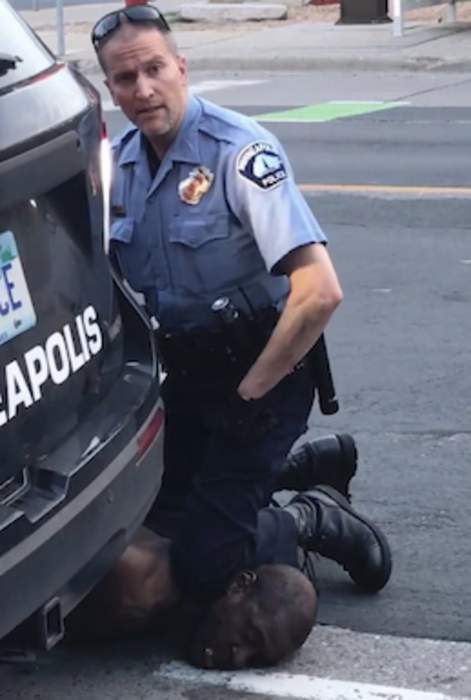 George Perry Floyd Jr. was an African American man killed during an arrest after a store clerk alleged he had passed a counterfeit $20 bill in Minneapolis. Derek Chauvin, one of four police officers who arrived on the scene, knelt on Floyd's neck for a period initially reported to be 8 minutes and 46 seconds. After his death, protests against police brutality, especially toward black people, quickly spread across the United States and internationally.


How the fatal arrest of George Floyd unfolded

George Floyd was pronounced dead after Minneapolis police officers restrained him while he repeated, "I can't breathe!" All four officers involved have been fired and have had charges filed..
Credit: Bleacher Report AOL Duration: 03:16
Published
George Floyd's brother speaks out ahead of Chauvin murder trial

George Floyd's brother, Philonise Floyd, speaks out ahead of the murder trial for former Minneapolis police officer Derek Chauvin, who was seen on video kneeling on Floyd's neck. Chauvin's..
Credit: Bleacher Report AOL Duration: 02:22
Published
U.S. House passes 'George Floyd' police bill

The U.S. House of Representatives passed a bill on Wednesday banning controversial police tactics and easing the way for lawsuits against officers violating suspects' constitutional rights, although..
Credit: Reuters Studio Duration: 01:40
Published
'PeaceMobile': an anti-crime project on wheels

The 'PeaceMobile' is a neighborhood symbol of pride on wheels to help prevent gun violence in the under-served New York City neighborhood of South Jamaica in Queens. Freddie Joyner has more.
Credit: Reuters - Politics Duration: 02:39
Published
BLM inspired this young activist to run for office

The death of George Floyd and the Black Lives Matter movement inspired Brooklyn activist Chi Ossé to run for local office. Says Ossé, "We talk about voting elected officials out that don't..
Credit: Bleacher Report AOL Duration: 06:08
Published
How Minneapolis became the epicenter for the BLM movement

In the aftermath of George Floyd's death, Minneapolis City Council member Jeremiah Ellison found himself at the heart of a nation-wide conversation on the future of policing and public safety. Watch..
Credit: Bleacher Report AOL Duration: 07:36
Published
What it's like to be a Black photographer covering pro-Trump rallies

Mel D. Cole, a veteran music photographer, started documenting protests when George Floyd died in May 2020. Hear why he started covering pro-Trump rallies and what it was like being in the middle of..
Credit: Bleacher Report AOL Duration: 03:31
Published
New York AG sues NYPD for handling of protests

New York's state attorney general on Thursday sued New York City Mayor Bill De Blasio and the city's police commissioner over allegations the police used excessive force against racial justice..
Credit: Reuters Studio Duration: 02:37
Published
Employers asked to do more on racial inequality

The killing of George Floyd prompted a major move among global corporations to combat racial inequity, but experts say they must recognize and tackle deep-set racism in their work cultures to effect..
Credit: Reuters Studio Duration: 02:26
Published
You Might Like



Eyes of the world on George Floyd's murder trial but hope his death will change history is fragile

Another black man dying in police custody was nothing new in America.




Sky News - Published





George Floyd Trial Courthouse Barricaded with Barbed Wire, Fencing

The courthouse where Derek Chauvin will be tried for murdering George Floyd looks like the same fortress that's around The U.S. Capitol right now ... heavily reinforced to block out the general public...




TMZ.com - Published





High School Student Used George Floyd as Sadie Hawkins Dance Invite

The sick George Floyd Valentine's Day gag in L.A. found legs and went on over to Nevada, where a high school student used a twisted line as a Sadie Hawkins dance invite. This photo was captured..




TMZ.com - Published





George Floyd Murder Trial Courtroom Set Up for COVID-19 Safety

George Floyd's murder trial is set to begin next month -- pandemic be damned -- and the courtroom's setup shows extensive coronavirus precautions are being made. Here's the first look at the 18th-floor..




TMZ.com - Published





George Floyd: Police officers investigated after 'you take my breath away' Valentine report

A group of police officers in Los Angeles are under investigation after an offensive image was allegedly passed around.




Sky News - Published





LAPD Cops Share George Floyd Post with Caption 'You Take My Breath Away'

The LAPD is conducting an internal affairs investigation to determine which officers shared a photo of George Floyd with the caption, "You Take My Breath Away." The cops in question appear to work out..




TMZ.com - Published





Buffalo Cops' Felony Assault Case Dismissed, Knocked Down Elderly Man

The Buffalo police officers who violently shoved an elderly man to the ground during the George Floyd protests are off the hook ... they won't be indicted for felony assault. Erie County D.A. John J...




TMZ.com - Published





George Floyd Case, Defense Doesn't Want Him Compared to Jesus at Trial

Jesus Christ has no place in the George Floyd murder case ... at least that's what Derek Chauvin's defense lawyers are asking the judge to make sure of in his upcoming trial. Lawyers representing..




TMZ.com - Published





Ex-Cop Derek Chauvin's Divorce Finalized, Ex Says She Doesn't Feel Safe

The ex-wife of the former cop who was arrested for killing George Floyd says she doesn't feel safe these days ... even after divorcing Derek Chauvin. The former couple's divorce was finalized this week..




TMZ.com - Published





Breonna Taylor Family Attorney Ben Crump to Rep Florida HS Student Body Slammed by Cop

Ben Crump -- the famed civil rights attorney who represents the families of Breonna Taylor and George Floyd -- has been retained to represent the family of the Florida HS teen seen on video being body..




TMZ.com - Published





Kyrie Irving Bought New Home For George Floyd's Family, Stephen Jackson Says

Kyrie Irving came through with an incredible gesture for George Floyd's family ... with Stephen Jackson revealing the NBA superstar recently bought them a new home. Jackson -- who personally knew Floyd..




TMZ.com - Published





Jacob Blake Says He Didn't Want to Be 'Next George Floyd' in First Interview

Jacob Blake says George Floyd's death was front and center in his mind when Kenosha PD pulled him over ... as he explains, in his own words, what went down when an officer shot him 7 times in the back...




TMZ.com - Published





Sheriff Swanson Says Racial Bias was at Play in D.C. with Pro-Trump Riot and BLM Protests

Race is a big factor in the way cops handled Wednesday's coup, especially when juxtaposed against the way law enforcement dealt with the BLM protests after George Floyd's death .. so says, Sheriff..




TMZ.com - Published





Mother of Man Who Died in Grocery Store Arrest Sues Sheriff for Wrongful Death

The family of the Southern California man who died after being arrested at a grocery store is following through with a lawsuit that describes the incident in eerily similar detail to George Floyd's..




TMZ.com - Published





George Floyd's Murder Trial Might Get Moved to June Due to COVID Vaccine

The 4 officers charged in the killing of George Floyd might have to wait a few more months to stand trial ... because the State of Minnesota believes it will be better for public health. Prosecutors..




TMZ.com - Published





Jurors Questionnaire in George Floyd Murder Trial Focuses on Protests

The jury selection process in the George Floyd murder trial is underway, and it's clear the judge, prosecutors and defense attorneys want to know where prospective jurors stand on social justice. The..




TMZ.com - Published





SoCal Man Dies in Police Custody, Beaten with Baton & Held Down

The family of a Southern California man who died in police custody says he got the same treatment as George Floyd ... which can now be seen on video as authorities investigate. 33-year-old Ernie..




TMZ.com - Published





Lil Baby Throwing Birthday Party for George Floyd's Daughter

Lil Baby is looking out for George Floyd's family ... by hosting a huge bash for George's daughter, Gianna. Her 7th birthday party is going down right now in Atlanta. Our sources tell us the rapper is..




TMZ.com - Published





Teen Who Recorded George Floyd's Death Gets PEN America Courage Award

Spike Lee praised Darnella Frazier -- the teen who captured George Floyd's death on video, sparking worldwide protests -- while presenting her with an award for courage. The famed director said he was..




TMZ.com - Published




Kamala Not a Shoo-In for 2024 with Black America, Tamika Mallory Says

You'd think Kamala Harris would have widespread support among African-Americans if she runs for President in 2024 -- but that's no guarantee ... so says Tamika Mallory. We spoke to the world-famous..




TMZ.com - Published





Ahmaud Arbery Murder Suspect Pushing Bond Cites George Floyd, Breonna Taylor

The man who recorded the video of Ahmaud Arbery's slaying says he should be let out of jail on bond because he's less of a threat than the ones who DID get bond in the George Floyd and Breonna Taylor..




TMZ.com - Published





Officer Shot in Breonna Taylor Raid Says Her Case Not Racial Like Floyd, Arbery

The officer who was shot on the night cops busted into Breonna Taylor's apartment and fatally shot her says he and his fellow cops were just doing their job ... and he's frustrated the case has been..




TMZ.com - Published





George Floyd Hometown 'Vote' Mural Unveiled Days Before Birthday

A new mural of George Floyd just got a public showing right in the nick of time -- days before his 47th birthday, and perhaps more importantly ... three weeks before the election. The mural -- which..




TMZ.com - Published





Alleged George Floyd Murderer Derek Chauvin Released from Prison on $1M Bond

Derek Chauvin -- the former Minneapolis police officer accused of killing George Floyd -- is a free man for now ... he just got released from behind bars as he awaits trial. Chauvin was cut loose..




TMZ.com - Published





Stephen Jackson On Social Justice, George Floyd, 'Wish I Could Get My Twin Back'

Ex-NBA star Stephen Jackson says his fight for social justice is just getting started ... telling TMZ Sports it's become his mission to be there for those who need help following the death of his..




TMZ.com - Published





Ex-Cops in George Floyd Case Request Change of Venue Citing Angry Crowd

The 4 accused ex-cops involved in George Floyd's death are asking for a change of venue for their trial ... saying the crowds of citizens outside the courthouse are terrorizing them. Alexander Kueng..




TMZ.com - Published





For black people in France, George Floyd protests are personal

A tear rolled down Mathilla Diagana's cheek as she sat in her student dormitory room in the northern French city of Rouen and watched an online video of a Minneapolis police officer kneeling on the..




Reuters - Published





Macron says France won't remove statues, erase history

French President Emmanuel Macron said on Sunday fighting racism should not lead to a "hateful" re-writing of history following worldwide protests over the killing of George Floyd, a black man, by a..




Reuters - Published





Black Lives Matter protesters march through Tokyo

Thousands of protesters in Tokyo took part in a Black Lives Matter march on Sunday, calling for an end to racial discrimination and police abuse after the killing of African American George Floyd in..




Reuters - Published





Anti-racism protesters clash with police in Paris

Riot police fired tear gas to prevent thousands of anti-racism protesters marching through central Paris on Saturday, as a wave of anger continued to sweep the world following the death of African..




Reuters - Published





Several thousand rally in Paris anti-racism protest

Several thousand anti-racism protesters gathered in central Paris on Saturday to denounce police violence, as a wave of anger continued to sweep the world following the death of African American George..




Reuters - Published





Artists around the world pay tribute to George Floyd

Protests against racism triggered by the death of African American George Floyd have inspired art around the world, from murals in Syria and Pakistan to graffiti in Nairobi.




Reuters India - Published

Also reported by •Reuters


Paris bans George Floyd protest planned at U.S. Embassy

French police have banned a demonstration planned to take place in front of the U.S. Embassy in Paris on Saturday as protests mount around the world over the death of George Floyd in Minneapolis.




Reuters - Published





Citing COVID-19, Australia seeks to bar George Floyd protests

Australian authorities moved on Friday to scupper protests inspired by the death of black American man George Floyd, saying large gatherings risk new coronavirus infections and banning the biggest..




Reuters - Published





'Get your knee off our necks,' activist Sharpton says at Floyd memorial

U.S. civil rights activist the Rev. Al Sharpton told mourners that George Floyd's death in police custody and the nationwide protests it ignited marked a reckoning for America over race and justice,..




Reuters India - Published




Video shows police in Buffalo, New York, shoving 75-year-old to ground

Two Buffalo, New York, police officers were suspended without pay on Thursday after a video showed them shoving a 75-year-old man to the ground, as protests over the police killing of George Floyd..




Reuters India - Published





Australia PM tells locals to avoid Black Lives Matter protests due to COVID-19 threat

Australians should not attend planned protests against the death of black American George Floyd in U.S. police custody due to the risk of spreading coronavirus, Prime Minister Scott Morrison said on..




Reuters - Published





'He touched so many hearts.' George Floyd remembered at memorial service

Hundreds of mourners in Minneapolis on Thursday remembered George Floyd, the black man whose death in police custody set off a wave of nationwide protests that reached the doors of the White House and..




Reuters India - Published





Mourners remember George Floyd at service

Hundreds of mourners in Minneapolis on Thursday remembered George Floyd, the black man whose death in police custody set off a wave of nationwide protests that reached the doors of the White House and..




Reuters India - Published





Germany's Merkel calls for reconciliation after 'terrible' Floyd murder

German Chancellor Angela Merkel said the murder of George Floyd, the black man whose death in U.S. police custody set off a wave of protests, was a "very very terrible thing" and called for..




Reuters - Published





Memorial for George Floyd set for Thursday after days of protest, rage

Minneapolis was set to hold an emotionally charged memorial service on Thursday for George Floyd, the black man whose death in police custody set off a wave of protests and unrest that has roiled..




Reuters India - Published





Inspired by U.S. protests, some Belgians want colonial king statues removed

Inspired by global protests at the death of unarmed black American George Floyd, some 30,000 people in Belgium have signed two petitions to remove statues of the country's colonial-era King Leopold II,..




Reuters - Published





George Floyd was infected with COVID-19, autopsy reveals

George Floyd, whose fatal encounter with Minneapolis police stirred a global outcry over racial bias by U.S. law enforcement, tested positive for the coronavirus, his autopsy showed, but the infection..




Reuters India - Published





Factbox: What U.S. police are shooting at protesters

Police across the United States are using a variety of weapons on protesters as demonstrations against the police killing of George Floyd intensify. Often described as "non-lethal," these weapons..




Reuters India - Published





New charges in Floyd killing may give prosecutors clearer path to conviction

Prosecutors seeking to put a former Minneapolis police officer in prison for the death of George Floyd bolstered allegations on the use of force but stopped short of calling the killing intentional in..




Reuters India - Published





'We got to act': Minnesota ex-felon finds purpose at George Floyd memorial

Alfonzo Williams waved his massive forearms and urged onlookers to clear the way for the procession of clergy members marching toward the site in his Minneapolis neighborhood where a white police..




Reuters India - Published





Exclusive: Former police officer accused of killing George Floyd gets new lawyer

The former Minneapolis police officer accused of killing George Floyd is being represented by a new lawyer in the racially charged case that has sparked protests across the United States over police..




Reuters India - Published





U.S. crowds defy curfews to protest George Floyd's death, but violence subsides

U.S. protesters ignored curfews as they vented their anger over the death of an unarmed black man at the hands of police, but there was a drop in violence overnight and President Donald Trump's defense..




Reuters India - Published





UK police say appalled by death of Floyd and violence which followed

British police said they were appalled by the way George Floyd lost his life and by the violence which followed in U.S. cities but called on potential protesters in the United Kingdom to work with..




Reuters India - Published





George Floyd, a 'gentle giant,' remembered in hometown Houston march

George Floyd's hometown of Houston held a memorial march for him on Tuesday, where attendees recounted a "gentle giant" whose legacy had helped the city largely avoid the violent protests seen..




Reuters India - Published