Dharavi
Neighbourhood in Mumbai, Maharashtra, India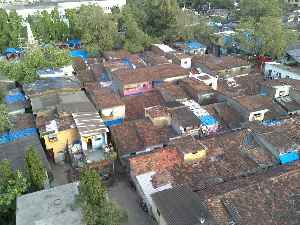 Dharavi is a locality in Mumbai, Maharashtra, India, considered to be one of world's largest slums. Dharavi has an area of just over 2.1 square kilometres and a population of about 700,000. With a population density of over 277,136/km2 (717,780/sq mi), Dharavi is one of the most densely populated areas in the world.


Maharashtra Assembly Polls: Rahul Gandhi to kickstart campaigning in Mumbai with Dharavi rally on October 13
Rahul Gandhi will be addressing the following public meetings on October 13, i.e. Sunday:
DNA - Published
Rahul Gandhi to hit campaign trail in Maharashtra with rally in Dharavi
IndiaTimes - Published
Mumbai: 30-hour water supply cut in Dharavi from tomorrow
The leakage was detected on August 30 on the service road of Western Express Highway near Bandra (east)
DNA - Published
Mumbai crawls for 2nd day, more rains likely today
Man drowns in Dharavi; schools to remain shut on Monday
DNA - Published
7-yr-old boy drowns in Mumbai drain; 3rd such death in a week
A seven-year-old boy died after falling into an open drain in Dharavi slum here Monday, police said.
DNA - Published
Maharashtra: Brave mother saves daughter's life after snake bite
The victims identified as Sultana Salim Khan (45) who is a housewife and her daughter Tehseem (18) who is a student, resident of Vishwakarma Chawl, Rajiv Gandhi Nagar, Dharavi.
DNA - Published
Mumbai: Dharavi re-bid on the cards, quotes to get sky-high
Seclink Group, that emerged as the frontrunner in the first bid, will bid once again; but under another name.
DNA - Published
DNA EXCLUSIVE: Railway staff down in dumps over land transfer for Dharavi upgrade
The railwaymen are a worried lot. They fear their social status is at stake if slum dwellers become their next door neighbours once land on railway residential colonies at Bandra (E and W), Mahim and..
DNA - Published
Mumbai's Dharavi slum beats Taj as travellers' choice
Asia's largest slum, Dharavi featured in Hollywood movie 'Slumdog Millionaire', following which it attra-cted a large number of foreign tourists.
DNA - Published
Taj who? Mumbai's Dharavi slum is now the 'top travellers' choice experience' in India in 2019
Dharavi lies in the middle of India's financial Mumbai and is a stupendous reminder of the have lots and have nots co-existing cheek-by-jowl.
DNA - Published
MP Rahul Shewale aims for 'smart' Mumbai South Central
The second-term MP, who defeated Eknath Gaikwad of the Congress, claims he will work on boosting the leather industry in Dharavi and add capacity on the overburdened suburban Railway network
DNA - Published
You Might Like