Jadavpur University
University in Kolkata, West Bengal, India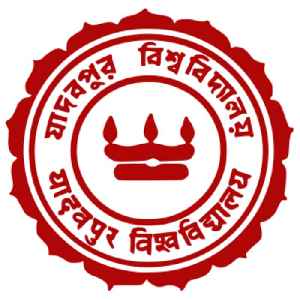 Jadavpur University is a public state university located in Kolkata, West Bengal, India.


Centre to offer Z-cover to West Bengal governor as he visits Jadavpur University
The home ministry has decided to offer Z-category security to Bengal governor Jagdeep Dhankhar, implying that his security cover will include both CRPF personnel as well as Bengal cops when he goes to..
IndiaTimes - Published
No action will be taken against your son, Babul Supriyo assures mother of agitating student
Union minister Babul Supriyo on Saturday assured the mother of a student, who allegedly pulled the hair of the BJP leader at Jadavpur University during a demonstration on Thursday, that he will not..
IndiaTimes - Published
TMC sticks to its stand on governor, says those who vandalised JU campus will be punished
The governor is also the chancellor of the Jadavpur University where Union minister Babul Supriyo was on Thursday shown black flags and heckled by a section of students, prompting Dhankhar to rush to..
IndiaTimes - Published
BJP leader files complaint against 'unknown' persons in Jadavpur University incident
In her complaint filed at Jadavpur Police station, Paul said she was with Supriyo when "a section of the rowdy crowd" blocked their way and physically abused her when they were heading to participate..
DNA - Published
Surgical strike needed to destroy JU hub of anti-nationals; TMC waiting to get Supriyo killed: BJP
West Bengal BJP president Dilip Ghosh on Friday alleged that the Jadavpur University campus has become a hub of anti-nationals and communists and "our cadres" would conduct a Balakot-like surgical..
IndiaTimes - Published
Waited 'sufficient time' before visiting JU; TMC allegations incorrect: Bengal governor
West Bengal governor Jagdeep Dhankar on Friday justified his visit to Jadavpur University to rescue Union minister Babul Supriyo, contending that he had waited "sufficient time" for the state to..
IndiaTimes - Published
No narcotics and liquor inside campus and hostels: Jadavpur University asks freshers to sign declaration
Partha Pratim Roy, a senior member of the Jadavpur University Teachers' Association (JUTA), said that the teachers have welcomed the move.
DNA - Published
'Jai Sri Ram' slogan not associated with Bengali culture, being used as 'a pretext to beat up people': Amartya Sen
It is 'Maa Durga' who is omnipresent in the lives of Bengalis, Amartya Sen said while speaking at a programme in the Jadavpur University in Kolkata.
DNA - Published
Jadavpur University engineering faculty council for 90% home students in domicile policy
After 13 of the 16 departments voiced opinion in favour of such a move, it was decided that the resolution would be forwarded to the Executive Council, the highest decision making body of the..
DNA - Published
You Might Like