Jalpaiguri
City in West Bengal, India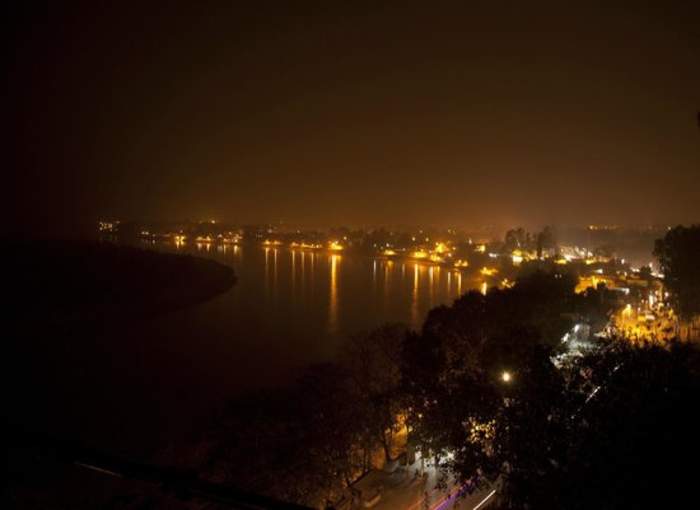 Jalpaiguri is a city in the Indian state of West Bengal. It is the headquarters of the Jalpaiguri district as well as of the Jalpaiguri division of West Bengal, covering the jurisdiction of the five districts of North Bengal. The city is located on the banks of the Teesta River which is the second largest river in West Bengal after the Ganges, on the foothills of the Himalayas. The city is the home to the circuit bench of the Kolkata High Court, the other seat being at Port Blair in the Andaman and Nicobar Islands. Jalpaiguri features the Jalpaiguri Government Engineering College, the second campus of the University of North Bengal and the Biswa Bangla Krirangan/ Jalpaiguri Sports Village. It lies 35 km (22 mi) east of its twin city, Siliguri. The merging of the two cities makes it the largest metropolis of the region.


You Might Like
West Bengal panchayat elections: Repolling on July 10 in booths where voting has been declared void, says SEC
Repolling for the West Bengal panchayat elections will be done on July 10 in all booths where voting has been declared void, the State Election Commission (SEC) said on Sunday. Repolling will be held..
IndiaTimes - Published
West Bengal: CM Mamata Banerjee makes, serves tea to people during Panchayat polls campaign
Mamata Banerjee makes and serves tea to people at a local tea stall in Jalpaiguri as part of Panchayat polls campaign.
DNA - Published
West Bengal flash flood: PM Modi, Mamata Banerjee announce ex-gratia of Rs 2 lakh for victims' kin
PM Modi and Mamata Banerjee granted ex gratia of Rs 2 lakh each to next of kin of the victims, who died in Bengal's Jalpaiguri during idol immersion.
DNA - Published
Jalpaiguri flash flood: Video shows dozens being washed away; 8 bodies recovered, many missing
State Backward Class Welfare Minister Bulu Chik Baraik said the death toll is likely to increase.
DNA - Published
Bengal: Eight drown in flash flood in Jalpaiguri's Mal river during idol immersion
Jalpaiguri District Magistrate Moumita Godara said several people have been swept away by the sudden swelling of the river.
DNA - Published
West Bengal: 10 dead, several injured after van carrying them gets electrocuted in Cooch Behar
The passengers were rushed to the hospital, where 16 were referred for treatment to Jalpaiguri hospital.
DNA - Published
20 BJP leaders resign from their posts in West Bengal's Jalpaiguri over local panel inductions
BJP in the state has been fighting hard to keep its flock together after former Union minister Babul Supriyo and five others switched over to the TMC.
DNA - Published
West Bengal Elections 2021: 78 % voter turnout in fifth phase, EC says polling peaceful
The polling was held in six districts - Jalpaiguri, Kalimpong, Darjeeling, Nadia, North 24 Parganas and Purba Bardhaman.
DNA - Published
Sporadic violence marks fifth phase of Bengal polls
Sporadic incidents of violence were reported from some areas where polling was underway in the fifth phase of the assembly elections in West Bengal on Saturday, officials said. Polling was being held..
IndiaTimes - Published
13 dead in accident in West Bengal's Jalpaiguri due to fog
At least 13 people were killed in West Bengal's Jalpaiguri district on Tuesday night due to reduced visibility caused by fog.
DNA - Published