Karachi
Capital city of Sindh, Pakistan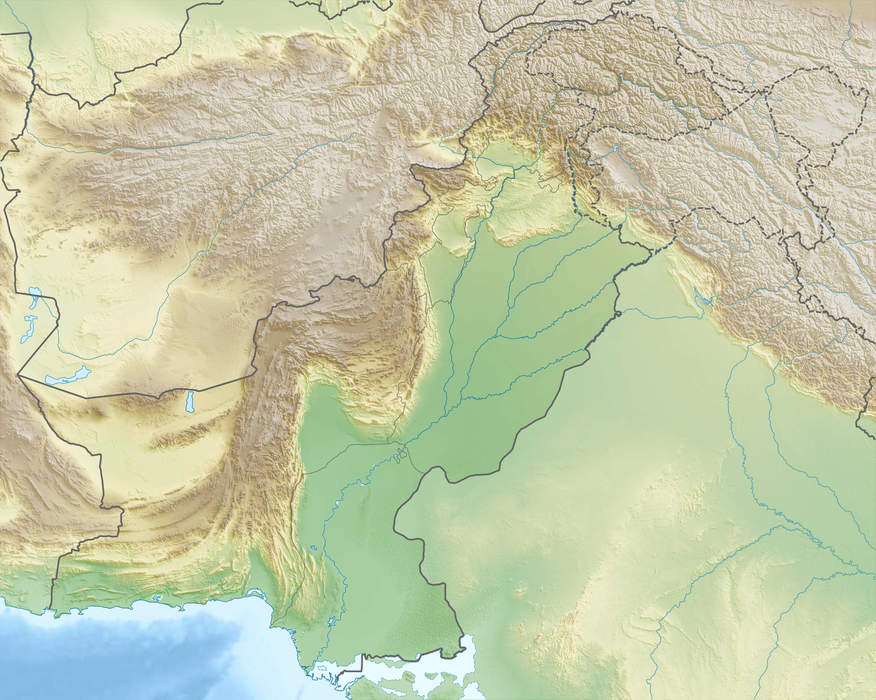 Karachi is the largest city in Pakistan and 12th largest in the world, with a population of over 20 million. It is situated at the southern tip of the country along the Arabian Sea coast. It is the former capital of Pakistan and capital of the province of Sindh. Ranked as a beta-global city, it is Pakistan's premier industrial and financial centre, with an estimated GDP of over $200 billion (PPP) as of 2021. Karachi is Pakistan's most cosmopolitan city, linguistically, ethnically, and religiously diverse cities, as well as one of the most socially liberal.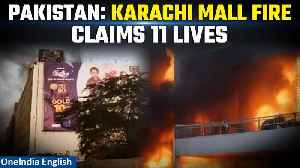 Tragedy Strikes Karachi: 11 Lives Lost in RJ Shopping Mall Fire| Oneindia

A tragic fire engulfed Karachi's RJ shopping mall, claiming 11 lives and injuring 22. Starting early in the morning on Rashid Minhas Road, the cause remains unknown. Karachi Mayor Murtaza Wahab..
Credit: Oneindia Duration: 03:02
Published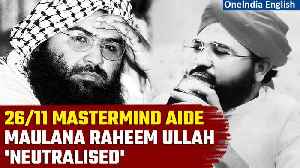 Maulana Raheem Ullah Tariq, Terrorist Masood Azhar's friend, killed in Karachi | Oneindia News

Maulana Raheem Ullah Tariq, Jaish-e-Mohammad terrorist and close friend of wanted Maulana Masood Azhar, was shot dead by 'unknown men' in Orangi town area of Karachi. According to reports, Tariq was..
Credit: Oneindia Duration: 02:14
Published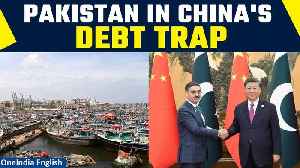 Twist in China-Pakistan Friendship | Report: 98% of Chinese Loan to Pakistan Not Out of Generosity

A recent report reveals that 98% of China's funding to Pakistan consists of loans, not grants. The outstanding debt amounts to $67.22 billion, 19.6% of Pakistan's GDP, higher than reported. China has..
Credit: Oneindia Duration: 02:30
Published
You Might Like



Eighty fishermen released from Pakistan jail arrive in Gujarat, reunited with kin for Diwali

Eighty fishermen released from a jail in Karachi in Pakistan reached Vadodara in Gujarat by train on Sunday, from where they were taken to Veraval in the state's Gir Somnath district by bus to be..




IndiaTimes - Published





Karachi to Noida: Seema Haider turns Bollywood star, ex-husband called to India; know what film is about

Pakistani woman Seema Haider is set to become a Bollywood actor in a film called 'Karachi to Noida', as the cross-border love story controversy continues to make headlines.




DNA - Published





Another cross-border marriage: Advocate from Jodhpur weds Karachi woman online




IndiaTimes - Published





Two Hindu temples, including one built over 150 years ago, destroyed in Pakistan's Sindh province within 24 hours

Two Hindu temples, including one built over 150 years ago, were vandalised within 24 hours in Pakistan's Sindh province. The first incident happened in Karachi on Saturday morning when the old Mari..




IndiaTimes - Published





50,000 moved to safer places as Gujarat braces for Biparjoy

On course to becoming possibly the cyclone with the longest lifespan in recent times in the Arabian Sea, Biparjoy is expected to crash ashore between Karachi (Pakistan) and Mandvi (Gujarat), with its..




IndiaTimes - Published





Very severe cyclonic storm set to hit Kutch

With Cyclone Biparjoy expected to dramatically tilt eastwards and head towards Gujarat, the India Meteorological Department on Sunday said the storm was likely to make landfall between Mandvi in Kutch..




IndiaTimes - Published





Cyclone Biparjoy likely to make landfall between Gujarat's Kutch and Pakistan's Karachi: IMD




IndiaTimes - Published





Depression over Arabian Sea likely to intensify into cyclonic storm: IMD

A depression over the southeast Arabian Sea, south of Porbandar in Gujarat, is likely to move northwestward and intensify into a cyclonic storm, the India Meteorological Department said on Tuesday. In..




IndiaTimes - Published





198 Indian fishermen released from Pakistani jail

Pakistani authorities have released 198 Indian fishermen, who were languishing at a jail here after being arrested for allegedly fishing illegally in the country's waters, and handed them over to India..




IndiaTimes - Published





Indian prisoner dies in Karachi; Pakistan to release 199 Indian fishermen on May 12




IndiaTimes - Published





Delhi-Doha Indigo flight makes emergency landing at Karachi airport after passenger dies

Flight 6E-1736 decided to make an emergency landing after the passenger fell ill, however, he died before the aircraft could land.




DNA - Published




IndiGo's Delhi-Doha flight diverted to Karachi due to medical emergency

An IndiGo aircraft which took off from Delhi late Sunday night for Doha was diverted to Karachi reportedly due to a medical emergency on board. ​​​The passenger who was a Nigerian national passed..




IndiaTimes - Published





England complete historic 3-0 sweep over Pakistan

England complete a historic 3-0 clean sweep over Pakistan inside 40 minutes on the fourth day of the final Test in Karachi.




BBC Sport - Published





England look to wrap up historic win over Pakistan - radio & text

Follow live text updates and BBC Test Match Special commentary from day four of the third Test between England and Pakistan in Karachi.




BBC Sport - Published





England seek Pakistan wickets on day three - radio & text

Follow live text updates and BBC Test Match Special commentary from day three of the third Test between England and Pakistan in Karachi.




BBC Sport - Published





Brook hundred gives England lead over Pakistan

Harry Brook's magnificent century helps England to a valuable lead over Pakistan on the second day of the third Test in Karachi.




BBC Sport - Published





England resume on 7-1 against Pakistan

Follow live text updates and BBC Test Match Special commentary from day two of the third Test between England and Pakistan in Karachi.




BBC Sport - Published





Ahmed wickets help England dismiss Pakistan

Rehan Ahmed takes important wickets as England bowl out Pakistan for 304 on the first day of the final Test in Karachi.




BBC Sport - Published





England look for history in City of Lights

Christmas lights await England, but not before the chance of a 3-0 clean sweep over Pakistan in Karachi, the 'City of Lights'.




BBC Sport - Published





Pakistan v England - toss and team news

Follow live text updates and BBC Test Match Special commentary from the opening day of the third Test between England and Pakistan in Karachi.




BBC Sport - Published





Bentley stolen from London discovered almost 5,000 miles away

A stolen luxury Bentley has been found in the port city of Karachi, Pakistan - almost 5,000 miles away from its home in London.




Sky News - Published




Pak melody queen Nayyara Noor, adored by millions on both sides of the border, no more

India born melody queen of Pakistan Nayyara Noor passed away in the wee hours of Sunday at Karachi in Pakistan. She was 71. Having got the title of Bulbul-e-Pakistan, Nayyara Noor had sang poems of..




IndiaTimes - Published





IndiGo's Sharjah-Hyderabad flight diverted to Karachi due to technical defect, all passengers safe

The flight, travelling from Sharjah to Hyderabad, observed a technical defect, after which it was diverted to Pakistan as a precautionary measure.




DNA - Published





Two SpiceJet planes face emergencies midair in a day

A SpiceJet Boeing 737 MAX winging its way from Delhi to Dubai with nearly 160 people on board Tuesday morning had to divert to Karachi following a suspected fuel leak and landed safely in the Pakistani..




IndiaTimes - Published





SpiceJet aircraft makes emergency landing after windshield cracks mid-air, second incident in a day

Earlier in the day, a SpiceJet aircraft from Delhi to Dubai was forced to make an emergency landing in Karachi due to a defective fuel indication.




DNA - Published





DGCA orders probe after SpiceJet flight makes emergency landing in Karachi due to technical glitch

The SpiceJet spokesperson said that the flight was diverted to Pakistan due to the malfunctioning of an indicator light.




DNA - Published





What we know about Karachi-based Dawat-e-Islami, linked to the Udaipur killing

Dawat-e-Islami, a Sunni Islamic organisation was founded in Karachi in September 1981. One of the accused of the Udaipur beheading has links with it.




DNA - Published





Pakistan denies Udaipur violence accused's links to Karachi-based Islamist organisation

DGP Rajasthan said one of the two prime accused has links with the Karachi-based Ismalist organisation Dawat-e-Islami and had visited Karachi in 2014




DNA - Published





Udaipur murder: Accused has a Pakistan connection, here's what probe revealed

Udaipur tailor killing: One of the two prime accused had visited Karachi in 2014 and has links with a Pakistan-based organisation.




DNA - Published





Pak rejects India's statement over Karachi temple vandalism incident




IndiaTimes - Published





'Dawood Ibrahim living in Karachi': Haseena Parker's son to ED amid Nawab Malik investigation

The ED said that Dawood's nephew Alishah Parker revealed his location, saying that he is currently in Karachi, Pakistan.




DNA - Published





'Dawood is in Karachi', ED quotes don's nephew in charge sheet




IndiaTimes - Published





Pakistan increases electricity charges by Rs 4.8 per unit amid rising inflation

Pakistanis are facing great difficulties as the current government made tall claims of resolving the persistent issue of load shedding in Karachi.




DNA - Published





Qatar Airways diverts Delhi-Doha flight to Karachi after smoke indication in aircraft's cargo hold




IndiaTimes - Published




Australia in Pakistan: Babar Azam's 196 helps hosts salvage Karachi draw

Babar Azam's 196 helps Pakistan bat for almost two days in Karachi to rescue an unlikely draw against Australia in the second Test.




BBC Sport - Published





IC-814 hijacker who killed flyer shot in Karachi

Zahoor Mistry Ibrahim, considered the most brutal among the five Indian Airlines flight IC-814 hijackers, was shot dead by two unidentified gunmen in Pakistan's Karachi on March 1. Ibrahim, a..




IndiaTimes - Published





IC-814 hijacker Mistry Zahoor Ibrahim shot dead in Karachi: Report

Mistry Zahoor Ibrahim, one of the hijackers of Indian Airlines flight IC-814, was shot dead in Pakistan's Karachi on March 1, according to reports. Reports suggest that the unidentified attackers shot..




IndiaTimes - Published





Kashmiri fugitive Hurriyat member held in Pak for Rs 140 cr Rawalpindi housing scam

Pakistani authorities arrested on Wednesday Karachi-based fugitive Hurriyat member Altaf Ahmad Bhat of J&K and 16 of his business associates for allegedly embezzling more than Rs 140 crore from funds..




IndiaTimes - Published





Hindu temple's statues destroyed in Pakistan's Karachi




IndiaTimes - Published





Al Qaeda operated from Khyber Pakhtunkhwa, Karachi: Report




IndiaTimes - Published





Commodore KP Gopal Rao, who led team that sank three Pak ships and bombed Karachi in 1971, dies in Chennai




IndiaTimes - Published





#IndianLivesMatter goes viral in Pakistan, help offers pour in

Karachi-based humanitarian group Edhi Foundation on Friday wrote to Prime Minister Narendra Modi offering a fleet of 50 ambulances and services to address the Covid crisis. For providing services, the..




IndiaTimes - Published





Pakistan v South Africa: Debutant Nauman Ali takes 5-35 as hosts win first Test

Debutant Nauman Ali claims 5-35 as Pakistan wrap up a seven-wicket win over South Africa with a day to spare in the first Test in Karachi.




BBC Sport - Published





Pakistan v South Africa: Kagiso Rabada reaches 200 Test wickets

Kagiso Rabada reached 200 Test wickets but South Africa suffered a late mini-collapse on the third day of the first Test against Pakistan in Karachi.




BBC Sport - Published





Pakistan v South Africa: Fawad Alam hits century on day two in Karachi

Fawad Alam hits a century as Pakistan finish day two of the first Test against South Africa in Karachi with an 88-run lead.




BBC Sport - Published




'Woh Hamsafar Tha' poet and lyricist Naseer Turabi passes away at 75

Renowned Urdu poet, lyricist and intellectual Naseer Turabi passed away in Karachi on Sunday.




DNA - Published





Pakistan: Hazaras intensify protest against Machh killing in Karachi

The protests, though largely peaceful, are not dying down in a country already embroiled in a deep political crisis.




DNA - Published