Arunachal Pradesh
State in north-eastern India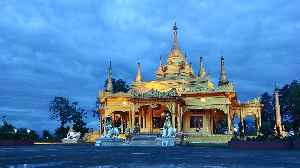 Arunachal Pradesh is a state in Northeast India. It borders the states of Assam and Nagaland to the south. It shares international borders with Bhutan in the west, Myanmar in the east, and a disputed border with China in the north at the McMahon Line. Itanagar is the state capital of Arunachal Pradesh. Arunachal Pradesh is the largest of the Seven Sister States of Northeast India by area.


Amid tension, India responds to China's 'Ladakh infra development' comment

India on Thursday asserted that the union territories of Jammu and Kashmir and Ladakh "have been, are, and would" remain an integral part of the country, insisting that China has no locus standi to..
Credit: HT Digital Content Duration: 02:23
Published
Conveyed several times to China that Arunachal Pradesh is integral part of India: MEA

Ministry of External Affairs (MEA) on October 15 said that India has, on several occasions, reminded China that Arunachal Pradesh is an integral part of India. "The union territories of Ladakh, Jammu..
Credit: ANI Duration: 01:26
Published
'First Pakistan & now China': Rajnath Singh speaks on border disputes

Defence Minister Rajnath Singh said that inaugurated 44 bridges built by the Border Roads Organisation spread over seven states and union territories across the nation. Seven of these 44 bridges are in..
Credit: HT Digital Content Duration: 03:03
Published
Rajnath Singh dedicates 44 bridges constructed by BRO to nation

Union Defence Minister Rajnath Singh laid foundation stone for Nechiphu Tunnel on road to Tawang, Arunachal Pradesh via video conferencing. Defence Minister also inaugurated 44 bridges on October 12..
Credit: ANI Duration: 02:16
Published
China continues to illegally occupy 38,000 sq kms in Ladakh: Rajnath Singh

Defence Minister Rajnath Singh on September 17 said in Rajya Sabha that China claims approximately 90,000 sq. kms of Indian territory in the Eastern Sector of the India-China boundary in Arunachal..
Credit: ANI Duration: 01:42
Published
5 boys of Arunachal abducted by Chinese Army, claims Congress's Ninong Ering

In a self made video, Congress leader Ninong Ering claimed that five boys from Nacho, Upper Subansiri in Arunachal Pradesh have been abducted by China's PLA (People's Liberation Army). He said,..
Credit: ANI Duration: 01:25
Published
You Might Like



India may get five military theatre commands, one each for China and Pakistan

According to military and national security planners, the remake of Northern Command will begin from Karakoram Pass in Ladakh and continue till Kibithu, the last outpost in Arunachal Pradesh, with a..




DNA - Published





India defeats China after 34 years to reclaims 202 acres of strategic land in Arunachal's Sumdorong Chu Valley

This Sumdorong Chu region bordering China is of strategic importance; hence China occupied the Lungaro Grazing Ground in 1986 and wanted to gain a commanding position on the Sumdorong Chu Valley.




DNA - Published





Modi govt's focus on building border roads to secure boundaries shaken China: Nadda

Laying the foundation stone of the BJP's six offices in Himachal Pradesh, virtually from Delhi, he said under Prime Minister Narendra Modi's leadership, the government has built 4,700-km four-lane..




IndiaTimes - Published





Terrorists kill Assam Rifles jawan, hurt another in Arunachal

An Assam Rifles jawan was killed while another received bullet injuries on Wednesday during an encounter with suspected militants in Tirap district in southern Arunachal Pradesh, the police said.




IndiaTimes - Published





Phones fail to show Arunachal weather, Xiaomi calls it glitch

Chinese phone major Xiaomi was caught in a controversy after users reported on social media that the company's smartphones were not displaying weather for Arunachal Pradesh. The company blamed..




IndiaTimes - Published





Our border infra not your business, China told

India on Thursday pushed back against China's criticism of its development of border infrastructure, as well as reminding Beijing that Ladakh and Arunachal Pradesh were integral parts of India...




IndiaTimes - Published





'It has no locus standi to comment on India's internal matters: MEA rejects China's claim on Ladakh, Arunachal Pradesh

The remark came a day after Union Defence Minister Rajnath Singh inaugurated 44 strategic bridges in Ladakh, Arunachal Pradesh, Sikkim, Himachal Pradesh, Uttarakhand, Punjab, and Jammu and Kashmir.




DNA - Published





Defence Minister Rajnath Singh inaugurates 44 strategic bridges built by BRO, 7 in Ladakh alone

Along with inaugurating 44 bridges, the Defence Minister also laid the symbolic foundation of Nechifu tunnel in Arunachal Pradesh.




DNA - Published





Arunachal ambush: Ulfa (I) claims responsibility after Assam Rifles jawan dies




IndiaTimes - Published





Arunachal is Indian territory, reiterates US




IndiaTimes - Published





'Disturbed area' status extended for 3 Arunachal districts




IndiaTimes - Published





Govt extends 'disturbed area' tag for 3 districts, 4 police stations in Arunachal under AFSPA

The Union Home Ministry said in a notification that the order comes into effect from October 1.




IndiaTimes - Published





'We reject Chinese claims on Arunachal': US solidifies 'friendship' with India

Recently, a new conspiracy by China was revealed on the border of Arunachal Pradesh when China increased the deployment of troops in 6 areas on LAC near the state.




DNA - Published





Defence forces on toes in six 'disputed' areas along LAC in Arunachal Pradesh

"Four of the disputed areas are in Asapila, Longzu, Bisa and Majha in Upper Subansiri district where the Chinese PLA has already built a road through Bisa from one point of the LAC to another," a..




IndiaTimes - Published





China disregards bilateral agreements, has illegally occupied 38,000 sq km in Ladakh: Rajnath Singh in Rajya Sabha

Rajnath Singh that China also claims approximately 90,000 square kilometres of Indian territory in the Eastern Sector of the India-China boundary in Arunachal Pradesh.




DNA - Published





Chinese troops' movement in depth areas opposite Arunachal noticed, Indian Army strengthens positions

Sources said the movement of Chinese troops in their depth areas (around 20 kms from LAC) has been seen in the last few days using the roads built by them in the area where they have built..




IndiaTimes - Published





China hands over 5 Arunachal youths 1000 km away near India-China-Myanmar tri-junction




IndiaTimes - Published





China hands over 5 Arunachal boys; relatives say we lose way as borders aren't clear




IndiaTimes - Published





Five youths 'abducted' by PLA handed over to Army

Five youths who were allegedly abducted by the People's Liberation Army (PLA) of China near the McMahon line in Arunachal Pradesh's Upper Subansiri were released on Saturday in Anjaw district, around..




IndiaTimes - Published





Missing hunters from Arunachal who crossed LAC handed over to India by China

The hunters from Upper Subansiri District had also inadvertently strayed across the Line of Actual Control (LAC) and the Indian Army approached PLA to trace and return them.




DNA - Published





Arunachal CM Pema Khandu treks for 11 hours to meet people of remote village

Arunachal Pradesh chief minister Pema Khandu, currently touring his home constituency Mukto in Tawang district, trekked a distance of 24 km for 11 hours to meet people of a remote village.




IndiaTimes - Published





China's PLA to hand over five Indians who went missing from Arunachal Pradesh on Saturday: Union Minister Kiren Rijiju

The Indian Army had told its Chinese counterpart about the five civilians, who were engaged as guides and porters by the Army in the Upper Subansiri district on the Sino-India border, on September 5...




DNA - Published





China to hand over 5 missing Arunachal boys tomorrow: Kiren Rijiju




IndiaTimes - Published





Five boys of Arunachal Pradesh yet to be handed over to India by China




IndiaTimes - Published





Paperless session: Arunachal Pradesh shows the way




IndiaTimes - Published





China's PLA confirmed 5 missing youths from Arunachal Pradesh found on their side: Kiren Rijiju

Union Minister Kiren Rijiju also said modalities for handover of the five Arunachali men are being worked out.




DNA - Published





5 missing Arunachal youths found by China: Rijiju




IndiaTimes - Published





China thankful for Indian Army's 'humane gesture' in Arunachal Pradesh amid border tensions in Ladakh

The Indian Army statement mentioned that it is the Chinese People's Liberation Army (PLA) that has been "blatantly violating agreements and carrying out aggressive maneuvers, while engagement at the..




DNA - Published





China claims Arunachal, says it didn't 'abduct own citizens'




IndiaTimes - Published





Congress MP urges govt to ensure safe return of five youth from Arunachal Pradesh, strengthen security along border




IndiaTimes - Published





China raises Arunachal bogey, still no trace yet of 'abducted' youths




IndiaTimes - Published





Whereabouts of 5 youths abducted by PLA yet to be known: Arunachal police




IndiaTimes - Published





No trace of 5 Arunachal youths 'abducted' by PLA

The five youths were engaged by Army as porters and had gone to the border area and two of their friends, who managed to retuned home, told villagers that the five have been abducted from Sera-7 area,..




IndiaTimes - Published





Did Chinese Army really abduct Indians in Arunachal Pradesh? Kiren Rijiju's tweet raises key questions

Amid the border tension between India and China, reports emerged on Saturday alleging that five people from the Upper Subansiri district in Arunachal Pradesh have reportedly been 'abducted' by China's..




DNA - Published





Arunachal probing kidnap of 5 tribals by PLA troops




IndiaTimes - Published





Chinese troops reportedly 'abduct' five people from Arunachal Pradesh

The villagers belonging to the Tagin community were abducted by the Chinese troops from the forest near Nacho while they were out hunting, informed one of their relatives.




DNA - Published





Probe on after families allege 5 men kidnapped by China's PLA from Arunachal

Arunachal Pradesh police has launched a probe following reports that five people, who had gone hunting in a forest in Upper Subansiri district on the Sino-India border, were allegedly kidnapped by the..




IndiaTimes - Published





Army strengthens its positions, from east Ladakh to Arunachal

The Army has further strengthened its positions in eastern Ladakh, as well as in other sectors right till Arunachal Pradesh, with an angry China pushing hard for Indian troops to vacate the heights..




IndiaTimes - Published





LAC face-off: India moves to secure eastern stretch of border after clashes with China in Ladakh

The movement of troops to the eastern district of Anjaw, in Arunachal Pradesh state, raises the prospect of a wider face-off though both government and military officials in India ruled out any..




IndiaTimes - Published





PM Modi wishes 'hardworking' Arunachal Pradesh CM Pema Khandu on his 41st birthday

"Birthday wishes to the hardworking Chief Minister of Arunachal Pradesh, Pema Khandu ji. He is doing path-breaking work to transform Arunachal Pradesh and empower the youth of the state. May Almighty..




IndiaTimes - Published





Jamia tops list of central universities in government rankings

Jamia Millia Islamia, which had been in turmoil in the past few months, has bagged the first spot among all central universities in the country in rankings released by the ministry of education with a..




IndiaTimes - Published





Army, IAF to maintain very high-level of alertness along LAC: Sources on border standoff with China

The Indian Army and the IAF will maintain a very high-level of operational readiness in all areas along the Line of Actual Control (LAC) in Ladakh, North Sikkim, Uttarakhand and Arunachal Pradesh till..




IndiaTimes - Published





Amid border tensions with China, Army chief tells field commanders to be prepared for any 'eventuality'

He gave the remarks during his recent visit to the Tezpur-based 4 Corps, which looks after the China border with Arunachal Pradesh. "The Army Chief has told all his commanders to be prepared for any..




IndiaTimes - Published





Army chief visiting eastern sector to review situation along LAC in Sikkim, Arunachal




IndiaTimes - Published





With pullback in Depsang & Pangong stalled, military talks with China to be held today

Amidst Chinese troops showing no signs of pulling back from Pangong Tso and Depsang Plains in eastern Ladakh, while also continuing to increase deployments along the Line of Actual Control right till..




IndiaTimes - Published





Karnataka, Arunachal, Meghalaya announce mini lockdowns to curb Covid-19 spread

A number of states on Saturday imposed lockdowns as part of cluster containment plans in the wake of alarming rise in coronavirus cases with the duration of one of these restrictions as brief as two..




IndiaTimes - Published





Security forces kill 6 NSCN (IM) cadres in Arunachal Pradesh




IndiaTimes - Published





Arunachal Pradesh: Six NSCN (IM) cadets killed in encounter in Khonsa

The gunbattle began at around 4.30 am.




DNA - Published





Six NSCN-IM insurgents killed in Arunachal Pradesh

Six insurgents belonging to an extremist group active in north-eastern states were killed in an early morning operation on Saturday. ​​​​Acting upon actionable and specific information shared..




IndiaTimes - Published





Large projects on to augment India's border infra: Gadkari

To augment India's border infrastructure, a large number of highway projects are underway including in Jammu and Kashmir, Arunachal Pradesh, Uttarakhand, Rajasthan and Himachal Pradesh, both by the BRO..




IndiaTimes - Published