Simone Biles
American artistic gymnast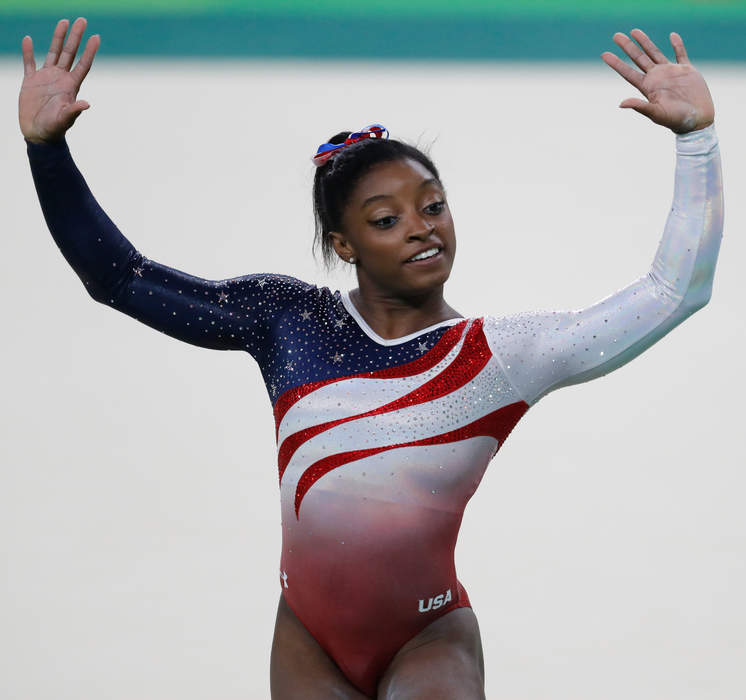 Simone Arianne Biles is an American artistic gymnast. With a combined total of 32 Olympic and World Championship medals, Biles is tied as the most decorated gymnast of all time. Biles' seven Olympic medals also ties Shannon Miller for the most Olympic medals won by an American female gymnast. Biles is considered one of the greatest and most dominant gymnasts of all time.


Simone Biles: 'Still Scared To Do Gymnastics'

Simone Biles gets emotional as she shares that she is "still scared to do gymnastics" after experiencing the "twisties" at the Olympics.
Credit: HuffPost NOW News Duration: 01:09
Published
Hear Simone Biles' emotional testimony before Senate

Olympic gymnast Simone Biles became emotional during her testimony before a Senate committee investigating FBI mishandling of abuse allegations against former Team USA doctor Larry Nassar.
Credit: Bleacher Report AOL Duration: 02:56
Published
Simone Biles Gives Emotional Testimony

Simone Biles teared up while talking on Capitol Hill during a hearing on the handling of the FBI investigation into Larry Nassar.
Credit: HuffPost NOW News Duration: 01:21
Published
You Might Like



Simone Biles says she 'should have quit way before' Tokyo Olympic Games

Four-time Olympic champion Simone Biles says she "should have quit way before Tokyo" after withdrawing from five of her six finals in Japan.




BBC Sport - Published





Simone Biles Gets Emotional Testifying On Capitol Hill, System Failed Me

Simone Biles broke down while testifying about Larry Nassar in front of a group of senators on Capitol Hill ... choking back tears while explaining how U.S. Gymnastics and other agencies failed her and..




TMZ.com - Published





Simone Biles testifies at Senate hearing into Nassar

Simone Biles and Aly Raisman are speaking at a Senate inquiry into claims the FBI mishandled sex abuse reports.




BBC Sport - Published





Simone Biles Fires Back At Critics, 'Can't Hear You Over My 7 Olympic Medals'

Simone Biles is clapping back at her critics yet again ... this time shutting them down in savage fashion by saying, "I can't hear you over my 7 olympic medals." Biles -- apparently still hearing from..




TMZ.com - Published





Simone Biles Surprises Olympics Teammate Suni Lee's Father W/ New Wheelchair

Simone Biles has proven yet again that her G.O.A.T. status extends far off the gymnastics floor ... 'cause she just helped gift her Olympics teammate Suni Lee's father with a new wheelchair -- and the..




TMZ.com - Published





Houston Texans Cut Simone Biles' Boyfriend Jonathan Owens

Simone Biles' romance with Jonathan Owens may need to go more long distance than usual this football season ... 'cause the Houston Texans have just cut the gymnast's boyfriend. The Texans made the move..




TMZ.com - Published





Simone Biles and mental health focus: 'I wouldn't change anything for the world'

Four-time Olympic gold medallist Simone Biles "wouldn't change anything for the world" because she "gave an outlet for athletes to speak up about mental health".




BBC Sport - Published





Simone Biles Suffers Gnarly Finger Wound After German Shepherd Attack

Simone Biles' triumphant return home from the Olympics has hit a speed bump ... she says she was just bitten by a German Shepherd, and suffered a gnarly finger wound in the attack. Biles explained the..




TMZ.com - Published





McKayla Maroney Says Simone Biles Is The G.O.A.T. Gymnast, Period!

Simone Biles is the greatest gymnastic ever ... and NOTHING from the 2020 Olympics changes her G.O.A.T. status, so says gold medalist McKayla Maroney. TMZ Sports talked to Maroney at Enso Studio art..




TMZ.com - Published





From Simone Biles' comeback to GB's history making medallists - 10 talking points from an Olympics like no other

Tokyo 2020 was one of the most historic gambles in sport. The biggest global gathering during the pandemic was a step into the unknown and controversial right to the end.




Sky News - Published




Simone Biles Welcomed Home With Parade In Texas After Olympics

Simone Biles was treated like royalty after making her return from Tokyo ... with tons of fans lining up to get a glimpse of the Olympics superstar in Texas!! 24-year-old Biles touched down in Houston..




TMZ.com - Published





Simone Biles Says Larry Nassar Abuse May Have Triggered Olympic Withdrawal

Simone Biles says the abuse she suffered at the hands of Larry Nassar likely triggered feelings that eventually forced her out of the Olympics. The 24-year-old gymnast was asked whether her horrific..




TMZ.com - Published





Simone Biles: Tokyo 2020 medallist on 'unique Olympic experience'

American Simone Biles says she will "forever cherish" her "unique Olympic experience" after taking her overall Games medal haul to seven in Japan.




BBC Sport - Published





AOC Says Simone Biles Taking Her Olympics Break Was Good on All Fronts

Simone Biles hitting the pause button on the Olympics and coming back when she was good and ready is getting nothing but praise from Rep. Alexandria Ocasio-Cortez ... who says it sets a new standard..




TMZ.com - Published





Simone Biles Earns Bronze In Olympics Return, 'Means More Than All Of The Golds'

Simone Biles made history yet again Tuesday -- shaking off a week full of issues to win the bronze medal in her return to the Tokyo Olympics ... and she was PUMPED about it afterward. Biles -- who came..




TMZ.com - Published





Simone Biles: USA gymnast discusses her performance at Tokyo Olympics and returning to competition

USA's Simone Biles discusses her bronze medal performance and her return to competition in the beam final at the Tokyo Olympics.




BBC Sport - Published





Tokyo Olympics: 16-year-old Guan Chenchen wins beam gold for China

China's Guan Chenchen wins her first gold medal at only 16-years-old in the beams final, finishing ahead of her teammate Tang Xijing and the USA's Simone Biles.




BBC Sport - Published





Tokyo Olympics: Jason Kenny claims British landmark as GB secure seven medals while Simone Biles wins bronze

Track cyclist Jason Kenny wins his eighth medal to become Great Britain's most decorated Olympian as GB secure seven medals and US star Simone Biles returns with a bronze.




BBC Sport - Published





Tokyo Olympics: USA's Simone Biles returns to competition with a strong performance in the beam final

USA's Simone Biles returns to competition with a strong performance in the beam final to go into the bronze medal position.




BBC Sport - Published





Simone Biles wins Tokyo Olympics beam bronze on emotional return

Simone Biles wins bronze in the beam final on an emotional return to Olympic gymnastics competition.




BBC Sport - Published





Simone Biles wins bronze on balance beam in return to Olympics action

Simone Biles has won bronze in the women's balance beam final in her eagerly awaited return to action at the Tokyo Olympics.




Sky News - Published




Tokyo Olympics Day 11: Simone Biles set to make dramatic return in gymnastics beam final




Sky News - Published




Tokyo Olympics: Adam Gemili injured, Karsten Warholm creates history, Simone Biles returns

British sprinter Adam Gemili suffers injury heartbreak in the Olympic men's 200m, but there is still the prospect of a medal-rush for the nation on day 11 in Tokyo.




BBC Sport - Published





Simone Biles Set For Olympics Return In Balance Beam Event, Team USA 'So Excited'

Simone Biles' Tokyo Olympics run is NOT over yet ... the gymnastics star is coming back to compete in the balance beam final, Team USA announced on Monday. Biles has been out of competition for the..




TMZ.com - Published





Tokyo Olympics: Simone Biles on start list for beam final

Simone Biles will compete in the beam final as she takes up her final chance of an individual medal at an Olympics where she has withdrawn from four other finals.




BBC Sport - Published




Tokyo Olympics Day 10: Team GB eying up gymnastics medal after Biles pulls out again




Sky News - Published




Stars and Scars -- You Be the Judge

Simone Biles triggered a massive conversation about the pressure cooker they call the Olympics, and the Britney freedom train is pickin' up steam. So, we gotta ask ...




TMZ.com - Published





Simone Biles withdraws from another two Olympics finals

Simone Biles has pulled out of another two Olympics finals, USA Gymnastics has said.




Sky News - Published




Simone Biles: Tokyo Olympics gymnast withdraws from two more events

American Simone Biles pulls out of the vault and uneven bars gymnastics finals at the Tokyo 2020 Olympics.




BBC Sport - Published





Michael Che Shares Simone Biles Jokes, Gets Immediately Dragged for it

Michael Che is half-heartedly trying to do damage control after sharing some harsh and tasteless jokes about Simone Biles dropping out of Olympic events. The 'SNL' star announced late Thursday night on..




TMZ.com - Published





Tokyo Olympics: Simone Biles apparatus finals in doubt because of continuing 'twisties'

US gymnast Simone Biles says she is still struggling with the 'twisties', raising doubts about whether she will compete in the apparatus finals.




BBC Sport - Published





Simone Biles Thankful For Support After Olympics Withdrawal, 'I'm More Than' Gymnastics

Simone Biles says she's grateful for all of the love fans have shown her since withdrawing from Olympic events ... explaining it's made her realize she's so much more than gymnastics. Everyone from..




TMZ.com - Published





USA's Suni Lee Wins Gold In Gymnastics All-Around, Biles Cheers From Stands

USA!!! USA!!! USA!!! Team USA's Suni Lee just brought home the gold in the women's gymnastics all-around event at the Tokyo Games ... with teammate Simone Biles showing support from the stands!! The..




TMZ.com - Published





Tokyo Olympics: Sunisa Lee takes gymnastics all-around gold as Simone Biles watches from stands

American Sunisa Lee takes gymnastics all-around gold at the Olympics as defending champion Simone Biles watches from the stands after withdrawing to prioritise her mental health.




BBC Sport - Published





Tokyo Olympics: Simone Biles reacts to support for withdrawal from team and all-around finals

US gymnast Simone Biles reacts to the widespread support she has received after withdrawing from Thursday's all-around final.




BBC Sport - Published





Dominique Dawes Sympathizes with Simone Biles Pulling Out of Olympics

Simone Biles pulling out of the Olympics for her own well-being is totally understandable, that is -- if you take into account the pressure around her, and what she's survived ... so says Dominique..




TMZ.com - Published





US backs Simone Biles after top gymnast withdraws from two Olympic finals to focus on her mental health

America's divisions are huge, but the country appears to have come together to support Simone Biles.




Sky News - Published




Tokyo Olympics: Why 'superhuman' Simone Biles could change attitudes to mental health in sport

Athletes discuss Simone Biles' decision to prioritise her mental health at the Tokyo Olympics and how she could change attitudes in sport.




BBC Sport - Published





Nyjah Huston Supports Simone Biles, 'People See Us As Robots'

Skateboarding superstar Nyjah Huston says he understands the pressure Simone Biles is going through at the Olympics ... telling TMZ Sports people need to realize athletes are human, not emotionless..




TMZ.com - Published





Tokyo Olympics: American gymnast Simone Biles out of all-around final

American gymnast and four-time Olympic gold medallist Simone Biles withdraws from the individual all-around final Tokyo Olympics.




BBC Sport - Published





Olympics Games reveal strain on body AND soul of life in the sporting spotlight

If you do what Simone Biles does, if you take the awe-inspiring risks that she takes, you really have to believe that you can pull them off.




Sky News - Published




Tokyo Olympics: Simone Biles says "put mental health first" after withdrawing from team final

Four-time Olympic gold medallist Simone Biles says it is important to "put mental health first" after pulling out of the women's team final at 2020.




BBC Sport - Published





Simone Biles: Gymnast praised for 'prioritising mental wellness'

The US Olympic chief praises Simone Biles for prioritising her mental health after she withdraws from the women's gymnastics team final in Tokyo.




BBC Sport - Published





Biles says mental health issues behind withdrawal as she admits: 'I just didn't want to go on'

Simone Biles says mental health concerns were behind her shock withdrawal from the team gymnastics final at the Tokyo Olympics as she admitted: "I just didn't want to go on".




Sky News - Published