L. K. Advani
Former Deputy Prime Minister of India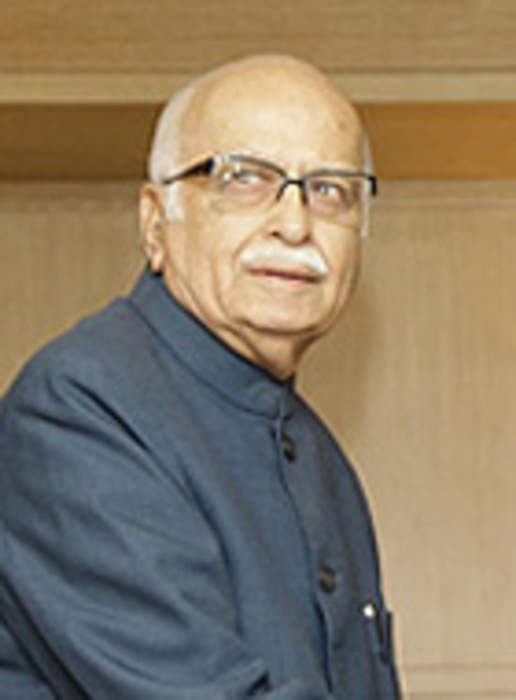 Lal Krishna Advani is an Indian politician who served as the 7th Deputy Prime Minister of India from 2002 to 2004 under Atal Bihari Vajpayee. He is one of the co-founders and a senior leader of the Bharatiya Janata Party. Advani also served as Minister of Home Affairs in the BJP-led National Democratic Alliance government from 1998 to 2004. He was the Leader of the Opposition in the 10th Lok Sabha and 14th Lok Sabha. He was the National Democratic Alliance prime ministerial candidate in the 2009 general elections.


How RSS adjusted to Vajpayee-Kaul partnership | On The Record

In the latest episode of On The Record, Hindustan Times' Sunetra Choudhury speaks to author and political scientist Vinay Sitapati about his book 'Jugalbandi: The BJP Before Modi'. The book..
Credit: HT Digital Content Duration: 20:11
Published
PM Modi meets LK Advani on his 93rd birthday

Prime Minister Narendra Modi met senior BJP leader Lal Krishna Advani at latter's residence on his birthday on November 08. Union Home Minister Amit Shah and BJP president JP Nadda also accompanied PM..
Credit: ANI Duration: 01:12
Published
You Might Like



Modi greets LK Advani on 93rd b'day, says he is 'living inspiration'




IndiaTimes - Published





PM Modi lauds Advani on his 93rd birthday

In a tweet in Hindi, Modi said Advani, home minister and deputy prime minister in the Atal Bihari Vajpayee-led government, played a significant role in the country's development and also took the party..




IndiaTimes - Published





Vindication of belief, says LK Advani after acquittal in Babri case

Acquitted of conspiracy charges in the 1992 Babri mosque demolition case, BJP veteran L K Advani on Wednesday welcomed the court verdict, saying the judgment vindicated his and his party's commitment..




IndiaTimes - Published





After verdict, Advani chants 'Jai Shri Ram'




IndiaTimes - Published





PM Modi, Advani attend virtual meeting of Somnath Trust




IndiaTimes - Published





'Moment of happiness for all of us': LK Advani after Babri verdict




IndiaTimes - Published





Urge Centre to file an appeal against acquittal: Cong's Randeep Singh Surjewala on Babri demolition case verdict

All 32 accused in the Babri Masjid demolition case have been acquitted by a special CBI court in Lucknow including LK Advani, Uma Bharti, Kalyan Singh and Murli Manohar Joshi. The acquitted leaders..




DNA - Published





Babri Masjid demolition case verdict vindicates my beliefs: LK Advani

The BJP veteran further added, "I also feel blessed that this judgement has come in the footsteps of another landmark verdict of the Supreme Court given in November 2019, which paved the way for my..




DNA - Published





Babri demolition case: L K Advani, Murli Manohar Joshi among 32 accused acquitted




IndiaTimes - Published





'Black day' for Indian judiciary: Asaduddin Owaisi upset with CBI court verdict on Babri Masjid demolition case

All 32 accused in the Babri Masjid demolition case have been acquitted by a special CBI court in Lucknow including LK Advani, Uma Bharti, Kalyan Singh and Murli Manohar Joshi. The acquitted leaders..




DNA - Published





Babri Masjid Demolition Case Verdict: LK Advani and others acquitted welcome judgement, term it as historic

All 32 accused in the Babri Masjid demolition case have been acquitted by a special CBI court including LK Advani, Uma Bharti, Kalyan Singh and Murli Manohar Joshi. The acquitted leaders have welcomed..




DNA - Published





Special CBI court acquits all in Babri demolition case

The 32 accused persons include former deputy prime minister Advani, former Union minister Joshi and Uma Bharti, former Uttar Pradesh chief minister Kalyan Singh, during whose tenure the structure was..




IndiaTimes - Published





BREAKING: CBI acquits LK Advani, MM Joshi & others in Babri Masjid demolition case

The special CBI court pronounced its verdict on September 30 in the December 6, 1992 Babri demolition case in Ayodhya. All accused have been acquitted.




DNA - Published





Babri Demolition Case Verdict: All 32 accused acquitted including Advani, Joshi, Uma, Kalyan Singh

The special CBI court pronounced its verdict on September 30 in the December 6, 1992 Babri demolition case in Ayodhya. All accused have been acquitted including LK Advani, Uma Bharti, Kalyan Singh and..




DNA - Published





Babri demolition case: How many years can court sentence, if Advani, Joshi, Kalyan Singh, Uma Bharati found guilty

There are a total of 32 accused in the Ayodhya Babri demolition case, including BJP veteran LK Advani, Murali Manohar Joshi, former UP Chief Minister Kalyan Singh, former Union Minister Uma Bharti, and..




DNA - Published





Babri verdict: BJP leaders Advani, Joshi, Bharti unlikely to be present in court

BJP veterans LK Advani, MM Joshi, Uma Bharti and Kalyan Singh, all accused in the Babri mosque demolition case, are unlikely to be present in the trial court on Wednesday at the time of delivery of..




IndiaTimes - Published





Outstanding parliamentarian, great administrator & patriot: L K Advani on Jaswant Singh

In a statement, Advani said as a member of the Atal Bihari Vajpayee-led government, Singh singularly and deftly handled the three most important portfolios of external affairs, defence and finance.




IndiaTimes - Published





Babri demolition verdict on September 30

A CBI court on Wednesday said it would pronounce judgment in the 1992 Babri Masjid demolition case on September 30. Special judge SK Yadav directed all the accused, including former deputy prime..




IndiaTimes - Published




Babri Masjid demolition case: SC extends deadline till September 30 for verdict by CBI special court

The Supreme Court granted another month to a Lucknow court to pronounce its judgment in cases related to the demolition of Babri Masjid against senior BJP leaders including Lal Krishna Advani, Murali..




IndiaTimes - Published





Babri Masjid demolition case: SC grants Lucknow court another month to pronounce verdict

The Supreme Court granted another month to a Lucknow court to pronounce its judgment in cases related to the demolition of Babri Masjid against senior BJP leaders including Lal Krishna Advani, Murali..




IndiaTimes - Published





'Many made sacrifices, are present in spirit among us'

RSS chief Mohan Bhagwat squarely addressed the absence of BJP veteran L K Advani and some other seniors at the Ram temple foundation stone-laying ceremony on Wednesday, saying the situation was such..




IndiaTimes - Published





BJP's Vinay Katiyar says L K Advani, M M Joshi should have been in Ayodhya today




IndiaTimes - Published





My belief that Ram Mandir will represent India as strong, prosperous, harmonious nation: LK Advani




IndiaTimes - Published




Advani, Murli Manohar Joshi likely to join 'bhoomi pujan' of Ram Temple through video conferencing

Prime Minister Narendra Modi is scheduled to lay the foundation stone of the Ram Temple in Ayodhya on August 5, according to Mahant Nritya Gopal Das, the president of the Sri Ram Janmabhoomi Teertha..




IndiaTimes - Published





Advani, Joshi yet to get invites for Ayodhya event

L K Advani, who led the "rathyatra" for the construction of Ram Mandir and Murli Manohar Joshi who served as BJP chief during the intense phase of the temple campaign are yet to recieve invitations..




IndiaTimes - Published





No invitation for Advani for Ayodhya event on August 5

Architect of the Ram Janmabhoomi movement and its chief protagonist who led the first political rathyatra in the country for it, BJP veteran L K Advani has not been invited for the grand function at..




IndiaTimes - Published





Advani, Bhagwat among invitees to Ram temple 'bhoomi pujan', will be aired live by Doordarshan: Trustees




IndiaTimes - Published





Babri demolition case: L K Advani deposes via video link




IndiaTimes - Published





Amit Shah meets Advani ahead of Babri hearing




IndiaTimes - Published





Babri mosque demolition trial: Murli Manohar Joshi likely to depose on Thursday, LK Advani on Friday




IndiaTimes - Published





Amit Shah meets Advani before BJP veteran's appearance in Babri mosque demolition case

Union Home Minister Amit Shah met veteran BJP leader L K Advani on Wednesday, two days before the latter is scheduled to appear via video conference before a special CBI court hearing the 1992 Babri..




IndiaTimes - Published





Ayodhya temple: Ram Mandir agitation leaders to be invited for 'bhoomi poojan'

Kameshwar Chaupal, a member of Shri Ram Janmabhoomi Teertha Kshetra, a trust set up by the Centre to oversee the construction of the temple, said they will invite former deputy PM LK Advani, Murli..




IndiaTimes - Published





Advani, Joshi, Uddhav invited for Ayodhya 'bhoomi pujan'

Frontline leaders of the Ram temple movement, including L K Advani and Murli Manohar Joshi, are among the invitees for the "bhoomi pujan" in Ayodhya on August 5, which is likely to be attended by Prime..




IndiaTimes - Published





Babri mosque demolition case: Advani to depose on July 24; MM Joshi on July 23




IndiaTimes - Published





Venkaiah Naidu recalls role of 'Gurus' including veteran BJP leader LK Advani in moulding his life




IndiaTimes - Published





Let new generations draw right lessons from Emergency: Ravi Shankar Prasad

He recalled that after the Emergency was imposed by then prime minister Indira Gandhi, major opposition leaders including Jai Prakash Narayan, Atal Bihari Vajpayee, L K Advani, Chandrashekhar, along..




IndiaTimes - Published





Babri case: LK Advani, Uma Bharti will have to be in court




IndiaTimes - Published





CBI court to record statements of Babri mosque demolition accused from June 4

The special CBI court hearing the Babri mosque demolition case is set to record the statements of the accused, who include BJP leaders L K Advani, Murli Manohar Joshi and Uma Bharti, from June 4..




IndiaTimes - Published





Finish Babri trial by Aug 31, SC tells CBI court

The Supreme Court on Friday directed a special CBI court in Lucknow to wrap up hearing and deliver its verdict by August 31 in the trial against senior BJP members L K Advani, M M Joshi and Uma Bharti..




IndiaTimes - Published





Maharashtra CM Uddhav Thackeray meets PM Modi

Maharashtra CM Uddhav Thackeray met PM Modi on Friday, his first visit to the national capital after taking over the reins of the state. The chief minister's son Aditya Thackeray, who is a minister in..




IndiaTimes - Published





BJP president Nadda meets veteran leaders Advani, Murli Manohar Joshi

"Received blessings of respected Advani ji after meeting him. Advani ji is a source of inspiration for us party workers. I will work relentlessly to further strengthen the BJP with your blessings,"..




IndiaTimes - Published





Verbal duel in Lok Sabha over Adhir Ranjan Chowdhury's comments on PM Modi, Amit Shah

During the Question Hour, when Chowdhury rose to ask a supplementary related to the Steel Ministry, ruling alliance members tried to mock him by shouting the word "infiltrator" several times. The..




IndiaTimes - Published





'Owaisi becoming second Zakir Naik': MoS Babul Supriyo says AIMIM chief 'speaks more than required'

Owaisi on Sunday questioned the Ayodhya verdict, asking if BJP leader LK Advani is being tried for Babri Masjid's demolition




DNA - Published





If Congress supports Shiv Sena in Maharashtra, they should do it for 5 years, says Deve Gowda

"Bal Thackeray gave place to the BJP in Maharashtra, LK Advani and former PM Vajpayee went to Balasaheb's residence and requested him for seats in the state. Today the BJP overrode that and that is why..




IndiaTimes - Published





Advani's rath yatra galvanised temple movement, gave wings to BJP growth

In eastern Rajasthan and western UP, Jats turned up in large numbers to listen to Advani outline the "historical wrong" of a mosque at the birthplace of Ram and how denial of a temple was a..




IndiaTimes - Published





'If Babri Masjid was illegal...': Owaisi finds fault with SC verdict on Ayodhya

"If Babri Masjid was legal, then how can Advani get the land," Owaisi said.




DNA - Published





If Babri Masjid was illegal why Advani is being tried, asks Asaduddin Owaisi




IndiaTimes - Published





Feel vindicated & blessed, says LK Advani after Ayodhya verdict




IndiaTimes - Published





Stand vindicated, feel deeply blessed: Advani on SC verdict in Ayodhya case

L K Advani, the architect of the political movement for Ram Temple, that catapulted the BJP into the national mainstream in the 1990s, on Saturday said he felt "vindicated and blessed" as he..




IndiaTimes - Published




Advani to Singhal, top players of Ram temple movement

In the 1980s the demand for the construction of Ram temple in Uttar Pradesh's Ayodhya grew, with senior BJP leader LK Advani leading the countrywide Rath Yatra in 1990, and then another big rally..




IndiaTimes - Published