Ravi Shankar Prasad
Indian politician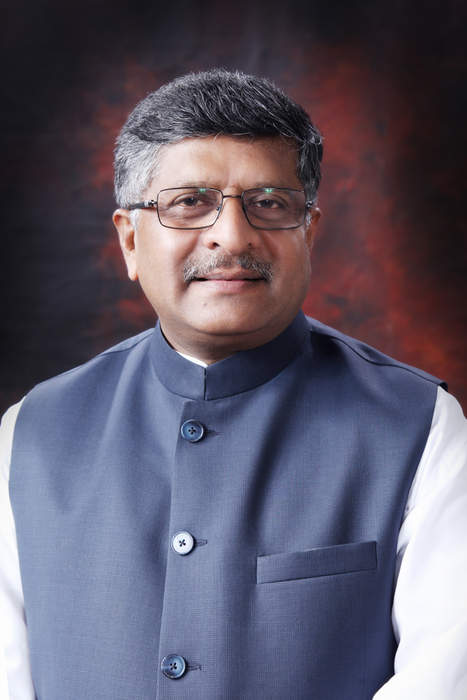 Ravi Shankar Prasad is an Indian lawyer, politician and the current Union Minister holding the Law and Justice, Electronics and Information Technology and Communications portfolios in the Government of India. A member of the Bharatiya Janata Party, Prasad represents the Patna Sahib constituency. During the NDA Government under Atal Bihari Vajpayee's prime ministership, Prasad was appointed Minister of Coal and Mines, Minister of Law and Justice, and Minister of Information and Broadcasting.


Former Attorney General Soli Sorabjee dies; President, PM Modi condole demise

Former Attorney General & Constitutional law expert Soli Sorabjee died on Friday. The 91-year-old veteran lawyer passed away after getting infected with Covid-19. Sorabjee had served as the Attorney..
Credit: HT Digital Content Duration: 02:24
Published
No response by CM Mamata on 121 fast-track courts sanctioned for Bengal: RS Prasad

Law Minister Ravi Shankar Prasad on April 19 announced that 121 fast- track courts has been sanctioned for Bengal for sexual offences against children in West Bengal. "Been writing to Mamata Banerjee..
Credit: ANI Duration: 01:17
Published
We've to beat COVID with collective resolution: RS Prasad

As India battles a second COVID wave, Union Law and Justice Minister Ravi Shankar Prasad called the 2nd wave a 'global phenomenon'. "The second wave of COVID19 is a global phenomenon. What is important..
Credit: ANI Duration: 01:21
Published
VP Naidu releases postage stamp in memory of Rajyogini Dadi Janki

The Vice President of India, Venkaiah Naidu released a commemorative postage stamp in honour of former chief of Brahma Kumaris, Rajyogini Dadi Janki. Union Minister Ravi Shankar Prasad was also present..
Credit: ANI Duration: 02:13
Published
'Rahul Gandhi facing attention starvation': RS Prasad on vaccine shortage claim

Union Minister Ravi Shankar Prasad attacked congress leader Rahul Gandhi over vaccine shortage charge. RS Prasad, in a series of tweets, countered Rahul Gandhi's vaccine shortage claim. The union..
Credit: HT Digital Content Duration: 02:19
Published
Sharad Pawar realised consequences of giving clean chit to Anil Deshmukh: BJP

Reacting to the resignation of Maharashtra Home Minister Anil Deshmukh, the BJP said the NCP leader Sharad Pawar must have understood the implications of giving a clean chit to Deshmukh who tendered..
Credit: ANI Duration: 01:10
Published
'Restore Sharad Pawar's political credibility by removing Deshmukh': RS Prasad

The three-party alliance government in Maharashtra is "of extortion (vasuli), by extortion and for extortion", senior BJP leader and Union minister Ravi Shankar Prasad said on Tuesday and added that..
Credit: HT Digital Content Duration: 07:22
Published
Maha govt is 'of vasooli,' 'for vasooli,' 'by vasooli': RS Prasad

Electronics and Information Technology Minister Ravi Shankar Prasad said that instead of 'vikas,' 'vasooli' is happening in Maharashtra. "Maharashtra government is 'of vasooli,' 'for vasooli,' and 'by..
Credit: ANI Duration: 01:57
Published
You Might Like



48th CJI Ramana takes charge on a Saturday, and gets down to business

Justice Nuthalapati Venkata Ramana on Saturday took charge as the 48th Chief Justice of India after President Ram Nath Kovind administered oath of office to him at a brief ceremony in Rashtrapati..




IndiaTimes - Published





Vaccination drive going on at 'satisfactory speed': Union minister Ravi Shankar Prasad

Union minister Ravi Shankar Prasad on Tuesday defended the pace of the vaccination drive in India, saying it is going on at a "satisfactory speed."




IndiaTimes - Published





Nation 'starved of vaccine', curb exports: Rahul Gandhi

Congress's Rahul Gandhi on Friday wrote to PM Narendra Modi alleging "vaccine starvation" in the nation and asked for immediate ban on export of vaccines, prompting Union minister Ravi Shankar..




IndiaTimes - Published





Shortage in Congress-ruled states is not of vaccines but of commitment: Ravi Shankar Prasad




IndiaTimes - Published





Ravi Shankar Prasad tears into Maha govt over Sachin Waze episode

Prasad expressed astonishment over Waze, "a mere assistant inspector", having been defended inside and outside the assembly by none other than Chief Minister Uddhav Thackeray.




IndiaTimes - Published





Can't allow imperialism of internet: Ravi Shankar Prasad




IndiaTimes - Published





Govt bats for All India Judicial Service

A "properly framed" All India Judicial Service (AIJS) on the lines of other all-India services such as IAS and IPS is important to strengthen the overall justice delivery system, Law Minister Ravi..




IndiaTimes - Published





Modi government planning to link Aadhaar card with voter ID? THIS is what Law Minister Ravi Shankar Prasad said

Union Minister Ravi Shankar Prasad said that Centre is considering EC's proposal of linking electoral roll (voter id) with Aadhaar card.




DNA - Published





No proposal to appoint regulator for social media: Ravi Shankar Prasad




IndiaTimes - Published





3 law panel reports advised splitting SC into 2: Ravi Shankar Prasad in Lok Sabha




IndiaTimes - Published





'Will Congress, Mamata apologise?' asks Ravi Shankar Prasad over Batla house encounter case

The remarks came a day after a Delhi court convicted Ariz Khan, who was arrested in Feb 2018 in connection with the 2008 Batla House encounter case.




DNA - Published





Ravi Shankar Prasad gets anti-coronavirus vaccine shot; pays Rs 250

Union minister and senior BJP leader Ravi Shankar Prasad was administered the first dose of anti-coronavirus vaccine in Patna on Tuesday for which he paid Rs 250.




IndiaTimes - Published





Comments against judges a disturbing new trend: Ravi Shankar Prasad




IndiaTimes - Published





Exclusive: Union Minister Ravi Shankar Prasad LIVE on DNA

Union Minister Ravi Shankar Prasad, in an exclusive conversation with Zee News Editor-in-Chief, talks about the new OTT and social media guidelines.




DNA - Published





Govt unveils new guidelines to regulate content on social media, OTT platforms

In a press conference, IT minister Ravi Shankar Prasad said that the new guidelines will keep an eye on the content.




DNA - Published





Most Union ministers want to pay to get vaccinated against Covid: Ravi Shankar Prasad

His comments came after the government announced that everyone above 60 years of age and those over 45 years with comorbidities will be able to get Covid-19 vaccine from March 1 for free at government..




IndiaTimes - Published





'Dalit converts to Christianity, Islam won't get quota'

Dalit converts to Islam or Christianity will not be eligible for contesting parliamentary or assembly elections from constituencies reserved for Scheduled Castes (SC), and cannot claim other..




IndiaTimes - Published





Social media platforms should follow Indian laws: Ravi Shankar Prasad




IndiaTimes - Published





Action will be taken if Twitter, FB platforms are misused: Govt

The Centre on Thursday categorically cautioned social media platforms against spreading fake news or anything inciting violence, as Information Technology Minister Ravi Shankar Prasad said action will..




IndiaTimes - Published





Twitter reaches out to govt on a/c block

Faced with a warning of arrest of its employees and a penal action, American social media giant Twitter has finally reached out to the government and IT minister Ravi Shankar Prasad for talks on the..




IndiaTimes - Published





CBI files case against Cambridge Analytica for illegal data harvesting on Facebook

Union Minister Ravi Shankar Prasad in July 2018 said that a CBI probe would take place into the data theft involving Facebook and Cambridge Analytica.




DNA - Published





Memorable and historic day, says Ravi Shankar Prasad on COVID vaccination drive

Prime Minister Narendra Modi on Saturday (January 16) launched India's coronavirus vaccination drive via video conference.




DNA - Published





New laws offer better options to farmers: Ravi Shankar Prasad




IndiaTimes - Published





Centre gave freedom to farmers under new farm laws, says Ravi Shankar Prasad

Union Minister Ravi Shankar Prasad on Wednesday said various lies are being spread about "mandis" and added that the Centre has given the freedom to farmers under the new farm laws. Our government has..




IndiaTimes - Published





Govt approves National Security Directive on telecom sector, to declare list of trusted sources

Union Minister Ravi Shankar Prasad said that telecom service providers are required to connect new devices which are designated trusted products.




DNA - Published





Will sensitise people on how farm laws will be beneficial to farmers: Ravi Shankar Prasad




IndiaTimes - Published





Modi govt to deal sternly with 'Tukde Tukde gang' trying to take advantage of farmers stir: Ravi Shankar

Union minister Ravi Shankar Prasad on Sunday stated that stern action will be taken against nation breakers "Tukde Tukde Gang" trying to take advantage of farmers movement against the new farm laws.




IndiaTimes - Published





India takes pride in its democracy: Union Minister Ravi Shankar Prasad

India takes pride in its democracy and the BJP will work through it to win the confidence of people, Union minister Ravi Shankar Prasad said on Wednesday after NITI Aayog CEO Amitabh Kant's remarks..




IndiaTimes - Published





Ravi Shankar Prasad attacks lobby trying to pressure SC

"Of late, there has been a disturbing trend of some people campaigning through social media and newspaper articles insisting on what the Supreme Court judgment or order should be in a particular..




IndiaTimes - Published





Agusta Westland Case: BJP hits out at Congress, asks to clarify stand on alleged kickbacks

"From Jeep scandal to Bofors to Submarine scandal to several more and AgustaWestland helicopters, no work was done without kickbacks benefiting Congress leaders," said Union Minister Ravi Shankar..




DNA - Published





RS Prasad asks Congress if it supports statements by Farooq, Mehbooba seeking restoration of Article 370

Union minister Ravi Shankar Prasad on Monday hit out at Congress and asked if the party wants the restoration of Article 370 and supports the remarks made by National Conference (NC) leader Farooq..




IndiaTimes - Published





J&K District Development Council polls: BJP hits out at Congress, asks if it wants restoration of Article 370

Union Minister Ravi Shankar Prasad asked if the Congress wants the restoration of Article 370 and supports the remarks made by National Conference (NC) leader Farooq Abdullah and People's Democratic..




DNA - Published





'Why are you so ashamed of your parents' photo?' Ravi Shankar Prasad asks RJD leader Tejashwi Yadav

Prasad along with BJP national president JP Nadda campaigned for NDA's candidate from Purnia constituency on Monday.




DNA - Published





Bihar election: Ravi Shankar Prasad's chopper blades damaged, Union Minister alights safely

The tweet mentioned that the rotor blade of the helicopter carrying him got damaged at the airport hangar after the dignitaries 'got off and left'.




DNA - Published





West Bengal government muzzling opposition voice as people yearn for change: Ravi Shankar Prasad




IndiaTimes - Published





Transferred about $172 billion into bank accounts of the poor via direct benefit transfer: Ravi Shankar Prasad




IndiaTimes - Published





Let opposition members apologise before suspension is revoked: Ravi Shankar Prasad




IndiaTimes - Published





Govt will consider revoking suspension of RS MPs if they apologise for their behaviour: Prasad

The government will consider revoking the suspension of eight Rajya Sabha members only after they apologise for their behaviour in the Upper House, Union minister Ravi Shankar Prasad said on Tuesday...




IndiaTimes - Published





We had the numbers, says Prasad, slams Opposition conduct

The government claimed on Monday that it had a majority in Rajya Sabha when the two farm bills were passed and accused opposition leaders of "irresponsible and shameful" conduct. "We had a clear..




IndiaTimes - Published





Ravi Shankar Prasad slams opposition leaders for Rajya Sabha ruckus




IndiaTimes - Published





Most panchayats in Bihar connected with high-speed broadband: Ravi Shankar Prasad

Speaking at a programme, he said only 10-12 panchayats could not be connected due to their location in forest areas.There were 4.2 crore mobile phone users in 2014-15 in Bihar which has increased to..




IndiaTimes - Published





Law Minister Ravi Shankar Prasad launches attack on anti-court campaigners

A malicious campaign against judges in the event of an adverse verdict threatens the independence of the judiciary




DNA - Published





After Ravi Shankar Prasad, TMC leader Derek O`Brien writes to Mark Zuckerberg; accuses Facebook of BJP bias

"There is enough material now in the public domain, including internal memos of senior Facebook management, to substantiate the bias." Derek O`Brien wrote.




DNA - Published





Ravi Shankar Prasad writes to Mark Zuckerberg over Facebook's 'political bias'

In a strongly worded letter, the minister detailed instances of bias by Facebook India against BJP and the right-wing in general. "As a transnational digital platform, Facebook must not only be fair,..




DNA - Published

Also reported by •IndiaTimes


Sonia, Rahul also guilty of hate speech: BJP on Cong's FB move

Responding to Congress's letter to Facebook CEO Mark Zuckerberg on hate speech, Union minister Ravi Shankar Prasad on Tuesday accused Sonia Gandhi and Rahul Gandhi of having given hate speeches on..




IndiaTimes - Published





'Losers keep cribbing': RS Prasad attacks Rahul Gandhi's claims that BJP-RSS control Facebook, WhatsApp

In a fierce attack on Congress leader Rahul Gandhi, Union Minister Ravi Shankar Prasad on Sunday called him 'losers who keep cribbing that the entire world is controlled by BJP and RSS.'




DNA - Published





BJP calls RaGa 'loser', reminds him of CA

Union law minister Ravi Shankar Prasad on Sunday dismissed Rahul Gandhi's protest over allegations that BJP manipulated data with Facebook and WhatsApp as the gripe of a sore loser, while BJP's IT..




IndiaTimes - Published





Ravi Shankar Prasad hits out at Rahul Gandhi for linking BJP, RSS with Facebook in India




IndiaTimes - Published





Congress MP Karti Chidambaram, Left leader Mohammed Salim test positive; Union minister Ravi Shankar Prasad in self-isolation

Congress MP Karti Chidambaram and CPM politburo member Mohammed Salim were among the prominent politicians who tested positive for Covid-19 as a rapid spike in cases took the tally in the country to..




IndiaTimes - Published





Smartphones, components worth Rs 11.5 lakh crore to be manufactured in India in next 5 years: Ravi Shankar Prasad

He said that around 22 companies have applied under the scheme.




DNA - Published