Namibia
Country in southern Africa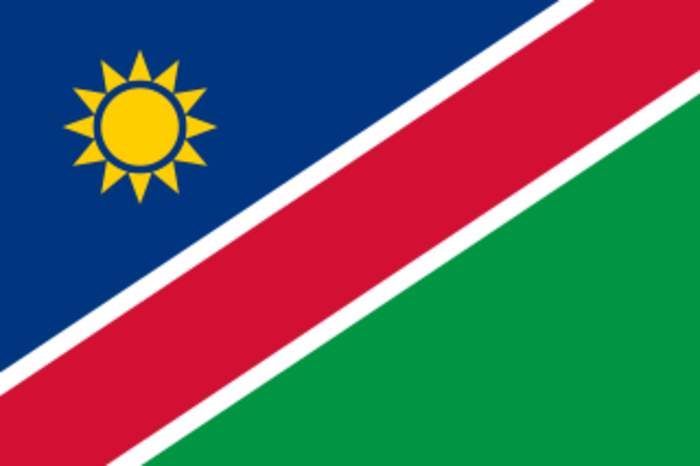 Namibia, officially the Republic of Namibia, is a country in Southern Africa. Its western border is the Atlantic Ocean; it shares land borders with Zambia and Angola to the north, Botswana to the east and South Africa to the south and east. Although it does not border Zimbabwe, less than 200 metres of the Zambezi River separates the two countries. Namibia gained independence from South Africa on 21 March 1990, following the Namibian War of Independence. Its capital and largest city is Windhoek. Namibia is a member state of the United Nations (UN), the Southern African Development Community (SADC), the African Union (AU) and the Commonwealth of Nations.


Scientists Discover Two Dwarf Giraffes In Africa

Conservation Scientists have discovered two dwarf giraffes in Africa. The two giraffes, named Gimil and Nigel, were spotted in Uganda and Namibia by Conservation Scientists working with the Giraffe..
Credit: Cover Video STUDIO Duration: 01:32
Published
You Might Like



Namibia faces red locust invasion

Namibia's Ministry of Agriculture said on Wednesday it had detected an outbreak of red locusts in central regions of the southern African country and had sent pest control teams to the affected areas.




Reuters - Published





Namibia shuts harbour town airport after two coronavirus infections

The airport in the Namibian harbour town of Walvis Bay has closed after two residents tested positive for the coronavirus and the economic hub went into lockdown.




Reuters - Published





With no deaths, Namibia to further ease coronavirus lockdown

Namibia, which has so far recorded no coronavirus deaths, said on Thursday it would within days further ease restrictions on social and economic activities.




Reuters - Published





Namibian president cuts ministers' perks in coronavirus fight

Namibian president Hage Geingob announced cost-cutting measures on Friday to save up to 200 million Namibian dollars ($10.80 million) as the country battles with the impact of the novel coronavirus.




Reuters - Published





Alcohol smuggling jumps in Namibia amid coronavirus crackdown

Namibian police reported on Tuesday a jump in people smuggling beers and whisky from neighbouring Angola and Zambia, using illegal border crossings to beat a ban on alcohol sales that is part of the..




Reuters - Published





Namibia extends partial coronavirus lockdown until May 4

Namibian borders will remain closed and a partial lockdown in force for a further two-and-a-half weeks until May 4 as part of new strict measures to contain the spread of the novel coronavirus,..




Reuters - Published





Namibia announces travel ban, partial lockdown after seventh coronavirus case

Health Minister Kalumbi Shangula announced on Tuesday that travel into Namibia from all countries is banned with immediate effect for a period of 30 days after the Southwest African country recorded..




Reuters - Published





Namibia reports first two cases of coronavirus, imposes travel ban

Namibia is the latest in a growing list of sub-Saharan African countries to report their first cases of coronavirus.




Reuters - Published




Supreme Court nod for cheetah's return to India's wild

For a decade, the National Tiger Conservation Authority has been knocking on the Supreme Court's door for introduction of cheetah into the sanctuary, saying this was an ideal habitat for the animals..




IndiaTimes - Published





SC allows Centre to bring African cheetah to suitable wildlife habitat in India

The Supreme Court on Tuesday allowed the Centre to introduce the African cheetah to a suitable habitat in India. Stating that the rare Indian cheetah is almost extinct in the country, the National..




IndiaTimes - Published





Iceland's Samherji exiting Namibia following bribery scandal

Samherji, the Icelandic fishing company at the center of Namibia's biggest corruption scandal, announced on Friday that it is withdrawing from the southwest African nation.




Reuters - Published





Namibian ex-ministers enmeshed in fish scandal in jail for New Year

Two former ministers and four others accused of taking bribes to offer fishing rights in Namibia's biggest corruption scandal will see in the New Year from custody after a court dismissed their urgent..




Reuters - Published





Accused in Namibian fishing corruption scandal withdraw bail application

Two former ministers and four others implicated in Namibia's biggest corruption scandal will remain in police custody until Feb. 20 after their lawyers abandoned their bail application on Monday, the..




Reuters - Published





Incumbent Geingob wins Namibia presidential election with 56.3% of the vote

Namibia's incumbent President Hage Geingob has won the 2019 presidential election with 56.3% of the vote, the Electoral Commission of Namibia (ECN) said on Saturday, surviving the country's biggest..




Reuters - Published





Namibian leader Geingob takes big lead in presidential election

President Hage Geingob took a commanding lead in Namibia's presidential election with roughly two-thirds of the votes counted following Wednesday's vote, official data showed on Friday.




Reuters - Published





Namibia arrests former justice minister in fishing scandal

Namibia has arrested its former justice minister on suspicion of receiving kickbacks from Iceland's biggest fishing firm in a scandal that has cast a shadow over the ruling party as it faces its..




Reuters - Published





Namibians vote in tight contest clouded by economic crisis

Namibians voted on Wednesday in what was expected to be the toughest contest yet for the party that has ruled for three decades of independence, an election it was still expected to win despite a..




Reuters - Published





Ex-Namibian minister freed a day after arrest on graft charges

Namibia's former fisheries minister Bernhard Esau was released on Sunday after a High Court judge declared that the warrant for his arrest a day earlier on corruption charges was invalid.




Reuters - Published





Namibian court denies former fisheries minister bail in corruption case

A Namibian court denied the former Minister of Fisheries Bernhardt Esau bail on Sunday, following his arrest on Saturday alongside a former senior manager of investment firm Investec on charges of..




Reuters - Published





Namibia's former fisheries minister, ex-Investec manager arrested on corruption charges

Namibian police on Saturday arrested the former Minister of Fisheries Bernhardt Esau and a former senior manager of investment firm Investec on charges of corruption.




Reuters - Published





Two Namibian ministers quit in bribery scandal involving Icelandic fishing firm

Namibia's justice and fisheries ministers resigned on Wednesday over bribery claims involving Icelandic fishing firm Samherji, the presidency said.




Reuters - Published





Namibian president set for re-election next month amid economic crisis

Namibians will elect a president on Nov. 27, with Hage Geingob expected to be returned with a reduced margin as voters complain about the worst economic crisis since independence nearly 30 years ago.




Reuters - Published





German minister calls colonial-era killings in Namibia 'genocide'

A German minister has described the slaughter of Herero and Nama tribespeople in Namibia more than a century ago as genocide, one of the most senior government members to use the term while..




Reuters - Published