Manmohan Singh
13th Prime Minister of India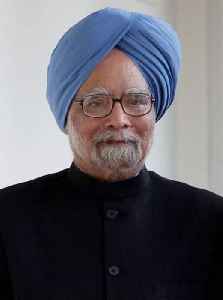 Manmohan Singh is an Indian economist and politician who served as the Prime Minister of India from 2004 to 2014. The first Sikh in office, Singh was also the first prime minister since Jawaharlal Nehru to be re-elected after completing a full five-year term.


PM Modi did what Manmohan Singh did not after 2008: Nirmala Sitharaman
"If you (Pakistan) are a victim of terrorism, why don't' you remove it? That's why Modi Ji did what Manmohan Singh Ji didn't do," said Sitharaman.
IndiaTimes - Published
Sonia, Manmohan party to decision to free Azhar: Amit Shah
BJP president Amit Shah has written in a blog that that that soon after the hijacking, then PM Atal Bihari Vajpayee had called an all-party meeting attended by the entire opposition in which Congress's..
IndiaTimes - Published
Trust between govt, business community eroded: Manmohan Singh
IndiaTimes - Published
'Manmohan was not as strong as Modi in dealing with terror', says Sheila Dikshit; later clarifies
IndiaTimes - Published
Manmohan Singh was not as strong as PM Modi on terrorism: Sheila Dikshit's shock admission
The remark is likely to cause discomfort for the Congress and present an opportunity for the BJP.
DNA - Published
Manmohan Singh won't fight Lok Sabha polls: Captain Amarinder Singh
IndiaTimes - Published
You Might Like