Manmohan Singh
Economist and 13th Prime Minister of India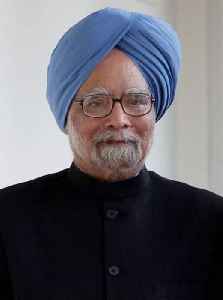 Manmohan Singh is an Indian economist and politician who served as the Prime Minister of India from 2004 to 2014. The first Sikh in office, Singh was also the first prime minister since Jawaharlal Nehru to be re-elected after completing a full five-year term.


Dr Manmohan Singh to walk to Rajya Sabha unopposed
BJP leaders says the party's top brass asked the state leadership not to field any candidate against Dr Manmohan Singh, a two-term PM
DNA - Published
BJP unlikely to field candidate against Manmohan in Rajasthan Rajya Sabha by-election
Bharatiya Janata Party (BJP) is unlikely to field its candidate against former Prime Minister Manmohan Singh in the by-election to the Rajya Sabha from Rajasthan.
DNA - Published
Manmohan Singh's association with his adopted home comes to an end
IndiaTimes - Published
Manmohan Singh files nomination for Rajya Sabha by-poll from Rajasthan
Chief Minister Ashok Gehlot and his deputy Sachin Pilot accompanied the former prime minister.
DNA - Published
Former Prime Minister Manmohan Singh files Rajya Sabha nomination from Rajasthan
Former prime minister Manmohan Singh on Tuesday filed nomination papers for the bypoll to Rajya Sabha from Rajasthan. Singh filed the nomination papers in the chamber of the returning officer in the..
IndiaTimes - Published
Voices from J&K must be heard, says Manmohan Singh in first remarks on Article 370
IndiaTimes - Published
Rahul had said 'no Gandhi', but Congress goes back to Sonia Gandhi
Sonia Gandhi on Saturday assumed presidency of Congress again. The proposal, moved by Ghulam Nabi Azad, P Chidambaram and Anand Sharma and endorsed by Manmohan Singh, to Sonia to return to the post she..
IndiaTimes - Published
CWC to be divided into 5 groups as Congress to discuss Rahul Gandhi's successor
Prominent leaders of the party, who are also the members of the CWC, including Sonia Gandhi, Dr Manmohan Singh, Rahul Gandhi and Priyanka Gandhi Vadra will be present in the meeting.
DNA - Published
You Might Like