Brazil
Largest country in South America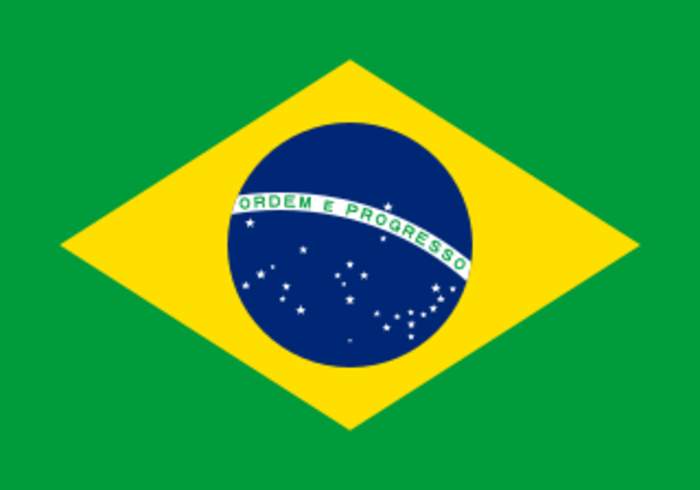 Brazil, officially the Federative Republic of Brazil, is the largest country in both South America and Latin America. At 8.5 million square kilometers and with over 211 million people, Brazil is the world's fifth-largest country by area and the sixth most populous. Its capital is Brasília, and its most populous city is São Paulo. The federation is composed of the union of the 26 states and the Federal District. It is the largest country to have Portuguese as an official language and the only one in the Americas; it is also one of the most multicultural and ethnically diverse nations, due to over a century of mass immigration from around the world; as well as the most populous Roman Catholic-majority country.


Brazil surpasses 250,000 COVID deaths, a year after first case

PLEASE EDIT
Credit: Al Jazeera STUDIO Duration: 01:56
Published
Brazil: 'Tsunami of trash' washes up on Rio de Janeiro shores

PLEASE EDIT
Credit: Al Jazeera STUDIO Duration: 01:49
Published
Meet Bolsonaro's unlikely indigenous ally

Irisnaide Silva is female, Brazilian, indigenous, and she's found an unlikely ally: Brazil's nationalist president Jair Bolsonaro, renowned for his eagerness to develop the Amazon rainforest. Francesca..
Credit: Reuters Studio Duration: 03:05
Published
Floods in Brazilian state submerges entire neighbourhoods

At least 120,000 people are affected by flooding and a state of emergency has been declared after heavy rain in Brazil's northwestern state of Acre.
Credit: Al Jazeera STUDIO Duration: 01:27
Published
Netflix releases new doc on soccer legend Pele

A new movie about Brazilian soccer great Pele is the latest in a series of documentaries in what has been described as a golden age of sports film.
Credit: Reuters Studio Duration: 01:26
Published
EU trade deal with South American countries 'suicide' without environmental clauses, says MEP

But Brazil's ambassador to the EU says the bloc would be missing out on a great opportunity if it failed to ratify the trade deal.
Credit: euronews (in English) Duration: 02:50
Published
COVID deaths in Brazil worsen plight of remote communities

The disappearance of the Juma is the latest tragedy in a catalogue of disease, deforestation, land theft and massacres.
Credit: Al Jazeera STUDIO Duration: 02:42
Published
President Bolsonaro relaxes gun laws in Brazil

Brazil's President Jair Bolsonaro has taken measures to make weapons available to more people.
Credit: Al Jazeera STUDIO Duration: 03:53
Published
Not found any South African or Brazilian COVID strain in Kerala: State Health Minister

Health Minister of Karnataka, Dr K Sudhakar on February 20 informed that so far, no new strain of South African or Brazilian strain of COVID-19 found in the state. He said, "On an average, 4000-5000..
Credit: ANI Duration: 01:31
Published
Guest in quarantine hotel tries to make dash for freedom

A British father-of-one is on hunger strike after attempting to break out of a quarantine hotel.Anthony Pium filmed himself trying to flee the Radisson Blu Edwardian hotel by Heathrow Airport only to..
Credit: Yahoo News Duration: 01:54
Published
Peruvian police use force to stop migrant caravan crossing

The group is fleeing from neighbouring Brazil where the COVID-19 pandemic has left many sick and without jobs.
Credit: Al Jazeera STUDIO Duration: 02:36
Published
Twitter introduces Voice Messages to DMs in three countries

American social network company Twitter has introduced voice messages to direct messages as a new feature for users in India, Brazil, and Japan. According to The Verge, the new feature allows users to..
Credit: ANI Duration: 01:37
Published
Foreign envoys of 24 nations arrive in JandK to assess ground situation

A batch of foreign envoys arrived in Srinagar on February 17. They have come for a two-day visit to the union territory of JandK to assess the on-ground situation. This is the third such visit since..
Credit: ANI Duration: 01:41
Published
Brazil's cancelled carnival: Street parties banned over COVID-19 concerns

From street parties to silence. How Brazilians are trying to fill the void, left by the cancellation of this year's carnival.
Credit: Al Jazeera STUDIO Duration: 02:47
Published
Here's what happened to 2M doses of hydroxychloroquine the US sent Brazil (August, 2020)

The US' donation of two million doses of hydroxychloroquine to Brazil - which still recommends the drug for Covid-19 despite studies showing it has no effect - has been mostly untouched since..
Credit: Bleacher Report AOL Duration: 03:23
Published
Rio de Janeiro's 'bate-bolas' stage small parade despite cancelled carnival

The world-famous Brazilian festival is not happening this year amid the pandemic, but some still dressed up in their exuberant, hand-made costumes for a symbolic celebration.
Credit: euronews (in English) Duration: 00:50
Published
Vendors lose big payday as Brazil cancels Carnival

Beyond disappointing revellers, the cancellation of Brazil's annual Carnival celebrations amid a resurgence of COVID-19 also means that street vendors living on the margins will miss out on what for..
Credit: Reuters Studio Duration: 01:54
Published
Brazil's generational challenge: Old and young conflicting struggles

While Rio de Janeiro may look youthful, it has the largest proportion of elderly and they are especially vulnerable to COVID.
Credit: Al Jazeera STUDIO Duration: 02:44
Published
Dancing without arms: Ballerina inspires Brazil

Born without arms, a 16-year-old Brazilian ballerina with over 150,000 Instagram followers wants others to know this: "We are much bigger than our disabilities." Gavino Garay reports.
Credit: Reuters Studio Duration: 01:29
Published
You Might Like



Covid-19: Bharat Biotech to supply 20 million doses of Covaxin to Brazil




IndiaTimes - Published





COVID-19: 18 states in India under scanner after UK, SA, Brazil strains rise

The news has come in the backdrop of Maharashtra and Kerala reporting an upsurge in COVID-19 cases




DNA - Published

Also reported by •IndiaTimes


Brazil to buy 20 million Covid-19 vaccines from India's Bharat Biotech

Brazil's health ministry on Thursday signed a contract to purchase 20 million doses of Covaxin, the Covid-19 vaccine made by India's Bharat Biotech, for delivery between March and May. The ministry..




IndiaTimes - Published





Two new variants of SARS-CoV-2 not reason for surge in cases in Maha, Kerala: Govt

"Both the N440K and E484K variants of SARS-CoV-2 have been detected in Maharashtra. Three other mutated strains- one each from UK, South Africa and Brazil are already present in the country. But..




IndiaTimes - Published





Evidence that cases of South Africa and Brazil variants falling in UK, Hancock says

The number of cases of South African and Brazilian COVID variants in the UK appears to be falling, the health secretary has told Sky News.




Sky News - Published





Fast Clube's Emerson Bacas nutmegs a player before scoring from his own half

Watch as Emerson Bacas of Fast Clube nutmegs a player before scoring from his own half as his side beat fellow Brazilian Amazonas state league side Iranduba 3-0.




BBC Sport - Published





Pointers on new COVID-19 guidelines for international passengers, details here

Fresh guidelines are applicable on all international travellers coming/transiting through flights originating from the UK, Brazil and South Africa.




DNA - Published





India's COVID-19 vaccines will be effective against new variants: ICMR

Stressing on the efficacy of indigenous COVID-19 vaccines, the Indian Council of Medical Research (ICMR) on Thursday said interim results of the ongoing clinical trials indicated that they would be..




DNA - Published





Covid-19: Can our vaccine fight new strains? India to test

The efficacy of the two Indian vaccines currently in use — Covishield and Covaxin — is likely to be tested against the Brazil and South Africa variants soon, scientists have said. The Indian..




IndiaTimes - Published





Fresh guidelines by Health Ministry for international travellers amid new COVID-19 variants scare

Different variants of COVID-19, including the UK, South Africa and Brazil variants have been causing new scare amongst the people.




DNA - Published





MOTDx: Reece James talks Fifa, footballing family and learning from Thiago Silva

Reece James talks to MOTDx's Abbie McCarthy about being one of Fifa 21's Future Stars, breaking through at Chelsea and the influence of Brazil defender Thiago Silva on his game.




BBC Sport - Published





South Africa, Brazil mutated Covid strains have reached India

The South African and Brazilian mutant strains of coronavirus have entered the country, apart from the UK variant reported in 187 people so far. Four persons were detected with the South Africa variant..




IndiaTimes - Published





RT-PCR test mandatory for passengers arriving from South Africa, Brazil




IndiaTimes - Published





India detects South African, Brazilian Covid variants




IndiaTimes - Published





South African COVID-19 strain, Brazil variant detected in India: Government

India has detected four cases of the South African strain of the COVID-19 virus and one case of the Brazilian variant.




DNA - Published





Isro to launch Brazil's Amazonia-1, 20 satellites on Feb 28; will be 1st full commercial mission of NSIL, IN-SPACe




IndiaTimes - Published





Burnley 0-2 Man City: Pep Guardiola has 'no doubts' over Gabriel Jesus

Pep Guardiola has "no doubts" about Gabriel Jesus' ability to lead Manchester City's attack - and the Brazilian might be proving his boss right.




BBC Sport - Published





Ineos Grenadiers want to race 'like Brazil' as Geraint Thomas leads Tour squad

Ineos Grenadiers will race "like Brazil" as Geraint Thomas goes for Tour de France victory, says team boss Sir Dave Brailsford.




BBC Sport - Published





New Formula 1 track plan for Rio abandoned over environmental concerns

Controversial plans to build a new Formula 1 circuit in the Brazilian city of Rio de Janeiro are abandoned.




BBC Sport - Published





Covid-19: India's active cases drop below 1.78 lakh, now just 1.60% of total caseload

"Active cases per million population is lowest in the world (128). Germany, Russia, Brazil, Italy, the UK and the USA have much higher cases per million population," it said. The ministry said India..




IndiaTimes - Published





Brazil's COVID crisis like 'medieval plague' as patients suffocate without oxygen

Conditions in the city of Manaus, deep in the Amazon rainforest where the Brazilian variant of COVID-19 is believed to have originated, are now so bad that people are suffocating in hospital beds..




Sky News - Published




India's 'Sanjeevani' COVID vaccine supply reaches Brazil, 7 countries in neighbourhood

Other than Brazil, Morocco got its contracted commercial supplies on Friday, becoming the first country to get the supplies.




DNA - Published





Brazilian Prez Bolsonaro invokes Ramayana, thanks India for Covid-19 vaccine supply

Brazil President Jair Bolsonaro on Friday thanked Prime Minister Narendra Modi by saying "dhanyavaad" for supplying the "sanjeevni booti" (the vaccine) against the coronavirus to the South American..




IndiaTimes - Published





Brazil President thanks India for 'Sanjeevni Booti' against Covid; PM Modi says will continue to partner on healthcare

Brazil President Jair Bolsonaro on Friday thanked Prime Minister Narendra Modi by saying "dhanyavaad" for supplying the "sanjeevni booti" (the vaccine) against the coronavirus to the South American..




IndiaTimes - Published





India sends 2 million doses of Covishield each to Brazil & Morocco




IndiaTimes - Published





Brazilian President Bolsonaro thanks PM Modi on Twitter with Hanuman image, here's why

On Hanuman Jayanti in 2020, Bolsonaro had written to PM Narendra Modi on COVID-19 crisis with references to the Ramayana.




DNA - Published





India begins Covid-19 vaccine exports to Brazil, Morocco

India will begin commercial shipments of Covid-19 vaccines to Brazil and Morocco today, followed by Saudi Arabia and South Africa, as Prime Minister Narendra Modi attempts to burnish his credentials as..




IndiaTimes - Published




India allows commercial export of COVID vaccines from Friday; first stop Brazil, Morocco

Brazil and Morocco will be the first two countries that are getting the commercial contracted supplies of 20 lakh doses each, of COVID-19 vaccines.




DNA - Published





Brazil, Morocco may need to wait more for desi jabs




IndiaTimes - Published





Trump scraps UK and Brazil COVID travel bans - but Biden will ignore it

Donald Trump has scrapped a travel ban on people from countries such as the UK and Brazil - but incoming president Joe Biden intends to ignore it.




Sky News - Published





First person in Brazil inoculated as two COVID-19 vaccines approved

A nurse has become the first person in Brazil to receive a coronavirus jab just hours after the country's health regulator approved two vaccines.




Sky News - Published





Second variant from Brazil 'likely' already in the UK, SAGE scientist says

The second of two new coronavirus variants from Brazil is likely to already be in the UK despite the government imposing a travel ban, a leading epidemiologist has warned.




Sky News - Published





SII to send 20 lakh doses of vaccine to Brazil in 2 weeks




IndiaTimes - Published





Champion golfer Ángel Cabrera 'arrested in Brazil' over alleged assault

Mr Cabrera faces extradition to Argentina where he is alleged to have committed domestic abuse.




BBC Sport - Published





Golfer Angel Cabrera arrested in Brazil for extradition, police say

South America's most successful golfer, Angel Cabrera, has been arrested in Brazil for extradition to his native Argentina to face charges over several alleged crimes.




Sky News - Published




One of two Brazilian coronavirus variants detected in UK, says virologist

One of two Brazilian coronavirus variants has been detected in the UK, a leading British virologist has said.




Sky News - Published





Brazil suffers oxygen tank shortage - but UK only aware of country's variant 'since Sunday'

A mass transfer of COVID-19 patients in the Amazon's biggest city is taking place amid a shortage of oxygen tanks, as the UK's transport secretary says Britain was only aware of a new variant..




Sky News - Published




Assessing availability, decision on Covid vaccines supply to other nations 'may take some time': MEA

"In so far as requests from countries for vaccines from India, you would recall that Prime Minister (Narendra Modi) has already stated that India's vaccine production and delivery capacity would be..




IndiaTimes - Published





Covid vaccine supply to Brazil to be postponed by few days, say sources




IndiaTimes - Published





Government to consider travel ban on Brazil due to concerns over new COVID variant

Senior ministers will consider a ban on travel to the UK from Brazil following concern over a new coronavirus strain in the South American country.




Sky News - Published





'We are concerned': UK 'taking steps' over COVID variant detected in Brazil

The UK is "taking steps" to keep out cases of a coronavirus variant discovered in Brazil, the prime minister has said.




Sky News - Published





Bharat Biotech inks pact to supply Covaxin to Brazil

Vaccine maker Bharat Biotech on Tuesday said it has inked an agreement with Brazil's Precisa Medicamentos for distribution of India's first indigenous Covid-19 vaccine Covaxin in the Brazilian..




IndiaTimes - Published





Brazil President Jair Bolsonaro writes to PM for 2m Covishield doses

With Covid cases in Brazil topping 8 million, its President Jair Bolsonaro wrote a letter to PM Modi this week asking for 2 million Covishield vaccines manufactured by Serum Institute. Brazil, he said,..




IndiaTimes - Published





Brazil's Bolsonaro asks India to expedite Covid vaccine shipment as delays loom

Brazilian President Jair Bolsonaro asked Prime Minister Narendra Modi to expedite a shipment of AstraZeneca's Covid-19 vaccine amid broader delays to the vaccine's arrival in Brazil, according to a..




IndiaTimes - Published





India readies to balance vaccine diplomacy with local demand

With the Covid vaccine rollout of scheduled for next week, the government is gearing to walk a delicate tightrope between vaccine diplomacy and prioritising Indian citizens. International partners like..




IndiaTimes - Published





Copa Libertadores highlights: River Plate 0-3 Palmeiras

Watch highlights as Brazilian side Palmeiras stun River Plate of Argentina with a 3-0 first-leg away victory in Buenos Aires in the semi-final of the Copa Libertadores.




BBC Sport - Published





Brazil dials India on Covid vaccine imports

India's vaccine diplomacy push might be impacted by confusing signals on the export of vaccines. On Monday, the Jair Bolsonaro government in Brazil dialled the Indian government after the chief of..




IndiaTimes - Published





Brazil private clinics seek deal for Indian Covid vaccine

A Brazilian association of private health clinics said Sunday it was negotiating with Indian pharmaceutical firm Bharat Biotech to buy five million doses of its Covid-19 vaccine, which India has just..




IndiaTimes - Published





Covid cases down 32% in November, but India still No. 2 globally

India reported nearly 12.8 lakh cases in November, second only to the US, where the pandemic surged to unprecedented levels with the country logging 44.8 lakh cases — the highest in any nation for..




IndiaTimes - Published





Will discuss with India Xi's offer of cooperation on vaccine: China

In his speech at the 12th Brics summit, Chinese President Xi Jinping on Tuesday said the Chinese companies are working with their Russian and Brazilian partners on Phase 3 clinical trials. "We are..




IndiaTimes - Published