HAL Tejas
Indian multirole light fighter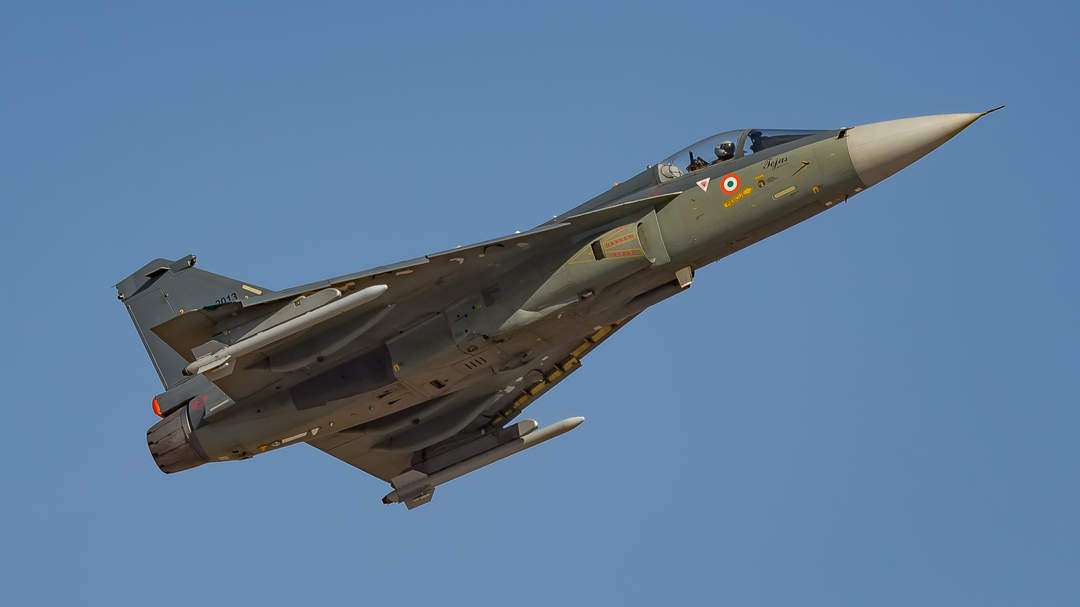 The HAL Tejas is an Indian single-engine, fourth-generation, multirole light fighter designed by the Aeronautical Development Agency (ADA) in collaboration with Aircraft Research and Design Centre (ARDC) of Hindustan Aeronautics Limited (HAL) for the Indian Air Force and Indian Navy. It came from the Light Combat Aircraft (LCA) programme, which began in the 1980s to replace India's ageing MiG-21 fighters. In 2003, the LCA was officially named "Tejas".


Watch: Tejas fires Python-5 Air-to-Air missile

India's indigenous Light Combat Aircraft, Tejas, has added the 5th generation Python-5 Air-to-Air Missile (AAM) to its weapons capability on April 27. Trials included firing of the Python-5 Air to Air..
Credit: ANI Duration: 01:01
Published
You Might Like



51% of new Tejas fighter jets to have indigenous Uttam radars, says DRDO chairman

Uttam is an AESA radar that is capable of tracking targets and taking hi-resolution pictures required for reconnaissance missions.




DNA - Published





Govt formally seals Rs 48,000 cr deal to procure 83 Tejas LCA from HAL

The government on Wednesday formally sealedthe Rs 48,000 crore deal to procure 83 Tejas light combat aircraft from state-run aerospace behemoth Hindustan Aeronautics Ltd. ​​​​The contract was..




IndiaTimes - Published





Can't remain dependent on other countries for India's defence: Rajnath Singh

Defence minister Rajnath Singh said on Tuesday India cannot remain dependent on other countries for its defence. Under the 'Aatmanirbhar Bharat Abhiyan India is looking forward to increase its defence..




IndiaTimes - Published





With nod for 83 LCAs worth RS 47k-cr, HAL readies 3rd plant

Buoyed by the recent Cabinet Committee on Security (CCS) approval for procurement of 83 Light Combat Aircraft (LCA) Tejas Mark-1A aircraft worth Rs 47,000 crore, Defence PSU Hindustan Aeronautics..




IndiaTimes - Published





Several countries have shown interest in procuring Tejas aircraft: HAL chairman Madhavan




IndiaTimes - Published





Made in India Tejas better than China-Pak's JF-17 fighter jet: IAF Chief

IAF Chief Bhadauria called it a big step for military aviation that would set up the entire ecosystem and give a boost to the indigenous industry.




DNA - Published




Ultimate objective is to win future conflicts with home-made weapons: CDS Gen Rawat on 83 Tejas jets order

The Cabinet Committee on Security approved the largest indigenous defence procurement deal worth Rs 48,000 cr to buy 83 LCA Tejas Mark1A fighter jets.




DNA - Published





Centre clears Rs 48,000 crore deal to buy 83 Tejas fighter jets for IAF

The deal would be a major boost for the IAF and help it to arrest the fall in the number of its fighter aircraft squadrons.




DNA - Published





Astra air combat missile to be soon tested from Tejas fighter




IndiaTimes - Published





Atmanirbhar Bharat: Indigenously built 5th generation fighter aircraft to be included in Air Force by 2029

HAL Tejas, Sukhoi-30 MKI, and Rafael, along with Navy's HAL, Naval Tejas, and MiG-29s in the Air Force, will be replaced this 5th generation indigenous fighter jet.




DNA - Published





LCA Tejas deployed on western front amid border tensions with China: Report

The first LCA Tejas squadron, 45 Squadron (Flying Daggers) based out of Sulur under the Southern Air Command, was deployed in an operational role there.




DNA - Published





Amid border tensions with China, indigenous fighter LCA Tejas deployed on western front

In a significant achievement for the indigenous fighter aircraft programme, the Indian Air Force (IAF) deployed the home-grown Light Combat Aircraft (LCA) Tejas on the western front along the Pakistan..




IndiaTimes - Published





IAF commissions second squadron of Tejas fighters with chief flying solo sortie

The IAF commissioned its second squadron of the indigenous Tejas light combat aircraft on Wednesday, even as the Rs 37,000 crore contract for production of 83 more such single-engine fighters by..




IndiaTimes - Published





IAF chief Bhadauria flies Tejas single-seater aircraft at Sulur airbase

Chief of Air Staff Air Chief Marshal R K S Bhadauria flew a Tejas single-seater light combat aircraft at the Sulur air force station on Wednesday. Officials said Air Chief Marshal Bhadauria, who worked..




IndiaTimes - Published





Tejas inducted into 18 Squadron by IAF, Air Chief Marshal RKS Bhadauria flies fighter

The first LCA-Tejas FOC standard aircraft also completed its contract flight test acceptance within 12 months of the standard of preparation release in February 2019.




DNA - Published





Defence Acquisition Council approves proposal for procurement of 83 indigenous Tejas aircraft for IAF

The proposal will now be placed for consideration of Cabinet Committee on Security (CCS).




DNA - Published





Defence ministry sends Rs 37,000 crore deal for 83 improved Tejas jets to CCS for final nod

The defence ministry on Wednesday paved the way for the procurement of 83 indigenous Tejas Mark-1A fighter jets for IAF from defence PSU Hindustan Aeronautics Ltd at a cost of over Rs 37,000 crore by..




IndiaTimes - Published





Naval version of Tejas successfully takes off from aircraft carrier in major feat

The naval version of the indigenously-built Tejas light combat aircraft on Sunday successfully took off from the "ski-jump" deck of the aircraft carrier INS Vikramaditya in a big leap in overall..




IndiaTimes - Published




Indian Navy's LCA Tejas successfully launched with four missiles

The supersonic combat aircraft was carrying two Beyond Visual Range Air-to-Air Missiles (BVRAAAM) and two Close Combat Missiles (CCM).




DNA - Published





Malaysia likely to test India's Tejas LCA for its defence acquisition programme

Malaysia will invite bids from international defence majors in early 2020 for the acquisition of up to 36 aircraft for its Royal Air Force.




DNA - Published





Indian Air Force all set to acquire 83 Tejas LCA, deal to be signed with HAL soon: Sources

In December 2017, the IAF had issued a single-vendor tender to the HAL for acquiring 83 LCA.




DNA - Published





IAF strongly pitches for desi fighters, from Tejas to 5 generation jets

In a strong push for indigenisation, the IAF has put its full weight behind the development of a home-grown fifth-generation fighter aircraft (FGFA) as well as shown its readiness to go in for 200..




IndiaTimes - Published





Rajnath Singh flies in Tejas fighter jet, becomes first defence minister to fly in light combat aircraft

Defence minister Rajnath Singh on Thursday flew in the Tejas fighter aircraft from the HAL airport in Bengaluru, becoming the first defence minister to fly in the indigenously-built light combat..




IndiaTimes - Published





Defence Minister Rajnath Singh to fly indigenous Tejas aircraft

Tejas, designed and developed by the Hindustan Aeronautics Limited and Aeronautical Development Agency, is India's home-grown single-engine multirole light fighter to replace the Mikoyan-Gurevich..




DNA - Published

Also reported by •IndiaTimes


It was 'textbook landing': DRDO sources on naval LCA Tejas testing




IndiaTimes - Published





Tejas successfully performs critical test for naval deployment

India's indigenously developed Light Combat Aircraft (LCA) Tejas on Friday successfully carried out an "arrested landing" in Goa, a major milestone in the development of the naval variant of the jet...




IndiaTimes - Published





Fuel tank of Tejas aircraft falls in agriculture field in Tamil Nadu

Defence sources in Chennai confirmed that a fuel tank from Tejas aircraft fell and said "all (was) safe", indicating that there were no injuries.




DNA - Published





Tejas on sortie drops fuel tank on Tamil Nadu field

Since 2001, the Tejas has flown more than 4,500 sorties during various tests and has had a clean slate so far as accidents go. Apart from these 4,500 sorties, the Indian Air Force (IAF) too has flown..




IndiaTimes - Published