HAL Tejas
Indian multirole light fighter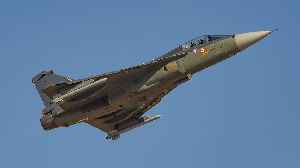 The Tejas is an Indian single-engine, delta wing, multirole light fighter designed by the Aeronautical Development Agency (ADA) and Hindustan Aeronautics Limited (HAL) for the Indian Air Force and Indian Navy. It came from the Light Combat Aircraft (LCA) programme, which began in the 1980s to replace India's ageing MiG-21 fighters. In 2003, the LCA was officially named "Tejas".


IAF strongly pitches for desi fighters, from Tejas to 5 generation jets
In a strong push for indigenisation, the IAF has put its full weight behind the development of a home-grown fifth-generation fighter aircraft (FGFA) as well as shown its readiness to go in for 200..
IndiaTimes - Published
Rajnath Singh flies in Tejas fighter jet, becomes first defence minister to fly in light combat aircraft
Defence minister Rajnath Singh on Thursday flew in the Tejas fighter aircraft from the HAL airport in Bengaluru, becoming the first defence minister to fly in the indigenously-built light combat..
IndiaTimes - Published
Defence Minister Rajnath Singh to fly indigenous Tejas aircraft
Tejas, designed and developed by the Hindustan Aeronautics Limited and Aeronautical Development Agency, is India's home-grown single-engine multirole light fighter to replace the Mikoyan-Gurevich..
DNA - Published
Also reported by •IndiaTimes
It was 'textbook landing': DRDO sources on naval LCA Tejas testing
IndiaTimes - Published
Tejas successfully performs critical test for naval deployment
India's indigenously developed Light Combat Aircraft (LCA) Tejas on Friday successfully carried out an "arrested landing" in Goa, a major milestone in the development of the naval variant of the jet...
IndiaTimes - Published
Fuel tank of Tejas aircraft falls in agriculture field in Tamil Nadu
Defence sources in Chennai confirmed that a fuel tank from Tejas aircraft fell and said "all (was) safe", indicating that there were no injuries.
DNA - Published
Tejas on sortie drops fuel tank on Tamil Nadu field
Since 2001, the Tejas has flown more than 4,500 sorties during various tests and has had a clean slate so far as accidents go. Apart from these 4,500 sorties, the Indian Air Force (IAF) too has flown..
IndiaTimes - Published
Rafale will be a "game-changer", says Air Chief Marshal BS Dhanoa
Talking about the strength and the modernization of the IAF fleets, Dhanoa asserted that the Sukhoi-M30, Tejas and Rafale will soon arrive to replace the older aircraft which are in need of an upgrade
DNA - Published
India eyes sale of Tejas to Malaysia
In a high stakes sales pitch, two Tejas fighter jets have arrived here with a team of 50, and are ready to demonstrate the LCA's maneuverability and handling, along with aerobatics, in Langkawi, at..
IndiaTimes - Published
You Might Like