Chennai
Capital of and megacity in Tamil Nadu, India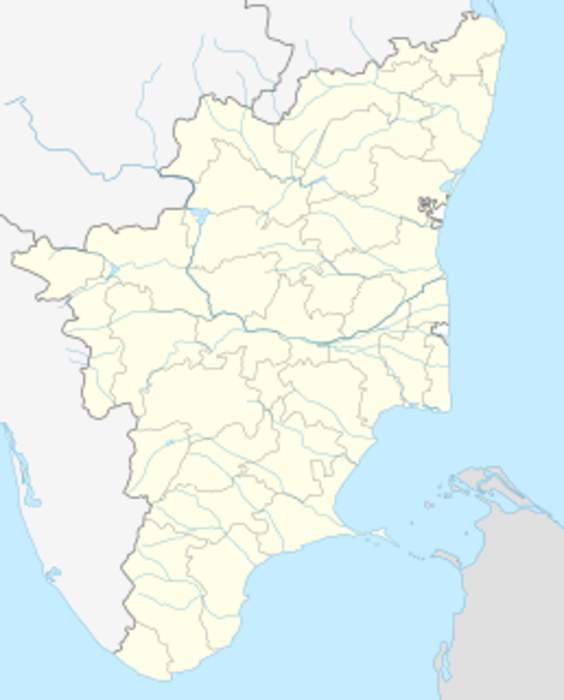 Chennai, also known as Madras, is the capital city of the Indian state of Tamil Nadu. The state's largest city in area and population as well, Chennai is located on the Coromandel Coast of the Bay of Bengal, and is the most prominent cultural, economic and educational centre of South India.


TANCET result 2022 declared today: Know how to download the scorecard | Oneindia News *news

Today, Anna University, Chennai announced the result of Tamil Nadu Common Entrance Test (TANCET) 2022. #AnnaUniversity #TANCET # TANCET2022
Credit: Oneindia Duration: 01:23
Published
Former Gujarat Congress leader Hardik Patel may join BJP on June 2, say sources | Oneindia News

According to sources, Hardik Patel will join the BJP on Thursday; Sameer Wankhede has been transferred to the Directorate General of Taxpayers Services in Chennai; Yesterday, the opposition in Punjab..
Credit: Oneindia Duration: 02:07
Published
PM Modi reaches Chennai to warm welcome, will launch ₹31,000cr worth infra projects | Oneindia News

Prime Minister Narendra Modi arrived in Chennai today to lay the foundation stone for 11 projects; Supreme Court recognises sexwork as a 'profession'; West Bengal governmentt makes CM Mamata..
Credit: Oneindia Duration: 02:13
Published
Tamil Nadu BJP leader killed by unidentified assailants in Chennai's Chintadripet | Oneindia News

Yesterday, Tamil Nadu BJP Central District Chairman of the SC/ST wing, Balachandran, was hacked to death by three unidentified assailants in Chintadripet. #Chintadripet #Chennai #Balachandran
Credit: Oneindia Duration: 01:05
Published
Rajiv Gandhi assassination convict Perarivalan and his mother meet CM MK Stalin | Oneindia News

One of the seven convicts in former Prime Minister Rajiv Gandhi's assassination case AG Perarivalan and his mother Arputhammal met Tamil Nadu Chief Minister MK Stalin in Chennai. #MKStalin..
Credit: Oneindia Duration: 01:43
Published
Chennai: US-returned couple murdered by domestic help; ₹ 5 crore jewellery recovered | Oneindia News

A couple in Chennai who returned from the United States just yesterday has been murdered by a domestic helper who stayed with them. Police have recovered ₹ 5 crore worth of jewellery including 9 kg..
Credit: Oneindia Duration: 01:22
Published
Chennai Dalit youth killed in police custody, CCTV footage goes viral |Oneindia News

CCTV footage of a Dalit youth beaten to death in police custody in Chennai has gone viral on social media. #Chennai #Dalit #CCTV
Credit: Oneindia Duration: 01:37
Published
You Might Like



Chennai, Delhi new entries in QS' favourite student-cities list

Globally, London, Seoul and Munich are the top three favourite destinations for international students, while Boston university of the US has been edged out of the Top 10.




IndiaTimes - Published





Chennai: Woman dies after tree falls on her car while driving

Chennai: The 57-year-old woman was returning from her office when the incident took place, police said.




DNA - Published





Rajiv Gandhi assassination case: Madras high court refuses to order release of Nalini, Ravichandran

The Madras high court on Friday refused to direct the Tamil Nadu government to release Rajiv Gandhi assassination case life convicts S Nalini and Ravichandran without waiting for the assent of the..




IndiaTimes - Published





After flak for Aryan case, Wankhede transferred to Tamil Nadu

Sameer Wankhede, the officer who probed the narcotics-related cases against Rhea Chakraborty and Aryan Khan, has been transferred to the Directorate General of Tax Payer Services (DGTS), Chennai as..




IndiaTimes - Published





Sameer Wankhede transferred from DRI to DG Taxpayer Service Directorate in Chennai

Indian Revenue Service officer Sameer Wankhede, who headed the Narcotics Control Bureau in Mumbai when the NCB arrested several persons, including superstar Shah Rukh Khan's son Aryan in the..




IndiaTimes - Published





NCB's Aryan Khan case probe lead Sameer Wankhede transferred to Chennai

The transfer comes after recent reports that action would be taken against Wankhede for conducting a "shoddy investigation" in Mumbai drugs case.




DNA - Published





Chennai: IMD predicts thunderstorms, light to moderate rain in next 48 hours

The IMD has predicted high temperatures and rainfalls as the convergence of winds will result in convection for the next 48 hours.




DNA - Published





Tamil culture is global, its language eternal: PM Modi in Chennai




IndiaTimes - Published





Tamil Nadu: BJP minority wing leader Balachandran hacked to death in Chennai

The murder of Balachandran has raised serious issues of law and order in Chennai as a small-time financier was hacked to death publicly




DNA - Published





Chennai techie dies due to excess 'consumption of alcohol' at illegal rave party at mall

Chennai rave party: The police have launched a probe to ascertain if any harmful substance other than liquor was served to the participants




DNA - Published





'Bribe for visas': CBI arrests Karti Chidambaram's close aide

The Central Bureau of Investigation (CBI) on Wednesday arrested a close associate of Congress leader Karti P Chidambaram in the ongoing visa corruption case. The arrest comes a day after CBI teams..




IndiaTimes - Published





CBI raids Karti Chidambaram, books him in 2011 'Chinese visa' case

The case goes back to 2011 when visas were issued within a month of the application being made and were beyond the permissible limit. In a statement, the CBI alleged that the application was made..




IndiaTimes - Published





CBI raids Congress leader Chidambaram's properties in Delhi and Chennai




IndiaTimes - Published





Cyclone Asani updates: 23 flights cancelled in Visakhapatnam, 10 in Chennai

Director Srinivas of the Visakhapatnam International Airport said that IndiGo has cancelled 23 flights due to poor weather.




DNA - Published





Cyclone Asani: 10 flights cancelled due to heavy rains in Chennai, check details

The IMD has forecasted thunderstorms with light to moderate rains at Tiruppur, Coimbatore, Chennai, Puducherry, & other northern parts of Tamil Nadu.




DNA - Published





Chennai couple who just returned from US murdered by domestic help, accused held

The police have arrested the accused in the case and recovered Rs 5 crore worth of jewellery including nine kilograms of gold looted from the couple.




DNA - Published





Covid cut average Chennai life expectancy by 4 years




IndiaTimes - Published





India's R value rises above 1 for first time in 3 months

India's effective reproduction number (R) for Covid, an indicator of how quickly the infection is spreading, has increased to over one for the first time since January, estimates a researcher from..




IndiaTimes - Published




Covid 4th wave: India's R-value crosses 1 for first time in 3 months, says researcher

Estimated R-value in the week ending April 18 is 2.12 for Delhi, 2.12 for UP, 1.04 for Karnataka, 1.70 for Haryana, 1.13 for Mumbai, 1.18 for Chennai.




DNA - Published

Also reported by •IndiaTimes


Petrol, diesel prices increase by 80 paise again - Check out updated rates in Delhi, Mumbai, Chennai, Kolkata

Rates have been increased across the country and vary from state to state depending upon the incidence of local taxation.




DNA - Published





School van runs over class 2 student in Chennai

Identified as Deekshith, the boy was a student of Sree Venkateshwara Matriculation School, Alwartirunagar, Chennai.




DNA - Published





Chennai man arrested for sexually assaulting women, lured victims on Instagram

Mohamed Sayed misled a woman by promising to marry her, according to a woman who filed a complaint in the Kilpauk police station.




DNA - Published




Heavy rain, strong winds in Andamans due to Cyclone Asani

People living in coastal areas of Andaman & Nicobar Islands were evacuated to safety as the archipelago experienced heavy rain and strong winds due to Cyclone Asani on Sunday, officials said...




IndiaTimes - Published





Air travel is set to get more expensive as jet fuel price rise continues

In other metro cities of Kolkata, Mumbai and Chennai, price was increased to Rs 94,888.70, Rs 88,987.20 and Rs 93,371.18 per kilolitre, respectively.




DNA - Published





Chennai: Unidentified person throws petrol bomb at BJP office in Tamil Nadu

According to the police, on Wednesday midnight, persons riding a two-wheeler had thrown petrol bombs at the BJP headquarters.




DNA - Published





Tamil Nadu Rainfall: Red alert issued in 4 districts, 3 dead from electrocution

As rainfall floods houses in Chennai, people are seen placing sandbags outside their house trying to stop rainwater from entering their house




DNA - Published





They help make iPhones, but here's where they stayed: Inside Foxconn Chennai offsite dorm room

As per an Apple spokesperson, the tech giant dispatched independent auditors to undertake additional detailed assessments following recent concerns.




DNA - Published





PhD scholar, boyfriend kill stalker on busy Chennai road




IndiaTimes - Published





Three killed as heavy rains lash Chennai, bring traffic to a halt




IndiaTimes - Published





Sudden heavy downpour in Tamil Nadu leaves 3 dead, red alert issued in Chennai

Unprecedented and heavy rains in Tamil Nadu have left the state at a standstill, with multiple casualties and a red alert in four districts.




DNA - Published





India's Omicron tally nears 1000; COVID-19 surge recorded in Mumbai, Bengaluru, Chennai

The total number of Omicron cases in India is nearing 1000, as per the latest statement of the Union Health Ministry.




DNA - Published





Meet Aarti Chandak, wife of ex-cricketer Dinesh Mongia who joined BJP recently

Dinesh Mongia married 23-year-old Aarti Chandak in April 23, 2003, a year after they met at a multi-gym in Chennai and befriended each other.




DNA - Published





Amid Omicron surge, Chennai imposes curbs for New Year's eve - Know what's closed

The Chennai Police have imposed curbs on resorts, farmhouses, clubs and party venues from conducting commercial celebratory events.




DNA - Published





Omicron scare: Tamil Nadu reports 33 new cases taking tally to 34

The state health minister said that of the 33 new cases, 26 are from Chennai.




DNA - Published





ICMR's new rapid tests set to be cheaper, give results in 30 mins

A soon-to-be-introduced and visually interpreted rapid Covid test - developed by the Indian Council of Medical Research-National Institute of Virology and transferred to Chennai and Delhi-based..




IndiaTimes - Published





Video: MP refuses to walk on rainwater, users chairs to reach car - watch

The said clip is understood to be from the MP's residence in Chennai's Velachery, a rainwater inundation and flood-prone locality.




DNA - Published





TN govt asks IIT-Madras to play Tamil Thai Vazhthu song at all its functions




IndiaTimes - Published





Seven Afghan cadets trained at Chennai's Officers training academy to leave for Delhi tomorrow




IndiaTimes - Published





Heavy rains to lash Tamil Nadu, Andhra Pradesh, Puducherry, flash flood warnings issued

The depression is very likely to continue to move, and cross north Tamil Nadu and south Andhra Pradesh coasts between Puducherry and Chennai on Friday




DNA - Published





Heavy rain alert: Chennai, adjoining districts likely to witness downpour, says IMD

Extremely heavy rainfalls are predicted over Tamil Nadu, Puducherry, Karaikal and Rayalaseema.




DNA - Published





IMD issues red alert for Chennai, adjoining districts as Tamil Nadu prepares for extremely heavy rains today

Weathermen said that rains could lash isolated areas in Chennai and adjoining districts and 20mm rainfall is expected till Thursday night.




DNA - Published





IMD issues 'red alert' in Chennai, nearby districts as heavy rains continue in Tamil Nadu

Tamil Nadu will continue to receive extremely heavy rainfall for the next few days as IMD issues a red alert in Chennai and nearby districts.




DNA - Published





Heavy rains to hit Tamil Nadu, Andhra Pradesh, Karnataka, others: IMD

Even after there was a respite of heavy rains for the past two days, Chennai and the adjoining districts remain inundated.




DNA - Published





Tamil Nadu receives an excess of 142% rainfall between November 7 to 12: IMD

Chennai and its suburbs may get light to moderate rain for the next two days. Heavy rains are likely in Kanchipuram, Tiruvallur & Chengalpet on Sunday




DNA - Published





Tamil Nadu rains: 14 die, trees uprooted in rain-related incidents, NDRF teams deployed

NDRF said on Thursday that due to heavy rainfall, the waterlogging situation has been created at some places of the capital city of Chennai.




DNA - Published





Tamil Nadu rains: Chennai airport suspends arrivals till 6 pm amid heavy rainfall

The arrivals would be suspended from 1:15 pm till 6 pm, however, the departures would continue at the Chennai airport.




DNA - Published





Tamil Nadu rains: Red ALERT in 20 districts as IMD predicts heavy showers for today, flights cancelled from Chennai

This depression is very likely to move west-northwestwards and reach near the north Tamil Nadu coast by the early morning on Thursday.




DNA - Published





Chennai rains, inundation: Annual affair for many, grim reminder of 2015 floods for some

Rain-fed inundation in Chennai city and adjoining districts had disrupted public life severely over the last few days.




DNA - Published





Chennai prepares for more rainfall as residents struggle to cope with flooding

We're standing in the bedroom of a house, knee-deep in filthy floodwater.




Sky News - Published




Tamil Nadu Rains: IMD predicts heavy rainfall in several parts, schools shut in nine districts

The Tamil Nadu government has declared a holiday for schools and colleges in Chennai and eight other districts on November 10 and 11.




DNA - Published