Auckland
Metropolitan area in North Island, New Zealand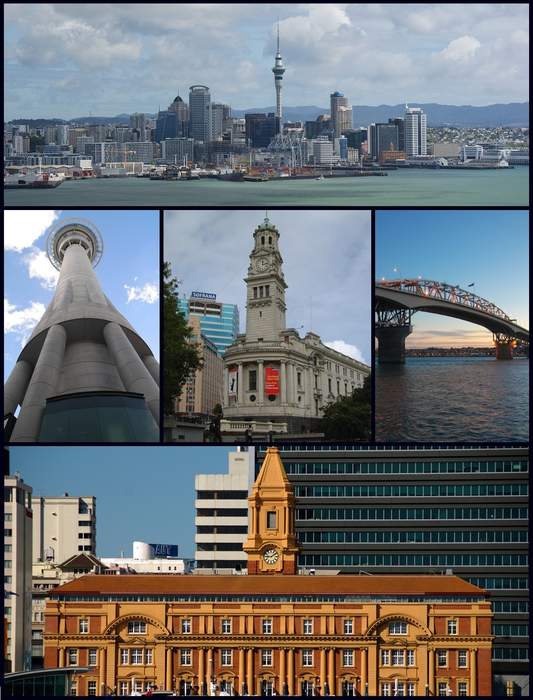 Auckland is a large metropolitan city in the North Island of New Zealand. The most populous urban area in the country, Auckland has an urban population of about 1,470,100. It is located in the Auckland Region—the area governed by Auckland Council—which includes outlying rural areas and the islands of the Hauraki Gulf, and which has a total population of 1,717,500. While Europeans continue to make up the plurality of Auckland's population, the city became multicultural and cosmopolitan in the late-20th century, with Asians accounting for 31% of the city's population in 2018. Auckland is also home to the largest Polynesian population in the world. The Māori-language name for Auckland is Tāmaki Makaurau, meaning "Tāmaki desired by many", in reference to the desirability of its natural resources and geography.


Watch these rescued sea turtles go back home to the ocean

Two injured sea turtles were released back into the ocean after being rehabilitated at an aquarium in Auckland, New Zealand.
Credit: USA Today News (International) Duration: 00:35
Published
New Zealand city emerges from weeklong lockdown

Auckland, New Zealand's biggest city, emerged on Sunday from a strict weeklong lockdown imposed after a community cluster of the more contagious UK coronavirus variant. Bryan Wood reports.
Credit: Reuters Studio Duration: 01:12
Published
First weekend of America's Cup racing postponed due to COVID

First weekend of America's Cup racing between Team New Zealand and Italy's Luna Rossa postponed due to COVID-19 lockdown in Auckland, organisers said Sunday
Credit: Reuters - Sports Duration: 00:52
Published
Luna Rossa lead 5-1 over INEOS Team UK

RESENDING WITH COMPLETE SCRIPT VIDEO SHOWS: LUNA ROSSA AND INEOS TEAM UK WINNING ONE RACE EACH SHOWS: AUCKLAND, NEW ZEALAND (FEBRUARY 20, 2021) (AMERICA'S CUP - SEE RESTRICTIONS BEFORE USE) 1. AERIAL
Credit: Reuters - Sports Duration: 03:27
Published
You Might Like



Auckland faces seven-day lockdown after COVID case detected

New Zealand's prime minister has announced the country's biggest city, Auckland, will go into a seven-day lockdown after a COVID-19 case was detected.




Sky News - Published




NZ man with coronavirus attended packed rock concert in Auckland, health authorities say

A person in New Zealand confirmed to have been infected was revealed on Friday to have attended a rock concert packed with thousands of other people.




Reuters - Published





Coronavirus evacuee plane from Wuhan arrives in New Zealand

A plane load of New Zealanders, Australians and Pacific Islanders evacuated from China's Wuhan city arrived in New Zealand's Auckland on Wednesday, where they will be quarantined to prevent the spread..




Reuters - Published





Flight carrying New Zealanders, Australians leaves virus-hit Wuhan

A flight carrying New Zealanders, Australians and citizens of smaller Pacific countries who were evacuated from the Chinese city of Wuhan is expected to arrive in Auckland later on Wednesday,..




Reuters - Published





Australia's bushfires turn neighboring New Zealand's skies bright orange

Smoke from raging bushfires in Australia blanketed parts of neighboring New Zealand on Sunday, turning the sky over Auckland a bright orange.




Reuters - Published





New Zealand volcano eruption death toll rises to 17 after another person dies

New Zealand police said on Monday that one of those injured during the eruption of a volcano visited by tourists earlier this month died in an Auckland hospital, bringing the official death toll to 17..




Reuters - Published




New Zealand Auckland convention centre blaze under control: SkyCity

A massive fire that ripped through a convention centre under construction in Auckland has been brought under control after nearly two days, owner SkyCity Entertainment Group said on Thursday.




Reuters - Published





New Zealand PM Ardern says country will host APEC despite fire damage to convention center

New Zealand's Prime Minister Jacinda Ardern said on Wednesday that Auckland would still host a major regional conference in 2021 despite a fire ripping through the complex where the event would have..




Reuters - Published





Fire still burning at New Zealand convention center, APEC hosting in doubt

A massive fire at a convention center under construction at a casino complex in Auckland was still spewing thick smoke across New Zealand's largest city on Wednesday, forcing road closures and keeping..




Reuters - Published




New Zealand firefighters battle into the night to control massive blaze

A massive fire at an under-construction convention center in Auckland on Tuesday caused no casualties, according to emergency services, but the smoke billowing across New Zealand's largest city..




Reuters - Published





New Zealand battles to control massive blaze at convention center

Emergency services in New Zealand were battling a massive blaze on the roof of an under construction convention center in Auckland on Tuesday, but there were no reports of injuries and the owner of the..




Reuters - Published




Fire erupts at convention center being built in New Zealand

New Zealand fire services on Tuesday were battling a massive blaze on the roof of a convention center under construction in the city of Auckland, considered to be the country's biggest current building..




Reuters - Published




Tongan Prime Minister Pohiva, 78, dies in New Zealand

Tongan Prime Minister 'Akilisi Pohiva, who was being treated for pneumonia at a hospital in Auckland, has died, New Zealand media said on Thursday.




Reuters - Published





In New Zealand, young Māori women lead the battle for indigenous rights

Five years ago, law graduate Pania Newton and her cousins got together around a kitchen table and agreed to do everything in their power to prevent a housing development on a south Auckland site..




Reuters - Published