Jason Sudeikis
American actor and comedian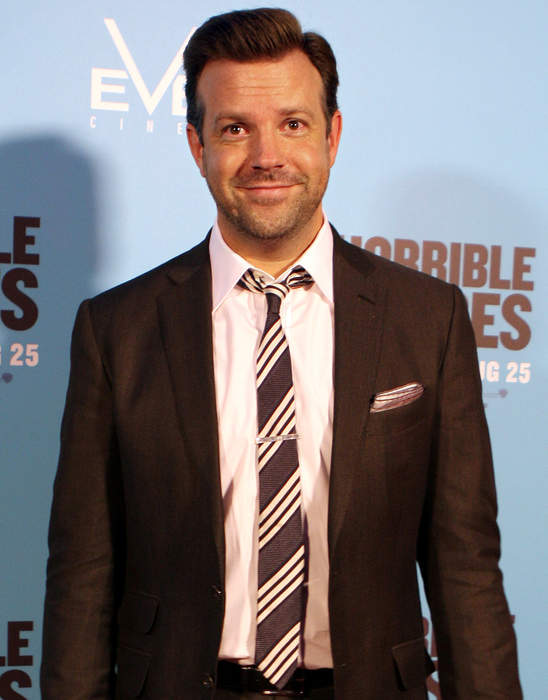 Daniel Jason Sudeikis is an American actor, comedian, producer and writer. In the 1990s, he began his career in improv comedy and performed with ComedySportz, iO Chicago, and The Second City. In 2003, Sudeikis was hired as a writer for Saturday Night Live and starred as a cast member from 2005 to 2013, playing Mitt Romney, among others.


Jason Sudeikis zings 'SNL' boss Lorne Michaels in Emmys speech

"Ted Lasso" captured four Emmys and Jason Sudeikis won his first career Emmy for his starring role in the show. During an awkward moment in his speech, Sudeikis attempted to thank his former boss,..
Credit: Bleacher Report AOL Duration: 01:50
Published
You Might Like
Jason Sudeikis, Kate Winslet Celebrate Emmy Win at After-Parties
Jason Sudeikis and Kate Winslet know the only one way to celebrate bringing home a shiny, wing-woman trophy is to hit up the after-parties ... with that Emmy in hand, of course. Jason and Kate were..
TMZ.com - Published
Jason Sudeikis -- Good Genes or Good Docs?!
Jason Sudeikis' good looks aren't a laughing matter! Here's the 31-year-old version of the hilarious comedian dressed to impress at a party he hosted with "Saturday Night Live" alum Seth Meyers in New..
TMZ.com - Published
Countdown to the Oscars! How to watch, which celebs will be there, who's up for what - here's all you need to know
It's Hollywood's biggest night of the year, and while pandemic restrictions have seen some celebs showing up on their laptops for other ceremonies in slightly more casual attire than they perhaps would..
Sky News - Published
Olivia Wilde Not Living With Ex Jason Sudeikis, Despite Her Own Claims
Olivia Wilde is NOT living under the same roof as her ex Jason Sudeikis, despite her own words to a judge ... TMZ has learned. Here's the deal ... Olivia got a judge to grant her and Jason a temporary..
TMZ.com - Published
Olivia Wilde and Jason Sudeikis Get Protection From Alleged Stalker
Olivia Wilde and Jason Sudeikis are getting protection from a man she claims keeps showing up at her home, imagining he's her boyfriend, and venting his frustration over Harry Styles. Olivia's lawyer,..
TMZ.com - Published
Olivia Wilde and Jason Sudeikis Split, End 7-Year Engagement
Olivia Wilde and Jason Sudeikis are no longer an item ... the couple's reportedly called it quits after a lengthy engagement, during which they started a family. The actors secretly ended things at the..
TMZ.com - Published
Celebrities With NBA Mascots -- Shoot Your Shot!
With fans out of the stands for this season, these stars have been stuck watching the games from home ... Which means we've been missing out on some key NBA famous fan photos! In the past stars such as..
TMZ.com - Published
MOVIE REVIEW: The Angry Birds Movie 2
by Graham Pierrepoint - THE ANGRY BIRDS MOVIE 2 IMDb Dir: Thurop Van Orman Starring Jason Sudeikis, Josh Gad, Leslie Jones, Bill Hader, Awkwafina, Sterling K Brown, Eugenio Derbez, Danny McBride,..
One News Page Staff - Published