Ferrari
Italian sports car manufacturer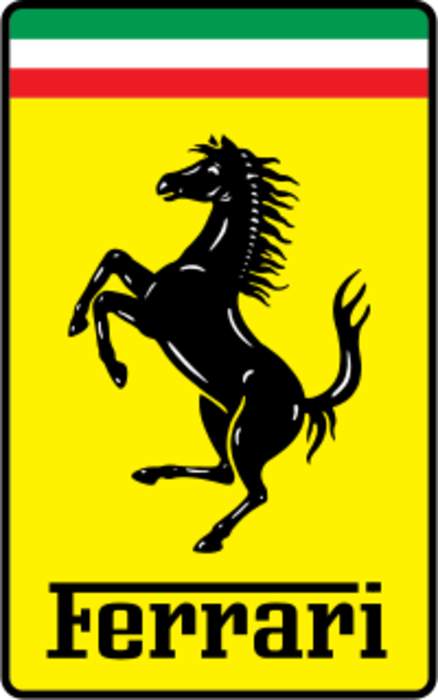 Ferrari S.p.A. is an Italian luxury sports car manufacturer based in Maranello, Italy. Founded by Enzo Ferrari in 1939 out of the Alfa Romeo race division as Auto Avio Costruzioni, the company built its first car in 1940, and produced its first Ferrari-badged car in 1947.


You Might Like
Formula 1: Ferrari launch new SF21 car
Ferrari have unveiled the car they hope will revive their fortunes after slumping to their worst season in 40 years last year.
BBC Sport - Published
Charles Leclerc says Ferrari have made 'quite a good step' with new car
Ferrari driver Charles Leclerc says the team have made "quite a good step" with their 2021 car, although it is too early to say how well they can perform.
BBC Sport - Published
Ferrari: Maya Weug becomes team's first female academy driver
Dutch racer Maya Weung becomes the first female to be made a member of the Ferrari driver academy.
BBC Sport - Published
'We could have been dead easily': Rapper shares images of horror Ferrari crash
Rapper and producer Mike Will Made-It has said he and fellow US musician Swae Lee are lucky to be alive after a car crash, sharing images of a crushed Ferrari on social media.
Sky News - Published
Adam Levine Takes Ferrari Victory Lap After Raising $750k for Charity
Adam Levine and Behati Prinsloo are celebrating a partnership with Ferrari that raised 6-figures for Save the Children, and raised Adam's heart rate with a thrilling test-drive. The Maroon 5 frontman..
TMZ.com - Published
Eddie Van Halen's Custom Ferrari 550 Expected to Fetch Big Bucks
Eddie Van Halen loved living life in the fast lane, and now you can too ... his custom Ferrari race car is going up for grabs soon, but ya gotta have deep pockets. The iconic guitarist used to race his..
TMZ.com - Published
DeAndre Hopkins Accused Of Flipping Off Trump Caravan In Arizona
NFL superstar DeAndre Hopkins is accused of swerving in and out of a Trump caravan in his Ferrari before his game in Arizona on Sunday ... all while shooting POTUS supporters 2 middle fingers. People..
TMZ.com - Published
Diddy's Son King Combs Injured in Wild Ferrari vs. Tesla Crash
Diddy's son, King Combs, got smoked in his Ferrari by a Tesla, and though both drivers were okay, the guy in the Tesla got taken away in cuffs. King was involved in a car accident a little after..
TMZ.com - Published
MOVIE REVIEW: Ford v Ferrari (Le Mans '66)
by Graham Pierrepoint - FORD V FERRARI (LE MANS '66) IMDb Dir: James Mangold Starring Matt Damon, Christian Bale, Jon Bernthal, Caitriona Balfe, Noah Jupe, Tracy Letts, Ray McKinnon, Josh..
One News Page Staff - Published
Girl drives to 'diksha' in Sachin Tendulkar's red Ferrari
It was her wish to drive in the legendary cricketer's car while taking renunciation which finally came true on Monday
DNA - Published
2019 was a race between Ferrari and Cycle: Akhilesh Yadav
"We have lost the elections, but even today I challenge our adversaries to compare their development record with the Samajwadi development. They will not stand a chance. They have not won the election..
DNA - Published