Dak Prescott
American football player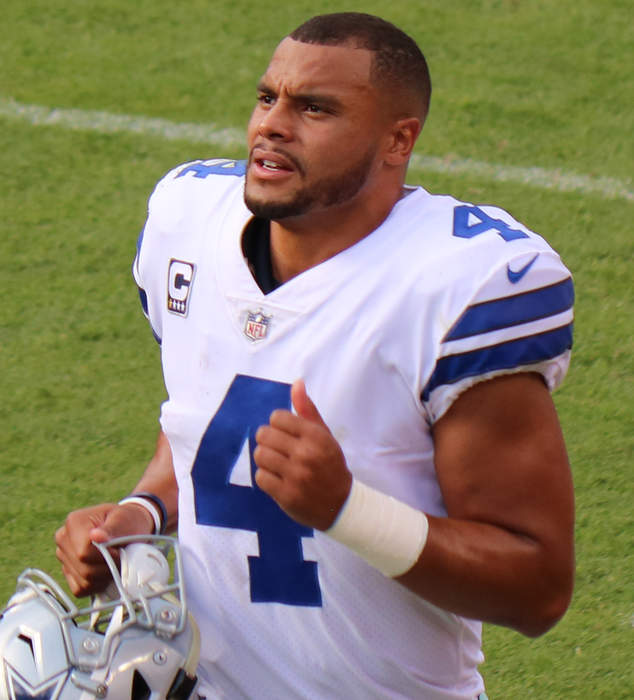 Rayne Dakota Prescott is an American football quarterback for the Dallas Cowboys of the National Football League (NFL). He played college football for the Mississippi State Bulldogs and was selected by the Cowboys in the fourth round of the 2016 NFL Draft.


You Might Like
Dak Prescott touchdowns help Dallas Cowboys beat Philadelphia Eagles
Dallas Cowboys quarterback Dak Prescott throws three touchdowns in a dominant 41-21 win over the Philadelphia Eagles.
BBC Sport - Published
Dak Prescott Signs Massive $160 Million Contract With Dallas Cowboys
The NFL's biggest offseason storyline finally has an ending ... Dak Prescott has reached a long-term contract agreement with the Dallas Cowboys -- and dude just got PAAAAAIIIDDD!!! The 27-year-old..
TMZ.com - Published
Post Malone Cops Dallas Cowboys Pendant Dripping in Diamonds
Post Malone's easing the pain of a brutal season for his Dallas Cowboys with lots and lots of diamonds -- which won't bring back Dak Prescott, but man do they shine!!! The rapper added to his 'boys..
TMZ.com - Published
Dak Prescott All Smiles Days After Gruesome Injury, 'I'm In Great Spirits'
Dak Prescott clearly ain't letting his horrific injury get him down ... the Cowboys QB posted a smiling update Thursday -- vowing to come back stronger than ever. "This little adversity is just going..
TMZ.com - Published
Joe Theismann Wants To Talk To Dak Prescott, Help Him Return From Devastating Injury
Joe Theismann sustained one of the most devastating injuries in NFL history ... and now the former star QB wants to help Dak Prescott recover from his gruesome ankle injury. TMZ Sports talked to the..
TMZ.com - Published
Dak Prescott Discharged from Hospital After 'Successful' Ankle Surgery
Dak Prescott is now recovering at home after he was discharged from the hospital Monday following a successful ankle surgery, the Cowboys say. 27-year-old Prescott was rushed into surgery Sunday night..
TMZ.com - Published
Cowboys QB Dak Prescott Appears to Break His Ankle, Gruesome Injury
Dak Prescott's season appears to be over just a quarter way through the NFL season -- he snapped his ankle on the gridiron this weekend ... which left him in agonizing tears. The Dallas Cowboys are in..
TMZ.com - Published
Dak Prescott Calls Breonna Taylor Indictment 'Disgusting, Unacceptable'
NFL superstar Dak Prescott says he can't wrap his head around the Breonna Taylor case ... calling it "simply unacceptable" for officers to not be charged following her death. "Yeah, that's disgusting,"..
TMZ.com - Published
Dak Prescott Reveals Older Brother Killed Himself, 'He Had A Lot Of Burdens On Him'
Dak Prescott just revealed his older brother took his own life this past spring ... and the Dallas Cowboys QB says he's still having a hard time coping with it all. "I'll never get another hug in my..
TMZ.com - Published
Dak Prescott Breaks Silence On Brother's Death, 'It's Tough'
Dak Prescott spoke out Wednesday on the tragic passing of his older brother, Jace ... and the Dallas Cowboys QB said emotionally, "it's tough, obviously." "He meant a lot to my family, meant a lot to..
TMZ.com - Published
Dak Prescott Says Free Death Row Inmate Julius Jones, 'He's Innocent!'
Dak Prescott is following Kim Kardashian's lead ... telling Oklahoma officials to immediately free death row inmate Julius Jones -- claiming he was wrongly convicted of murder and doesn't deserve to..
TMZ.com - Published