The Holocaust
Genocide of European Jews by Nazi Germany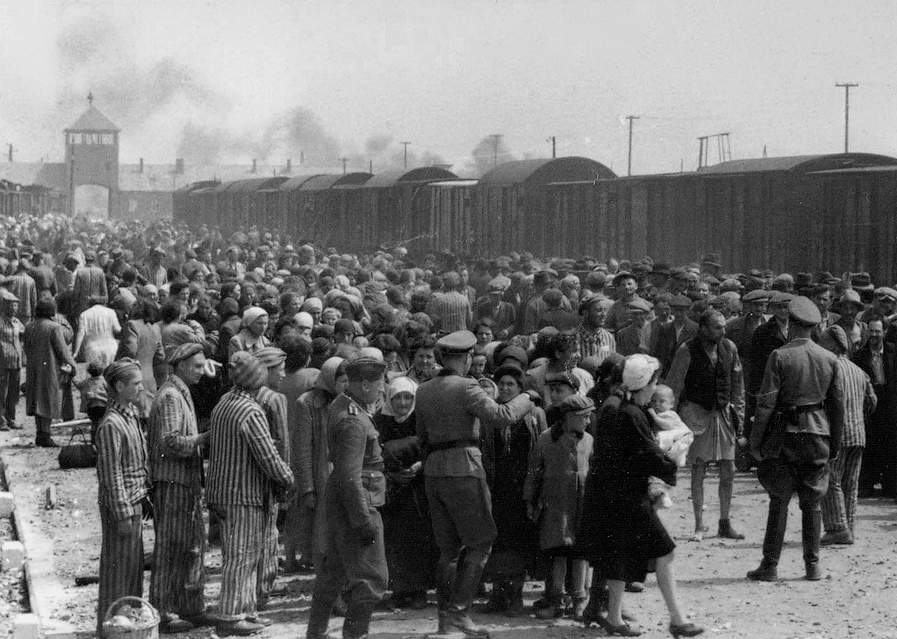 The Holocaust, also known as the Shoah, was the genocide of European Jews during World War II. Between 1941 and 1945, Nazi Germany and its collaborators systematically murdered some six million Jews across German-occupied Europe, around two-thirds of Europe's Jewish population. The murders were carried out in pogroms and mass shootings; by a policy of extermination through work in concentration camps; and in gas chambers and gas vans in German extermination camps, chiefly Auschwitz, Bełżec, Chełmno, Majdanek, Sobibór, and Treblinka in occupied Poland.


Charles urges people to use Holocaust remembrance to challenge 'fake news'

The Prince of Wales spoke of the "deeply worrying growth of fake news" as heurged people to challenge those who peddle unfounded conspiracy theories onHolocaust Memorial Day (HMD). Charles, who is..
Credit: PA - Press Association STUDIO Duration: 02:58
Published
The photo that named a Holocaust survivor

For some survivors of the Holocaust, the vow of "never forget" takes on a special meaning when they have only faded memories, or none at all, of parents they lost as young children. Emily Wither..
Credit: Reuters Studio Duration: 03:06
Published
Holocaust survivor on 'horrific' Capitol insurrection

Holocaust survivor Bill Harvey felt triggered by the recent insurgence on the U.S. Capitol because it reminded him of how misinformation and propaganda created the uprising of Nazis before the war.
Credit: Reuters Studio Duration: 02:09
Published
Kate praises 'inspirational' Holocaust survivors

The Duchess of Cambridge has paid tribute to "inspirational" Holocaustsurvivors for educating the next generation about the "horrors" of the Naziregime. Kate was left visibly moved after..
Credit: PA - Press Association STUDIO Duration: 01:31
Published
Survivor sounds alarm over 'echoes of the Holocaust'

Born in Berlin in 1930, Irene Butter endured the horrors of the Holocaust as a Jewish child coming of age in Nazi-occupied Europe. As the world pauses to remember the genocide that killed millions of..
Credit: Bleacher Report AOL Duration: 04:37
Published
Prince Charles urges people to remember Holocaust

The Prince of Wales has joined famous faces from the worlds of sport andshowbiz in urging people to remember Holocaust Memorial Day. Charles, patronof the Holocaust Memorial Day Trust, urged people to..
Credit: PA - Press Association STUDIO Duration: 00:58
Published
Auschwitz survivor beats coronavirus

As a teenager, Lily Ebert lived through the Holocaust and was liberated from the Nazi concentration camp at Auschwitz, where many of her family died. Earlier this month the 97-year-old caught..
Credit: ODN Duration: 01:25
Published
Holocaust survivor: We are not typical – most Jews died

Speaking ahead of Holocaust Memorial Day on January 27, retired medical doctorDr Martin Stern, 80, recalled how, as an infant living in the same Amsterdamneighbourhood as Anne Frank in 1942, he was..
Credit: PA - Press Association STUDIO Duration: 01:34
Published
You Might Like



Piers Corbyn arrested over leaflets comparing COVID jabs to Holocaust

Piers Corbyn has been arrested by police over leaflets that compare the UK's COVID vaccine rollout to the Holocaust.




Sky News - Published





National landmarks bathed in purple light to mark Holocaust Memorial Day

National landmarks have been bathed in purple light and people lit candles in their windows to remember the millions of Jewish people killed in the Holocaust.




Sky News - Published





Duchess praises concentration camp survivors for 'strength and bravery'

The Duchess of Cambridge has been reunited with two Holocaust survivors as she praised the bravery of those who continue to their share their stories of the horrors of the Second World War.




Sky News - Published





T-shirt Sold with Holocaust Message, '6 Million Wasn't Enough'

A neo-Nazi t-shirt is being hawked online, with a message bemoaning that more Jews were not exterminated during the Holocaust. The shirt is emblazoned with letters and numbers ... "6MWE" -- that's code..




TMZ.com - Published





Amazon's Alexa Accused of Sharing Anti-Semitic Messages, Holocaust Lies

Alexa -- Amazon's popular virtual helper -- is spewing out hateful anti-Semitic conspiracies and even lies about the Holocaust ... according to the UK's All-Party Parliamentary Group Against..




TMZ.com - Published





'Borat' Creators Sued by Holocaust Survivor's Estate for Callously Tricking Her

A Holocaust survivor speaking with Sacha Baron Cohen for his new 'Borat' movie was callously duped, because she thought he was making a legit documentary ... so claims her estate in a new lawsuit. The..




TMZ.com - Published





Don't forget past, Jewish leader warns Germans on eve of WW2 anniversary

Many young Germans have failed to learn the lessons of history, and anti-Semitism is becoming entrenched in the land responsible for the Holocaust, a Jewish leader warned, a day before the 75th..




Reuters - Published





Without tourist revenue, Prague's Jewish community fears for future of welfare services

With ticket sales to Prague's Jewish quarter halted during the coronavirus lockdown, the community is having to tap its reserves to pay for welfare services for Holocaust survivors that tourists..




Reuters - Published





Coronavirus lockdown deepens Holocaust survivors' loneliness

Elias Feinzilberg, a 102-year-old Holocaust survivor, had to commemorate Israel's annual memorial day for the six million Jewish dead on Tuesday separated from his family because of the coronavirus..




Reuters - Published





The loneliness of the long-distance Holocaust survivor

Elias Feinzilberg, a 102-year-old Holocaust survivor, had to commemorate Israel's annual memorial day for the six million Jewish dead on Tuesday separated from his family because of the coronavirus..




Reuters - Published





Annual Holocaust remembrance march in Poland postponed over coronavirus

The March of the Living, an annual education event that brings together survivors and others in Poland to remember the Holocaust, has been postponed due to fears of the coronavirus, the event's..




Reuters - Published





Spanish carnival troupe apologizes over Holocaust-themed parade

A Spanish carnival troupe whose Holocaust-themed parade outraged Jewish human rights groups and Israel's embassy in Madrid has canceled its remaining shows, organizers said on Wednesday.




Reuters - Published





No 'smoking gun' in wartime archives of Pius XII on Holocaust, Vatican says

The Vatican will on March 2 open up its archives on the wartime pontificate of Pius XII to allow scholars to probe accusations that he turned a blind eye to the Holocaust, but they will find he helped..




Reuters - Published





Holocaust survivors in Israel getting more cash but some still impoverished

Holocaust survivors in Israel are better off financially than in the past thanks to the efforts of campaigners after decades of government neglect and bureaucracy, but some still live in poverty.




Reuters - Published





German Auschwitz prosecutor recalls powerful tales from Holocaust survivors

Of the hundreds of testimonies he heard from survivors of the Nazi death camp at Auschwitz, retired German prosecutor Gerhard Wiese says the one that touched him most was of a Jewish father who had..




Reuters - Published





With anti-Semitism on the rise, Auschwitz liberation commemorated

World leaders join aging Holocaust survivors in Poland on Monday to mark 75 years since the liberation of the Auschwitz death camp by Soviet troops, amid concerns over a global resurgence of..




Reuters - Published





Sorrow and triumph, an Auschwitz survivor's journey back to a former hell

Jona Laks could smell the burning flesh as she walked towards death at the Auschwitz crematorium. More than 75 years later, aged 90, she has returned to what was the most notorious Nazi death camp of..




Reuters - Published





Dutch Prime Minister apologizes for country's role in Holocaust

Dutch Prime Minister Mark Rutte said on Sunday he was sorry for his country's role during the Holocaust and the lack of action against the persecution of Jews, becoming the first Dutch premier to make..




Reuters - Published





Pope asks Catholics to say 'Never Again' to the Holocaust

Pope Francis on Sunday asked the world's 1.3 billion Catholics to stop for a moment of prayer and reflection on the 75th anniversary of the liberation of the Nazi death camp at Auschwitz and say "Never..




Reuters - Published





Anti-Jewish graffiti sparks anger in Italy ahead of Holocaust day

Anti-Semitic graffiti was found scrawled on the door of the son of a Holocaust survivor in the northwestern Italian town of Mondovi on Friday, triggering outrage from politicians and rights groups.




Reuters - Published





Germany still dealing with 'same evil' that led to Holocaust, president says in Jerusalem

Germany has still not learned "once and for all" its lesson from the Holocaust, German President Frank-Walter Steinmeier said on Thursday, as he expressed sorrow for his country's role in the murder of..




Reuters - Published





UK's Prince Charles, in Jerusalem, honors grandmother's wartime heroism saving Jews

Britain's Prince Charles paid homage on Thursday to his grandmother, Princess Alice, for sheltering Jews in Nazi-occupied Greece, saying the royal family took great pride in Israel's recognition of her..




Reuters - Published





Netanyahu, Pence denounce 'anti-Semitic' Iran at Holocaust memorial ceremony

Israeli Prime Minister Benjamin Netanyahu denounced Iran on Thursday as "the most anti-Semitic regime on the planet", telling world leaders at a Holocaust memorial event that Israel would always defend..




Reuters - Published





Macron, in Israel for Holocaust memorial, warns of 'dark shadow' of anti-Semitism

President Emmanuel Macron said on Thursday France was determined to combat the hatred and intolerance that have fueled a sharp rise in anti-Semitism in his country as he met Holocaust survivors during..




Reuters - Published





Macron berates Israeli security men in tussle at Jerusalem church

"Go outside," French President Emmanuel Macron demanded in English in a melee with Israeli security men on Wednesday, demanding they leave a Jerusalem basilica that he visited before a Holocaust..




Reuters - Published





Facial recognition could help discover fate of Holocaust victims

An old photograph and modern face recognition technology could help two Israeli brothers find out how their father survived the Nazi Holocaust.




Reuters - Published





75 years on, Holocaust survivors struggle to recover property in Poland

Lea Evron, 85, has only fragments of memories of the fur factory and the three-story apartment building her family owned before World War Two in Zywiec, a small town in southern Poland.




Reuters - Published





Pain still acute as Hungary's Jews mark liberation of Budapest ghetto

Hungarian Jews on Friday marked the 75th anniversary of the liberation of the Budapest ghetto and the end of the Holocaust, which killed more than 500,000 Jews and destroyed a once-vibrant Jewish..




Reuters - Published





Poland's president says he won't attend Holocaust event in Israel

Polish President Andrzej Duda said on Tuesday he had declined an Israeli invitation to attend a Holocaust memorial event this month as organizers would not allow him to speak there, even though others..




Reuters - Published




Merkel expresses 'shame' during Auschwitz visit, vows to fight anti-Semitism

Angela Merkel expressed "deep shame" on Friday during her first visit as chancellor to the Auschwitz-Birkenau Holocaust memorial and vowed to fight rising racism and anti-Semitism in Germany and..




Reuters - Published





Vatican 'disgusted' by anti-Semitic abuse of Italian Holocaust survivor

A Vatican cardinal said on Friday he was "disgusted" by the anti-Semitic abuse of an 89-year-old Italian senator and Holocaust survivor who was given police protection after receiving death threats.




Reuters - Published





Holocaust survivor given police escort in Italy after threats

Holocaust survivor Liliana Segre has been placed under police protection after she received threats from far-right fanatics, security sources said on Thursday, highlighting concern about rising..




Reuters - Published





Mahatma Gandhi's 80-year-old letter wishing Jews 'era of peace' unveiled in Israel

Gandhi wrote the letter to Head of the Bombay Zionist Association (BZA) A E Shohet, who was trying to enlist support of Indian leaders in favour of the movement to establish a national home for the..




IndiaTimes - Published





Dutch railway to compensate Holocaust survivors

The Dutch national railway NS said in a statement on Wednesday it would offer financial compensation to survivors and families of Holocaust victims who were transported via Dutch rail to Nazi..




Reuters - Published





Poland honors national soccer player murdered in Holocaust

Jozef Klotz, a Polish Jewish soccer player who scored the national team's first ever goal in an international match but was later murdered by the Nazis, was honored by Poland's soccer association on..




Reuters - Published